sacd-hybrid
GARY BERTINI (1927 – 2005) conducts
3SACD-Box · C7065 PC: 22 UPC: 845221070650
SACD 1: HECTOR BERLIOZ: Symphonie fantastique · Le Carneval Romain
SACD 2: MAURICE RAVEL: La Valse · Concerto for piano and orchestra ·Daphnis et Chloé

SACD 3: CLAUDE DEBUSSY: La Mer · Nocturnes · Prélude à l'après-midi d'un faune
Martha Argerich, piano · Kölner Rundfunk-Sinfonie-Orchester · Gary Bertini
GARY BERTINI (1927 – 2005) war einer der interessantesten Dirigentenpersönlichkeiten der
Klassischen Musikszene. Als Chefdirigent beim Kölner Rundfunk-Sinfonie-Orchester (1983 – 1991) leitete er zahlreiche, von der Kritik hoch gelobte Konzerte und Studioproduktionen. In einem aufwendigen Verfahren hat sich der Westdeutsche Rundfunk Köln die Mühe gemacht einige dieser Produktionen neu zu mastern und für eine SACD Hybrid Veröffentlichung zur Verfügung zu stellen.
GARY BERTINI is one of the most eminent personalities of the classical music world today. He was principal conductor of the WDR Symphony Orchestra in Cologne from 1983 to 1991, and the famous recordings collected here date from this era. All recordings has been new remastered for Super Audio CD (SACD) Hybrid by WDR Cologne.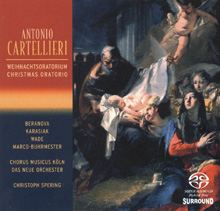 Antonio Cartellieri
Weihnachtsoratorium Christmas Oratorio
La celebre Natività del Redentore
1 SACD Hybrid: 71 015 PC: 21 EAN: 4006408710158
Katerina Beranova · Andreas Karasiak · Marco Buhrmester · Chorus Musicus Köln
Antonio Cartellieri (1772—1807), ein heute gänzlich vergessener Komponist, trägt zwar einen italienischen Namen, hat aber sein nur 35 Jahre währendes Leben ausschließlich im deutschen Sprachraum zugebracht: In Danzig geboren, gelangt er über Berlin in den neunziger Jahren des 18. Jahrhunderts nach Wien, wo er seit 1798 als "Singmeister und Violinspieler", seit 1800 als Zweiter Kapellmeister des Fürsten Lobkowitz amtiert. Das Weihnachtsoratorium "La celebre Natività del Redentore" ("Die berühmte Geburt des Erlösers") wurde 1806 im Prager Nationaltheater uraufgeführt.
Antonio Cartellieri (1772—1807), a composer who is completely forgotten nowadays, has an Italian name, but spent his short life of just 35 years in German-speaking countries exclusively. Born in Danzig, he came to Vienna via Berlin during the 1790s where he was appointed "song master and violin player" in 1798, and worked as Second Concertmaster for Prince Lobkowitz from 1800 onwards. When Ludwig van Beethoven played his Piano Concerto No. 1 with the prince's orchestra, the other works in the programme consisted of a symphony and an oratorio by Cartellieri. The Christmas oratorio "La celebre Natività des Redentore" ("The Famous Birth of our Saviour") was first performed at the Prague national theatre in 1806 and can be experienced again for the first time now – thanks to Christoph Spering and his orchestra. The hand-written score of the work from the Austrian national library was used for this recording, which follows Christoph Spering's successful re-discovery of the Passion oratorio by Antonio Salieri (Capriccio 60 100).
Aribert Reimann "...oder soll es Tod bedeuten?"
Christine Schäfer
Petersen Quartett
1SACD Hybrid 71 090 PC: 21 EAN: 4006408710905
FELIX MENDELSSON BARTHOLDY
Acht Lieder und ein Fragment von Felix Mendelssohn Bartholdy nach Gedichten von Heinrich Heine für Sopran und Streichquartett bearbeitet und verbunden mit sechs Intermezzi von Aribert Reimann.
Eight Songs and a Fragment by Felix Mendelssohn Bartholdy on poems by Heinrich Heine, arranged for soprano and string quartet and linked to six Intermezzi by Aribert Reimann.
ROBERT SCHUMANN
Streichquartett A-Dur op.41 Nr.3—Sechs Gesänge op.107,
transkribiert von ARIBERT REIMANN
Der deutsche Komponist Aribert Reimann feierte 2006 seinen 70. Geburtstag. Christine Schäfer und das Petersen Quartett haben zwei von Reimanns Werken aufgenommen, die Lieder der deutschen Romantik von Mendelssohn und Schumann, die zum Ausgangspunkt von Reimanns eigener kompositorischer Aktivität werden. Schumanns Streichquartett op.41,3 bildet die sinnfällige Ergänzung.
String Quartet in A major op.41 no.3—Six Songs op.107,
transcribed by ARIBERT REIMANN
In 2006, the German composer Aribert Reimann celebrated his 70th birthday. Christine Schäfer and the Petersen Quartett have recorded two of Reimann's works, the German romantic songs of Mendelssohn and Schumann, which became a source for Reimann's own compositional activity. Schumann's string quartet op. 41 no. 3 is the logical complement to this programme.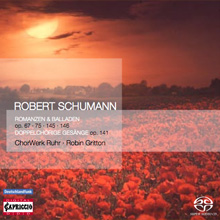 SCHUMANN Chormusik
1 SACD · 71 113 PC: 21
ChorWerk Ruhr · Robin Gritton
Romanzen und Balladen op. 67 · 75 · 145 · 146
Doppelchörige Gesänge op. 141
Robert Schumann gilt als der bedeutendste Komponist von Solo-Liedern unter den deutschen Musikern des romantischen Zeitalters im 19. Jahrhundert. Dass er auch zahlreiche Werke für Chor komponiert hat, ist weitgehend unbekannt. ChorWerk Ruhr, das Spitzenensemble aus dem Ruhrgebiet, hat sich dieser vergessenen "Romanzen und Balladen" angenommen. Es handelt sich um A-cappella-Chöre, also Gesang ohne die Unterstützung von Instrumenten. Der englische Dirigent Robin Gritton gilt als Meister der Chorleitung und hat mit diesem Projekt seine erste Produktion für Capriccio aufgenommen.
Amongst the German musicians of the Romantic Period in the 19th century, Robert Schumann is considered to be the most important composer of solo-songs. That he also composed numerous works for choirs is largely unknown. ChorWerk Ruhr, the top-flight ensemble from the Ruhr district, has taken on these forgotten "Romances and Ballads" for itself. It is all about a-cappella choirs, in other words, singing without support from instruments. The English conductor Robin Gritton counts as a master of choir direction and, with this project, has recorded his first production for Capriccio.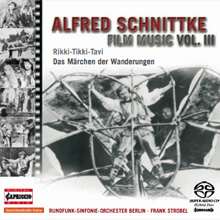 ALFRED SCHNITTKE Film Music Vol. III
Rundfunk- Sinfonieorchester Berlin
Frank Strobel
1 SACD · 71 127 PC: 21 4006408711278
Märchen der Wanderungen (1982/2003)
Rikki-Tikki-Tavi (1975/2004)
Die erfolgreiche Serie mit Filmmusiken von Alfred Schnittke wird fortgesetzt. Die ersten beiden Folgen (71 041, 71 061) wurden beide ausgezeichnet mit dem Preis der deutschen Schallplattenkritik. Frank Strobel, der Dirigent dieser Aufnahmen, hat sich wie kein anderer zeitgenössischer Musiker mit dem Thema Filmmusik befasst und die zahlreichen Partituren Alfred Schnittkes für die Wiederaufführung eingerichtet. Das hierzulande weitgehend unbekannte Gebiet des sowjetischen Films der 70er und 80er Jahre wird auf diese Weise der Vergessenheit entrissen.
The successful series with film music by Alfred Schnittke is being continued. The first two releases (71 041, 71 061) were both distinguished with the Preis der deutschen Schallplatten-kritik (German Record Critics Prize). Frank Strobel, the conductor of these recordings, has occupied himself with film music like no other contemporary musician and for this revival has rearranged the numerous musical scores of Alfred Schnittke. Hereby, the in this country largely unknown world of Soviet film from the 70's and 80's is wrested from oblivion.