box-sets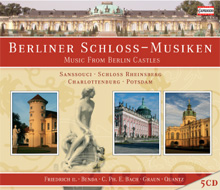 Berliner Schloss-Musiken
Music from Berlin Castles

5CD-Set · 49 503 PC: 24 EAN: 4006408495031
MUSIK AUS SANSSOUCI · MUSIC FROM SANSSOUCI · ABENDMUSIK AUF SCHLOSS RHEINSBERG · EVENING CONCERTS AT THE RHEINSBERG CASTLE · MUSIK AUS SCHLOSS CHARLOTTENBURG · MUSIC FROM CHARLOTTENBURG CASTLE · MÄRSCHE und BLASMUSIK aus der KÖNIGLICHEN HAUSBIBLIOTHEK DES BERLINER SCHLOSSES · MARCHES and WIND MUSIC from the ROYAL PRIVATE LIBRARY OF THE BERLIN PALACE · SCHAUSPIELMUSIKEN FÜR POTSDAM · INCIDENTAL MUSIC FOR THE POTSDAM THEATRE
ANN MONOYIOS · BERLINER BAROCK-COMPAGNEY · ECKART HAUPT · DRESDNER BAROCKSOLISTEN · CAPPELLA COLONIENSIS · KAMMERORCHESTER "CARL PHILIPP EMANUEL BACH" · RENE PAPE
RUNDFUNKCHOR BERLIN · RADIO-SYMPHONIE-ORCHESTER BERLIN
u.v.a.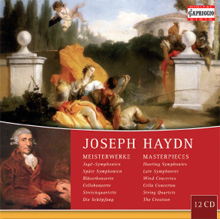 Joseph Haydn Meisterwerke
Cappella Coloniensis · Wiener Akademie
12 CD-Set
49 520 PC: 07
Jagd-Symphonien · Frühe Symphonien · Späte Symphonien · Cellokonzerte · Violinkonzerte · Sinfonia concertante · Trompetenkonzert · Streichquartette · Harmoniemesse · Kantaten · Die Schöpfung u.a.
Joseph Haydn steht als Begründer der Wiener Klassik am Anfang einer neuen musikalischen Epoche Ende des 18. Jahrhunderts und ist gleichzeitig ihr erster großer Meister. Auf allen Gebieten hat Haydn Großes geschaffen, und so enthält diese Box auf zwölf CDs Sinfonien, Konzerte, Streichquartette und geistliche Vokalmusik. Haydns Musik ist melodiös, reich an nuancierten Empfindungen.
Joseph Haydn is acclaimed as the founder of Viennese classicism at the beginning of a new musical epoch at the end of the 18th century, and was also its first great master. Haydn created great works in all genres, and this box therefore presents symphonies, concerts, string quartets and sacred vocal music on 12 CDs. Haydn's music is melodious and rich in nuance and feeling.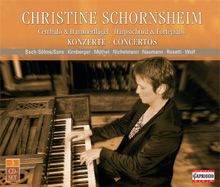 Christine Schornsheim Cembalo- & Klavierkonzerte
Christine Schornsheim
Kirnberger · Müthel · Rosetti · W.F.Bach · J.C.Bach
49 541 PC: 03
Ihre Gesamtaufnahme der über 50 Klaviersonaten von Joseph Haydn (14-CD-Set: 49 404) wurde international mit Auszeichnungen und Preisen überhäuft. Bereits in den 90er Jahren hat Christine Schornsheim für Capriccio eine dreiteilige Anthologie der Konzerte für Klavier und Orchester aus der "Epoche zwischen den Epochen" – nämlich zwischen dem Tod Johann Sebastian Bachs 1750 und den großen Meisterwerken Mozarts um 1785 – vorgelegt. Gemeinsam mit der Berliner Barock-Compagney hat sie neun Klavierkonzerte aufgenommen, wobei sie wie auch in der Haydn-Gesamtaufnahme sowohl das Cembalo als auch den "moderneren" Hammerflügel spielt. Diese drei CDs sind jetzt in einer preisgünstigen Box zusammengefasst – ein spannendes Kapitel klingender Musikgeschichte.
Her complete recording of the over 50 piano sonatas of Joseph Haydn (14-CD set: 49 404) was showered with international awards and prizes. Back in the 1990s, Christine Schornsheim presented a three-part anthology of concertos for piano and orchestra from the "epoch between the epochs" – i.e. between the death of Johann Sebastian Bach in 1750 and Mozart's great masterpieces from around 1785 – for Capriccio. Together with the Berliner Barock-Compagney, she has recorded nine piano concertos, playing both the harpsichord and the more "modern" fortepiano, as in the complete Haydn recording. These three CDs are now presented together in a reasonably priced box – an exciting chapter of melodious musical history.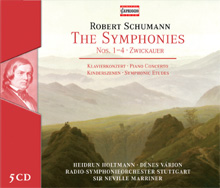 Robert Schumann The Symphonies
RADIO-SINFONIEORCHESTER STUTTGART
Robert Schumann
49 483 PC: 05
Sinfonien Nr. 1-4 · "Zwickauer" Sinfonie · Klavierkonzert · Klavierwerke u.a. Dirigent: Sir Neville Marriner · Heidrun Holtmann & Denes Varjon, Klavier
Im 150. Todesjahr von Robert Schumann präsentiert Capriccio eine Auswahl seiner bedeutendsten Werke auf fünf CDs zum Sonderpreis. Neben der Gesamtaufnahme der Sinfonien (inklusive des Jugendwerks, der "Zwickauer" Sinfonie) erklingen sämtliche konzertanten Werke für Klavier und Orchester. Auf der fünften CD spielt Dénes Várjon Werke für Klavier solo, darunter die sinfonischen Etüden und die Kinderszenen mit Schumanns berühmtesten Stück, der "Träumerei".
On the 150th anniversary of Robert Schumann's death, Capriccio presents a selection of his most important works on five CDs at a special price. Along with a recording of the complete symphonies (including the "Zwickau" symphony composed in his youth), the CDs present all concerto-type works for piano and orchestra. On the fifth CD, Dénes Várjon plays compositions for piano solo, including the Symphonic Etudes and the Kinderszenen (Scenes from Childhood) with Schumann's most famous piece, "Träumerei" ("Dreaming").