cd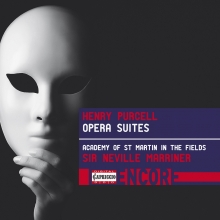 HENRY PURCELL: OPERA SUITES
THE FAIRY QUEEN · DIOCLESIAN · KING ARTHUR · THE INDIAN QUEEN
Academy Of St Martin In The Fields · Sir Neville Marriner
Capriccio encore C8001 PC: 01 (Special Price) 845221080017
With CAPRICCIO Encore we re-release most famous recordings from the Backcatalogue in a remastered version, new design and for a special price. Legendary recordings of artsts like Sandor Végh, Ton Koopman, Sir Neville Marriner or the Vienna Boys' Choir are also included as special repertoire highlights from the baroque to the contemporary era.

Purcell 's contemporaries admiringly referred to him as an Orpheus Britannicus, and the appellation shows that they were well aware of the composer 's unique standing. The respect accorded Purcell in his own lifetime – something that would have made him the envy of many composers less fortunate in this respect – was entirely deserved, for he occupies an outstanding position in the history of 17th century English music, and remains to this day one of the very greatest of English composers. Purcell 's sets of incidental music were rearranged to form suites during the composer 's lifetime, and were then published in the collections so popular at the time.
Weitere Bilder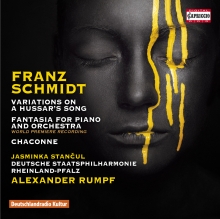 FRANZ SCHMIDT (1874 - 1939)
Variations on a Hussar's Song · Fantasia for piano and orchestra · Chaconne for orchestra
JASMINKA STANČUL · DEUTSCHE STAATSPHILHARMONIE RHEINLAND-PFALZ · ALEXANDER RUMPF
C5274 PC: 21 845221052748
When we speak today about Schmidt's main works, his exemplary organ works and the oratorio The Book with Seven Seals will certainly come to mind first. On this recording are some rarities like the Fantasia for piano and orchestra in B flat major, presumably dating to 1899, in which Schmidt anticipates material from his successful opera Notre Dame. Considered lost for some time, the premiere of the fantasia took place only more than a century after its composition, in the Vienna Musikverein on 8 November 2013. Formally, variation works always held a special appeal for Schmidt, be it in terms of thematic elaborations or in the form of his large-scale Chaconne. In its orchestral version of 1931, it represents an arrangement of the Chaconne for Organ in C sharp minor. The premiere of the chaconne took place during a subscription concert by the Vienna Philharmonic conducted by Clemens Krauss in 1933. The distinguished conductor was also the dedicatee of the Variations on a Hussar's Song for Orchestra, composed the same year as the instrumentation of the chaconne. They were also premiered by the Vienna Philharmonic under Clemens Krauss in 1931, was repeated by the same performers at the Salzburg Festival that summer and then played by the New York Philharmonic with Bruno Walter for the first time in the USA in February 1932.

Weitere Bilder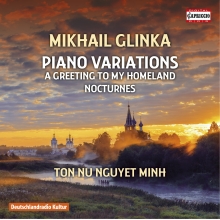 MIKHAIL GLINKA
Piano Variations · A Greeting to my Homeland · Nocturnes
TON NU NGUYET MINH, piano
C5285 PC: 21 845221052854
In Russia, it is said that Pushkin was the sun of poetry, but Glinka the Pushkin of music, a sublime degree of domestic veneration. In St. Petersburg, Glinka was for a short time among the pupils of the Irish pianist and composer John Field. Field's performance and style remained ideals for Glinka throughout his life. Like the early works by Frédéric Chopin, who was also influenced by Field and Hummel, Glinka's piano works follow this 'brilliant style', which might equally be termed 'instrumental bel canto'.

Weitere Bilder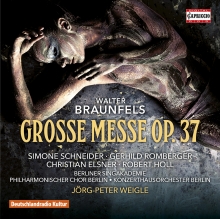 Walter Braunfels: Grosse Messe op. 37
SCHNEIDER · ROMBERGER · ELSNER · HOLL
PHILHARMONISCHER CHOR BERLIN · BERLINER SINGAKADEMIE · KNABEN DES STAATS- UND DOMCHORES BERLIN · KONZERTHAUSORCHESTER BERLIN · JÖRG-PETER WEIGLE
C5267 PC: 21 UPC: 845221052670
Braunfels' hand at drama and his careful consideration of the text betrays the opera composer, not only in the Te Deum, but also in the Great Mass which he finished in 1926. Braunfels was at the height of his (from thereon never waning) musical powers and fame. The Great Mass isn't a liturgical work; the Mass speaks directly and very audibly from a sincere spiritual urge. "He is a high-romantic, solidly anchored in the German composition- culture, and yet he has a very unique language – sensationally well-orchestrated, as it happens – about him, which makes it so fascinating" (Weigle).


Weitere Bilder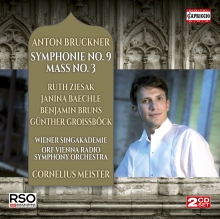 ANTON BRUCKNER: Symphony No. 9 · Mass No. 3
ZIESAK · BAECHLE · BRUNS · GROISSBÖCK
WIENER SINGAKADEMIE · RSO VIENNA RADIO SYMPHONY ORCHESTRA · CORNELIUS MEISTER
2CD-SET: C5247 PC: 21 (Special Price) UPC: 845221052472
What a struggle the work posed for the composer emerges from the circumstance that he already embarked on it in the late summer of 1887, but had not completed it by his death nine years later. If we take the existing music of the Ninth to hand, we will notice that only few symphonies evince such apparently 'autonomous' movements as this one – perhaps this very fact is a consequence of the absence of a finale rounding off the arch and concluding the dramaturgy. If Bruckner intended to dedicate the Ninth to 'my dear God', the Mass in F minor is a work of gratitude to God for recovery after a persistent nervous illness and physical exhaustion. Performed several times during Bruckner's lifetime, the Mass in F minor has uninterruptedly ranked ahead of its sister works in D minor and E minor among the popular church choral works of late Romanticism.

Weitere Bilder