cd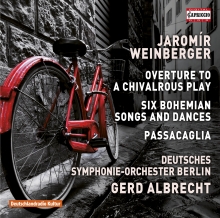 Jaromir Weinberger (1896-1967)
Overture to a Chivalrous Play (1931) · 6 Bohemian Songs and Dances (1929) · Passacaglia for organ and large orchestra (1932)
JÖRG STRODTHOFF, organ · DEUTSCHES SYMPHONIE-ORCHESTER BERLIN · GERD ALBRECHT
C5272 PC: 21 UPC: 845221052724
Even it is a legend that the Prague-born composer Jaromir Weinberger committed suicide in American exile because he had not succeeded for decades in following up his opera Schwanda the Bagpiper with any of his later works. Nevertheless, the legend contains a grain of truth. It shows a 71-year-old composer far away from his beloved homeland, which he had had to leave in the course of its occupation by the Nazis and which was meanwhile ruled by the Communists under Soviet influence. But in general, Weinberger was just as little able to integrate in North American music life as he managed to draw on his earlier time in Europe after 1945. A consideration of many works by Weinberger today will have to take events of the time into account, but at the same time we will hardly be able to avoid seeing direct or indirect references to his one big success Schwanda the Bagpiper in many works.

Weitere Bilder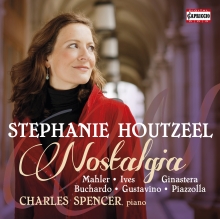 STEPHANIE HOUTZEEL: Nostalgia
Ginastera · Ives · Mahler · Buchardo · Gustavino · Piazzolla
Stephanie Houtzeel, mezzo-soprano · Charles Spencer, piano
C5262 PC: 21 UPC: 845221052625
'I am neither an Athenian, nor a Greek, but a citizen of the world', Socrates is said to have uttered. He described himself as a cosmopolitan. A cosmopolitan was somebody who wanted to annul the dichotomy between being a polis member and a polis non-member by positioning himself in the overarching order of the cosmos. Along these lines, the mezzo-soprano Stephanie Houtzeel may, of course, describe herself as a cosmopolitan. Born in Kassel, she was raised in the vicinity of Boston, where she initially studied political science and French, then music at the New England Conservatory and the Juillard School in New York (she was the first winner of Juilliard's Vocal Arts Debut Award). Since the autumn of 2010, she has been a member of the ensemble of the Vienna State Opera. So, the dramaturgically meticulously composed programme of her first recital should be viewed as being cosmopolitan. It is a journey through three stations, three world metropolises, Vienna, New York and Buenos Aires.

Weitere Bilder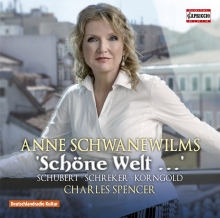 ANNE SCHWANEWILMS - SCHÖNE WELT -
Schubert · Schreker · Korngold
Anne Schwanewilms, soprano · Charles Spencer, piano
C5233 PC: 21 UPC: 845221052335
With his personality characterized by emotional extremes, Franz Schubert was in no position to evoke a perfectly wonderful world in his songs. On the contrary, in his compositions he challenged any fine illusion with a subtle and sensual touch. Unlike Franz Schubert, for a long time Franz Schreker managed to create an idyllic, wonderful and successful world with his compositions. Sometimes, he was even more successful as a composer than Richard Strauss, to the latter's great chagrin. But then the Nazis came. Wonderful world, where are you?
Erich Wolfgang Korngold, he, too, a Jew, fled to the 'brave new world', to America.
Korngold achieved great fame with his film scores, but on the screen, everything is only a (fine) illusion.
Anne Schwanewilms

Weitere Bilder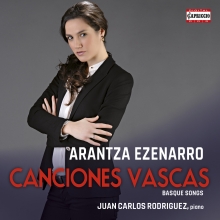 CANCIONES VASCAS · BASQUE SONGS
JOSÉ GONZALO ZULAIKA (Aita Donostia) (1886-1956) · FRANCISCO DE MADINA IGARZABAL (Aita Madina) (1907-1972)
ARANTZA EZENARRO, soprano · JUAN CARLOS RODRIGUEZ, piano
C5209 PC: 21 UPC: 845221052090
The pairing on this album is unquestionably apt, bringing together as it does works by perhaps the two most famous "aitas" – priests – in Basque music: Father José Antonio de Donostia and Father Francisco de Madina. Whatever the similarities and differences between the two men, the former born twenty-one years earlier than the latter, both composers succeeded in incorporating, with exquisite elegance, a profound sense of local folk traditions into their music, creating works that have since earned classic status in Basque culture. The soprano Arantza Ezenarro was born in San Sebastián in the Basque Area of Spain. With this Album she presents most sensitiv songs of her homeland.

Weitere Bilder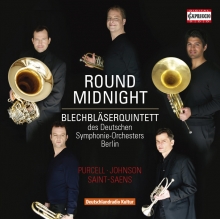 ROUND MIDNIGHT
PURCELL · JOHNSON · BÖHME · SAINT-SAENS · FAURÉ
BLECHBLÄSERQUINTETT des Deutschen Symphonie-Orchesters Berlin
C5202 PC: 21 UPC: 845221052021
HENRY PURCELL: The Fairy Queen (Overture) · ROBERT JOHNSON: The Satyr's Dance · OSKAR BÖHME: Night Music Op. 44 · CAMILLE SAINT-SAENS: Danse macabre op. 40 · ROBERT BEASER: Brass Quintet · J. MARK SCEARSE: Enchanted Forest Suite · THELONIUS MONK & COOTIE WILLIAMS: Round Midnight · BURTON LANE: Old Devil Moon · GABRIEL FAURÉ: Requiem op. 48 (Pie Jesu)
BLECHBLÄSERQUINTETT
des Deutschen Symphonie-Orchesters Berlin
FALK MAERTENS & RAPHAEL MENTZEN, Trompete / trumpet
PAOLO MENDES, Horn / horn · ANDREAS KLEIN, Posaune / Trombone · JOHANNES LIPP, Tuba
When Round Midnight was published, Thelonius Monk was an outsider due to the extravagant harmony and the complexity of his music; he cultivated this image. With this elaborate polyphony, Monk ingeniously managed to translate the Romantic 'midnight piece' into the sphere of expression of jazz. Does the music of the night not really sound tender, seeming to come from afar or surfacing from the depths of dreams? Do brass instruments present a suitable medium for such subtle adjustments of the hearing sensitivity? On their instruments, today's virtuosos even in an ensemble, attain an ease and agility that sweeps away any prejudices about the massive nature of their appearance. They show themselves to be versatile as virtuosos of mimicry, no less appropriate for fairy-like magic than for gloomy abysses and the cutting acrimony of the macabre and horrific.

Weitere Bilder