cd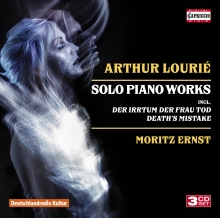 ARTHUR LOURIÉ (1891-1966)
Solo Piano Works
Moritz Ernst, piano
3CD-Set · C5281 PC: 22 845221052816
COMPACT DISC 1
Cinq Préludes fragiles op. 1 (1908-1910) · Deux Estampes (1910)
Mazurkas op. 7 (1911-1912) · Quatre Poèmes op. 10 (1912-1913) · Deux Poèmes op. 8 (1912) · Masques (Tentations) op. 13

COMPACT DISC 2
Menuett (nach Gluck) (1914) · Synthèses op. 16 (1914) · Formes en l'air (1915) · Dvevnoj uzor (Tagesordnung) (1915) · Rojal'v detskoj (Klavier im Kinderzimmer) (1917) · 3. Sonatine (1917) · Upman (Smoking Sketch) (1917) Nash Mash (Our March) (1918) · Toccata (1924) · Valse (1926)

COMPACT DISC 3
Petite suite en fa (1926) · Gigue (1927) · Marche (1927) · Nocturne (1928) Intermezzo (1928) · Berceuse de la chevrette (1936) · A Phoenix Park Nocturne (1938) Ošibka baryšni smerti (Der Irrtum der Frau Tod / Death's Mistake)

MORITZ ERNST, Klavier / piano
OSKAR ANSULL, Sprecher / narrator

When we endeavour to grasp the composer Arthur Lourié, we encounter some difficulties. He was born as Naum Izrailevich Lur'ya in 1892, according to his own statements and documents, but there is also evidence for 1891. At the age of 21, the born Jew converted to Christianity; he was a charismatic bohemian and Soviet cultural politician who did not return from a so-called official journey to Berlin in 1922 and was a pioneer of Modernism in music, enjoying mingling among the poets and painters of the Silver Age and being inspired by them. His musical oeuvre is just as multi-faceted and diverse. During his years in Russia, he composed the most differing works next to one another, true to the precept of his role model Ferruccio Busoni that a composer should never repeat himself and has to find a new artistic solution for every work, as it were. But the pieces from his exile in France (1924-1941) paradoxically often sound more Russian than those written in Russia. However, Lourié's 10-year collaboration and partly also friendship with Igor Stravinsky interestingly found no expression in his piano works. Stravinsky's percussive piano style remained alien to him.

Weitere Bilder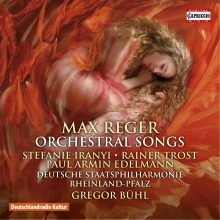 MAX REGER: ORCHESTRAL SONGS
Iranyi · Trost · Edelmann
Deutsche Staatsphilharmonie Rheinland-Pfalz · Gregor Bühl
C5275 PC: 21 845221052755
Up to today, it has largely remained unnoticed that Max Reger, who enlarged his oeuvre work by work in literal 'piece work', again and again turned to arranging works by others in order 'to recuperate' from his own composition. Whereas Reger's original works for voice and orchestra are mainly related to the genre of the orchestral song with a tradition cultivated in France, but also in England, the arrangements were largely composed following performance-technical considerations.

Weitere Bilder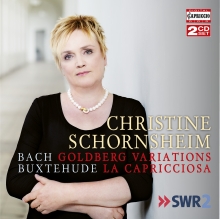 CHRISTINE SCHORNSHEIM
Buxtehude: La Capricciosa
Bach: Goldberg Variations
C5286 (2CD) PC: 21 (Special Price) 845221052861
'Like for many harpsichordists and pianists, for me, too, the Goldberg Variations rank among the most significant works of clavier literature. I listened to my first recording, produced 25 years ago, only to notice that over the course of the years I have remained true to myself in many respects. On the other hand a process of maturation has taken place, the outcome of which I now indeed wanted to document, simply because the variations are a part of my life. Linking the Goldberg Variations to La Capricciosa by Dietrich Buxtehude originated in an idea that had established itself in my mind for many years.'
Christine Schornsheim

Weitere Bilder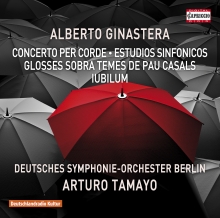 ALBERTO GINASTERA (1916 - 1983)
Estudios sinfonicos · Glosses sobra temes de Pau Casals · Iubilum · Concerto per corde
DEUTSCHES SYMPHONIE-ORCHESTER BERLIN · ARTURO TAMAYO
C5271 (August 16) PC: 21 845221052717
SOUND SAMPLE
https://soundcloud.com/user-592952001/alberto-ginastera-new-cd

After achieving independence from Spain an autonomous concert and opera life developed in Argentina, in many respects trained in European traditions: Astor Piazolla, the founder of the Tango Nuevo, should be mentioned here, as well as Mauricio Kagel, Carlos Gardel and finally the personality that has been considered for decades the great man of classical-style music in the South American country: Alberto Ginastera. Three of the works recorded here fall into this final period, the 'Neo-Expressionist' one. The Concerto per corde op. 33 (1965), held in the classical four movements, Estudios sinfonicos op. 35 (1967), one of Ginaster's orchestral works experimenting furthest with sytlistic devices of the avant-garde and a special position within the works of the third period is taken by the Glosses sobra temes de Pau Casals op. 48 (1976/77), as it takes recourse to very traditional material – themes by the great Spanish cellist Pablo Casals – treating it in a kind of reflection in an avant-garde mirror.

Weitere Bilder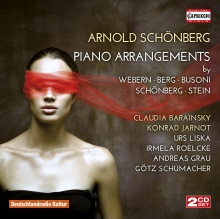 ARNOLD SCHÖNBERG
PIANO ARRANGEMENTS by Anton Webern · Ferruccio Busoni · Alban Berg
CLAUDIA BARAINSKY · KONRAD JARNOT · URS LISKA · ANDREAS GRAU· GÖTZ SCHUMACHER · IRMELA ROELCKE
2CD: C5277 (August 16) PC: 21 (Special Price) 845221052779
COMPACT DISC 1
Gethsemane (Fragment) · Text: Richard Dehmel
Piano score by / Klavierauszug von Arnold Schönberg
Gurre-Lieder (Orchestral Parts / Orchesterstücke)
Arr.: Anton Webern (1883 – 1945)
for 2 pianos with 4 players / für zwei Klaviere mit 4 Spieler
Six Orchestral Songs / Sechs Orchesterlieder, op. 8
Piano score by / Klavierauszug von Anton Webern
Piano Piece op. 11, No. 2 / Klavierstück op. 11, Nr. 2
arr.: Ferruccio Busoni (1866 – 1924)

COMPACT DISC 2
Six Little Piano Pieces / Sechs kleine Klavierstücke, op. 19
String Quartet / Streichquartett Nr. 2, op. 10
Piano Score by / Klavierauszug von Alban Berg (1885 – 1935)
5 Pieces for orchestra, op. 16
arr.: Erwin Stein (1885 – 1958) / arr.: Anton Webern
Chamber Symphony / Kammersinfonie Nr. 2, op. 38b
arr.: Arnold Schönberg
for 2 pianos with 2 players / für zwei Klaviere mit 2 Spieler

CLAUDIA BARAINSKY, Sopran / soprano
KONRAD JARNOT, Bariton / baritone
Klavier / piano:
URS LISKA · ANDREAS GRAU · GÖTZ SCHUMACHER · IRMELA ROELCKE

After the great success of the complete recordings of the songs by Arnold Schoenberg (Capriccio 4CD-Set, C7120), the pianist Urs Liska and prominent colleagues once more deal with the father figure of Modernism on this double CD. Piano arrangements with up to four players, the majority of them world premiere recordings, show large-scale orchestral works such as the Gurre-Lieder or the Orchestral Pieces op. 16 in a new and transparent light.

Weitere Bilder