cd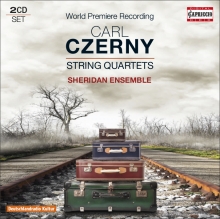 CARL CZERNY: String Quartets
Sheridan Ensemble

C5234 (2CD) PC: 21 (Special Price) 845221052342
Known as a piano teacher, with whose works almost every piano pupil should be familiar and possibly also as a pupil of Beethoven, Carl Czerny enjoys practically no fame as a composer today. The composing maniac (round about 800 published works) acquired a great reputation (and wealth) from piano teaching and writing educational works for the piano and compositions the market expected from him and from which he earned a lot of money. At the moment, seven quartets are recorded, four of which were probably intended for publication. Czerny composed in the tradition of Haydn and Beethoven. Echoes of Mendelssohn can be discerned as well as a romantic style full of drama and profundity of expression. The quartets have only been passed down as manuscripts from Czerny's estate, which can be found in the archives of the Society of Friends of Music in Vienna.

Weitere Bilder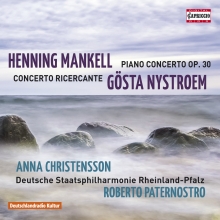 HENNING MANKELL: Piano Concerto Op. 30 GÖSTA NYSTROEM: Concerto ricercante
Anna Christensson
Deutsche Staatsphilharmonie Rheinland-Pfalz · Roberto Paternostro
C5240 PC: 21 845221052403
World Premiere Recording
HENNING MANKELL (1868-1930)
Concerto for piano and orchestra, op. 30 (1917)
Konzert für Klavier und Orchester, op. 30 (1917)
GÖSTA NYSTROEM (1890-1966)
Concerto ricercante (1959)
for piano and chamber orchestra / für Klavier und Kammerorchester (1959)
Henning Mankell (1868-1930), whose grandson and namesake has become one of Sweden's most successful authors of crime novels, was himself a modest person, not very interested in a public career. Mankell earned his livelihood as a private teacher of piano and music theory in Stockholm, as a music critic and as a member of the board of the Academy of Music. If Mankell's life was a tranquil one, his compositions were all the more colourful, at least those from the last two decades of his life. His works were given labels such as 'Impressionism' or 'Futurism' by the critics of the age. He was probably interested in French Impressionism, but he did not identify with it. Many of Mankell's works, and especially the bolder ones, remained unpublished for a long time, but were still occasionally performed by musicians who recognized their value.
Gösta Nystroem (1890-1966) had an obvious talent both for pictorial art and music. He had a lifelong fascination for the sea and loved to be among fishermen, sometimes even taking part in their work at sea. Two composers had a special influence on him in Paris: Stravinsky and Honegger. For a few years, Nystroem used dissonance extensively, influenced by the style of The Rite of spring. Nystroem followed Vincent d'Indy's historically oriented teaching, which was of great importance to him, but his most inspiring teacher in Paris was the Russian music theorist Leonid Sabaneyev, with whom he worked for several years. The composer later declared himself to be both 'a great lover of absolutely pure music' and 'an incurable romantic', a description that is relevant for this recording and also for his instrumental music in general.

Weitere Bilder
CANCIONES ESPAÑOLAS
DE FALLA · GRANADOS · MOMPOU · MONTSALVATGE
ZORYANA KUSHPLER, mezzo-soprano · OLENA KUSHPLER, piano
C5193 PC: 21 845221051932
After the successful album release "Slavonic Souls" (Capriccio C5039) the Vienna State Opera Singer Zoryana Kushpler takes care with her twin sister Olena to famous spanish songs and has also included some rarities in her program of this rich musically culture.
Weitere Bilder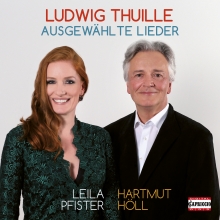 Ludwig Thuille (1861-1907)
Selected Songs
Leila Pfister, mezzo-soprano Hartmut Höll, piano
C5238 PC: 21 845221052380
op. 12/3: Die stille Stadt (Richard Dehmel) · aus / from op. 19: 1 Die Kleine (Joseph von Eichendorff) · 2 Sommermittag (Theodor Storm) · 4 Frau Nachtigall · 5 Spinnerlied (aus »Des Knaben Wunderhorn«) · aus / from op. 15: 1 Mädchenlied · 3 Lied der jungen Hexe (Otto Julius Bierbaum) · op. 5: 1 Klage · 2 Sommermorgen · 3 Es klingt der Lärm (Karl Stieler) · op. 24: 1 Wenn die Sonne · 2 Die Spinnerin · 3 Ich wollt' ein Sträußlein (Clemens Brentano) · op. 26,3: Seliges Vergessen (Joseph von Eichendorff) · o.op.: Urschlamm- Idyll (Theodor von Vischer)
Leila Pfister, Mezzosopran / mezzo-soprano
Hartmut Höll, Klavier / piano
Ludwig Thuille was a comprehensively and multifariously educated musician: a composer, pianist, choir director, singer, music teacher (composition and piano) and music theorist.
For until a short time ago Ludwig Thuille was a shadowy figure encountering the reader of yellowed books. The reference to his historical importance as head of the 'Munich School' did not mean much, It is only Thuille's correspondence with Richard Strauss that has kept his erstwhile significance alive. Signs of their friendship were the almost contemporaneous settings of specific poems. Campaigned for his Lieder, now, after the first release with Roman Trekel (Capriccio CD C5058) Hartmut Höll presenting an additional album with the mezzo-sopranist Leila Pfister of these unknown songs.
Weitere Bilder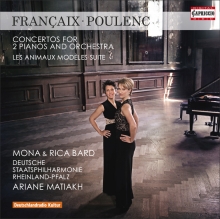 JEAN FRANÇAIX FRANCIS POULENC
Concertos for two pianos and orchestra Les Animaux modèles
Mona & Rica Bard, pianos Deutsche Staatsphilharmonie Rheinland-Pfalz Ariane Matiakh
C5237 PC: 21 845221052373
JEAN FRANÇAIX (1912-1997)
Concerto for two pianos and orchestra (1965)
FRANCIS POULENC (1899-1963)
Concerto for two pianos and orchestra in D Minor FP 61 (1932)
Les Animaux modèles FP 111 (1941)
Ballet after Jean de la Fontaine (Orchestral Suite)
MONA & RICA BARD, piano
DEUTSCHE STAATSPHILHARMONIE RHEINLAND-PFALZ
ARIANE MATIAKH, conductor
Writing a concerto for two pianos is a complex procedure. Jean Françaix wanted his own one to be brilliant and cheerful, with numerous technical 'acrobatics. The challenge it represents has been brilliantly resolved by Mona and Rica Bard directed by Ariane Matiakh. The three musicians have realized the composer's hope throughout his life: making music 'that gives pleasure'. Claude Françaix, 2014 (Pianist and composers daughter)
In his musical aesthetics, Françaix was close to the 'Groupe des six' from the outset, and in the connection between cheerfulness and elegance so typical of him to Poulenc in particular. This applies especially to the Concerto for Two Pianos and Orchestra, written in 1965, which the composer premiered in Maastricht with his daughter Claude on 26 November of the same year.It is not difficult to discern that Françaix was well acquainted with Poulenc's Double Concerto when he composed his piece. Of the six, the Paris-born Poulenc was probably the 'most French'. Influenced by Surrealism and Apollinaire, on the one hand, and then to a large degree by Catholicism after roughly the middle of his life, he derived his stylistic elements from the greats of music history – from Mozart to Stravinsky. Most striking is surely the second movement of the concerto representing a dialogue of the composer with Mozart.

Weitere Bilder