cd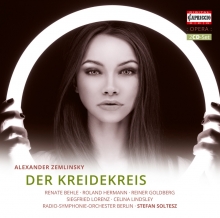 ALEXANDER ZEMLINSKY: DER KREIDEKREIS · THE CHALK CIRCLE
Opera Complete Recording
Renate Behle · Reiner Goldberg · Roland Hermann · Radio-Symphonie-Orchester Berlin · Stefan Soltesz
2CD · C5190 PC: 21 (Special Price) UPC: 845221051901
ALEXANDER ZEMLINSKY (1871-1942)
DER KREIDEKREIS
THE CHALK CIRCLE
Oper in drei Akten · Opera in three acts
Text: Klabund
- Gesamtaufnahme / Complete Recording -
RENATE BEHLE · ROLAND HERMANN · REINER GOLDBERG
SIEGFRIED LORENZ · CELINA LINDSLEY
RADIO-SYMPHONIE-ORCHESTER BERLIN
STEFAN SOLTESZ
The old Chinese drama of courtroom and customs was usable only as raw material. In its original version it is a fairly dull, wooden affair, handled extremely clumsily from the dramatic
point of view. It is in effect inventing a Chinese fairy-tale. No strict Chinoiserie: it had
to be as if in a dream of China. Klabund (1925)
Two years after the death of Klabund, Zemlinsky decided to use his Chalk circle as the basis for an opera. He recast the five-act "play after the Chinese" first into a two-act, later into a three-act version, and composed his Chalk circle in 1931/32. This blend of a fairy-tale Utopia, social criticism and inwardness makes itself felt in Zemlinsky's music, which seeks to combine varied stylistic components: Chinese coloration appears in the orchestral scoring, which is enriched with gongs and other exotic-sounding instruments: the melody often avoids semitonal steps and so takes on a pentatonic character. It was the seventh and also his last completed opera, from which the then 61-year-old Zemlinsky hoped for the definitive breakthrough as an operatic dramatist.
Weitere Bilder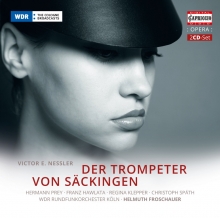 VICTOR E. NESSLER: The Trumpeter Of Säckingen
Opera Complete Recording
Hermann Prey · Franz Hawlata · Regina Klepper · WDR Rundfunkorchester Köln · Helmuth Froschauer
2CD · C5187 PC: 21 (Special Price) UPC: 845221051871
VICTOR E. NESSLER (1841-1890)
DER TROMPETER VON SÄCKINGEN
THE TRUMPETER OF SÄCKINGEN
Opera in a prologue and three acts
Text: Rudolf Bunge, Joseph Victor von Scheffel
UA: Leipzig, 1884
- Gesamtaufnahme / Complete Recording -
HERMANN PREY · FRANZ HAWLATA · REGINA KLEPPER
WDR RUNDFUNKORCHESTER KÖLN · HELMUTH FROSCHAUER

The first performance of "The Trumpeter of Säckingen" on May 4, 1884 at the Stadttheater in Leipzig was an unprecedented success. For the hundredth Leipzig performance there was a procession with flaming torches in honour of the composer. "The Trumpeter" then began its triumphant conquest of the entire German theatre scene; within a few years the opera had been performed several thousand times and, by the turn of the century, had established its place in the repertoire of all the major opera houses. That great critical authority Eduard Hanslick showed most restraint, making an attempt to analyze the "popular force, the winning something" in Nessler's "musical mediocrity", and concluding: "The most remarkable thing in this unprecedentedly successful opera is precisely its success." In 1884 – the year following Wagner's death, the year which saw the premieres of Massenet's "Manon" and Puccini's first work, "Le Villi", the year in which Bruckner's seventh symphony and Mahler's "Lieder eines fahrenden Gesellen" were composed, – the tastes of the Biedermeier period and quaint romanticism had made their second conquest of the German opera world.
Weitere Bilder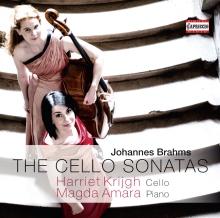 Harriet Krijgh - Brahms Cello Sonatas

Harriet Krijgh, cello Magda Amara, piano
C5173 PC: 21 UPC: 845221051734
After the first album with french cello music and the very successful recording of the Haydn Cello Concertos the young cellist Harriet Krijgh continues now with the pearls of german-romantic cello literatur: the recording of boht cello sonatas by Johannes Brahms.
'I used to play the fiddle myself', Johannes Brahms once told his Viennese composer colleague Richard Heuberger, 'but my instrument was the cello. I played concerts on it'. That Brahms' two cello sonatas were 'miraculous pearls of chamber music', as a critic wrote in the Neue Berliner Musikalische Zeitung in 1873, was sadly not recognized by all contemporaries at once. Some listeners were simply floored by the dense texture of the compositions. But a short time later, they were to establish themselves everywhere and have ranked among the outstanding works in the cello repertoire up to today.
Youtube
Weitere Bilder
Anne Schwanewilms
Schumann: Liederkreis op.39 · Wolf: Mörike-Lieder
Manuel Lange, piano
1CD · C5166 PC: 21 UPC: 845221051666
Anne Schwanewilms ranks among the greatest Strauss and Wagner interpreters today, but her secret love still belongs to the Lied. 'Up to now I insist on my song recitals, that means pursuing the path of my soul, then I am the orchestra, the singers, the driving force with all together. The pianist is my most important partner, and it is quite simple communication to produce pure music, in the simplest form.'
For her new album, the soprano celebrated worldwide quite deliberately chose songs by Robert Schumann and Hugo Wolf. 'It is the conception of a 'somnambulist's gait', enlivened by memories, dreams and steps back into the past – for the tranquillity that can emerge with Schumann and Wolf is for me incredibly intensive and fascinating.' Anne Schwanewilms is accompanied by the pianist and song expert Manuel Lange.
Youtube
Weitere Bilder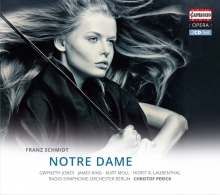 Franz Schmidt: Notre Dame
Opera Complete Recording
Jones · King · Moll · Laubenthal · RSO Berlin · Christof Perick
2CD · C5181 PC: 21 UPC: 845221051819
FRANZ SCHMIDT (1874-1939)
NOTRE DAME
Romantic Opera in 2 Acts
Text: Leopold Wilk, Franz Schmidt
- Gesamtaufnahme / Complete Recording -
GWYNETH JONES · JAMES KING · KURT MOLL
HORST R. LAUBENTHAL
RADIO-SYMPHONIE-ORCHESTER BERLIN
CHRISTOF PERICK
"Notre Dame" immediately evokes the hunchbacked bellringer, Quasimodo, and the films with C. Laughton and A Quinn; one remembers a gruesome, bloodthirsty tale from the late Middle Ages about deformed people, gypsies, villains, knights and priests. With their percise feel for the psychology of the plot, Franz Schmidt and his librettist Leopold Wilk condensed and modified the story and shifted its emphasis. In his novel The Hunchback of Notre Dame, Victor Hugo's prime intent was to portray 19th century Paris (with Notre Dame Cathedral as the symbolic main character) and to express his social concern for outcasts and the aesthetic and moral worth of ugliness. The opera is dominated not by Paris, not by Quasiomodo (of the five main characters, he has the smallest part), but by Esmeralda. She is at the centre oft the web of stories which make up the plot. The four principal male characters, Phoebus, Gringoire, the Archdeacon, and Quasimodo, have one thing in common – their love for Esmeralda. Men seem to be irresistibly attracted to her, even "bewitched". The lives of these four men are changed, and later destroyed, by their passion for Esmeralda. Meeting Esmeralda has disastrous consequences for all people involved. In her effect on men and the ensuing events, Esmeralda reminds one of Lulu. She is the innocent sister of child-woman Lulu. – However, Alban Berg was not to write his opera for another thirty years.
Also available:
Weitere Bilder