cd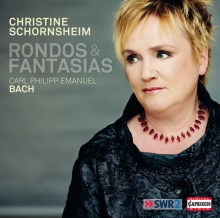 Christine Schornsheim
Carl Philipp Emanuel Bach: Rondos & Fantasias
Christine Schornsheim, Tangentenflügel
C5201 PC: 21 845221052014
Christine Schornsheim about her recording:
"I found it more exciting to concentrate only on a larger number of the Rondos and Fantasias, as the imaginative and improvisatory component interests me particularly. Moreover, every individual piece is a valuable and unique specimen…… I opted for a Tangentenflügel because Carl Philipp Emanuel Bach's music is decidedly diverse in character. It is difficult to present it on only one of the possible instruments harpsichord, fortepiano or clavichord. In my view, what characterizes a Tangentenflügel is that it unites all the timbres of stringed period keyboard instruments, so to speak. It can sound as gentle as a clavichord, even the harpsichord can almost be imitated, and the sound of an early fortepiano can similarly be produced."


Weitere Bilder
SAMBALA - Cristiane Roncaglio
Brasil Pandeiro · Imperador Do Samba 
Um Calo · De Estimação · Tempo De Amor
Cristiane Roncaglio · André Bayer · Hartmut Preyer · Mariano "Habib" da Costa
C5195 PC: 21 845221051956
Whoever watches the Samba Schools parading in Rio de Janeiro nowadays many times does not perceive the Samba's musical richness both as a musical and literary genre. This is due to the Samba Schools percussions rhythmic power that "submerges" the harmonic accompaniment and also the grandiose visual appeal. The Samba is, however, in its origins a very sophisticated musical form from a poetic, instrumental and harmonic viewpoint. A typical expression of urban popular culture whose origins go back to the most popular styles among Rio de Janeiro's inhabitants, then the country's capital city. Born in Blumenau, Brazil, Cristiane Roncaglio studied Classical Voice and also Photography. German as well as Italian opera, oratorios, and lieder belong to the wide scope of Cristiane Roncaglio´s repertoire. And yet, she is enthusiastic about Brazilian music, Bossa Nova as well as Música Popular Brasileira.
Weitere Bilder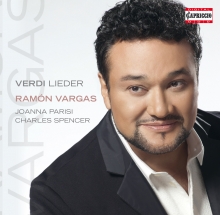 Ramón Vargas - Verdi Lieder
Ramón Vargas, tenor · Joanna Parisi, soprano
Charles Spencer, piano
C5170 · 1CD PC: 21 UPC: 845221051703
For Giuseppe Verdi 'the song had about the same significance that the sketch has for the painter'. It gave him the opportunity 'to sketch emotions and characters in a smaller, more improvised form, genre pictures of passions and destinies he otherwise placed in the wide space of the stage'. Hence, his songs are, as it were, the forerunners of his theatre music, 'they also possess the clout of characterization, the magnificent objectivity of portrayal we admire in the opera arias.' (W. Oehlmann)
After his successful album with opera arias (C5165), the famous tenor Ramón Vargas takes care of these beautiful miniatures from the world
famous italian opera composer.




Youtube
Weitere Bilder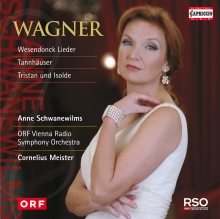 Anne Schwanewilms: The Wagner Album
Wesendonck-Lieder · Tannhäuser · Tristan
Vienna Radio Symphony Orchestra · Cornelius Meister
C5174 PC: 21 845221051741
,She sent him 'cute poems about angels and dreams, even in the manner of Schopenhauer; he added a cautious melody, so as not to destroy the slender, little girl's dreams of anguish and its beauty'. This is how Ludwig Marcuse in Das denkwürdige Leben des Richard Wagner portrays the emerging love between Mathilde and Richard and the songs associated with it. ,Take all my soul as a morning greeting!' the composer rhapsodized in a written message to his beloved. It was a fatal letter, for Minna intercepted it and subsequently undermined the idyll.
One of the most interesting voices of our time presents her first Wagner Album: Anne Schwanewilms, who just had her very sucessful Debut at Metropolitain Opera New York sings the Wesendonck-Lieder, Elisabeth Aria from Tannhäuser and first time ever her debut as Isolde for this CD Recording.

Youtube
Weitere Bilder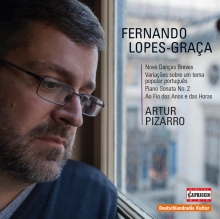 FERNANDO LOPES-GRAÇA
Piano Works
Artur Pizarro, piano
C5196 PC: 21 UPC: 845221051963
FERNANDO LOPES-GRAÇA (1906 – 1994)
Nove Danças Breves (1938-1948)
Variações sobre um tema popular português, op. 1 (1927)
Piano Sonata No. 2, op. 26 (1939)
Ao Fio dos Anos e das Horas
Classical Modernism Meets Portuguese Folklore
Among the masters of classical Modernism, there are three Portuguese composers who are considered greats today: Luís de Freitas Branco (1890-1955), Fernando Lopes-Graça (1906-94) and Freitas Branco's most gifted pupil Joly Braga Santos (1924-88). At the same time, these three composers stand for three basic currents in the music of their time. Lopes-Graça integrated Portuguese folklore especially in his oeuvre by combining it with the achievements of atonal, dissonance-spiced contemporary harmony like other modern national composers such as Bartók, Saygun or Ginastera. He advocated Communist ideals and was a convinced opponent of the Fascist Prime Minister António de Oliveira Salazar, who as leader of his movement Estado Nuovo ruled the country with an iron hand from 1932 to 1968. This led to Lopes-Graça being imprisoned several times and to many obstacles being placed in his way as a composer and teacher. There is no doubt that Lopes-Graça was a subtle and independent master not only in orchestral and chamber music, but also especially in his piano works, which are idiomatically and effectively written for the instrument.