cd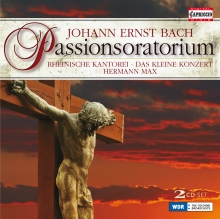 JOHANN ERNST BACH (1722-1777)
Passionsoratorium / Passion Oratorio (1764)
Rheinische Kantorei · Das Kleine Konzert · Hermann Max
2CD-Set: C5122 PC: 21 UPC: 845221051222



Passionsoratorium (1764)
für Sopran, Alt, Tenor, Bass, Chor, 2 Flöten, 2 Oboen, 2 Fagotte,
2 Hörner, Streicher und Basso continuo
Passion Oratorio (1764)
for soprano, alto, tenor, bass, chorus, 2 flutes, 2 oboes, 2 bassoons,
2 horns, strings and continuo

Das Vertrauen der Christen auf Gott
Eine Ode auf den 77. Psalm für Tenor, Chor und Orchester
An Ode on the 77th Psalm for tenor, chorus and orchestra

Meine Seele erhebt den Herrn
Motette für Soli, vierstimmigen Chor, Streicher und Basso continuo
Motet for solo voices, four-part chorus, strings and continuo

BARBARA SCHLICK, MARTINA LINS, Sopran / soprano · SILKE WEISHEIT, Alt / contralto · DAVID CORDIER, Countertenor · CHRISTOPH PRÉGARDIEN, MARTIN SCHMITZ, Tenor
STEPHEN VARCOE, HANS-GEORG WIMMER, Bass
RHEINISCHE KANTOREI · DAS KLEINE KONZERT
HERMANN MAX, Dirigent / conductor

One of the peculiarities of today's concert world is that from the rich tradition provided by the former genre of the Passion of Christ set to music, only two works have been able to establish temselves permanently – the two monumental Passions by Johann Sebastian Bach. The Passion Oratorio by Johann Ernst Bach, the nephew, godson and pupil of Johann Sebastian, is one of the lesser-known works. To this day, J.E. Bach's own vocal works have not been documented, indeed, they have not even been completely catalogued. It is possible with some difficulty to trace about 20 compositions. In order to be able to correctly assess his musical achievement, reference must also be made to the other music of Johann Ernst Bach's day and age. Despite his isolation in Eisenach in Thuringia, he was in no way cut off from the contemporary musical developments taking place in the large musical centres of Berlin, Dresden and Hamburg. With his explicit commitment to sacred music, Johann Ernst Bach occupies an extremely isolated position among the Protestant German composers of the second half of the 18th century. For Carl Philipp Emanuel and Wilhelm Friedemann Bach, for example, the production of sunday cantatas was
one of the more tiresome duties associated with their professional existence. On this point, Johann Ernst Bach took a very different view. Although the religious works of both Telemann and J. S. Bach were, in his opinion, "admirable masterpieces", he strongly criticised the decay of sacred music during his own generation and demanded that this be counteracted by "artistic and regular styles of composition".



Weitere Bilder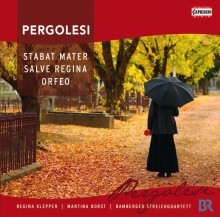 STABAT MATER SALVE REGINA · ORFEO
Giovanni Battista Pergolesi
Klepper · Borst · Bamberger Streichquartett
C5130 PC: 01 UPC: 845221051307


Stabat Mater
für Sopran, Mezzosopran, Streicher und Orgel (1736)
for soprano, mezzo-soprano, strings and organ
Salve Regina
für Mezzosopran, Streicher und Basso continuo (1736)
for mezzo-soprano, strings and continuo
Orfeo
Kantate für Sopran, Streicher und Basso continuo
Cantata for soprano, strings and continuo

REGINA KLEPPER, Sopran / soprano
MARTINA BORST, Mezzosopran / mezzo-soprano
BAMBERGER STREICHQUARTETT
STEFAN ADELMANN, Kontrabass / double-bass
BERTHOLD HÖPS, Cembalo & Orgel / harpsichord and organ

GIOVANNI BATTISTA PERGOLESI is one of those extraordinary musical figures who must be credited both with being outstanding creative geniuses and dying an untimely death. In his life-story, as in his epoch-making work, he has much in common with Mozart and Richard Wagner even spoke of him as a "génie supérieur". What is more, only five years in all were granted him for creative composition before he succumbed at an early age to an insidious tuberculosis. Scarcely anyone, perhaps, has described Pergolesi's vocal works more splendidly and with more understanding than the philosopher and pedagogue Jean-Jacques Rousseau, author of the Dictionnaire de musique that was extremely widespread in the 19th century, when he wrote: "Here everything contributes to deepening the effect of the text: the harmony serves only to shape it more forcefully, the accompaniment embellishes it without distorting it. in a word, the whole work of art simultaneously communicates one melody to the ear and only one idea to the mind." This CD offers 3 Masterpieces recorded by the long time Duo REGINA KLEPPER and MARTINA BORST, accompanied by the BAMBERG STRING QUARTET.



Weitere Bilder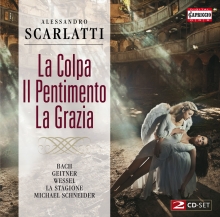 ALESSANDRO SCARLATTI: LA COLPA, IL PENTIMENTO, LA GRAZIA
Oratorium / Oratorio (1708)
La Stagione · Michael Schneider
2CD-Set: C5126 PC: 21 UPC: 845221051260

SCHULD, REUE UND GNADE · SIN, REPENTANCE AND GRACE
Oratorio per la Passione di Nostro Signore Gesù Cristo
Text von / Libretto by: Kardinal Pietro Ottoboni (1667-1740)

In 1708 the celebration of Easter and the Passion in Rome was dominated by two
outstanding musical events: Here, within an interval of four days (from the Wednesday to the Easter Sunday) were performed two oratorios in which a remarkable amount of the most elaborate effort had been invested and which reflected sequentially the Passion and the Resurrection: the Passion oratorio composed by the Italian "doyen" Alessandro Scarlatti was followed by the "Resurrezione" by G.F. Handel, the young, talented 23-year-old Saxonian genius. Whereas the "Resurrezione" has found some new acclaim following the Handel renaissance, Scarlatti's oratorios, like all his vocal works (apart from a few uncharacteristic exeptions), has fallen into oblivion. This full-length work is among Scarlatti's most mature compositions and is certainly the most representative example of the type of passion music cultivated in Italy.
This genre is based on a totally different conception to that of Bach's passion music. His stylistical language was typical and had a determining influence on the period between the early baroque style of Monteverdi, Cesti and Cavalli and the development of the "galant" style of his pupil J.A. Hasse which leads directly into the classical period.


Weitere Bilder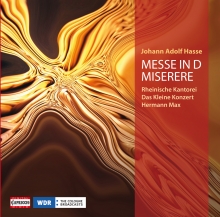 JOHANN ADOLF HASSE
MESSE IN D · MISERERE
Rheinische Kantorei · Das Kleine Konzert · Hermann Max
C5125 PC: 21 UPC: 845221051253
Hasse's lifespan covers a period "between the epochs": he was almost a generation younger then Bach and Handel, who were born in 1685, but on the other hand a generation older than Haydn (b. 1732) and even two generations older than Wolfgang Amadeus Mozart (b.1756).
Hasse's music, however, from the outset was influenced by the new. Among his
contemporaries he was famous beyond all others. Hasse was not just any musician: he was one of the formative composers of his time, especially in the decades between 1730 and 1760. Hasse's Mass in D minor is a "number Mass" typical of its time, in which the five sections of the Ordinary of the Mass (Kyrie, Gloria, Credo, Sanctus, Agnus Dei) are subdivided into fifteen smaller passages of text with their own musically independent movements. In style the Mass displays a trend similar to the Italian but also Hasse's personal style become clear: with virtuosity, elegant melodic lines coupled with the course of the voice parts, harmony "pre-classically" two-dimensional, at the same time as rich in chromaticism, chords of the seventh and bitter suspensions.

Weitere Bilder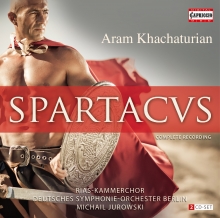 KHACHATURIAN: SPARTACUS
Ballet in 3 Acts (Complete Recording)
Deutsches Symphonie-Orchester Berlin · Michail Jurowski
C5112 PC: 21 UPC: 845221051123
in the

BOLSCHOI

THEATRE

MOSKOW

Version
nach der Fassung des

BOLSCHOI

THEATERS

MOSKAU




K
hachaturian's music is strongly stamped by the tradition of his Caucasian homeland, and consequently feels as much at home in Azerbaijan as in Georgia. His music is conventional, so catchy that, for example, the
BBC
chose the
Adagio
from Act 3 of his ballet
Spartacus
as title-music for the soap opera series "The Onedin Line", broadcast worldwide. First sketches for the Spartacus subject were already written in 1940, but completion of the ballet
Gayaneh
and the world war delayed their continuation. Not until 1952 was work on
Spartacus
finished, and in
1956 the first performance took place by the Kirov Ballet in the Kirov Theatre in Leningrad, in the choreography by Leonid Banyaminovich Jakobson. It was Khachaturian's last great work. soon after the Leningrad première doubts were
expressed about the choreography. For Moscow, lgor Moiseyev then mounted a new production in 1956, which also, however, failed to convince. In 1968,
again for Moscow, the ballet was completely newly constructed according to plans by Yuri Grigorovich for the Bolshoi Theatre. In this version
Spartacus
had worldwide success; it also forms the basis for the present recording.
Weitere Bilder