cd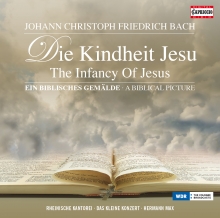 Die Kindheit Jesu - The Infancy Of Jesu
Johann Christoph Friedrich Bach
Rheinische Kantorei · Das Kleine Konzert · Hermann Max
1CD · C5104 PC: 21 UPC: 845221051048



A Biblical picture
Text: Johann Gottfried Herder (1744-1803)
Oratorio for Solo Voices, Four-part Chorus and Orchestra
Johann Christoph Friedrich Bach, the second youngest son of
Johann Sebastian Bach, was active at the Count of Schaumburg-Lippe's court in Bückeburg from 1750 until his death on 26 January 1795. When Friedrich came to the North German capital in 1750, shortly before his 18th birthday, he demonstrably until then had no other teacher than his father. In Bückeburg, however, he immediately became acquainted with a music style that he could scarcely have encountered previously: the music of the Italian operas and cantatas, as well as the instrumental compositions, of the high Baroque. The ensuing appointment to Bückeburg of the poet and theologian Johann Gottfried Herder in 1771 represented for Friedrich a further artistic stimulus which particularly enriched his church music. Towards the end of 1772 Herder wrote the poem
Die Kindheit Jesu
, to which he gave the subtitle "a Biblical picture". He sent the poem as a Christmas gift to his bride Caroline Flachsland in Darmstadt: at the same time he entrusted the text to Johann Christoph Friedrich Bach to set to music. The completed work was performed for the first time on 11 February 1773 at the Bückeburg court.
Weitere Bilder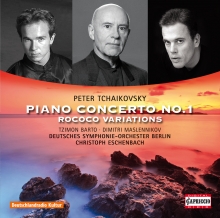 TCHAIKOVSKY
Piano Concerto no.1 Rococo Variations
TZIMON BARTO · DIMITRI MASLENNIKOV · Deutsches Symphonie-Orchester Berlin · CHRISTOPH ESCHENBACH
C5065 PC: 21 UPC: 845221050652
One of the most famous piano concertos is now released in a complete new production: World famous pianist TZIMON BARTO worked together with no less a person than his pianist colleague and conductor CHRISTOPH ESCHENBACH. Both of them show us a very new and exciting version of the score which we never listend before. After the final concert of this production at the Berliner Philharmonie the audience and the press reviews has been very enthusiastic.
The young Dimitri Maslennikov – one of Christoph Eschenbachs talent discovery –
finish this CD with the famous Rococo Variations by Peter Tchaikovsky.

Weitere Bilder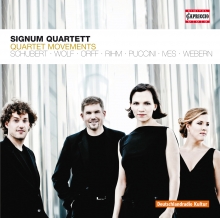 SIGNUM QUARTETT - Quartet Movements
Schubert · Wolf · Puccini · Orff · Webern · Rihm · Ives

C5064 PC: 21 845221050645
SCHUBERT: Quartet Movement D 703 · WOLF: Italian Serenade
PUCCINI: Crisantemi · ORFF: Quartet Movement op.22 · WEBERN: Langsamer Satz · RIHM: Quartet Movement · IVES: Scherzo

In a single Phrase – Quartet Movements between Attempt and Perfection
Arnold Schönberg once remarked on his student Anton von Webern that he was able to "express an entire novel with a single gesture". In doing so, the composer arrived at the maximal condensation of expression through small dimensioned designs.
Hugo Wolf composed his one-movement serenade for string quartet within three days and Giacomo Puccini wrote a melancholic quartet movement in C sharp minor in a single night as he claimed himself. With this interesting Edition of musical fragments and Quartet Movements which found their ways to the concert schedules worldwide, the young SIGNUM QUARTET presents his second album after the successful release of the recording of String Quartets by Ludwig Thuille (Capriccio C5049). Again with a wide range dynamic and fresh performance.



Weitere Bilder
The Circle Of Robert Schumann - Vol.2
Robert & Clara Schumann · Johannes Brahms · Theodor Kirchner · Carl Reinecke
GUDRUN SCHAUMANN, violin · WOLFGANG BRUNNER, fortepiano
C5074 PC: 21 UPC: 845221050744
After the first release of works by Robert Schumann and his creative contemporaries, Gudrun Schaumann presents – after a lot of research – her second album with most interesting compositions from the environment of the famous composer.
The works by THEODOR KIRCHNER and CARL REINICKE are World Premiere Recordings and fascinating pieces like the Schumann Arrangements made by JOSEPH JOACHIM.
Gudrun Schaumann, Violine / violin (by Antonio Stradivari, Cremona 1731)
Wolfgang Brunner, Hammerflügel / fortepiano (by J.B. Streicher, 1836 etc.)


Weitere Bilder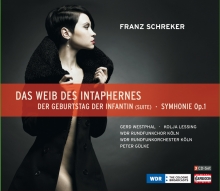 DAS WEIB DES INTAPHERNES
FRANZ SCHREKER
Gerd Westphal · WDR Rundfunkorchester Köln · Peter Gülke u.a.
C7088 · 3CD PC: PC: 03 UPC: 845221070889
Der Geburstag der Infantin (Piano Suite) · Symphonie op.1 · Festwalzer und Walzerintermezzo · Ein Tanzspiel etc.

The present first recordings do not document the Schreker of "impressionistic" intoxication with colour and passionate Italianate cantilenas as in Die Gezeichneten. Here it is a matter of the "unknown Schreker" – the corner-points,
35 years apart, of his output, the whence and whither of a composer who already in his twenties saw himself branded as "begetter of musical narcotics" and whose name still evoked, for many people, "art nouveau of some kind".
Franz Schreker's last completed dramatic composition is the melodrama Das
Weib des Intaphernes, composed on a ballad by Eduard Stucken in 1932/33 in Estoril, near Lisbon, and in Berlin; Once more the sure hand of the dramatist in masterly control of his means is shown; with a few concise motives he creates cohesion of form, and can employ a simple triadic motive as certainly as an inscrutably rugged atonal fugato.

Weitere Bilder