cd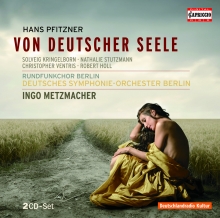 VON DEUTSCHER SEELE
HANS PFITZNER
Romantic Cantata in 2 parts · Text: Joseph von Eichendorff
C5092 · 2CD PC: 21 UPC: 845221050928
Solveig Kringelborn · Nathalie Stutzmann
Christopher Ventris · Robert Holl · Rundfunkchor Berlin
Deutsches Symphonie-Orchester · INGO METZMACHER

The composer's image – in his time, he was an avowed anti-Semite – repeatedly sparked fierce discussions in the feature pages of national and international newspapers. Art, music, and especially the musicians in National Socialist Germany became the direct focus of new analyses and current evaluations.
Although we may not forget and certainly should not suppress the political context, if we approach the actual work, a prosaic analysis reveals that the word "German" does not appear once in the entire opus, and that Pfitzner took the emotionally charged title of a folk song collection "Aus deutscher Seele" from the German-Jewish author Ludwig Jacobowski.
The Eichendorff cantata "Von deutscher Seele" was composed in 1921 and – this is also one of the contradictions – is not ideology set to music, but abstains from any kind of resentment. The work is subtitled " a romantic cantata". Pfitzner's tonal language was certainly rooted in the 19th century, but it by all means branches out onto "new pathways", to paraphrase Robert Schumann, whom Pfitzner greatly admired.

INGO METZMACHER had the support of a first-class ensemble of soloists for his Berlin performances. Despite all polemic and widely varying discourses: the aim of this CD release is to document the opus itself in its entirety, regardless of how discussions of it may continue.

Weitere Bilder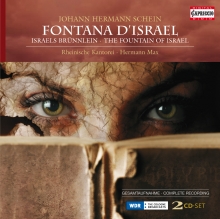 FONTANA D'ISRAEL THE FOUNTAIN OF ISRAEL
JOHANN HERMANN SCHEIN
RHEINISCHE KANTOREI HERMANN MAX
2CD-Set · C5069 PC: 21 UPC: 845221050690
COMPLETE RECORDING
By the time Johann Hermann Schein, cantor at St. Thomas, Leipzig, put his signature to the preface to his new collection of religious vocal compositions entitled FONTANA D'ISRAEL, (The Fountain of Israel, Selected Edifying Quotations from the Old and New Testaments) dedicated to the Council of Leipzig, he was already able to look back on a considerable and varied compositional œuvre. But it was the only one of Schein's religious works to be reissued as long as twenty-two years after his death, and it is still regarded as an "exceptional" artistic achievement, placing Schein among the leading early-Baroque German composers, alongside Michael Praetorius and Heinrich Schütz.
The Israelsbrünnlein contains twenty-six vocal compositions, which, as Schein writes, "can be comfortably played on their own with lively voice and instruments, and also on the organ/harpsichord" and to which he had added a figured bass, admittedly dispensible in most cases.
Weitere Bilder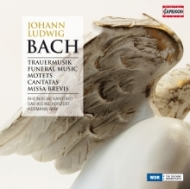 JOHANN LUDWIG BACH
RHEINISCHE KANTOREI · DAS KLEINE KONZERT HERMANN MAX

3CD-Set · C5080 PC: 22 UPC: 845221050805
CD 1: Trauermusik · Funeral Music
CD 2: Motetten · Motets
CD 3: Missa sopra · Cantatas
The Meiningen Hofkapellmeister Johann Ludwig Bach is one of the members of the widely ramified family of musicians who did not pay much attention to secular fame and contented themselves with leading a secluded and industrious life, so that they quickly tended to sink into obscurity. That was perhaps why, as early as 1754, Carl Philipp Emanuel Bach pleaded that those relatives not be forgotten: "It would be impossible to understand why such good men are so little known beyond their fatherland unless one remembers that those honest Thuringians were so satisfied with their fatherland and their situation that they did not even want to venture far beyond the same to seek their fortune elsewhere. Very little of Johann Ludwig Bach's presumably quite extensive musical oeuvre has survived – just under two dozen sacred cantatas, about a dozen motets, a mass, a large funeral composition, a secular homage and an instrumental work of doubtful authenticity. The cantatas in particular have drawn the attention of scholars, since no fewer than eighteen of them have come down to us via Johann Sebastian Bach, who performed them in 1726, his third year of office as Thomaskantor in Leipzig.
Weitere Bilder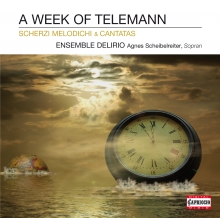 A WEEK OF TELEMANN
SCHERZI MELODICHI & CANTATAS
Ensemble Delirio Agnes Scheibelreiter, soprano
1CD · C5057 PC: 21 UPC: 845221050577
The Scherzi melodichi of 1734 contain seven suites named after the days of the week. The programmatic idea, which is stated on the cover sheet and in the foreword, is to provide music for every-day to entertain the visitors of Bad Pyrmont (in today's Lower Saxony), back then one of Europe's most popular spas. The structure of the Fortsetzung des Harmonischen Gottesdienstes (1731/32) also follows a calendrical principle. The young Ensemble DELIRIO put a programme together, which features each day of the week in at least one of the compositions. The selection of the pieces is based on two cycles by Georg Philipp Telemann.
Weitere Bilder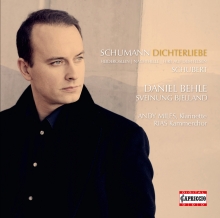 DANIEL BEHLE
SCHUMANN: Dichterliebe
SCHUBERT: Lieder
1CD · C5086 PC: 21 UPC: 845221050867
DANIEL BEHLE, Tenor · SVEINUNG BJELLAND, Klavier · ANDY MILES, Klarinette · RIAS-KAMMERCHOR
Nach der viel gelobten Einspielung der "Schönen Müllerin" präsentiert Daniel Behle mit der "Dichterliebe" einen weiteren großen Liedzyklus der Romantik. Dass er sich den Vergleichen vieler Einspielungen nicht scheuen braucht beweißen die Kritiken seiner vorangegangenen CD-Produktionen. Neben Schumanns Liedzyklus sind auch Perlen an Schubert-Liedern zu hören, so "Der Hirt auf dem Felsen" mit dem gefeierten Klarinettisten ANDY MILES und die "Nachthelle" mit dem RIAS-KAMMERCHOR.
Weitere Bilder