cd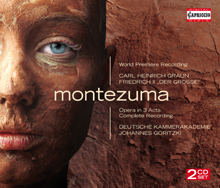 CARL HEINRICH GRAUN
FRIEDRICH II "DER GROSSE" MONTEZUMA

C7085 · 2CD-Set PC: 22 UPC: 845221070858
Opera Complete Recording
Together with Johann Adolf Hasse, Carl Heinrich Graun was the chief representative of Italian Opera in Germany in the 18th century. The story of "Montezuma" accords with the historical fate of the last ruler of the Aztecs. The text is by King Frederick II, Graun had a close friendship to him and became chief of the circle of Berlin composers. "Montezuma" can be seen as Frederick's countersignature to his own fate, which made him into a martial war-prince. "Montezuma" shows him in a field of tension: thus the artistically-minded idealistic prince became the royal practical politician: if justice is to be seen to be done to life's reality, Montezuma must die. Montezuma is mor than just a Baroque opera. This opera can allude to the history of its own nation. It directs our ear to the destiny of America and the destiny of Prussia, to the German's view, 200 years ago, of America, and American history as the mirror of its own.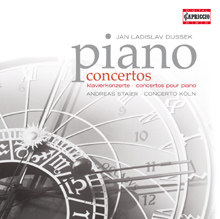 JAN LADISLAV DUSSEK (1760-1812)
C5072 · 1CD PC: 21 UPC: 845221050720
Piano Concerto in G minor op.49 · Piano Concerto in B flat major op.22
ANDREAS STAIER, fortepiano · CONCERTO KÖLN
"...the most honest, politest and most excellent man among all composers …"
No less a person than the old Joseph Haydn praised with these words Jan Ladislav Dussek after having seen him in London in 1792, where Dussek worked as a composer and performer. At his concerts Dussek presented mostly compositions written by himself; among them often one of his nearly twenty piano concertos or one of his numerous piano sonatas. During his London time he struck up a friendship with the piano-builder John Broadwood. This association between the composer-pianist and the master-craftsman was a very fruitful one and Dussek convinced the renowned London piano maker to extend the key ambitus of his instruments by adding another octaves.
ANDREAS STAIER use for this recording such an instrument from 1806 and is
well accompanied by the famous Ensemble CONCERTO KÖLN.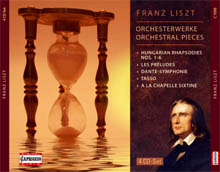 FRANZ LISZT: ORCHESTRAL PIECES
"200 YEAR CELEBRATION"

4CD-Set · C7090 PC: 03 UPC: 845221070902
Inluding the famous Hungarian Rhapsodies Nos. 1-6 and "Les Préludes" this 4CD-Set includes also some rarities of Franz Liszt compositions for orchestra like the Symphony to Dantes Divinia Commedia ("Dante-Symphony") or the Symphonic Poems "Tasso" and "Mazeppa". In those he reffered to Hector Berlioz, whose concept of an Idée fixe he appropriated like the technique of associative linking of themes. Liszt did not take a formal plan as the starting point for his compositions, but instead used a poetic-literary idea.
Weitere Bilder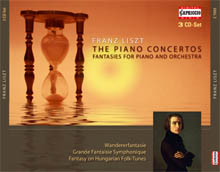 FRANZ LISZT: THE PIANO CONCERTOS FANTASIES FOR PIANO AND ORCHESTRA
"200 YEAR CELEBRATION"

3CD-Set · C7095 PC: 02 UPC: 845221070957
In Liszt's two Piano Concertos we see his both spheres united: the revolutionary new techniques of playing that Liszt had wrestled from the piano during his years as a virtuoso and the orchestra works written on the basis of poetic ideas. His "Fantasies for piano and orchestra" – these paraphrase's to other works – the composer rather aimed at brilliance and virtuosity here. Not often performed this 3CD-Set includes all Fantasies for piano and orchestra as well than the popular two piano concertos.
Weitere Bilder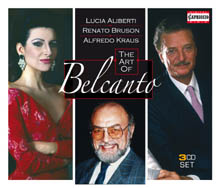 THE ART OF BELCANTO
3CD-Set · C7035 PC: PC 21 UPC: 845221070353
Most famous Recordings of ALFREDO KRAUS, LUCIA ALIBERTI and RENATO BRUSON, with Arias by Bellini, Donizetti, Verdi , Mascagni etc. Also included rare Opera Scenes like Donizetti's "Gemma di Vergy", "Don Sebastiano" or Bellinis "I Capuleti e i Montecchi". A high recommended 3CD-Album for opera friends and fans of these 3 worldwide known "Belcanto"-Artists.
Weitere Bilder