cd
GUSTAV MAHLER: DAS KLAGENDE LIED

SIMONE SCHNEIDER · TANJA ARIANE BAUMGARTNER · TORSTEN KERL · ADRIAN ERÖD · WIENER SINGAKADEMIE · ORF VIENNA RADIO SYMPHONY ORCHESTRA · CORNELIUS MEISTER
C5316 PC: 21 UPC: 845221053165
SONG OF LAMENTATION
for Soloists, Choir and Orchestra (1878-1880 / rev. 1899)
Text: Gustav Mahler after Ludwig Bechsteins fairy tale "Das Klagende Lied"
and "Der singende Knochen" (The Singing Bone) by the Brothers Grimm
[1] Waldmärchen / Forest Legend (First Version 1880)
[2] Der Spielmann / The Minstrel (Revised Version, 1899)
[3] Hochzeitsstück / Wedding Piece (Revised Version, 1899)

The cantata Das klagende Lied even today constitutes a veritable rarity in concert programmes – in an age that without contradiction recognizes Mahler as one of the most eminent milestones in the music history, seeing him permanently embedded in the repertoire.
The salient significance of this large-scale, vocal symphonic work is to be seen in the fact that de facto it forms the beginning of Mahler's familiar oeuvre, explaining and illustrating to the scholar and the exclusively listening music lover alike so many things that make up Mahler.
In the context of Das klagende Lied especially, it might justifiably be asserted that Mahler contains everything that was prior to him, but he also anticipates everything that came after him.


Weitere Bilder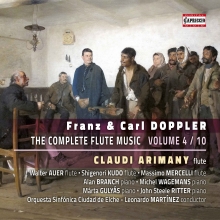 FRANZ & CARL DOPPLER EDITION 4/10
The Complete Flute Music Vol. 4/10
Claudi Arimany · Walter Auer · Shigenori Kudo · Massimo Mercelli
C5298 PC: 21 UPC: 845221052984
[1] Konzert-Paraphrase, Op.18 über Motive aus der Oper "Die Verschworenen" (Der häusliche Krieg) von Franz Schubert D787 for two flutes and piano (F)
[2] Fantaisie Pastorale Hongroise, Op.26 for flute and piano (F)
[3] "Nocturne de Salon", Op.17 for flute and piano (F)
[4] Morceaux favoris sur "Zampa" opéra de L.Hérold for solo flute with piano
ad libitum (F) (WPR)
[5] "Az ujabb zene gyöngyei. A Legkedveltebb Csárdások". Füzet 4 ©
(WPR) (The recent Hungarian music pearls. The most popular Csardas. Book 4) for flute and piano
[6] Duo sur "Il Barbiere di Siviglia" opéra de G. Rossini for two solo flutes (F)
[7] Potpourri sur "Robert le Diable" nº1 opéra de G. Meyerbeer for piano and flute (F) (WPR)
[8] Potpourri sur "Robert le Diable" nº2 opéra de G. Meyerbeer for flute and piano (F) (WPR)
[9] "Valse di Bravura" for two flutes and orchestra (F) (WPR) for two flutes and orchestra
C = Carl Doppler / F=Franz Doppler / WPR=World premiere recording
The Doppler brothers played a dominant role in the K&K Monarchy's musical life as composers, conductors, musicians and as orchestral soloists. They were on good terms with acknowledged artists of the era, such as Ferenc Liszt, Ferenc Erkel, or Jozsef Bajza.
This is the fourth release in a set of 10 CDs comprising the Dopplers' complete music for flute(s), including various arrangements. Flautist Claudi Arimany spent decades researching this project, inspiring many famous musicians to become involved in its realisation.


Weitere Bilder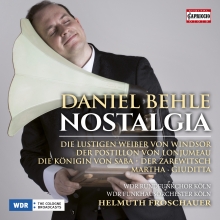 DANIEL BEHLE - NOSTALGIA
VON FLOTOW · NICOLAI · LORTZING · ADAM · GOLDMARK · BOILDIEU · LEHAR · STOLZ · MAY
WDR RUNDFUNKCHOR KÖLN WDR FUNKHAUSORCHESTER KÖLN · HELMUTH FROSCHAUER
C5316 PC: 21 845221053172

[1] FRIEDRICH VON FLOTOW: Martha: "Ach, so fromm, ach so traut"
[2] OTTO NICOLAI: Die lustigen Weiber von Windsor
[3] ALBERT LORTZING: Zar und Zimmermann: Holzschuhtanz
[4] ADOLPHE ADAM: Der Postillon von Lonjumeau
[5] KARL GOLDMARK: Die Königin von Saba
[6] FRANÇOIS-ADRIEN BOILDIEU: Die weiße Dame
[7] FRANZ LEHAR: Eva
[8] FRANZ LEHAR: Giuditta
[9] FRANZ LEHAR: Der Zarewitsch
[10] DANIEL BEHLE: In Köln
[11] ROBERT STOLZ: Ob blond, ob braun, ich liebe alle Frau'n
[12] HANS MAY / ERNST NEUBACH: Ein Lied geht um die Welt
[13] GERHARD WINKLER: Chianti Lied
[14] HANS MAY/ ERNST NEUBACH: Heut ist der schönste Tag

Daniel Behle is one of the most versatile German tenors, with successes in concerts, recitals and the opera alike: "The basic idea for this programme was originally a homage to the golden 1950s and 1960s and my favourite singer of that time, Fritz Wunderlich. Earlier, not everything used to be bad, and for this reason I find it legitimate to 're-animate' the greatest 'pearls' once more and present them to a younger audience."


Weitere Bilder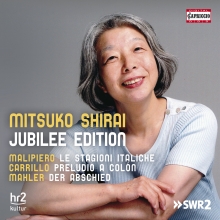 MITSUKO SHIRAI - JUBILEE EDITION
Gian Francesco Malipiero · Julián Carrillo · Gustav Mahler
Mitsuko Shirai • Hartmut Höll · Bernd Buß · Ronald Hoogeven · Rainer Sachtleben
C5324 PC: 21 UPC: 845221053240
Yet unpublished recordings:

Gian Francesco Malipiero (1882 – 1973)
[1] – [4] LE STAGIONI ITALICHE
PER UNA VOCE DI SOPRANO E PIANOFORTE (1923)
Julián Carrillo (1865 – 1965)
[5] Preludio a Colón (1922)
Gustav Mahler (1860 – 1911)
Das Lied von der Erde
First original version for voice and piano 1908
[6] Nr. 6: Der Abschied

»The First Lady of art song« Jürgen Kesting (STERN)
On the 28th of May Mitsuko Shirai celebrated her 70th birthday.
She looks back on a life rich with musical performances: lieder, concerts, and also operas. The Lied duo Mitsuko Shirai • Hartmut Höll have created their own vast library of songs with numerous CD recordings and set new standards with concerts and CDs.
I prize all the recordings of Mistuko Shirai and Hartmut Höll, an historically great partnership in song, and I cherish the memory of the many times I heard them live.
Richard Dyer, Boston Globe


Weitere Bilder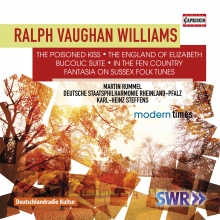 RALPH VAUGHAN WILLIAMS
The Poisoned Kiss Fantasia on Sussex Folk Tunes · Bucolic Suite · In The Fen Country · The England of Elizabeth
MARTIN RUMMEL Deutsche Staatsphilharmonie Rheinland-Pfalz · Karl-Heinz Steffens
C5314 PC: 21 845221053141
Together with his friend Holst, at the beginning of the 20th century Ralph Vaughan Williams deliberately took the course of liberating himself from 'German influence', as they called it, working for original British music. He found models and inspiration in original English folk music.
Most of the works recorded here rank among the less known pieces by the composer, but all of them very clearly reflect the personal hue, the absolutely 'personal style' of Ralph Vaughan Williams.

Youtube
Weitere Bilder