releases
2021 Releases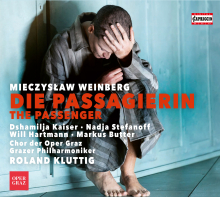 (Opera Complete Recording) · DSHAMILJA KAISER · NADJA STEFANOFF
Chor der Oper Graz · Grazer Philharmoniker · Roland Kluttig
2CD · C5455 PC: 22 UPC: 845221054551
Opera in two acts, eight scenes and one epilogue Op. 97 (1968)
Libretto: Alexander Medvedev after the novel by Zofia Posmysz
Lisa: DSHAMILJA KAISER
Marta: NADJA STEFANOFF
Walter: WILL HARTMANN
Tadeusz: MARKUS BUTTER
CHOR DER OPER GRAZ
(Einstudierung / Chorus Master: Bernhard Schneider)
GRAZER PHILHARMONIKER · ROLAND KLUTTIG Dirigent/conductor
'I simply cannot stop enthusing about Weinberg's The Passenger. I've heard it three times now, studied the score, and every time I understand more of the beauty and greatness of this music. It is a work of consummate form and style and its subject extremely relevant.' – Dmitri Shostakovich
In 1960, Lisa – formerly a guard at Auschwitz and now the wife of a West German diplomat – is on an ocean liner bound to Brazil. She thinks she recognises in another passenger a woman named Martha, a Polish prisoner under her direct jurisdiction. Through a series of flashbacks across two acts, eight scenes and one epilogue, the audience witnesses the final reckoning between two women as they attempt to escape their pasts. The Passenger premiered in 2010 at the Bregenz Festival. With this new production by Oper Graz composer Mieczysław Weinberg's powerful Holocaust drama continues to gain international recognition.

Weitere Bilder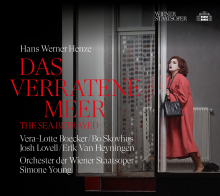 Opera Complete Recording
Bo Skovhus · Vera-Lotte Boecker · Josh Lovell · Orchester der Wiener Staatsoper · Simone Young
2CD · C5460 PC: 22 UPC: 845221054605
'I find myself increasingly occupied with matters of the human soul, its sublimation and spiritual abyss. Certainly my opera The Ocean Betrayed betrays this preoccupation. This music has been to Hades and back, with Monteverdi and myself.' Hans-Werner Henze based the story for Das verratene Meer ('The Sea Betrayed') on Japanese writer Yuko Mishima's 1963 novel, Gogo no Eiko ('The Sailor Who Fell from Grace with the Sea'). The book offers an unsettling scenario 'in which the struggle for normality is doomed to failure'. A young widow, Fusako, falls for a merchant navy officer, Ryuji, creating tension with her son, Noboru, who belongs to a violent gang that will exact revenge on the widow's lover. Through symphonic interludes, the 'angry, betrayed sea' becomes the drama's witness and its narrative voice in Henze's painfully dark and brutal opera.

Weitere Bilder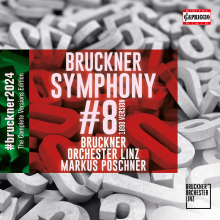 SYMPHONY NO. 8 (1890 Version)
Bruckner Orchester Linz - Markus Poschner
C8081 PC: 21 UPC: 845221080819
This Complete Versions Edition includes all versions published or to be published under the auspices of the
Austrian National Library in the Neue Anton Bruckner Gesamtausgabe
(New Anton Bruckner Collected Works Edition).
Anton Bruckner burst out of the confines of the cathedral using that most secular of musical forms, the symphony. The creator of some of the 19th century's greatest orchestral music, Bruckner cut a singular figure among his contemporaries. This new complete Bruckner Symphonies edition from Capriccio reassesses these enduringly enigmatic and complex works. Presented by the Bruckner Orchestra Linz and the ORF Vienna Radio Symphony Orchestra, and featuring all 19 available versions, the cycle is scheduled for completion in 2024, Bruckner's 200th birthday. The second release, of Symphony No. 8 (1890 version) is performed by Bruckner Orchestra Linz conducted by Markus Poschner.
Weitere Bilder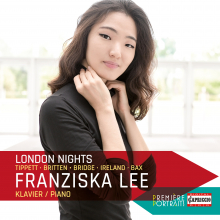 MICHAEL TIPPETT · BENJAMIN BRITTEN · FRANK BRIDGE · JOHN IRELAND · ARNOLD BAX
Franziska Lee, piano
C3010 PC: 01 UPC: 845221030104
Franziska Lee has made a name for herself as an exceptional pianist capable of eliciting an orchestral palette of colours from the piano. Following her debut CD featuring an exclusively 20th-century French programme (Capriccio C3006), Lee has devoted her second recording to British composers of the same period. Together they tell a story of their time, from Britten's exuberant Holiday Diary, a joyful interlude between the wars, to Tippett's escapist Piano Sonata No. 1, written on the eve of the Second World War. With effortless virtuosity and musical insight Lee shines a light on a lesser-known corner of the piano repertoire.


Weitere Bilder
Дневные звёзд (The Stars of the Day) USSR, 1966 · Любимец публики (The Favorite) USSR 1985 · Отец Сергий (Father Sergius) USSR, 1978
Rundfunkchor Berlin · Rundfunk-Sinfonieorchester Berlin · Frank Strobel
C5350 PC: 21 845221053509
Alfred Schnittke's film music encapsulates almost everything that characterises the Russian composer's compositional style. A self-described polystylist, he began writing for film in the 1960s, penning 66 film scores between 1962 and 1984 for Soviet film companies. His method of drawing on the past was rejected by the avant-garde but embraced by filmgoers and – after he invited the film music expert Frank Strobel to condense his film scores into suites – concertgoers too. Volume five in this series of Schnittke's film music presents music from the films Tagessterne ('The Stars of the day'), Der Liebling des Publikums ('The Favorite') and Vater Sergius ('Father Sergius'), recorded with Strobel and the Berlin Radio Symphony Orchestra.


SCHNITTKE – Film Music Edition Vol. 1-4
4CD-Set · C7196


Weitere Bilder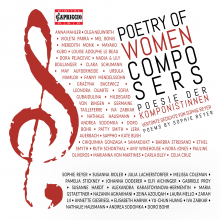 Sophie Reyer · Susanna Ridler · Julia Lacherstorfer · Johanna Doderer · Melissa Coleman · · Maria Gstaettner
Elfi Aichinger · Nazanin Aghakhani · Pamelia Stickney.... and many more
2CD-Set · C5431 PC: 21 UPC: 845221054315
One of the modules in the exhibition MusicaFemina – Women Made Music, presented in 2018 in Vienna, featured 100 female composers who have characterised female composition of music from the time of Sappho to the present day. When the exhibition was open for two months and viewed by 56,000 visitors, the poet, filmmaker and composer Sophie Reyer had the idea, inspired by her ancestresses, of composing 100 poetic texts to complement the series of 100 short biographies. She offered the 100 poetic passages as texts or audio portraits to contemporary composers for composition, with the poet eagerly creating postscripts for those particularly forgotten, those whom the female composers particularly wished to be remembered. The compositional work about the ancestresses was a voyage of discovery: into the history of the female composers; into one's own history. This poetic-musicological project represents an impressive, profound snapshot of female composing, a poetic encyclopaedia, a first-time and unparalleled bridging of the chasm between historic and contemporary composing. it is an opportunity to take a look at the history of music and clear the path for further opportunities.

Weitere Bilder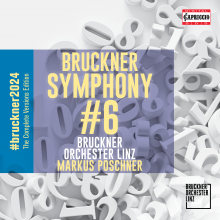 (incl. all available 19 Versions)
Symphony No. 6 Bruckner Orchester Linz · Markus Poschner
C8080 PC: 21 UPC: 845221080802
Start of the most comprehensive Bruckner Symphonies Edition incl. all available 19 versions.
Bruckner burst out of the confines of the cathedral using that most secular of musical forms: the symphony. It is with reflexive reoccurrence in music history that supposed performance traditions burn themselves into a score as if they were a given… and the more so, the further we get from the work's creation. So many clichés and truths about his person and his work are at last being questioned or, if they aren't yet, are overdue some scrutiny. It is an essential aspect of this CD Edition to read and understand the text fresh and anew. Whence does Bruckner's music come and whereunto does it point? With the Bruckner Orchestra Linz and the ORF Vienna Radio Symphony Orchestra Capriccio could engage two of the best Austrian orchestras for this in total 19 versions counting cycle. With about 1065 minutes of music this complete symphonic edition will be finished in 2024, when we will celebrate Bruckner's 200th Birthday.

Weitere Bilder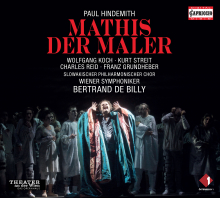 Wolfgang Koch · Kurt Streit · Charles Reid · Manuela Uhl · Franz Grundheber
Slowakischer Philharmonischer Chor · Wiener Symphoniker · Bertrand de Billy
3CD-Set · C5450 PC: 22 UPC: 845221054506
PAUL

HINDEMITH

(1895-1963)


MATHIS

DER

MALER


Oper in sieben Bildern / Opera in seven scenes (1938)
Libretto: Paul Hindemith



MATHIS

, Hofmaler des Erzbischofs: Wolfgang Koch


ALBRECHT

VON

BRANDENBURG

,
Kardinal und Erzbischof von Mainz: Kurt Streit


LORENZ

VON

POMMERSFELDEN

, Domdechant: Martin Snell


WOLFGANG

CAPITO

, Rat des Kardinals: Charles Reid


RIEDINGER

, Ein reicher Mainzer Bürger: Franz Grundheber


URSULA

, seine Tochter: Manuela Uhl


HANS

SCHWALB

, ein Bauernführer: Raymond Very


REGINA

, seine Tochter: Katerina Tretyakova


SYLVESTER

VON

SCHAUMBURG

, Offizier: Oliver Ringelhahn


TRUCHSESS

VON

WALDBURG

, Heeresbefehlshaber: Ben Connor
GRÄ

FIN

HELFENSTEIN

: Magdalena Anna Hofmann


DER

PFEIFER

DES

GRAFEN

: Andrew Owens
Slowakischer Philharmonischer Chor
WIENER

SYMPHONIKER

·
BERTRAND

DE

BILLY
Mathis der Maler
is the central composition of Paul Hindemith's output for music theater.
The reception began with its successful premiere of a symphony of three orchestral parts from the opera, in March of 1934 in Berlin. That was still before the composer was attacked in the National-Socialist press which prompted a defense of Furtwängler's in a newspaper article titled "The Hindemith Case". The opera wasn't premiered until May 1938, in Zurich, where the Hindemith's had emigrated to, before moving on to the United States. Much as Mathis, who found his political engagement in the Peasant's War and his calling to paint solely for the glory of God to collide with the expectation to positions himself on religious matters during the Reformation, Hindemith found himself torn between his refusal to propagate for the Nazis, his urge to follow his inner voice, and the demand that he position himself against the regime. These highly acclaimed performances from 2012 at Theater an der Wien with Opera Star Roland Koch in the title role is finally now available as CD-Release.
Weitere Bilder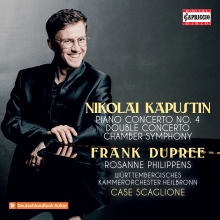 Concerto for piano and orchestra no. 4 · Concerto for violin, piano and strings · Chamber Symphony
Frank Dupree · Rosanne Philippens · Meinhard Jenne · Württembergisches Kammerorchester · Case Scaglione
C5437 PC: 21 845221054377
'……our life is like jazz improvisation, it should always be spontaneous, always in the moment, and always free.' Nikolai Kapustin
Drawing parallels to another famous composer of symphonic jazz, Kapustin is occasionally considered a 'Russian in Gershwin's clothing'. Most of his compositions are influenced by jazz and expertly combine jazz elements with those of the tradition from Bach to Prokofiev and Stravinsky. The aesthetic diversity with which classical garb and the stylistic devices of jazz are amalgamated in Kapustin's output could be taken as the byword for all three compositions included on this recording. Only late – perhaps too late for Kapustin – did his catalogue of works reach greater international recognition. People who knew him, describe him as a man who never desired the limelight. Apparently, he was happiest when he was able to compose work after work in his apartment, far away from the public eye.
Weitere Bilder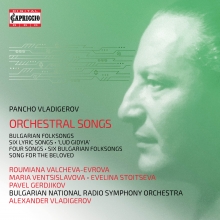 Bulgarian Folksongs · Six Lyric Songs · Lud Gidyia Op. 5 ·Song for the Beloved
Gerdjikov · Valcheva-Evrova · Ventsislavova · Stoitseva · Bulgarian National radio Symphony Orchestra · Alexander Vladigerov
2CD-Set C8070 PC: 21 UPC: 845221080703
The present fifth volume of the Pancho Vladigerov Edition turns to an aspect of the composer's genre that many other composers have never or hardly touched: Orchestral songs. It is perfectly plausible that Vladigerov found himself exposed to this genre during his formative years in Berlin and Vienna, having enjoyed its heydays in those years he spent in those cities (Gustav Mahler, Richard Strauss, Hans Pfitzner, Joseph Marx and others). Notably, Vladigerov always worked off poems by Bulgarian writers, not only when dealing with Bulgarian folk songs. Like many other 20th century composers from a host of different countries and ethnicities, Vladigerov delved deeply into the folk songs and folk dances of his homeland. These are songs and dances – some are still popular today, others nearly forgotten – that various ethnic groups in the country have developed over centuries. In these arrangements, the composing side of Vladigerov finds the perfect synthesis with his pronouncedly Bulgarian side.

Weitere Bilder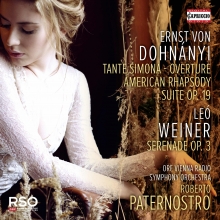 Tante Simona · Suite in F sharp minor · American Rhapsody · Leo Weiner: Serenade
ORF Vienna Radio Symphony Orchestra · Roberto Patrnostro
C5380 PC: 21 UPC: 845221053806
Ernst von Dohnanyi was one of the most versatile and influential musicians of his time but his works are now seldom played. A gap which Capriccio want to fill now with this already fifth recording of his late romantical, sensual music, deeply rooted in the Austro-German
classical tradition. An appetizer is the overture of the one-act opera Tanta Simona, which has plenty of that Italian flair to show for that runs through the opera's plot. After its premiere in 1910, the Suite in F-sharp minor Op.19 became one of the most performed Dohnányi's works, whereas the American Rhapsody Op.47, which is full of quotations with american folk melodies, was his last orchestral work, first performed in 1954 at Ohio University. Finally his 8 years younger colleague Leó Weiner shows us in his early composition, the Serenade in F minor (1906) apart from the influence of the German and Austrian romantics, typical Hungarian colors and rhythms.

Weitere Bilder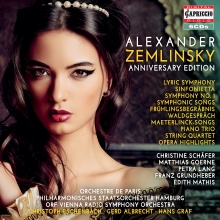 Lyric Symphony · Symphony no. 1 · Sinfonietta · Symphonic Songs · Frühlingsbegräbnis Walzer-Gesänge String Quartet no. 2 Opera Highlights
SCHÄFER · GOERNE · GRUNDHEBER · MATHIS · ZIESAK · LINOS ENSEMBLE · ORCHESTRE DE PARIS · ESCHENBACH · ALBRECHT · MÄLKKI
C7360 PC: 06 (Special Price) UPC: 845221073606
COMPACT DISC 1: Lyric Symphony, op. 18
COMPACT DISC 2: Symphony no. 1 in D minor (1892/1893) · Sinfonietta, Op. 23 (1934)
Three Ballet Pieces "Triumph der Zeit" (1903)
COMPACT DISC 3: Symphonic Songs, Op. 20 · Frühlingsbegräbnis · Waldgespräch
Maiblumen blühten überall · Six Songs, Op. 13 "Maeterlinck-Songs"
COMPACT DISC 4: Walzer-Gesänge, Op. 6 · 5 Gesänge op. 7 (1898/1899) · Zwei Brettl-Lieder (1901) · Es war ein alter König · Six Songs, Op. 13 "Maeterlinck-Songs" (Chamber Music Version)
COMPACT DISC 5: Piano Trio, Op. 3 · String Quartet no. 2, Op. 15
COMPACT DISC 6: - Opera Highlights –
Es war einmal (Once Upon A Time) · Der Traumgörge · Der Kreidekreis (The Chalk Circle)
Eine Florentinische Tragödie (A Florentine Tragedy) · Der König Kandaules
CHRISTINE SCHÄFER · MATTHIAS GOERNE · PETRA LANG · FRANZ GRUNDHEBER · EDITH MATHIS · RENATE BEHLE · JOSEF PROTSCHKA · EVA JOHANSSON · MONTE PEDERSON · RUTH ZIESAK · ARTIS QUARTET · PACIFIC TRIO · LINOS ENSEMBLE · ORCHESTRE DE PARIS
PHILHARMONISCHES STAATSORCHESTER HAMBURG · ORF VIENNA RADIO SYMPHONY ORCHESTRA · THE DANISH RADIO SYMPHONY ORCHESTRA
CHRISTOPH ESCHENBACH · GERD ALBRECHT · HANS GRAF · SUSANNA MÄLKKI

When Zemlinsky died in 1942, there was no telling if or when posthumous recognition of his work would take place. Typical though his reception was for the 20th century – pockmarked by two world wars and Nazi rule, it remains remarkable just how differently Zemlinsky, born on October 14th, 1871, has been judged throughout the last 150 years. He had his works premiered at the Vienna Court Opera by Mahler. He commanded the utmost respect of his pupil and brother-inlaw Arnold Schoenberg. He was celebrated as the director of Prague's New German Theatre. And yet, still in his lifetime, his work succumbed to political and stylistic changes; he had been persecuted and was forgotten. We've sort of come full circle: Zemlinsky is once again considered a great composer whose works don't have to shy away from comparison with those of his famous contemporaries and whose music gets performed at least occasionally. With this special Anniversary Edition Capriccio revere the huge spectrum of his outstanding musically compositions.
Weitere Bilder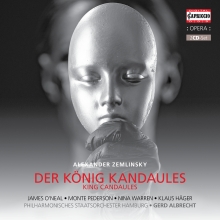 DER KÖNIG KANDAULES (Opera Complete Recording) · Remastered Edition
JAMES O'NEAL · MONTE PEDERSON · NINA WARREN · PHILHARMONISCHES STAATSORCHESTER HAMBURG GERD ALBRECHT
2CD-Set C5443 PC: 21 (Special Price) UPC: 845221054438
König Kandaules: JAMES O'NEAL
Gyges: MONTE PEDERSON
Nyssia: NINA WARREN
Phedros: KLAUS HÄGER
Syphax: PETER GALLIARD
Nicomedes: MARIUSZ KWIECIEN
Pharnaces: KURT GYSEN
Philebos: SIMON YANG
PHILHARMONISCHES STAATSORCHESTER HAMBURG
GERD ALBRECHT, Dirigent / conductor
When the German troops occupied Austria in 1938, he fled with his wife Louise via Prague to New York, with the short score of Canduales in his luggage. Zemlinsky attached great hopes of producing the piece at the Met but on account of the somewhat delicate bed scene in the 2nd act they dismissed the production. Building a new existence once more remained denied to Zemlinsky. Only half a year after his arrival he suffered a stroke from which he was never fully to recover. For Zemlinsky's 150th Birthday Anniversary, Capriccio presents a new remastered edition of this legendary first recording from 1996.
Weitere Bilder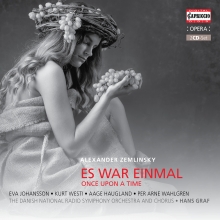 ES WAR EINMAL (ONCE UPON A TIME) · Opera Complete Recording (Remastered Edition)
EVA JOHANSSON · KURT WESTI · PER ARNE WAHLGREN · THE DANISH RADIO SYMPHONY ORCHESTRA · HANS GRAF
2CD-Set · C5440 PC: 21 (Special Price) UPC: 845221054407
A Fairy-tale Opera in a Prologue and three Acts
Text: Maximilian Singer nach / after: Holger Drachmann "Der var engang"
Prinzessin / Princess: EVA JOHANSSON
Prinz / Prince: KURT WESTI
Kaspar: PER ARNE WAHLGREN
König / King: AAGE HAUGLAND
Ein Freier / A Suitor: OLE HEDEGAARD
Ein Schweizer / A Commissionaire: GUIDO PAEVATALU
Kommandant / Commander –
Herold / Herald: CHRISTIAN CHRISTIANSEN
Erste Hofdame / First Lady In Waiting: SUSSE LILLESOE
THE DANISH NATIONAL RADIO CHORUS
(Choreinstudierung / Chorus Master: Kaare Hansen)
THE DANISH RADIO SYMPHONY ORCHESTRA
HANS GRAF, Dirigent / conductor

By the 1890's Zemlinsky had already acquired a reputation as a promising young composer and pianist. In October 1897 Gustav Mahler had become director of the Vienna Hofoper and was determined to do what he could to help Zemlinsky. With characteristic energy Mahler worked his way through the opera with Zemlinsky, advising on and making changes in the music and the libretto. The resulting score provides a fascinating and little-explored document for both Zemlinsky and Mahler studies. Es war einmal received its first performance under Mahler on the 22 January 1900. For the Zemlinsky 150th Birthday Anniversary, Capriccio presents a new remastered edition of this legendary first recording from 1987.
Weitere Bilder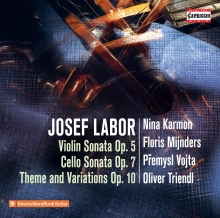 Cello Sonata no. 1 Op. 7 · Theme and variations for horn Op. 10 · Violin Sonata no. 1 Op. 5
Nina Karmon · Floris Mijnders · Přemysl Vojta · Oliver Triendl
C5430 PC: 21 UPC: 845221054308
The positive response to Capriccio's first recording of his Piano Quartet and Piano Quintet (C5390) has enabled this series to be continued now with three works representative of Labor's oeuvre from the early 1890s. In Vienna, Labor was part of Johannes Brahms's close circle of friends. Brahms particularly valued his composer colleagues who went their own way without copying him. Labor's music is very skillfully composed, always sensuous, and first and foremost melodious; it does not require a too complete concentration on itself. A total of around eighty compositions have survived. Among them are practically no occasional works, which is connected to the fact that he was blind: for him composition was a luxury, insofar as he had to rely on the help of a scribe who had to commit the work to paper.

Weitere Bilder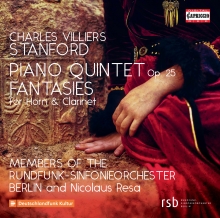 Piano Quintet Op. 25 · Fantasy for horn · Fantasy No. 2 for clarinet
MEMBERS OF THE RUNDFUNK-SINFONIEORCHESTER BERLIN
C5381 PC: 21 UPC: 845221053813
//
//
Quintet in D minor, Op. 25 for piano, 2 violins, viola and cello
Fantasy in A minor for horn, 2 violins, viola and cello
Fantasy No. 2 in F major for clarinet, 2 violins, viola and cello
MEMBERS OF THE
RUNDFUNK-SINFONIEORCHESTER BERLIN
NIKOLAUS RESA. Klavier / Piano (1-4) · DÁNIEL EMBER, Horn / horn (5)
CHRISTOPH KORN, Klarinette / clarinet (6)
ANNE FELTZ, Violine / violin I · BRIGITTE DRAGANOV, Violine / violin II
ALEJANDRO REGUEIRA CAUMEL, Viola · GEORG BOGE, Violoncello / cello
Nowadays William Stanford's fame is largely based on his teaching activities in London while his reputation as a "great composer" has waned considerably. The list of his students reads like a veritable Who's-Who of British music of the 19th and 20th century. Gustav Holst, Ralph Vaughan Williams, Arthur Bliss, Frank Bridge and several more were taught by Stanford. His œuvre covered a wide variety of sacred and secular music and his works carry within them elements of Irish folklore and mysticism. His many chamber works have a definite air of Brahms about them… never by way of direct quote or paraphrase, but by making Brahms' style his own.


Weitere Bilder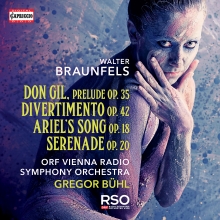 Don Gil - Prelude · Divertimento for Radio Orchestra · Ariel's Song · Serenade
ORF VIENNA RADIO SYMPHONY ORCHESTRA · GREGOR BÜHL
C5429 PC: 21 UPC: 845221054292
'Slightly the audience remember that I'm – as a descendant of writing tonal music – still alive and continue composing' Walter Braunfels, 1946
Walter Braunfels is a composer whose music died twice: Once when the Nazis declared his music "degenerate art". Then again when post-war Germany had little use for the various schools of tonal music; when the arbiters of taste considered any form of romantic music – almost the whole pre-war aesthetic – to be tainted. This already 9th release of Capriccio's Braunfels Edition shows us also an open minded composer who experimented with Jazz elements in his Divertimento for radio-orchestra in 1929.
Weitere Bilder
FLAMMEN
RAYMOND VERY · IRIS VERMILLION · STEPHANIE FRIEDE · ARNOLD SCHOENBERG CHOR · ORF VIENNA RADIO SYMPHONY ORCHESTRA · BERTRAND DE BILLY
2CD · C5382 PC: 22 UPC: 845221053820

Musical Tragicomedy in 2 Acts with 10 Scenes WV 93 (1928-32)
Libretto von / by: Max Brod · Nach / after: Karel Josef Beneš
Don Juan RAYMOND VERY
La Morte IRIS VERMILLION
Eine Frau / Eine Nonne / Margarethe / Donna Anna STEPHANIE FRIEDE
1. Frauenschatten GABRIELA BONE
2. Frauenschatten NINA BERNSTEINER
3. Frauenschatten ANNA PESHES
4. Frauenschatten CHRISTA RATZENBÖCK
5. Frauenschatten HERMINE HASELBÖCK
6. Frauenschatten ELISABETH WOLFBAUER
Der Komthur Salvador FERNÁNDEZ-CASTRO
Pulcinella KARL-MICHAEL EBNER
Pantalone ANDREAS JANKOWITSCH
Harlekin MARKUS RAAB
ARNOLD SCHOENBERG CHOR
(Einstudierung / Chorus Master: Erwin Ortner)
Jazzband: Mitglieder des Orchesters der Vereinigten Bühnen Wien
ORF VIENNA RADIO SYMPHONY ORCHESTRA · BERTRAND DE BILLY

In the 1920s and 1930s, there was a multi-faceted musical scene in culturally flourishing Czechoslovakia. When we take a look at the works by e.g. Pavel Haas, Gideon Klein, Hans Krása, Viktor Ullmann or Erwin Schulhoff, we can perceive a stylistically very similar course, conceivable against the given background as a 'Prague School' (as a counter-movement to the 'Viennese School'). In Schulhoff's early works, the features are a late Romantic approach influenced by Reger that later developed with an emphasis on rhythm in the direction of Expressionism and Neo-Classicism, also including jazz elements. The starting point is the 'Don Juan' story, but the underlying idea in Beneš' and Schulhoff's work is not to present the colourful seducer, but the fate of a man driven by his desires and needs who cannot even remotely find happiness and peace in constancy. In his opera, Schulhoff brilliantly manages to find a different dramaturgical approach, on the one hand, and at the same time to pay a kind of alienated homage to Mozart's work, on the other.
Weitere Bilder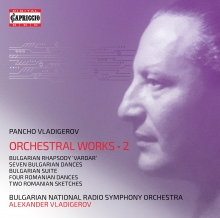 Bulgarian Rhapsody "Varda" · Bulgarian Suite · Four Romanian Dances...
BULGARIAN NATIONAL RADIO SYMPHONY ORCHESTRA · ALEXANDER VLADIGEROV
2CD-Set · C8053 PC: 21 UPC: 845221080536
1 Bulgarian Rhapsody "Varda", Op. 16 (1928)
[2] – [8] Seven Symphonic Bulgarian Dances, Op. 23
[9] Rachenitsa, Op. 18
[10] – [13] Bulgarian Suite, Op. 21

1 – [4] Four Romanian Symphonic Dances, op. 38
[5] – [6] Two Romanian Symphonic Sketches, op. 39
[7] Balkan Dance, op. 46
[8] – [11] Four Waltzes for Orchestra
[12] Danza primordiale op. 53
[13] Foxtrott
[14] Hora Staccato (o.op)
[15] Bonus-Track: Pancho Vladigerov Interview
In Bulgaria, both folk and art music evince an ancient tradition that strikes awe even in some of the great music nations today. The way Pancho Vladigerov incorporated these folk-music themes into his concert pieces shows not only his affinity for them but also suggests that he felt something of a calling to promulgate and champion the folk-traditions of his central European homeland. The most-performed work of Pancho Vladigerov's is undoubtedly his Bulgarian Rhapsody op.16 "Vardar" from 1922. The most outstanding must be his Seven Symphonic Bulgarian Dances op.23 (1931), with which he might have wanted to create a counterpart to Brahms' Hungarian Dances, Dvořák's Slavonic Dances, or Grieg's Norwegian Dances or similar such popular aural nationalistic postcards.
Weitere Bilder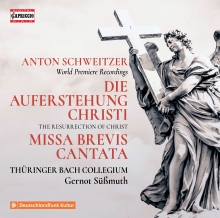 THE RESURRECTION OF CHRIST (1776) · CANTATA · MISSA BREVIS IN C MAJOR (1780)
Thüringer Bach Collegium · Gernot Süßmuth
2CD-Set · C5425 PC: 22 UPC 845221054254
Only few testimonies provide us any details about this now little known but once esteemed composer. Born in Coburg, 1735, Anton Schweitzer died 1787 in Gotha, where he had settled following the Weimar palace fire in 1774. Regrettably, only relatively few manuscripts have survived. Some of the works recorded here (which comprise almost the entire existing church music) have been preserved in several copies, which were recently found in different archives in Thuringia. This recording shows us a colorful virtuoso music of an unjustly forgotten composer.

Weitere Bilder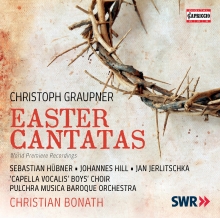 EASTER CANTATAS (World Premiere Recording)
Hübner · Johannes Hill · Jan Jerlitschka · capella vocalis Boys' Choir · PULCHRA MUSICA BAROQUE ORCHESTRA · CHRISTIAN BONATH
C5411 PC: 21 UPC: 845221054117
Die Furcht des Gerechten
Kantate zum Gründonnerstag,
GWV
1126/33 (1733) / Cantata for Holy Thursday
Eröffnet euch ihr Augenquellen
Kantate zum Karfreitag,
GWV
1127/25 (1725) / Cantata for Holy Friday
Der Sieg ist da
Kantate zum 1. Ostertag,
GWV
1128/43 (1743) / Cantata for the 1
st
Day of Easter
Ihr werdet traurig sein
Kantate zum 2. Ostertag,
GWV
1129/19 (1719) / Cantata for the 2
nd
Day of Easter
In 1711 Graupner was already appointed court conductor and he would continue to work in Darmstadt for the rest of his life. Graupner's focus shifted to sacred vocal music, which explains the sheer abundance of the 1,400-plus cantatas he composed. In 1723 the Leipzig city magistrates were looking for a new cantor at the Thomas School – and wanted him, above all. Alas, Graupner's patron did not release him from his contract an so they had to hire Bach. Graupner, famous and widely celebrated during his lifetime, was soon thereafter forgotten. As we rediscover and hear more and more of his works, however, the judgement of his contemporaries would appear to us as increasingly germane. The present recording spans the liturgical arc from Maundy Thursday via Good Friday and Easter Sunday to Easter Monday and presents one liturgical work for each of the festive days – and each of them a world premiere recording!
Weitere Bilder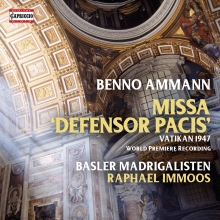 MISSA DEFENSOR PACIS ad 6–12 voces inaequales in honorem Sancti Nicolai Helvetii Eremitae (1946)
BASLER MADRIGALISTEN · RAPHAEL IMMOOS
C5415 PC: 21 UPC: 845221054155
Benno Ammann's oeuvre reveals influences from impressionism to free tonality, yet he belongs to no stylistic school. The Swiss composer wrote Missa Defensor Pacis ('Defender of the Faith') in 1946 for the official canonisation, at St Peter's in Rome, of Nicholas of Flüe, patron saint of Switzerland. This prestigious commission, with its complex polyphony, countless variations, and use of the cantus firmus technique, is one of the most important and extensive Masses by a Swiss composer for a cappella choir.

Weitere Bilder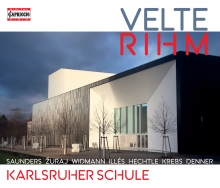 WOLFGANG RIHM · EUGEN WERNER VELTE · JÖRG WIDMANN · REBECCA SAUNDERS · JOACHIM KREBS
with: Reinhold Friedrich · Frank Dupree · Benedict Kloeckner · Sontraud Speidel · Martin Ostertag · Radiophilharmonie Saarbrücken
3CD-Set · C7367 PC: 23 UPC: 845221073675
The composers and educators Eugen Werner Velte and Wolfgang Rihm as well as alumni whose music is presented here demonstrate the characteristics of a school. The main function of an institution such as the University of Music Karlsruhe is first and foremost as a site for studies and second, a place for individual composition and pedagogic work.
The Karlsruhe School
is in no way a forced stylistic unit stubbornly passed along simultaneously as a solidified traditional framework. For 50 years, the University of Music Karlsruhe has radiated as a living,
recreative phenomenon of this artistic freedom, extending far into a shared future. In the music of alumni taught by Wolfgang Rihm, ideals of musical freedom and openness continue to resound in concrete form. Jörg Widmann, Rebecca Saunders and Markus Hechtle, among others, contribute to the further development of the unique Karlsruhe School at their professional homes.
Booklet-Errata zur CD "Velte. Rihm. Karlsruher Schule"
(Capriccio C7367,

UPC

845221073675)
• Die Quelle des biographischen Texts von Eugen Werner Velte auf dem Seiten 18-20 sowie der englischen Fassung auf den Seiten 50-51 ist
https://de.wikipedia.org/wiki/Eugen_Werner_Velte
(abgerufen am 18.12.2019)
• Der Wikipedia-Text wurde für das Booklet von Sontraud Speidel geringfügig ergänzt, sie ist jedoch nicht die Autorin des Artikels.
Errata in the booklet of the CD "Velte. Rihm. Karlsruher Schule"
(Capriccio C7367,

UPC

845221073675)
• The source of the biographical text about Eugen Werner Velte on pages 18-20 (german version) and pages 50-51 (english version) is
https://de.wikipedia.org/wiki/Eugen_Werner_Velte
(accessed 2019-12-18)
• The wikipedia text was slightly expanded for the booklet by Sontraud Speidel. However, she is not the orginal author of the full text.
Weitere Bilder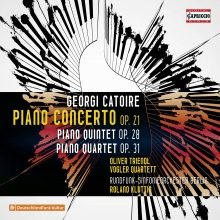 (1861-1926) Piano Concerto in A flat major, Op. 21 · Piano Quintet, Op. 28 · Piano Quartet, Op. 31
Oliver Triendl · Vogler Quartett · Rundfunk-Sinfonie-Orchester Berlin · Roland Kluttig
C5403 PC: 21 UPC: 845221054032
"Now I have come across someone who really has a great creative talent." (Peter Tchaikovsky)
Although the originality of his musical language paved the way for Russian modernism, Catoire's work still followed the artistic ideals of Russia and not the new culture of the Soviet Republic. His work is highly expressive and of enormous polyphonic density, greatest expressiveness, fine colors, rhythmic and harmonious scope. Catoire's music was almost never performed and his name remained almost unknown also to expert circles. He left behind 36 works including some symphonic pieces, a piano concerto, chamber music, songs and piano cycles. This music was written in the "fin de siecle", with its shine and nobility, but also with its fragility.
Weitere Bilder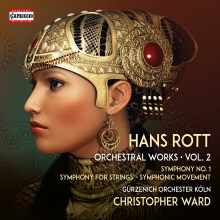 Symphony No.1 in E major · Symphony for strings · Symphonic Movement
GÜRZENICH ORCHESTER KÖLN · CHRISTOPHER WARD,
C5414 PC: 21 UPC: 845221054148
'Yes, he is so related to my very self that he and I are like two fruits from the same tree, produced by the same soil and fed by the same air.' (Gustav Mahler)
The premiere of the Symphony No. 1 in E major by Hans Rott, written more than 100 years earlier, in 1989 introduced the international music world to a composer who had been unknown or known only by name even to most pundits. His colleagues and friends included the one or two-year younger composers Gustav Mahler and Hugo Wolf. Besides Wagner, Bruckner was the most important model for Rott's first symphonic work. The symphony is the summum opus the not quite twenty-year-old left behind. It is his first and final finished major work. It is the synthesis of what he had written to date and a proclamation of what might have come.
Weitere Bilder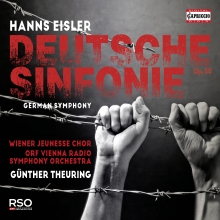 TARGLER · FAHLBUSCH-WALD · EBBECKE · ŠTAJNC · WIENER JEUNESSE CHOR
ORF Vienna Radio Symphony Orchestra · Günther Theuring
C5428 PC: 21 UPC: 845221054285
Of particular importance to Eisler was the principle of synthesis, working with a variety of musical aesthetics, and merging them to an autonomous whole… albeit always with an eye to also wanting to "change the world" with his music. The October Revolution of 1917 and the assumption of power by the Bolsheviks in Russia shaped young Hanns Eisler already for the rest of his life. Later on, in the 1930s after all, there was no topic that preoccupied him more, during the years of exile, than the sustained protest against National Socialism. Eisler wanted to make a musical stance against Fascism with his Opus 50; he wanted to show – together with his collaborating librettist Brecht – that there was not just a Germany Nazis but another, better Germany… driven into Exile or interned in concentration camps. The Deutsche Sinfonie is arguably Eisler's most important composition; she is unique in its ingenious combination of symphony, cantata, and oratorio.
Weitere Bilder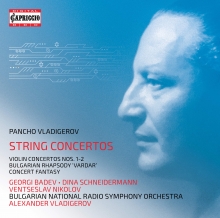 Violin Concertos 1 & 2 · Bulgarian Paraphrases, Op. 18 · Concert Fantasy, Op. 35 · Burlesque, Op. 14
Badev · Schneidermann · Nikolov · BULGARIAN NATIONAL RADIO SYMPHONY ORCHESTRA · ALEXANDER VLADIGEROV
2CD-Set · C8064 PC: 21 UPC: 845221080642
From the diversity of Bulgarian musical culture Pancho Vladigerov stands out as undoubtedly the most important composer for the musical self-conception of modern Bulgaria. Apart from the piano, which was Pancho Vladigerov's primary, expertly mastered instrument (see Capriccio CD C8060 – The Piano Concertos), the violin was second nearest and dearest to him. Undoubtedly the most popular and most often performed composition of Vladigerov's is his Bulgarian Rhapsody op.16 "Vardar" (1922) – presented here, for violin solo and orchestra. It appears to genuinely tap into the character of Bulgarian life and absolutely nails a specific aspect of the entire country's culture.
These recordings, produced in the 1970s in Bulgaria, comprise Capriccio's 18-disc Vladigerov Edition that will preserve this colourful music for future generations. Conductor Alexander Vladigerov is the son of Pancho Vladigerov.
Weitere Bilder
Phädra (1985) · Piano Quintet, Op. 72 (1981)
ELISAVETA BLUMINA · VOGLER QUARTETT
C5389 PC: 21 UPC: 845221053899
His monodrama The Diary of Anne Frank (1968) put Grigori Frid on the musical map, beyond the borders of Soviet Russia. Frid was born in the Petrograd (St. Petersburg) of 1915 and had to witness early on how his family fell victim to the seemingly indiscriminate (and in fact deliberately arbitrary) rounds of suppression, arrest, and deportation of the Stalin Regime. His music stands in the aesthetic realm of Dmitri Shostakovich on the one hand, and that of his younger contemporaries Edison Denisov, Sofia Gubaidulina, and Alfred Schnittke on the other. His works finds itself influenced by the great Russian tradition but yearning to find new, modern ways – more in line with international trends in music – of expressing itself.
Weitere Bilder