box-sets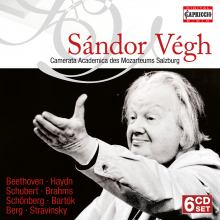 Sandor Végh
Beethoven · Haydn · Schubert · Brahms · Schönberg · Bartók · Berg · Stravinsky
Camerata Academica des Mozarteum Salzburg
6CD-Set · C7422 PC: 05 UPC: 845221074221
Sándor Végh, the "arch musician", was one of those few conductors who possessed that musical je ne sais quoi. Whatever he touched – especially with his Salzburg Camerata: it was always musical, light, exciting. Showing that in music the race is not always to the swift, nor the battle to the strong, but that phrasing and sparkle go a long way, he made even the least of Mozart's Gebrauchsmusik sound like works of flaming genius. This box proves, if it needed proving, that these skills applied to other music, too: from the rest of the First Viennese School to the Second Viennese School and beyond. His Schubert Symphonies are pure classical joy; his Transfigured Night late-romantic gorgeousness-become-manifest; his Bartók an idiomatically simpatico dreamboat.

Youtube
Weitere Bilder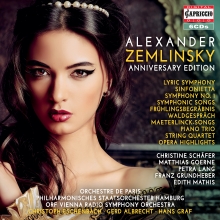 Alexander Zemlinsky 150th Anniversary Edition
Lyric Symphony · Symphony no. 1 · Sinfonietta · Symphonic Songs · Frühlingsbegräbnis Walzer-Gesänge String Quartet no. 2 Opera Highlights
SCHÄFER · GOERNE · GRUNDHEBER · MATHIS · ZIESAK · LINOS ENSEMBLE · ORCHESTRE DE PARIS · ESCHENBACH · ALBRECHT · MÄLKKI
C7360 PC: 06 (Special Price) UPC: 845221073606
COMPACT DISC 1: Lyric Symphony, op. 18
COMPACT DISC 2: Symphony no. 1 in D minor (1892/1893) · Sinfonietta, Op. 23 (1934)
Three Ballet Pieces "Triumph der Zeit" (1903)
COMPACT DISC 3: Symphonic Songs, Op. 20 · Frühlingsbegräbnis · Waldgespräch
Maiblumen blühten überall · Six Songs, Op. 13 "Maeterlinck-Songs"
COMPACT DISC 4: Walzer-Gesänge, Op. 6 · 5 Gesänge op. 7 (1898/1899) · Zwei Brettl-Lieder (1901) · Es war ein alter König · Six Songs, Op. 13 "Maeterlinck-Songs" (Chamber Music Version)
COMPACT DISC 5: Piano Trio, Op. 3 · String Quartet no. 2, Op. 15
COMPACT DISC 6: - Opera Highlights –
Es war einmal (Once Upon A Time) · Der Traumgörge · Der Kreidekreis (The Chalk Circle)
Eine Florentinische Tragödie (A Florentine Tragedy) · Der König Kandaules
CHRISTINE SCHÄFER · MATTHIAS GOERNE · PETRA LANG · FRANZ GRUNDHEBER · EDITH MATHIS · RENATE BEHLE · JOSEF PROTSCHKA · EVA JOHANSSON · MONTE PEDERSON · RUTH ZIESAK · ARTIS QUARTET · PACIFIC TRIO · LINOS ENSEMBLE · ORCHESTRE DE PARIS
PHILHARMONISCHES STAATSORCHESTER HAMBURG · ORF VIENNA RADIO SYMPHONY ORCHESTRA · THE DANISH RADIO SYMPHONY ORCHESTRA
CHRISTOPH ESCHENBACH · GERD ALBRECHT · HANS GRAF · SUSANNA MÄLKKI

When Zemlinsky died in 1942, there was no telling if or when posthumous recognition of his work would take place. Typical though his reception was for the 20th century – pockmarked by two world wars and Nazi rule, it remains remarkable just how differently Zemlinsky, born on October 14th, 1871, has been judged throughout the last 150 years. He had his works premiered at the Vienna Court Opera by Mahler. He commanded the utmost respect of his pupil and brother-inlaw Arnold Schoenberg. He was celebrated as the director of Prague's New German Theatre. And yet, still in his lifetime, his work succumbed to political and stylistic changes; he had been persecuted and was forgotten. We've sort of come full circle: Zemlinsky is once again considered a great composer whose works don't have to shy away from comparison with those of his famous contemporaries and whose music gets performed at least occasionally. With this special Anniversary Edition Capriccio revere the huge spectrum of his outstanding musically compositions.
Hörprobe
Weitere Bilder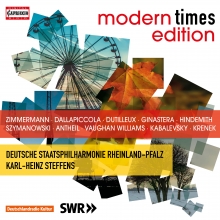 modernTIMES Edition
ZIMMERMANN · DALLAPICCOLA · DUTILLEUX · GINASTERA · SZYMANOWSKI · ANTHEIL · VAUGHAN WILLIAMS · KABALEVSKY · KRENEK · HINDEMITH
DEUTSCHE STAATSPHILHARMONIE RHEINLAND-PFALZ · KARL-HEINZ STEFFENS
10CD+DVD C7337 PC: 07 UPC: 845221073378
CD 1:
BERND ALOIS ZIMMERMANN (1918-1970): Alagoana· Sinfonie in einem Satz · PhotoptosisStille und Umkehr
CD 2:
LUIGI DALLAPICCOLA (1904 – 1975): Partita per orchestra· Due Pezzi per orchestra· Piccola Musica Notturna·Variazioni per orchestra· Three Questions with Two Answers
CD 3:
HENRI DUTILLEUX (1916 – 2013): Symphony No. 1 · Deux sonnets de Jean Cassou · Métaboles
CD 4:
ALBERTO GINASTERA (1916-1983)· Obertura para el Fausto Criollo, op. 9 · Variaciones Concertantes, op. 23· Ollantay(A Symphonic Triptych) · Bomarzo op. 34 (1967) Opera Suite
CD 5:
KAROL SZYMANOWSKI (1882 – 1937): Concert Overture, op. 12· Slopiewnie, op. 46bis· Sinfonia Concertante op. 60· Nocturne and Tarantella, op. 28
CD 6:
GEORGE ANTHEIL (1900 – 1959) · A Jazz Symphony (Original Version, 1925)· Concerto for Piano and Orchestra No. 1· Capital of The World - Suite · Archipelago "Rhumba"
CD 7:
VAUGHAN WILLIAMS (1872 – 1958) · The Poisoned Kiss · Fantasia on Sussex Folk Tunes · Bucolic Suite · In The Fen Country· Three Portraits from 'The England of Elizabeth'
CD 8:
DMITRY KABALEVSKY (1904 – 1987): Overture Pathétique, op. 6· Violin Concerto, op. 48
Rhapsody on the Theme of the Song 'School Years', op. 75 · Vesnaop. 65· Colas Breugnon- Suite, op. 24
CD 9:
ERNST KRENEK: Potpourri op. 54· Seven Orchestra Pieces, op. 31· Symphonie "Pallas Athene" op. 137
Tricks and trifles, op. 101
CD 10:
PAUL HINDEMITH: Neues vom Tage(Ouvertüre) · Drei Gesänge für Sopran und Orchesterop. 9· Philharmonisches Konzert · Das Nusch-Nuschi, Tanzsuite op. 20
Bonus-DVD:Making of · Interviews
MARISOL MONTALVO, ARANTZA EZENARRO, MARIA ISABEL SEGARA, VALDA WILSON Sopran / soprano
PAUL ARMIN EDELMANN, Bariton / baritone
YURY REVICH, Violine / violin· MARTIN RUMMEL, Violoncello / cello
EWA KUPIEC, FRANK DUPREE, MAGDA AMARA,Klavier / piano
DEUTSCHE STAATSPHILHARMONIE RHEINLAND-PFALZ
KARL-HEINZ STEFFENS,Dirigent / conductor


Youtube
Weitere Bilder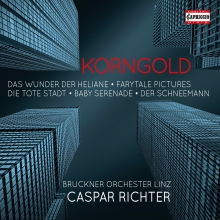 E. W. KORNGOLD
SURSUM CORDA FAIRYTALE PICTURES DER SCHNEEMANN DAS WUNDER DER HELIANE, Op. 20 DIE TOTE STADT, Op. 12 BABY SERENADE, Op. 24
KAREN ROBERTSON · STEPHEN GOULD · BRUCKNER ORCHESTER LINZ · CASPAR RICHTER
C7350 4CD-Box PC: 54 UPC: 845221073507

CD 1
SURSUM CORDA - Symphonic Overture, Op. 13 (1920)
MÄRCHENBILDER / FAIRYTALE PICTURES, Op. 3 (1910) · SCHAUSPIEL OUVERTÜRE, Op. 4 (1911)
DER SCHNEEMANN (1908-1909) · STRAUSSIANA (1953)· TALES OF STRAUSS, Op. 21(1927)
CD 2
DIE TOTE STADT, Op. 12(1920) Prelude Act 2 · DAS WUNDER DER HELIANE, Op. 20(1922-1927)
DER RING DES POLYKRATES Op. 7(1913) · DIE KATHRIN, Op. 28(1933-1937) · VIOLANTA Op.8 (1916)
DER STURM (1913) · CONCERTO FOR CELLO AND ORCHESTRA in C major, Op.37(1946)
CD 3
MUCH ADO ABOUT NOTHING, Op. 11 (1918/19) · BABY SERENADE, Op. 24 (1928)
THEME AND VARIATIONS, Op. 42 (1953)
CD 4
TOMORROW, Op. 33 (1942) · EINFACHE LIEDER (SIMPLE SONGS), Op. 9(1911-16)
PRAYER, Op. 32 (1941)· ABSCHIEDSLIEDER (SONGS OF FAREWELL), Op. 14(1920/21)

KAREN ROBERTSON, WENDY NIELSEN, Sopran / soprano
GIGI MITCHELL-VELASCO, Mezzosopran / mezzo-soprano · STEPHEN GOULD, Tenor / tenor
ZUILL BAILEY, Violoncello / cello · TIBOR PAZMANY, Orgel / organ · JOCHEM HOCHSTENBACH, Klavier / piano
KONZERTVEREINIGUNG LINZER THEATERCHOR · Georg Leopold (Einstudierung / Chorus Master)
FRAUENCHOR DES MOZARTCHORES LINZ· Wolfgang Mayrhofer (Einstudierung / Chorus Master)
BRUCKNER ORCHESTER LINZ · CASPAR RICHTER(Dirigent / conductor)

Weitere Bilder
JOSEPH MARTIN KRAUS
AMPHITRYON · CANTATAS · SYMPHONIES · CHAMBER MUSIC
SIMONE KERMES · CONCERTO KÖLN · L'ARTE DEL MONDO · WERNER EHRHARDT
5CD-Set · C7325 PC: 05 UPC: 845221073255



CD 1
AMPHITRYON - Schauspielmusik / Incidental Music
CD 2
KANTATEN / CANTATAS: "Olympie" VB 33 · "La Scusa" VB 43 · "La Primavera" VB 47
"La Gelosia" VB 46· "La Pesca" VB 44
CD 3
SINFONIEN / SYMPHONIES I: "Sinfonia da chieas" in D major · Sinfonie in C sharp minor
Sinfonie in C major · "Sinfonia funébre" in C minor
CD 4
SINFONIEN / SYMPHONIES II: Sinfonia in C minor · Sinfonia in E flat major
Sinfonia in C major · Sinfonia in D major
CD 5
KAMMERMUSIK / CHAMBER MUSIC: Flute Quintet in D major
String Quartet in G minor, Op. 1 No. 3
String Quartet in D major, Op. 1 No. 4

Joseph Martin Kraus, also named as the "Swedish Mozart", has been many years a shadowy existence in music history. Gluck and even Joseph Haydn saw "a real genius" in his virtuose and nearly early-romantic works. His position as composer at the swedish court under Gustav III. made it possible to have a fix income and a blithe creativity. This CD-Set gives us an overall musical impression about his compositions in all genres: Beginning with the incidental music to Amphitryon, the high virtuos Italian Cantatas, his Symphonies from different life periods, till the early String Quartets- Gluck and Haydn have not been mistaken.
Weitere Bilder