cd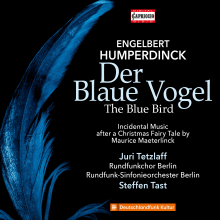 ENGELBERT HUMPERDINCK: Der Blaue Vogel
Incidental Music after a Christmas Fairy Tale by Maurice Maeterlinck
Juri Tetzlaff · Rundfunkchor Berlin · Rundfunk-Sinfonieorchester Berlin · Steffen Tast
2CD-Set · C5506 PC: 21 UPC: 845221055060
In 1908, Maurice Maeterlinck wrote his play The Blue Bird (L'Oiseau bleu). Having proved a good source of operatic subjects before (Pelléas et Mélisande, Ariane et Barbe-Bleue), it is no surprise that composers jumped at the opportunity to write music to this latest. The French composer Albert Wolff made an opera of it that, though premiered at the MET, has since been forgotten. But even before that, in 1912, Max Reinhardt put it on as an adapted Christmas play in Berlin and he had none less than Engelbert Humperdinck write the incidental music to it. The music was never published until Steffen Tast found the score and salvaged it for us to hear. A sweet story and sweeter still music by Humperdinck newly discovered? Why, that's in and of itself as though it was Christmas!


Hörprobe
Weitere Bilder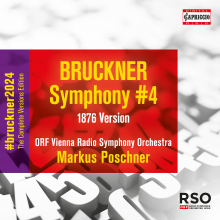 #bruckner24 /The Complete Versions Edition/
Symphony No. 4 in E flat major (1876) 'The Romantic'
ORF VIENNA RADIO SYMPHONY ORCHESTRA · MARKUS POSCHNER
C8084 PC: 21 UPC: 845221080840
This Complete Versions Edition includes all versions published or to be published under the auspices of the Austrian National Library and the International Bruckner Society in the Neue Anton Bruckner Gesamtausgabe (The New Anton Bruckner Complete Edition)
Continuing their survey of all of Anton Bruckner's symphonies in each and every one of their various versions, Markus Poschner and his team now tackle the original 1876 version of Bruckner's arguably most popular symphony, the Fourth. "1876? Surely you mean 1874!" might the Bruckner-maven go. Well, actually, recent research has brought to light that Bruckner was still fiddling around with his first go at that work, but not so substantially that the changes amounted to a separate version or, for that matter, the 1878 second "standard" version. Paul Hawkshaw's liner notes detail all the differences if you're interested – but of course, one can also just enjoy the raw and fresh music of Bruckner's expansive first ideas.

Youtube
Weitere Bilder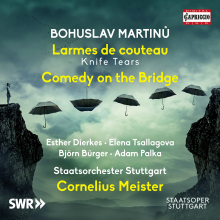 BOHUSLAV MARTINŮ: Larmes de couteau · Comedy on the Bridge
(Short Operas)
Elena Tsallagova Esther Dierkes · Björn Bürger · Staatsorchester Stuttgart · Cornelius Meister
C5477 PC: 21 UPC: 845221054773
Martinů is a musical chameleon. On the one hand, there's an unmistakable from to his output, on the other hand, he would adopt and adapt just about any style that happened to be en vogue or to his liking. These two one-act operas, presented on record for the first time in their respective versions, are a case in point. There's that cracking little shocker that is Knife Tears (in its original French version), in which Martinů set an absurdist libretto to the sounds of Le Jazz Hot, Stravinsky, and anything in between. This is juxtaposed with the English version of his Comedy on the Bridge (the one that helped this work to brief fame), which is wildly different (if anything more in the style of Hanns Eisler), despite being separated by a mere seven years.

Youtube
Weitere Bilder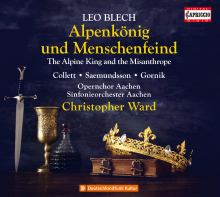 Leo Blech: Alpenkönig und Menschenfeind
(The Alpine King and the Misanthrope) Opera
Collett · Saemundsson · Opernchor Aachen · Sinfonieorchester Aachen · CHRISTOPHER WARD
2CD-Set · C5478 PC: 22 UPC: 845221054780
Around 1902 Leo Blech nabbed the subject of the "original romantic-comic magic" play by Viennese theater manager/actor/playwright Ferdinand Raimund, had it streamlined, and turned it into his fifth opera. A cantankerous misanthrope terrorizes family and servants with his paranoid mistrust. He's only cured when faced with his own behavior courtesy of supernatural role reversal. Highbrow opera meets folksy farce with unexpectedly gorgeous, splendidly orchestrated music somewhere between Wagner and Humperdinck. The premiere at the Dresden Court Theater was a sensational success. Then all of Blech's music was banned and once the Nazi horror was over, it never came back. Now you can hear what we missed.

Hörprobe
Youtube
Weitere Bilder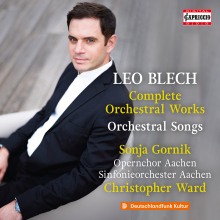 LEO BLECH (1871-1958) Orchestral Works
Orchestral Songs
Sonja Gornik · Opernchor Aachen · Sinfonieorchester Aachen · Christopher Ward
C5481 PC: 21 UPC: 845221054810
The closest Leo Blech (1880–1959) gets to fame these days is being mistaken for Ernest Bloch. Actually, some might still remember his seminal work as an opera conductor in Berlin, where he worked for almost half a century (except for the Nazi years). But his compositions – either operas or involving the voice in some other way – have disappeared from the repertoire. What a shame, because his music is, while less probing than that of his contemporary Bloch's, very much charming in the style of, say, Humperdinck or Rheinberger.

Hörprobe
Youtube
Weitere Bilder