cd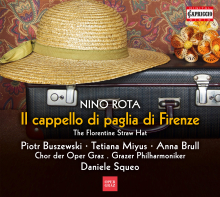 Nino Rota: Il cappello die paglia di Firenze
The Florentine Straw Hat (Opera Complete Recording)
Buszewski · Miyus · Brull · Chor der Oper Graz · Grazer Philharmoniker · Daniele Squeo
2CD-Set C5466 PC: 22 UPC: 845221054667
"Look, when they tell me that in my music I am mainly concerned about bringing a bit of nostalgia and lots of good humor and optimism, well, I think that's exactly how I'd like to be remembered: With a bit of nostalgia, lots of optimism, and good humor." If only we listen to enough of his music (and not just his film music), Nino Rota's wish should well come true. Not the least, if we lend our ears to his third (of ten) and most popular opera, the snappy Florentine Straw Hat (Il cappello di paglia di Firenze), which Rota wrote in Bari, after the War ended, and orchestrated a decade later for its premiere in Palermo.

Youtube
Weitere Bilder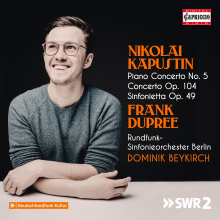 Kapustin: Piano Concerto No. 5
Concerto, Op. 104 · Sinfonietta, Op. 49
Frank Dupree · Adrian Brendle · Rundfunk-Sinfonieorchester Berlin · Dominik Beykirch
C5495 PC: 21 UPC: 845221054957
When the music of Nikolai Kapustin was discovered by a wider audience in the West, it was positively shocking: Who was this Soviet (!) composer, whose music sounded more like an Oscar Peterson improvisation than anything else – but who wrote detailed scores, black with notes?! As we discover more and more of his music (and there's so much more yet to discover!), a very distinct, always wholly charming voice emerges, whether in a freewheeling outright-jazzy work like his Concerto for 2 Pianos and Percussion, the more symphonic Fifth Piano Concerto, or the frisky Sinfonietta which transports us into a smoky 1940s bar in Manhattan.

Youtube
Weitere Bilder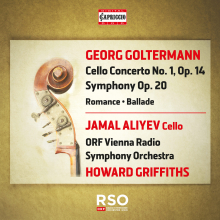 Georg Goltermann
Cello Concerto No. 1 · Symphony in A minor · Romance · Ballade
Jamal Aliyev,cello · ORF VIENNA RADIO SYMPHONY ORCHESTRA · HOWARD GRIFFITHS
C5469 PC: 21 UPC: 845221054698
If you know the cellist-professor-composer Georg Goltermann (1824-1898) and his eight (!) cello concertos, you're either a cellist or married to one. In his lifetime and for a while thereafter, the instrumental virtuoso-cum-composer was popular and well-liked enough to have the Cantilena of his Cello Concerto recorded by Pablo Casals – but not much since. That's a shame because that lyrical-melancholic, never gratuitously virtuosic op.10 is a picture-perfect, delightful romantic cello concert. The symphony, then well received and Goltermann's pride, too, goes down nicely in a post-Brahms vain rather à la Bruch or Gernsheim, especially the exquisite, lively hunting Scherzo with its sweeping Trio.
Hörprobe
Weitere Bilder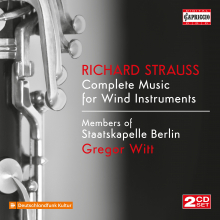 Strauss: Complete Music for Wind Instruments
Sonatinas Nos. 1 & 2 · Serenade in E-flat · Suite in B-flat · 'Till Eulenspiegels merry pranks' (Arrangement)
Members of Staatskapelle Berlin · Gregor Witt
2CD-Set · C5497 PC: 02 UPC: 845221054971
As the Staatskapelle Berlin begins to look for its next music director (only the fourth since 1955!), this release finds the band's own winds turning to Richard Strauss, who held the job some 110+ years ago. Together, they recorded their old chief conductors' complete music for winds, including rarities like the Sonatinas "From an Invalid's Workshop" and "The Happy Workshop" which Strauss dedicated to Mozart. Covering Strauss' very early and very late creative output, the four pieces (plus the Eulenspiegel arrangement), give a fascinating insight into the development of Strauss, a horn player's son.

Hörprobe
Weitere Bilder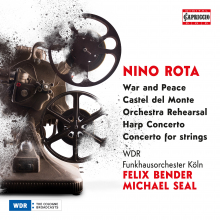 NINO ROTA
War and Peace · Castel del Monte · Concerto per Archi · Concerto per Arpa · Prova d'orchestra
Peristerakis · Sobol · WDR Funkhausorchester Köln · FELIX BENDER, MICHAEL SEAL, conductor
C5494 PC: 21 UPC: 845221054940
When Toscanini encouraged Nino Rota to study at the Curtis Institute, where instructions by Fritz Reiner and a friendship with Aaron Copland awaited the precocious composer, it was already clear he would have a massive career. Only the direction wasn't certain yet. It turned out to be classical music and film music, the former informing the latter. Notable when you listen to the delicious waltz Rota from War & Peace or the darkly humorous snippets from the very apropos Orchestra Rehearsal. And while the de-facto horn concertino Castel del Monte, inspired by King Frederick II's famous medieval castle in southern Italy, isn't technically film music, it very much sounds like music to a fantasy film of Rota's imagining.

Hörprobe
Weitere Bilder