cd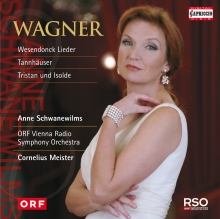 Anne Schwanewilms: The Wagner Album
Wesendonck-Lieder · Tannhäuser · Tristan
Vienna Radio Symphony Orchestra · Cornelius Meister
C5174 PC: 21 845221051741
VIDEO TRAILER:
https://www.youtube.com/watch?v=Bir3O0P3SoE

,She sent him 'cute poems about angels and dreams, even in the manner of Schopenhauer; he added a cautious melody, so as not to destroy the slender, little girl's dreams of anguish and its beauty'. This is how Ludwig Marcuse in Das denkwürdige Leben des Richard Wagner portrays the emerging love between Mathilde and Richard and the songs associated with it. ,Take all my soul as a morning greeting!' the composer rhapsodized in a written message to his beloved. It was a fatal letter, for Minna intercepted it and subsequently undermined the idyll.
One of the most interesting voices of our time presents her first Wagner Album: Anne Schwanewilms, who just had her very sucessful Debut at Metropolitain Opera New York sings the Wesendonck-Lieder, Elisabeth Aria from Tannhäuser and first time ever her debut as Isolde for this CD Recording.

Weitere Bilder