cd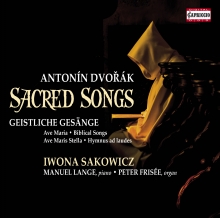 ANTONÍN DVOŘÁK SACRED SONGS
Biblické Písně op. 99 / Biblical Songs · Ave Maria · Hymnus ad laudes in festo Sanctae Trinitatis
IWONA SAKOWICZ · MANUEL LANGE · PETER FRISÈE
C5207 PC: 21 845221052076
Testimony to fervent piety
The Biblical Songs op. 99 were written in 1894 during Dvořák's time in America (1892-95), when he was working as artistic director and professor of composition at the New York Conservatory of Music. His 9th Symphony, appositely termed 'From the New World' was to be followed by a further symphony, but Dvořák opted for treating the Biblical Songs, which, in their austerity, hardly allow scope for American scent but are rather reminiscent of the composer's Czech homeland, if of anything concrete at all.
The fact that the composer so intensively studied the psalms of the Old Testament was not least connected to external circumstances, e.g. to the economic crisis of 1893, which also affected the New York Conservatory. He was also suffering from the death of Hans von Bülow, was grieving for Gounod and Tchaikovsky and in addition, he learnt about the grave sickness of his father, who died two days after the Biblical Songs had been completed. Dvořák, the Catholic, had long demonstrated his faith with numerous works of fervent piety: Stabat Mater (1876), Requiem (1890), the Mass in D major as well as the pieces for solo voice and organ, for instance, the works that can be heard on this CD – Ave Maria, Ave Maris Stella and Hymnus ad laudes in festo Sanctae Trinitatis (1877-79) as well as the preludes and fugues for organ of 1859 by the then 18-year-old.

Weitere Bilder