cd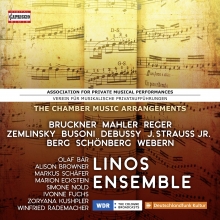 LINOS ENSEMBLE
ASSOCIATION FOR PRIVATE MUSICAL PERFORMANCES - THE CHAMBER MUSIC ARRANGEMENTS
BRUCKNER · MAHLER · BERG · REGER · SCHÖNBERG · WEBERN · DEBUSSY · ZEMLINSKY · BUSONI · STRAUSS (Sohn)
8CD-Set C7265 PC: 06 UPC: 845221072654

CD 1 ANTON BRUCKNER: Symphony No. 7 (arr. Stein / Eisler / Rankl)
CD 2 GUSTAV MAHLER: Symphony No. 4 (arr. Stein)
Lieder eines fahrenden Gesellen (arr. Schönberg)
CD 3 GUSTAV MAHLER: Das Lied von der Erde (arr. Riehn)
CD 4 GUSTAV MAHLER: Kindertotenlieder (arr. Schönberg / Riehn)
ALBAN BERG: Violin Concerto (arr. Schönberg / Tarkmann)
Altenberg Lieder (arr. Schönberg / Wagenaar)
CD 5 MAX REGER: Violin Concerto op. 101 (arr. Kolisch)
CD 6 ARNOLD SCHÖNBERG: Chamber Symphony op. 9 (arr. Webern)
Six Songs for voice and orchestra, op. 8 (arr. Eisler / Stein / Schönberg)
ANTON WEBERN: Six Orchestral Pieces, op. 6 (arr. Webern)
CD 7 CLAUDE DEBUSSY: Prélude à l'après-midi d'un faune (arr. Sachs)
MAX REGER: Romantic Suite op. 125 (arr. Schönberg / Kolisch)
ALEXANDER ZEMLINSKY Six Songs, op. 13 "Maeterlinck-Lieder"
(arr. Stein / Tarkmann)
FERRUCCIO BUSONI: Berceuse élégiaque op. 42 (arr. Stein)
CD 8 JOHANN STRAUSS (Sohn): Waltz-Arrangements (arr. Schönberg / Berg / Webern)
OLAF BÄR · ALISON BROWNER · MARKUS SCHÄFER · MARION ECKSTEIN · SIMONE NOLD · IVONNE FUCHS· ZORYANA KUSHPLER · WINFRIED RADEMACHER
LINOS ENSEMBLE
Founded in November 1918 by Arnold Schoenberg(1874–1951) and a few of his confidants, the Association for Private Musical Performancesconstituted perhaps the most progressive and most intensive opportunity for a select Viennese musical circle to familiarize themselves with contemporary and the latest works of the international composers' scene in the immediate aftermath of the First World War and hence at the time of a dearth of a cultural spirit of optimism and innovation. Schoenberg had a close personal tie with many of the composers performed at the association concerts and sometimes even an amical one, as in the case of Zemlinsky. The association became a nursery for the entire modern music from Richard Strauss and Debussy to Webern, as far as the instrumentation of the works allowed.


Weitere Bilder