cd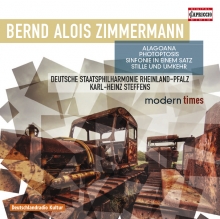 BERND ALOIS ZIMMERMANN
Orchesterwerke · Orchestral Pieces
Deutsche Staatsphilharmonie Rheinland-Pfalz · Karl-Heinz Steffens
C5213 PC: 21 845221052137

BERND ALOIS ZIMMERMANN (1918-1970)
Alagoana. Caprichos Brasileiros – Ballett (ca. 1940-50)
Sinfonie in einem Satz (1947-52/rev. 1953)
Photoptosis. Prélude für großes Orchester (1968)
Stille und Umkehr. Orchesterskizzen (1970)
DEUTSCHE STAATSPHILHARMONIE RHEINLAND-PFALZ
KARL-HEINZ STEFFENS, Dirigent / conductor

Among the German avant-garde composers after the Second World War, he was the great outsider. Despite all ruthless innovation, his creative ethos was characteristic of the German tradition in the dimensions of idealistic and philosophical complexity and bitter and disjointed tragedy. Zimmermann was initially strongly influenced by the polyphonic currents of neo-Classicism and Expressionism in the wake of Hindemith, Jarnach and Stravinsky, but his own voluminous and daring characteristics quickly crystallized. It was not to be an easy position for him over the next two decades, as he felt himself to be the eldest among the young composers and at best saw companions in his elder colleagues Luigi Dallapiccola and Karl Amadeus Hartmann. It was only the premiere of his opera Die Soldaten that brought him broad and undisputed recognition, and Die Soldaten was soon considered the most important German opera since Alban Berg. As start for the upcoming CD edition "modern times" the conductor Karl-Heinz Steffens and his orchestra, the Deutsche Staatsphilharmonie Rheinland-Pfalz, take care of the most unknown orchestral pieces of this composer.

Youtube
Weitere Bilder