cd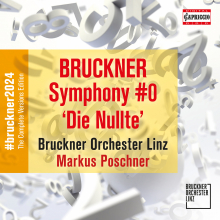 #bruckner24 /The complete Versions Edition/
Symphony in D minor ('Die Nullte')WAB 100
BRUCKNER ORCHESTER LINZ Markus Poschner
C8082 PC: 21 UPC: 845221080826
The most comprehensive Bruckner Symphonies cycle, including all 19 available versions.
This third release of Capriccios Bruckner Edition, of Symphony in D minor ("Nullified") is performed by Bruckner Orchestra Linz conducted by Markus Poschner.
Although the work did not belong to the corpus of nine numbered symphonies which the composer had identified in his will as worthy of preservation in the imperial library, and for which he is best remembered, he did not destroy it. Hoping perhaps, to ensure that future generations would assess the symphony in what he considered its proper perspective, he wrote annotations at various places in the manuscript: "invalid" [ungiltig] "completely void" [ganz nichtig] and "annulled" [annulirt]. This new complete Bruckner Symphonies edition from Capriccio reassesses these enduringly enigmatic and complex works. Presented by the Bruckner Orchestra Linz and the ORF Vienna Radio Symphony Orchestra, and featuring all 19 available versions, the cycle is scheduled for completion in 2024, Bruckner's 200th birthday.

Youtube
Weitere Bilder