cd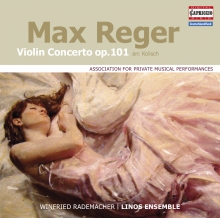 MAX REGER: Concerto for violin and orchestra in A major, Op. 101
arranged for chamber ensemble by Rudolf Kolisch (1896-1978)
WINFRIED RADEMACHER · LINOS ENSEMBLE
C5137 PC: 21 UPC: 845221051376
'In my view, Reger must be played often; 1. Because he wrote a lot;
2. Because he is dead and we still do not have any clarity about him.
(I consider him a genius)
' Arnold Schönberg,1922
As little as it was perceived by the general public during its short existence, in accordance with its genesis, all the more remarkable were the effects and the aftereffects of the
Society for Musical Private Performances
, founded by Arnold Schoenberg in Mödling near Vienna in November 1918, especially as it was associated with the intention 'to give Arnold Schoenberg the opportunity personally to carry out his intention of providing artists and art lovers with a veritable and precise knowledge of Modern Music' (Alban Berg 1919). Special emphasis was placed on performing works by Mahler and
Max Reger
. The arrangement for the Association for Private Musical Performances was written by the violinist Rudolf Kolisch (1896–1978), a pupil of Schreker and a private student of Schoenberg after 1919, later also the latter's brother-in-law.
Weitere Bilder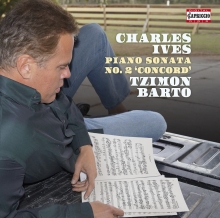 CHARLES IVES
Piano Sonata No. 2, Concord, Mass.,1840–60 (1911-1915)
Tzimon Barto, piano
C5268 PC: 21 UPC: 845221052687
From weird and idiosyncratic, slightly crazy up to absolute genius – the assessment of the composer Charles Ives is today at least just as diversified as that of his main work for piano, the Concord Sonata. The four movements are based on four American writers of the 19th century who were all closely connected to the little town of Concord in Massachusetts, forming a centre of so-called Transcendentalism there. In the music, Ives does not draw musical portraits of the writers, who would hardly have inspired him to this extent in terms of their biographies. He rather allows himself to be guided by the moods that came to his mind roughly 50 years later in associations with their texts and the philosophy they advocated. Beside the difficult technical terms (complete dispensal with bar lines for long passages, also the use of clusters etc.) Tzimon Barto's interpretation is full of his well known sensitivity and shows us a new impressive access to this bombastic work of 20th century piano literature.

Weitere Bilder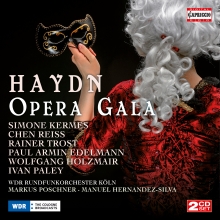 HAYDN: OPERA GALA
L'INFEDELTÀ DELUSA (HIGHLIGHTS) · LA VERA COSTANZA (HIGHLIGHTS)
SIMONE KERMES · CHEN REISS · RAINER TROST · THOMAS MICHAEL ALLEN · WOLFGANG HOLZMAIR PAUL ARMIN EDELMANN · JÜRGEN SACHER · IVAN PALEY WDR RUNDFUNKORCHESTER KÖLN MARKUS POSCHNER · MANUEL HERNANDEZ-SILVA
2CD-Set: C5255 PC: 21 (Special Price) UPC: 845221052557
Haydn Opera Rarities with Top Stars!
Although Joseph Haydn is still regarded above all as a master of instrumental music, he was also a contemporary of the future as an opera composer. For a not unsubstantial length of his life, he chiefly devoted himself to this genre; as the opera director of Prince Esterházy, he headed over a thousand opera productions in Esterháza including the 'hits' of the time as well as stage works of his own. It is unusual and a pointer to the future that women take control in both operas presented here. In addition, these female protagonists are people of flesh and blood, strong and pragmatic; the spirit of the Enlightenment can be sensed.

Weitere Bilder
CARNEVAL ORIENTAL
LULLY · CAMPRA · CESTI · ALLEGRI · CORELLI · SCARLATTI · HÄNDEL
PERA ENSEMBLE · l'arte del mondo · WERNER EHRHARDT
C5263 PC: 21 UPC: 845221052632
JEAN BAPTISTE LULLY: Passacaille (from the Opera "Armide", 1686) · Canaries (from "Bourgeois gentilhomme", 1670) ANDRÉ CAMPRA: Carnaval de Venise (Ballett-Oper / Ballet Opera, 1699 / Excerpts) · ANTONIO CESTI: Alma mia (from the Opera "L'Argia") · ANTONIO SARTORIO: Quando voglio / Ogni bella (from the Opera "Giulio Cesare") · LORENZO ALLEGRI: Canario, Il Primo Libro Delle Musiche · MARCO UCCELLINI: Aria Quinta: Sopra la Bergamasca · CLAUDIO MONTEVERDI: Lidia Spina del Mio Core · ARCANGELO CORELLI: La Follia · ANTONIO CESTI: Orontea · ALESSANDRO SCARLATTI: Se il mio dolor t'offende (from the Opera "Griselda") · GEORG FRIEDRICH HÄNDEL: Se teco vive il cor (from the Opera "Radamisto")

Francesca Lombardi Mazzulli, Sopran / soprano
Charlotte Quadt, Mezzosopran / mezzo-soprano
PERA ENSEMBLE
Mehmet C. Yeşilçay, Musikalische Leitung
l'arte del mondo
WERNER EHRHARDT, Dirigent / conductor

After the final siege of Vienna and the Turkish defeat, the Ottoman Empire had no longer been a threat. In private circles, pantaloons, caftans and turbans were now worn, the Turkish drink was appreciated and hookahs were smoked. The Alla Turca fashion found expression in Turkish operas. Il Seraglio by Mozart is probably the best-known work on this topic. However, since the early 17th century there have been dozens of operas, arias and instrumental compositions on the subject. The project Carneval Oriental receives its inspiration from this melting-pot of cultures, an exclusive blend of musical worlds. We celebrate carnival as it was probably held in the 16th and 17th centuries. The Pera Ensemble, which has been rediscovering these encounters between the Orient and the Occident as well as the turqueries and Alla Turca music for many years, meets up with the ensemble l'arte del mondo and offers Baroque music from France and Italy refined with oriental spices, arias and instrumental music in a new understanding of sound

Weitere Bilder
CARL MICHAEL ZIEHRER
DIE LANDSTREICHER · THE VAGABONS
DANIEL BEHLE · THOMAS DEWALD · MARIA LEYER · KARL FÄTH · ANNELI PFEFFER · WDR RUNDFUNKCHOR KÖLN · WDR FUNKHAUSORCHESTER KÖLN · HELMUTH FROSCHAUER
C5261 PC: 21 UPC: 845221052618
In the field of entertainment music, Ziehrer's name was soon a quality brand in Vienna, especially as Carl Haslinger, Johann Strauss Jr.'s publisher, provided him with valuable assistance. Unlike Strauss, Ziehrer came from the piano, so he was not a standing leading violinist, but availed himself of a baton. He wrote countless orchestral compositions, above all waltzes, but also marches and polkas, including many that would be termed 'hits' today – as well as more than twenty stage works. Most of these operettas are almost forgotten today, and merely Die Landstreicher (1899) comes to mind. It is a merry and graceful work in a popular tone and with a slightly sentimental mood. This recording is another juwel for the Capriccio Operetta Edition who takes care of these unjustly forgotten composers and pieces.

Weitere Bilder