cd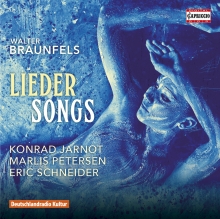 Walter Braunfels:
Selected Songs
MARLIS PETERSEN · KONRAD JARNOT · ERIC SCHNEIDER
C5251 PC: 21 UPC: 845221052519
Sechs Gesänge / Six Songs op. 1 (1902)
Fragmente eines Federspiels op. 7 (1904)
Sechs Gesänge / Six Songs op. 4 (1905)
Neues Federspiel op. 7 (1904)
Musik zu Shakespeares Komödie Was Ihr wollt, op. 11 (1908)
Music To Shakespeare's Comedy What You Will, Op. 11
Klärchen-Lieder op. 29 (1916)
Nachklänge Beethovenscher Musik op. 13 (1910)
Herbstgefühl (1917)
An die Parzen op. 27 Nr. 1
Zwei Lieder / Two Songs op. 44 (1932)
Walter Braunfels is a composer whose music died twice: Once when the Nazis declared his music "degenerate art". Then again when post-war Germany had little use for the various schools of tonal music; when the arbiters of taste considered any form of romantic music – almost the whole pre-war aesthetic – to be tainted. Post-war Europe had experienced (or rather: been prescribed) an aesthetic paradigm shift. Walter Braunfels had a hand at drama and his operas demonstrate his careful consideration of texts. This also shines through in his songs, with which he learned his craft and all but two of which he composed prior to The Birds. Marlis Petersen, whose fascination with Braunfels' "unique tonal language of a totally transparent structure and large late-romantic nature" began with two songs she got to sing earlier in her career, considers the Federspiele to be "real jewels of the art of Lied: simple, deeply touching airs."


Weitere Bilder
Walter Braunfels: Don Juan
Variations On An Old French Nursery Song
PHILHARMONISCHES ORCHESTER ALTENBURG-GERA · MARKUS L. FRANK
C5250 PC: 21 UPC: 845221052502
Walter Braunfels was applauded as a pioneering representative of New Music. Leading conductors such as Hans Pfitzner, Ernst von Schuch, Bruno Walter, Arthur Nikisch and Wilhelm Furtwängler performed his orchestral works in major cities. But following the Nazi seizure of power in 1933, as a 'half-Jew' Braunfels also lost all his positions and was banned from performing or being performed. Braunfels' name was consistently deleted from musical literature and reference works. In his Classical and Romantic phantasmagoria Don Juan, in seven movements Braunfels varies themes and motifs from Mozart's opera Don Giovannni, premiered in 1787, deliberately placing himself in the tradition of German Classicism and Romanticism, which he sought to transfer into the 20th century with his own compositional means. Don Juan was premiered by Wilhelm Furtwängler in 1924.

Weitere Bilder
alla czeca
Dvorak · Schulhoff · Suk
Signum Quartett
C5257 PC: 21 845221052571
ERWIN SCHULHOFF (1894-1942)
Five Pieces for String Quartet WV 68 (1923)

JOSEF SUK (1874-1935)
Meditation on the Old Czech Chorale 'St. Wenceslaus' op. 35a

ANTONÍN DVOŘÁK (1841-1904)
String Quartet in G Major op. 106 (B 192)

SIGNUM QUARTETT
Kerstin Dill, Violine / violin · Annette Walther, Violine / violin
Xandi van Dijk, Viola / viola · Thomas Schmitz, Violoncello / cello

'The Bohemians [were] the most musical among all the nations,
indeed perhaps in the whole of Europe'.
Charles Burney, 1773
Short after the most successful album "sound escapes" (Capriccio C5239) the young and aspiring Signum Quartet take care of the Bohemian Music Culture. Beside the famous String Quartet Op. 106 by Antonín Dvořák ('I am very satisfied with everything I have accomplished in this quartet.') and the Meditation on the Old Czech Chorale 'St. Wenceslaus', full of impressions of the beginning of the 1st World War, by Josef Suk, are finally the 1923 composed Five Pieces for String Quartet by Erwin Schulhoff, which all experiment with dance forms, a very virtuosity challenge. 'Music is never philosophy' (Erwin Schulhoff). The succinct statement conceals what was capable of so lastingly impressing Charles Burney already in his time: direct, if possible, spontaneous expression in music.

Weitere Bilder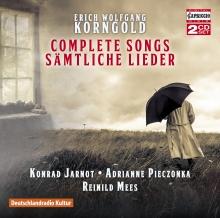 Erich Wolfgang Korngold
COMPLETE SONGS
ADRIANNE PIECZONKA · KONRAD JARNOT · REINILD MEES
C5252 (2CD) PC: PC 21 UPC: 845221052526
COMPACT DISC 1: So Gott und Papa will · Sechs einfache Lieder op. 9 · Lieder des Abschieds op. 14 · Drei Lieder op. 18 · Nachts · Unvergänglichkeit op. 27 COMPACT DISC 2: aus: 6 einfache Lieder op. 9 Sommer (2nd version) · aus "Die tote Stadt" op. 12: Marietta's Lied · Tanzlied des Pierrot · Drei Lieder op 22 · Songs of the Clown op. 29 · Four Shakespeare Songs op. 31 · Fünf Lieder op. 38 · Sonett für Wien op. 41 · Einzelne Lieder
From his first attempts at composition, Erich Wolfgang Korngold wrote songs. The earliest surviving example – Der Knabe und das Veilchen - dates from early 1905 when Korngold was just seven years old. It reveal the nascent style of the mature composer and is recorded here for the first time, together with a number of individual songs, only recently published.
Little songs for family birthdays, the Shakespeare lieder, written for various theatre productions by Max Reinhardt, the Kaiserin Zita-Hymne, up to Korngold's final song Sonett für Wien Opus 41, composed in 1950, as a tribute to Vienna, the city of Korngold's youth, then in ruins after the war. As one of the last exponents of the Austro-Germanic lied which lasted almost two centuries, Korngold occupies a special place in that tradition, and his exceptional contributions are finally being rediscovered, after decades of neglect. This comprehensive recording is a further welcome step in the process.


Weitere Bilder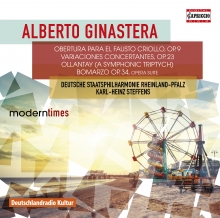 Alberto Ginastera
Obertura para el Fausto Criollo, op. 9 · Variaciones Concertantes, op. 23 · Ollantay · Bomarzo op. 34 (1967) Opera Suite
Deutsche Staatsphilharmonie Rheinland-Pfalz · Karl-Heinz Steffens
C5244 PC: 21 UPC: 845221052441
Within the breadth evinced by music life in Argentina, there were mainly three personalities in the 20th century that gave the republic, independent since 1816, an international voice: Alberto Ginastera, Carlos Gardel und Astor Piazzolla. Whereas Gardel, as a singer and composer, was the most popular representative of the 'Tango Argentino' and Piazzolla an outstanding bandoneon player, composer and founder of the 'Tango Nuevo', Alberto Ginastera is considered the most important Argentinian composer of classical stamp. For Ginastera, three periods can be differentiated, clearly delimited in time. In the period of 'Objective Nationalism' (1934–47), he employed direct musical elements of Argentinian folk music, including Obertura para el Fausto Criollo op. 9 (1943) and the Symphonic Triptych Ollantay op. 17, written after his return from the USA (1947). The Variaciones Concertantes for chamber orchestra op. 23 (1953) derive from the middle of Ginastera's second period. Finally the opera Bomarzo op. 34 (1966/67) represents a main work of Ginastera's third, 'Neo-expressionist' period. Although he subsequently made great career strides also in the country of his birth, the external circumstances there remained untenable for him. In 1971, he moved with his second wife to Geneva, where he died in 1983.

Youtube
Weitere Bilder