cd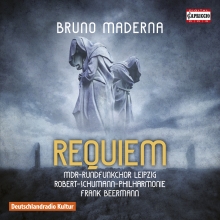 Bruno Maderna
Requiem (1946) World Première Recording
Tomsche · Göring · Berchtold · Mészár · MDR Rundfunkchor Leipzig · Robert-Schumann-Philharmonie Frank Beermann
C5231 PC: 21 845221052311
Bruno Maderna's Requiem was long considered lost and was indeed only premiered in the Teatro la Fenice in Venice in November 2009 – about 36 years after his death.
In 1943, Maderna was called up for military service and fought as a partisan against Italy's erstwhile allies, the Germans. He was taken prisoner by the SS, who interrogated him in Dachau and released him shortly afterwards. 'At that moment, it was the only possibility to write a requiem and then to die', Maderna said later. The Requiem suggests an intensive study of the models in the genre, e.g. those by Giuseppe Verdi and Hector Berlioz. At the same time, as a 'War Requiem' the work is a pacifist manifesto.

Weitere Bilder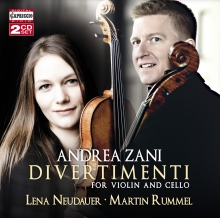 Andrea Zani (1696-1757)
Divertimenti for violin and cello
Lena Neudauder, violin · Martin Rummel, cello
2CD-Set: C5264 PC: 21 (Special Price) UPC: 845221052649
With great likelihood – at least as far as it can be said almost 300 years later – these twelve duos for violin and cello without accompanying continuo of 1734 are the earliest works with this instrumentation in which the violin and cello parts enjoy equal rights. The fact that Zani is largely forgotten today is probably due to the circumstance that his music has mainly been preserved in handwritten form and has hardly been accessible through recordings. Recently, the cello concertos (Capriccio CD C5145) and a few violin concertos have been re-discovered, but a large number of other treasures are still slumbering in different monastery and palace libraries throughout Europe. In these duos, we can experience the minimal form of chamber music with the maximal entertainment value. Andrea Zani is a composer whose name is worth noting and from whom it is to be hoped that many more treasures can be recovered.

Weitere Bilder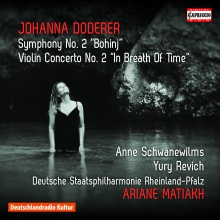 JOHANNA DODERER
Symphony No. 2 "Bohinj" (2014/15) · Violin Concerto No. 2 "In Breath Of Time" (2012)
ANNE SCHWANEWILMS, soprano · YURY REVICH, violin · DEUTSCHE STAATSPHILHARMONIE RHEINLAND-PFALZ · Ariane Matiakh
C5245 PC: 21 UPC: 845221052458
At the beginning of the 1960s, the Austrian writer Heimito von Doderer (1896–1966) wrote his since best-known novel Die Wasserfälle von Slunj. More than half a century later, in her 2nd Symphony 'Bohinj', his great-niece erected an artistic memorial to Lake Bohinj in Slovenia, around 300 km away from that Croatian natural beauty. "I was fascinated above all by the superb scenery. In the course of time, I found out what happened there during the First World War. In short, the idyll utters a silent scream. My three-movement work also touches on this sound.'
The issue as to whether women can compose music has been obsolete since Hildegard von Bingen's work in the 12th century at the latest. With her work, Johanna Doderer fortunately stands above such criteria. She is commissioned with work and her work is performed because she and her music are appreciated. Even the fact that her musical diction is not in keeping with what is usually understood as 'progressive', need not bother her. In comparison with her youthful oeuvre, she has long discovered tonally coloured aesthetics that meet with broad acceptance in the repertoire.

Youtube
Weitere Bilder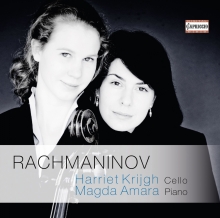 Harriet Krijgh
SERGE RACHMANINOV
Harriet Krijgh, cello Magda Amara, piano
C5258 PC: 21 UPC: 845221052588
Sonata for cello and piano in G minor, Op. 19
Élégie (from "Morceaux de fantaisie", Op. 3 No. 1)
Vocalise (from "Songs", Op. 34 No. 14)
Romance op. 4 No. 3 (In the silence of the secret night)

"To record music is a very intimate, personal process for which I have utmost respect", begins Harriet Krijgh. "Balance between emotion and self-restraint is an essential theme. Especially with such emotionally charged music like that of Sergej Rachmaninov the point is to bring in the correct amount of emotion." The Sonata for cello and piano op.19 and the 2nd piano concerto op. 18 likewise evolved after a rather epic phase of depression and compositional resignation. After the failure of his first symphony Rachmaninov had fallen into a critical, 3 year long creative pause, which finally demanded a hypno therapeutic treatment to end it. "With Rachmaninov I sensed an extremely sensitive artist. Such a long creative break must have caused very difficult emotional processes. The works that developed immediately after that time therefore are so much the richer in emotion or atmosphere because of it", says Harriet Krijgh.

Youtube
Weitere Bilder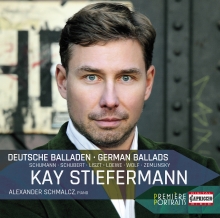 PREMIÈRE PORTRAITS - KAY STIEFERMANN
GERMAN BALLADS: Schumann · Schubert · Loewe · Wolf · Zemlinsky
Kay Stiefermann, Baritone · Alexander Schmalcz, piano
C3002 PC: 01 UPC 845221030029
With "Première Portraits" CD-Edition Capriccio set an example for the support of young and talented artists and invite them to release their première CD for a worldwide audience.
Kay Stiefermann completed his studies with distinction in the class of Kammersänger Kurt Moll at the Academy of Music in Cologne. Since his first commitment in the ensemble of the Hamburg State Opera from 1997 to 2001, where his roles included Papageno (Die Zauberflöte), Schaunard (La Bohème) and Danilo (The Merry Widow), he has sung many great roles of the baritone repertoire. In recent years, he has increasingly sung roles from the German field, such as Amfortas (Parsifal), Kurwenal (Tristan and Isolde), the Dutchman (The Flying Dutchman), Simone (Eine Florentinische Tragödie), Gyges (King Candaules), Mandryka (Arabella) and Don Pizarro (Fidelio). He has been a guest at the State Opera in Berlin, the Comic Opera in Berlin, the State Theatre in Hanover, the German Opera on the Rhine, the State Theatre in Darmstadt, the Ruhr Triennale, the Lincoln Centre Festival in New York, the Teatro Municipal in Rio de Janeiro, the Teatro Massimo in Palermo, the Teatro Regio in Turin, the Volksoper in Vienna, the Opera in Graz, the Opéra national du Rhin, the De Nederlandse Opera in Amsterdam or the Bayreuth Festival.

Weitere Bilder