cd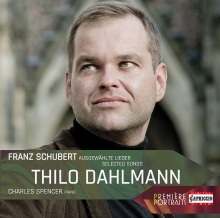 PREMIÈRE PORTRAITS - THILO DAHLMANN
Franz Schubert: Selected Songs
Thilo Dahlmann, baritone · Charles Spencer, piano
C3001 PC: 01 UPC 845221030012
With "Première Portraits" CD-Edition Capriccio set an example for the support of young and talented artists and invite them to release their première CD for a worldwide audience. The bass baritone Thilo Dahlmann won the first prize at the North Rhine-Westphalia State Competition and was a member of the International Opera Studio of the Zurich Opera House, where he performed many roles. The young bass baritone has guested at the German Opera of the Rhine in Duesseldorf, Wuppertal Buehnen, Koblenz Theater and St. Gallen Theater. He has sung important bass baritone roles in Germany and abroad under conductors such as Helmuth Rilling, Franz-Welser-Moest, Philippe Jordan, Helmut Müller Brühl, Andreas und Christoph Spering, Masaaki Suzuki und Ralf Otto.
Weitere Bilder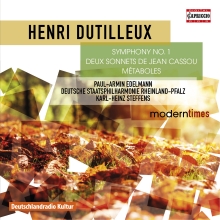 HENRI DUTILLEUX (1916 - 2013)
Symphony No. 1 · Deus sonnets de Jean Cassou · Métaboles
Paul Armin Edelmann· Deutsche Staatsphilharmonie Rheinland-Pfalz · Karl-Heinz Steffens
C5242 PC: 21 845221052427
Henri Dutilleux, named as "van Gogh of classical music" (Die Welt), has been a long time of his artistic life a maverick, dreamy and stubborn man, looking for his own style between tradition and modernism orientated to his great paragons Dukas, Ravel and Roussel. 'I'm composing colours' he always pointed out and admit his work not only to impressionism but also to his great reverence to van Gogh.
This colourful music finaly helps for a much to late success and tribute of his compositions, especially his orchestral works. This CD Production offers the rarely performed 1st symphony, the nearly unknown two orchestral songs by poems of Jean Cassou and finally the much better known Métaboles.

Weitere Bilder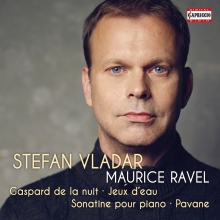 MAURICE RAVEL
Gaspard de la nuit · Jeux d'eau · Sonatine pour piano
Stefan Vladar, piano
C5260 PC: 21 845221052601
'It is with certainty one of the most virtuoso pieces of all', Stefan Vladar says about the piano suite Gaspard de la nuit, which constitutes, so to speak, the main work on this CD. The pianist has worked on the three movements of the work for more than two decades and also consistently studied Ravel's other piano compositions, which seem to belong to highly different styles, reflecting completely different aspects of technical virtuosity on the piano as well as differing compositional problems. As one of the most eminent artistic personalities in Austria Stefan Vladar has both as a pianist and a conductor an excellent international reputation for many years, and the journal Fono Forum speaks of him as 'one of the most remarkable pianists of our age'.


Youtube
Weitere Bilder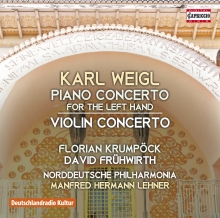 Karl Weigl (1881-1949)
Concerto for Piano (Left Hand) and Orchestra (1924) · Violin Concerto (1928)
Florian Krumpöck · David Frühwirth Norddeutsche Philharmonie
C5232 PC: 21 845221052328
Since the revival of so-called Entartete Musik in the 1990s, interest in Karl Ignaz Weigl's music has grown but he still remains a largely unknown figure to most listeners. Weigl was born in Vienna in February 1881 and had private composition lessons with Alexander Zemlinsky, a family friend. By the early-1920s, Weigl was an established figure in the musical landscape of Vienna and it was probably for this reason that he was approached by the one-armed pianist Paul Wittgenstein to compose a left-hand piano concerto. Paul's family fortune enabled him to commission some of the most eminent composers of the day to write works specially for him: Korngold, Britten, Hindemith, Prokofiev, Ravel, Franz Schmidt, Richard Strauss and Karl Weigl.
Unfortunately, for reasons unknown, Wittgenstein failed to perform Weigl's concerto. Thus it was that the concerto received its belated premiere in 2002 in Vienna by Florian Krumpöck, the soloist on the present recording. Despite his no doubt discouraging experience with Wittgenstein, Weigl returned to the concerto medium four years later with a violin concerto.
It can be hoped that recordings such as the present one will help to further draw attention to his large and varied output which may yet contribute to the repertoire it was designed to enrich.

Weitere Bilder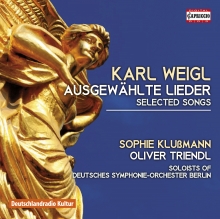 KARL WEIGL (1881-1949)
Selected Songs
Sophie Klußmann · Oliver Triendl · Soloists of Deutsches Symphonie-Orchester Berlin
C5259 PC: 21 845221052595
Fünf Lieder aus "Phantasus" op. 9 für hohe Stimme und Klavier (1905)
Five Songs from "Phantasus" op. 9 for high voice and piano (1905)

Fünf Lieder für Sopran und Streichquartett op.40 (1934)
Five Songs for soprano and string quartet op. 40 (1934)

Drei Mädchenlieder op.12 (1909) für Sopran und Klavier / for soprano and piano

Sechs Kinderlider für hohe Stimme und Klavier (1932-1944)
Six Children Songs for high voice and piano (1932-1944)

Das Rosenband (from Liebeslieder op. 22) (1908, rev.1944)

Fünf Duette für Sopran, Bariton und Klavier (1909)
Five Duets for soprano, baritone and piano (1909)
The Invisible Light (1939) für Singstimme und Klavier / for voice and piano

Ein Stelldichein op.16 (1904) für Sopran und Streichsextett / for high voice and string sextet

Sophie Klußmann, Sopran / soprano
Sebastian Noack, Bariton / baritone (21-25)
Oliver Triendl, Klavier / piano
Soloists of Deutsches Symphonie-Orchester Berlin
By the late 19th and early 20th centuries, the Lied genre had arguably reached a peak with such late-Romantic masters as Mahler, Strauss and Wolf in their song-writing prime. Composers of a younger generation such as Zemlinsky, Schoenberg, Schreker and Joseph Marx cultivated the medium no less enthusiastically. This was the musical environment into which Karl Ignaz Weigl was born in Vienna in February 1881. Already at the age of 15 he had composition lessons with Alexander Zemlinsky, a family friend. It was clear from an early stage that the writing of vocal music was a particular passion of Weigl's. With the Nazis rise to power in the 1930s, Weigl, as a prominent public figure of Jewish descent, found himself in an increasingly precarious position. Sensing the writing on the wall following Hitler's annexation of Austria in 1938, he and his family fled for the United States. Weigl died there in August 1949 at the age of 68 with much of his large output lying neglected and rarely performed. One can hope that recordings such as the present one will help to raise consciousness among performers and their public of these highly individual and very beautiful songs of which can stand comparison with those of any of Weigl's contemporaries.


Weitere Bilder