cd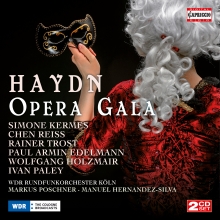 HAYDN: OPERA GALA
L'INFEDELTÀ DELUSA (HIGHLIGHTS) · LA VERA COSTANZA (HIGHLIGHTS)
SIMONE KERMES · CHEN REISS · RAINER TROST · THOMAS MICHAEL ALLEN · WOLFGANG HOLZMAIR PAUL ARMIN EDELMANN · JÜRGEN SACHER · IVAN PALEY WDR RUNDFUNKORCHESTER KÖLN MARKUS POSCHNER · MANUEL HERNANDEZ-SILVA
2CD-Set: C5255 PC: 21 (Special Price) UPC: 845221052557
Haydn Opera Rarities with Top Stars!
Although Joseph Haydn is still regarded above all as a master of instrumental music, he was also a contemporary of the future as an opera composer. For a not unsubstantial length of his life, he chiefly devoted himself to this genre; as the opera director of Prince Esterházy, he headed over a thousand opera productions in Esterháza including the 'hits' of the time as well as stage works of his own. It is unusual and a pointer to the future that women take control in both operas presented here. In addition, these female protagonists are people of flesh and blood, strong and pragmatic; the spirit of the Enlightenment can be sensed.

Weitere Bilder
CARNEVAL ORIENTAL
LULLY · CAMPRA · CESTI · ALLEGRI · CORELLI · SCARLATTI · HÄNDEL
PERA ENSEMBLE · l'arte del mondo · WERNER EHRHARDT
C5263 PC: 21 UPC: 845221052632
JEAN BAPTISTE LULLY: Passacaille (from the Opera "Armide", 1686) · Canaries (from "Bourgeois gentilhomme", 1670) ANDRÉ CAMPRA: Carnaval de Venise (Ballett-Oper / Ballet Opera, 1699 / Excerpts) · ANTONIO CESTI: Alma mia (from the Opera "L'Argia") · ANTONIO SARTORIO: Quando voglio / Ogni bella (from the Opera "Giulio Cesare") · LORENZO ALLEGRI: Canario, Il Primo Libro Delle Musiche · MARCO UCCELLINI: Aria Quinta: Sopra la Bergamasca · CLAUDIO MONTEVERDI: Lidia Spina del Mio Core · ARCANGELO CORELLI: La Follia · ANTONIO CESTI: Orontea · ALESSANDRO SCARLATTI: Se il mio dolor t'offende (from the Opera "Griselda") · GEORG FRIEDRICH HÄNDEL: Se teco vive il cor (from the Opera "Radamisto")

Francesca Lombardi Mazzulli, Sopran / soprano
Charlotte Quadt, Mezzosopran / mezzo-soprano
PERA ENSEMBLE
Mehmet C. Yeşilçay, Musikalische Leitung
l'arte del mondo
WERNER EHRHARDT, Dirigent / conductor

After the final siege of Vienna and the Turkish defeat, the Ottoman Empire had no longer been a threat. In private circles, pantaloons, caftans and turbans were now worn, the Turkish drink was appreciated and hookahs were smoked. The Alla Turca fashion found expression in Turkish operas. Il Seraglio by Mozart is probably the best-known work on this topic. However, since the early 17th century there have been dozens of operas, arias and instrumental compositions on the subject. The project Carneval Oriental receives its inspiration from this melting-pot of cultures, an exclusive blend of musical worlds. We celebrate carnival as it was probably held in the 16th and 17th centuries. The Pera Ensemble, which has been rediscovering these encounters between the Orient and the Occident as well as the turqueries and Alla Turca music for many years, meets up with the ensemble l'arte del mondo and offers Baroque music from France and Italy refined with oriental spices, arias and instrumental music in a new understanding of sound

Weitere Bilder
CARL MICHAEL ZIEHRER
DIE LANDSTREICHER · THE VAGABONS
DANIEL BEHLE · THOMAS DEWALD · MARIA LEYER · KARL FÄTH · ANNELI PFEFFER · WDR RUNDFUNKCHOR KÖLN · WDR FUNKHAUSORCHESTER KÖLN · HELMUTH FROSCHAUER
C5261 PC: 21 UPC: 845221052618
In the field of entertainment music, Ziehrer's name was soon a quality brand in Vienna, especially as Carl Haslinger, Johann Strauss Jr.'s publisher, provided him with valuable assistance. Unlike Strauss, Ziehrer came from the piano, so he was not a standing leading violinist, but availed himself of a baton. He wrote countless orchestral compositions, above all waltzes, but also marches and polkas, including many that would be termed 'hits' today – as well as more than twenty stage works. Most of these operettas are almost forgotten today, and merely Die Landstreicher (1899) comes to mind. It is a merry and graceful work in a popular tone and with a slightly sentimental mood. This recording is another juwel for the Capriccio Operetta Edition who takes care of these unjustly forgotten composers and pieces.

Weitere Bilder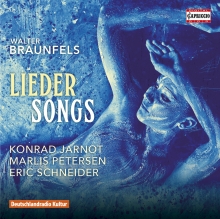 Walter Braunfels:
Selected Songs
MARLIS PETERSEN · KONRAD JARNOT · ERIC SCHNEIDER
C5251 PC: 21 UPC: 845221052519
Sechs Gesänge / Six Songs op. 1 (1902)
Fragmente eines Federspiels op. 7 (1904)
Sechs Gesänge / Six Songs op. 4 (1905)
Neues Federspiel op. 7 (1904)
Musik zu Shakespeares Komödie Was Ihr wollt, op. 11 (1908)
Music To Shakespeare's Comedy What You Will, Op. 11
Klärchen-Lieder op. 29 (1916)
Nachklänge Beethovenscher Musik op. 13 (1910)
Herbstgefühl (1917)
An die Parzen op. 27 Nr. 1
Zwei Lieder / Two Songs op. 44 (1932)
Walter Braunfels is a composer whose music died twice: Once when the Nazis declared his music "degenerate art". Then again when post-war Germany had little use for the various schools of tonal music; when the arbiters of taste considered any form of romantic music – almost the whole pre-war aesthetic – to be tainted. Post-war Europe had experienced (or rather: been prescribed) an aesthetic paradigm shift. Walter Braunfels had a hand at drama and his operas demonstrate his careful consideration of texts. This also shines through in his songs, with which he learned his craft and all but two of which he composed prior to The Birds. Marlis Petersen, whose fascination with Braunfels' "unique tonal language of a totally transparent structure and large late-romantic nature" began with two songs she got to sing earlier in her career, considers the Federspiele to be "real jewels of the art of Lied: simple, deeply touching airs."


Weitere Bilder
Walter Braunfels: Don Juan
Variations On An Old French Nursery Song
PHILHARMONISCHES ORCHESTER ALTENBURG-GERA · MARKUS L. FRANK
C5250 PC: 21 UPC: 845221052502
Walter Braunfels was applauded as a pioneering representative of New Music. Leading conductors such as Hans Pfitzner, Ernst von Schuch, Bruno Walter, Arthur Nikisch and Wilhelm Furtwängler performed his orchestral works in major cities. But following the Nazi seizure of power in 1933, as a 'half-Jew' Braunfels also lost all his positions and was banned from performing or being performed. Braunfels' name was consistently deleted from musical literature and reference works. In his Classical and Romantic phantasmagoria Don Juan, in seven movements Braunfels varies themes and motifs from Mozart's opera Don Giovannni, premiered in 1787, deliberately placing himself in the tradition of German Classicism and Romanticism, which he sought to transfer into the 20th century with his own compositional means. Don Juan was premiered by Wilhelm Furtwängler in 1924.

Weitere Bilder