cd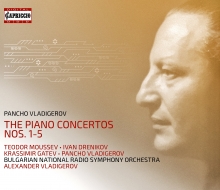 Pancho Vladigerov Edition
Piano Concertos Nos. 1-5
Ivan Drenikov · Teodor Moussev · Krassimir Gatev · Pancho Vladigerov · BULGARIAN NATIONAL RADIO SYMPHONY ORCHESTRA · ALEXANDER VLADIGEROV
3CD · C8060 PC: 22 UPC: 845221080604
From the diversity of Bulgarian musical culture Pancho Vladigerov stands out as undoubtedly the most important composer for the musical self-conception of modern Bulgaria. In the 1920s he worked as a conductor, pianist and composer in close association with Max Reinhardt at the Deutsches Theater Berlin. He also associated with many German-speaking writers, such as Stefan Zweig, Gerhart Hauptmann, Arthur Schnitzler and Hugo von Hofmannsthal as well as with many fellow composers of the time (including Bartók, Kodály, Strauss, Ravel, Glasunov, Hindemith, Schoenberg, Rachmaninov and Szymanowski). In this light, it is difficult to understand why the imaginative and colourful music by the sound wizard does not possess any appropriate status in European concert halls today. In terms of style, despite his unmistakable personal note it is not wrong to see his piano concertos in succession to the great Slavonic Romantic concerto tradition, such as it was continued after Tchaikovsky by his Russian compatriots Rachmaninov and Medtner. With these recordings, produced in the 1070s in Bulgaria, Capriccio releases an 18CD Vladigerov-Edition to preserve this colourful music also for the next generations.

Hörprobe
Weitere Bilder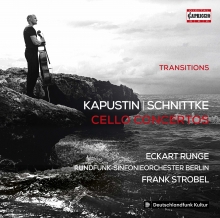 CELLO CONCERTOS
Nikolai Kapustin: Cello Concerto No. 1 (World Premiere) · Alfred Schnittke: Cello Concerto No. 1
Eckart Runge · Rundfunk Sinfonieorchester Berlin · Frank Strobel
C5362 PC: 21 UPC: 845221053622
In recent years, the jazz-like, classical and modern music by the Ukrainian composer Nikolai Kapustin (*1937) has become an inside tip on classical concert stages. During a visit to Nikolai Kasputin in Moscow ten years ago, the composer entrusted the cellist Eckart Runge with the notes for his Cello Concerto No. 1 op. 85, which, unlike the second one, had neither been performed nor recorded. The work vibrant with energy combines in unparalleled manner colourful symphonic music with the groovy sound of the big band tradition and the virtuosity of a Charlie Parker with the chamber music intimacy of a Miles Davis into a new and fulminant musical diction. With his fascinating, poly-stylistic realm of sound, mirroring an absolutely personal diction, two decades after his death Alfred Schnittke has become one of the composers of the 20thcentury permanently established in the repertoire. The Concerto for Cello and Orchestra No. 1was commissioned by the City of Munich for the inauguration of the Gasteig Cultural Centre in 1985/86.

Youtube
Weitere Bilder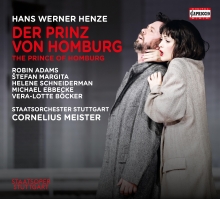 HENZE: DER PRINZ VON HOMBURG
MARGITA · SCHNEIDERMAN BÖCKER · ADAMS · EBBECKE
STAATSORCHESTER STUTTGART · CORNELIUS MEISTER
C5405 PC: 22 UPC: 845221054056
'But tell me, who could have written a better libretto than my friend Heinrich von Kleist. When I was searching for a language in combination with which my music could produce something new, a diction targeted by my music, I hit on the Prince. . […] The tension between the life of the individual and raison d'état, issues as to the disregard of law and order, man's quivering before the might of ruling authorities and the courage to resist it, all of that might happen today or might have occurred one or two thousand years ago. […]Many of my endeavours in works of recent years appear through this drama to have reached a new point, i.e. a new polyphony and ist concomitant, freely chosen rigour.' Hans-Werner Henze

Hörprobe
Weitere Bilder
FERRUCCIO BUSONI: Early Masterpieces
The Complete Published Pieces 1877–1883
Holger Groschopp, piano
C5416 (3CD-Set) PC: 22 UPC: 845221054162
Ferruccio Busoni was undoubtedly what can be termed a 'child prodigy'. His maturity as a young pianist can only be indirectly evidenced by contemporary reports. But in his early compositions, his astonishing command of the metier can be assessed directly. In particular, he demonstrated a sure instinct for part writing and counterpoint, before he had received systematic teaching in these disciplines. Busoni connoisseurs will detect unexpected parallels to the works of his mature period; their germ cells, as it were. And the common music lover may find joy in a wealth of piano pieces, some of which at least need not shy any comparison with Schumann, Mendelssohn, Reinecke and Grieg.
Hörprobe
Weitere Bilder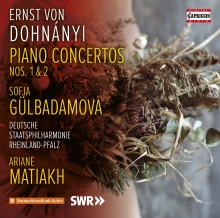 ERNST VON DOHNÁNYI
The Piano Concertos
SOFJA GÜLBADAMOVA · DEUTSCHE STAATSPHILHARMONIE RHEINLAND-PFALZ · ARIANE MATIAKH
C5387 PC: 21 UPC: 845221053875
Ernst von Dohnanyi was one of the most versatile and influential musicians of his time but his stage works, orchestral compositions including symphonies, concerti as well as his numerous chamber music are now seldom played. A gap which Capriccio want to fill now with this already fourth recording of his late romantical, sensual music, deeply rooted in the Austro-German classical tradition. There is nothing in the musical language of these Piano Concertos (rhythm, melody, harmony as well as in the traditional orchestration) which Brahms would have found unfamiliar. With Sofia Gülbadamova, who turned out to be an expert in Dohnanyi's piano music as she has already released his complete Solo Piano Works (Capriccio C5332), this recording was in good hands, carefully accompanied by Ariane Matiakh who also recorded Dohnanyi's The Veil of Pierrettesome months before (Capriccio C5388).
Youtube
Weitere Bilder