cd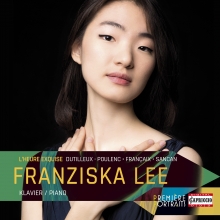 Premiere Portraits: Franziska Lee
Dutilleux · Poulenc · Francaix · Sancan
Franziska Lee, piano
C3006 PC: 01 UPC: 845221030067
Henri Dutilleux (1916 – 2013): Sonate pour piano 1947-1948
»À Geneviève Joy«
Francis Poulenc (1899 – 1963)
Suite française pour piano d'après Claude Gervaise (XVIe siècle) FP 80b 1935 »À Edouard Bourdet«
Francis Poulenc (1899 – 1963): Mélancolie Très modéré FP 105
1940 »À Raymond Destouches«
Jean Françaix (1912 – 1997): Sonate pour piano 1960 »À Idil Biret«
Francis Poulenc (1899 – 1963) Napoli – Suite pour le piano FP 40
1922-1925 »À la mémoire de Juliette Meerovich«
Pierre Sancan (1916 – 2008): Toccata Vif 1943 »À mes chers Parents«

With "Première Portraits" CD-Edition Capriccio set an example for the support of young and talented artists and invite them to release their première CD for a worldwide audience.

The South Korean pianist Franziska Lee is one of today's leading young musicians. Lee is celebrated by the press for her "artistic maturity and intelligence", her "room-filling, orchestral sound" and "emotional depth and passion".

Weitere Bilder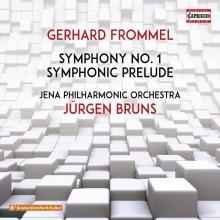 GERHARD FROMMEL (1906-1984)
Symphony no. 1 in E major, Op. 13 (1938) · Symphonic Prélude, Op. 23 (1943)
Jena Philharmonic Orchestra · Jürgen Bruns
C5338 PC: 21 UPC: 845221053387
Music in the tempest of the times
If we seek to deal with Gerhard Frommel's personality and music (a master pupil of Hans Pfitzner) in greater depth, as in the case of many other German composers of his generation, we cannot avoid going into the historical and political events and the underlying active and reactive behaviour of the individual. Concepts like opportunism or passive obedience come readily to mind, but they fall short of the truth, if we were not direct contemporary witnesses.
His position during the years 1933-45 becomes all the more salient as regards the works recorded here, both of which were written at that time. Many things sound familiar, Wagner, Bruckner and other elements from the past stand out trenchantly, 'For me, the 1st Symphony is at the centre of my oeuvre.' Frommel says. Many things sound familiar, Wagner, Bruckner and other elements from the past stand out trenchantly,The score reached Wilhelm Furtwängler, who then scheduled its premiere with the Vienna Philharmonic for the autumn of 1942.

Weitere Bilder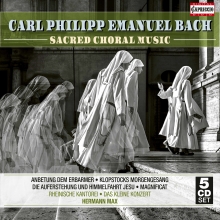 CARL PHILIPP EMANUEL BACH: SACRED CHORAL MUSIC
Klopstocks Morgengesang · Magnificat · Die Auferstehung und Himmelfahrt Jesu
Rheinische Kantorei · Das Kleine Konzert · Hermann Max · La Stagione Frankfurt · Michael Schneider
5CD-Set C7221 PC: 04 UPC: 845221072210
COMPACT

DISC

1
Klopstocks Morgengesang am Schöpfungsfeste Wq 239 (Leipzig 1784)
Auf, schicke dich recht feierlich Wq 249 (1775)
Anbetung dem Erbarmer Wq 243 (vor/before 1784)
Heilig Wq 217 (1776)



COMPACT

DISC

2
Gnädig und barmherzig ist der Herr Wq 250 (1785)
Wer ist so würdig als du Wq 222 (Hamburg 1774)
Der Herr lebet Wq 251



COMPACT

DISC

3
Magnificat Wq 215 (1749)
Der Gerechte, ob er gleich zu zeitlich stirbt
(H 818)
COMPACT

DISC

4 + 5
Die Auferstehung und Himmelfahrt Jesu
Wq 240 (1777/78)
The Resurrection and Ascension of Jesus
Gott hat den Herrn auferwecket
Wq 244 (1756) "Easter Cantata"
RHEINISCHE

KANTOREI

·

DAS

KLEINE

KONZERT




HERMANN

MAX




DRESDNER

KAMMERCHOR

· LA

STAGIONE




MICHAEL

SCHNEIDER

(Magnificat)

After the 5CD-Release with sacred choral music by Georg Philipp Telemann (C7215), Capriccio continues now with most impressive Cantatas and Oratorios by Carl Philipp Emanuel Bach. It's already shown that the famoust of the Bach-Sons has nothing to hide compare to his Fathers Masterworks. Since three decades, Hermann Max has been a major con­trib­u­tor to the canon of his­tor­i­cal­ly informed performance practice and makes these Rarities alive again.
Weitere Bilder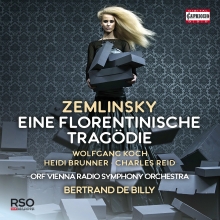 ZEMLINSKY
A FLORENTINE TRAGEDY Opera in one act op. 16 (1916)
Heidi Brunner Wolfgang Koch Charles Reid · ORF VIENNA RADIO SYMPHONY ORCHESTRA · BERTRAND DE BILLY
C5325 PC: 21 845221053257
Oscar Wilde's A Florentine Tragedy was written in 1893, but remained a fragment when the author was arrested for 'sodomy'. But the material was in the air, so to speak, and Alexander von Zemlinsky, who may have had Richard Strauss' recourse to Wilde's Salome in mind and hoped for a similar success with A Florentine Tragedy, finally converted the play into a one-act opera. Puccini had also been interested in the material, but the publisher Tito Ricordi advised him against it. Other potential takers also included Ferruccio Busoni who also found the ending too hackneyed. However, such alleged triviality did not deter his colleague Alexander von Zemlinsky, who celebrated success with his opera. Alban Berg admired the work so much that musical parallels to the Florentine Tragedy can be found in his Wozzeck, premiered eight years later.

Weitere Bilder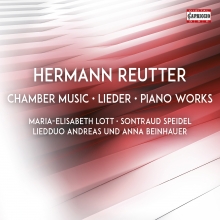 HERMANN REUTTER (1900-1985)
Sonata for violin and piano op. 20 · Four Songs op. 54 · Dance Suite op. 29 · Three Songs op. 56 · Epitaph for Ophelia
Lott · Speidel · Beinhauer & Beinhauer
C5336 PC: 21 UPC: 845221053363
Hermann Reutters compositional talents were already being recognised in 1923 when he became acquainted with musical modernity at the festivals in Baden-Baden and Donaueschingen, where he met Paul Hindemith. In 1956 he assumed the post of Rektor at the Hochschule für Musik und Darstellende Kunst in Stuttgart, which he retained until his retirement.
Reutter's early compositions reflect the stylistic influences of the romantic models of Anton Bruckner and Hans Pfitzner. However, the impressions made by Bartók, Stravinsky, and Hindemith resulted in a change in Reutter's musical language. In the context of a dialogue with the music of his own time, he learned to express his own ideas and develop his own individual style. The works of this recording, although stylistically and chronologically distant from one another, present an unmistakeable manifestation of a strong and deeply human musicality, which discovers an authentic and sincere voice beyond any stylistic or national borders.


Weitere Bilder