cd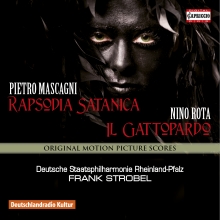 PIETRO MASCAGNI RAPSODIA SATANICA
NINO ROTA: IL GATTOPARDO
Deutsche Staatsphilharmonie Rheinland-Pfalz · Frank Strobel
C5246 PC: 21 845221052465
Pietro Mascagni's single work for the early days of cinema was composed in winter time 1914/15.
The idea of the film director Nino Oxilia was to create a "Poema cine-musicale", a synthesis of the arts with music, poetry and finally cinematography. The plot is something like a female version of "Faust", based on a poetry by Fausto Maria Martini. Mascagni itself conducted the first performance in July 1917 and orientated his composition near to Richard Wagners musical language.
The French-German TV channel Arte restored this treasure of early cinema in 2006 and recorded the
complete film music score which is now available also on CD.

Weitere Bilder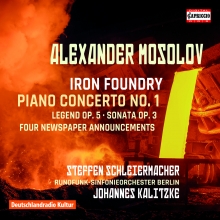 Alexander Mosolov (1900-1973)
Iron Foundry · Piano Concerto No. 1 · Four Newspaper Announcements
Steffen Schleiermacher · Rundfunk-Sinfonieorchester Berlin · Johannes Kalitzke
C5241 PC: 21 845221052410
With Irony against Realism
Among his contemporary countrymen, the Russian Alexander Mosolov certainly underwent one of the most individual developments. However unknown most of his compositions have remained both in the Soviet Union and abroad, a single piece has ensured that his name has stayed lastingly present – the Iron Foundry from the ballet ,Steel' (1926/27). It clearly ran contrary to the demands of 'Socialist Realism' gradually becoming established in the post-revolutionary Soviet Union and finally declared the official dogma by the authorities in 1932. Whereas the state demanded a kind of music that was easy to receive and could be directly accepted by broad sections of the population, some young composers saw themselves facing the challenge of keeping pace with the international avant-garde and adding a separate Russian and Soviet form. Also active as a music official, Mosolov quickly found recognition in the young Moscow music scene. He soon worked in the Association of Contemporary Music (ASM) and got to know many foreign colleagues, whose works were performed in Russia at the time not least due to his efforts, including Alban Berg, Paul Hindemith, Alfredo Casella, Darius Milhaud and Arthur Honegger.

Weitere Bilder
GUSTAV MAHLER DAS LIED VON DER ERDE
Arr.: Schönberg / Riehn
Ivonne Fuchs · Markus Schäfer · Linos Ensemble
C5136 PC: 21 845221051369
'… a veritable and precise knowledge of Modern Music' (Alban Berg)
As little as it was perceived by the general public during its short existence, in accordance with its genesis, all the more remarkable were the effects and the aftereffects of the Society for Musical Private Performances, founded by Arnold Schoenberg in Mödling near Vienna in November 1918,
especially as it was associated with the intention to keep away unpopular and malicious critics and 'to give Arnold Schoenberg the opportunity personally to carry out his intention of providing artists and art lovers with a veritable and precise knowledge of Modern Music', as Alban Berg described in a leaflet in 1919. A speciality of the society concerts was that within the framework of the means available by no means exclusively chamber music, solo pieces and songs were performed, but to a great extent also originally large-scale orchestral works, for which topical, artistically top-quality were produced. Among Mahler's works, Symphonies Nos. 4, 6 and 7 and the Lieder eines fahrenden Gesellen could be presented this way. In autumn 1921, he embarked on the arrangement of Mahler's Das Lied von der Erde, which, however, he broke off in the middle of the first movement. The continuation was to be taken over by Webern, but this did not happen, evidently as a consequence of the end of the society. It was only in 1982/83 that the German composer, conductor and musicologist Rainer Riehn (b. 1941) was prepared to continue what had been begun.

Weitere Bilder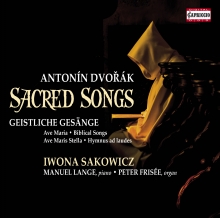 ANTONÍN DVOŘÁK SACRED SONGS
Biblické Písně op. 99 / Biblical Songs · Ave Maria · Hymnus ad laudes in festo Sanctae Trinitatis
IWONA SAKOWICZ · MANUEL LANGE · PETER FRISÈE
C5207 PC: 21 845221052076
Testimony to fervent piety
The Biblical Songs op. 99 were written in 1894 during Dvořák's time in America (1892-95), when he was working as artistic director and professor of composition at the New York Conservatory of Music. His 9th Symphony, appositely termed 'From the New World' was to be followed by a further symphony, but Dvořák opted for treating the Biblical Songs, which, in their austerity, hardly allow scope for American scent but are rather reminiscent of the composer's Czech homeland, if of anything concrete at all.
The fact that the composer so intensively studied the psalms of the Old Testament was not least connected to external circumstances, e.g. to the economic crisis of 1893, which also affected the New York Conservatory. He was also suffering from the death of Hans von Bülow, was grieving for Gounod and Tchaikovsky and in addition, he learnt about the grave sickness of his father, who died two days after the Biblical Songs had been completed. Dvořák, the Catholic, had long demonstrated his faith with numerous works of fervent piety: Stabat Mater (1876), Requiem (1890), the Mass in D major as well as the pieces for solo voice and organ, for instance, the works that can be heard on this CD – Ave Maria, Ave Maris Stella and Hymnus ad laudes in festo Sanctae Trinitatis (1877-79) as well as the preludes and fugues for organ of 1859 by the then 18-year-old.

Weitere Bilder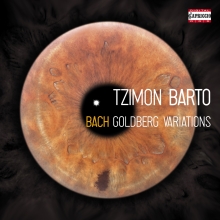 Johann Sebastian Bach
GOLDBERG VARIATIONS
Tzimon Barto, piano
C5243 PC: PC: 21 UPC: 845221052434
The Goldberg Variations' alternation of connection and freedom, fantasy and strict form, was able to lead in a hitherto unknown way to a higher unity and raise them to the rank of a real compendium of the art of variation, which particularly strongly influenced Beethoven, Brahms and Reger. The american pianist Tzimon Barto shows us his own fascinating interpretation. A new focus to this masterwork with Barto's well known sensibility.
Weitere Bilder