cd
alla czeca
Dvorak · Schulhoff · Suk
Signum Quartett
C5257 PC: 21 845221052571
ERWIN SCHULHOFF (1894-1942)
Five Pieces for String Quartet WV 68 (1923)

JOSEF SUK (1874-1935)
Meditation on the Old Czech Chorale 'St. Wenceslaus' op. 35a

ANTONÍN DVOŘÁK (1841-1904)
String Quartet in G Major op. 106 (B 192)

SIGNUM QUARTETT
Kerstin Dill, Violine / violin · Annette Walther, Violine / violin
Xandi van Dijk, Viola / viola · Thomas Schmitz, Violoncello / cello

'The Bohemians [were] the most musical among all the nations,
indeed perhaps in the whole of Europe'.
Charles Burney, 1773
Short after the most successful album "sound escapes" (Capriccio C5239) the young and aspiring Signum Quartet take care of the Bohemian Music Culture. Beside the famous String Quartet Op. 106 by Antonín Dvořák ('I am very satisfied with everything I have accomplished in this quartet.') and the Meditation on the Old Czech Chorale 'St. Wenceslaus', full of impressions of the beginning of the 1st World War, by Josef Suk, are finally the 1923 composed Five Pieces for String Quartet by Erwin Schulhoff, which all experiment with dance forms, a very virtuosity challenge. 'Music is never philosophy' (Erwin Schulhoff). The succinct statement conceals what was capable of so lastingly impressing Charles Burney already in his time: direct, if possible, spontaneous expression in music.

Weitere Bilder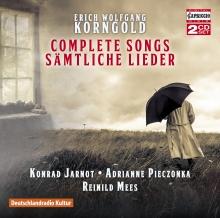 Erich Wolfgang Korngold
COMPLETE SONGS
ADRIANNE PIECZONKA · KONRAD JARNOT · REINILD MEES
C5252 (2CD) PC: PC 21 UPC: 845221052526
COMPACT DISC 1: So Gott und Papa will · Sechs einfache Lieder op. 9 · Lieder des Abschieds op. 14 · Drei Lieder op. 18 · Nachts · Unvergänglichkeit op. 27 COMPACT DISC 2: aus: 6 einfache Lieder op. 9 Sommer (2nd version) · aus "Die tote Stadt" op. 12: Marietta's Lied · Tanzlied des Pierrot · Drei Lieder op 22 · Songs of the Clown op. 29 · Four Shakespeare Songs op. 31 · Fünf Lieder op. 38 · Sonett für Wien op. 41 · Einzelne Lieder
From his first attempts at composition, Erich Wolfgang Korngold wrote songs. The earliest surviving example – Der Knabe und das Veilchen - dates from early 1905 when Korngold was just seven years old. It reveal the nascent style of the mature composer and is recorded here for the first time, together with a number of individual songs, only recently published.
Little songs for family birthdays, the Shakespeare lieder, written for various theatre productions by Max Reinhardt, the Kaiserin Zita-Hymne, up to Korngold's final song Sonett für Wien Opus 41, composed in 1950, as a tribute to Vienna, the city of Korngold's youth, then in ruins after the war. As one of the last exponents of the Austro-Germanic lied which lasted almost two centuries, Korngold occupies a special place in that tradition, and his exceptional contributions are finally being rediscovered, after decades of neglect. This comprehensive recording is a further welcome step in the process.


Weitere Bilder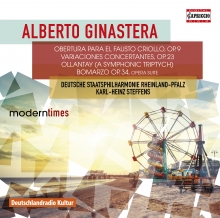 Alberto Ginastera
Obertura para el Fausto Criollo, op. 9 · Variaciones Concertantes, op. 23 · Ollantay · Bomarzo op. 34 (1967) Opera Suite
Deutsche Staatsphilharmonie Rheinland-Pfalz · Karl-Heinz Steffens
C5244 PC: 21 UPC: 845221052441
Within the breadth evinced by music life in Argentina, there were mainly three personalities in the 20th century that gave the republic, independent since 1816, an international voice: Alberto Ginastera, Carlos Gardel und Astor Piazzolla. Whereas Gardel, as a singer and composer, was the most popular representative of the 'Tango Argentino' and Piazzolla an outstanding bandoneon player, composer and founder of the 'Tango Nuevo', Alberto Ginastera is considered the most important Argentinian composer of classical stamp. For Ginastera, three periods can be differentiated, clearly delimited in time. In the period of 'Objective Nationalism' (1934–47), he employed direct musical elements of Argentinian folk music, including Obertura para el Fausto Criollo op. 9 (1943) and the Symphonic Triptych Ollantay op. 17, written after his return from the USA (1947). The Variaciones Concertantes for chamber orchestra op. 23 (1953) derive from the middle of Ginastera's second period. Finally the opera Bomarzo op. 34 (1966/67) represents a main work of Ginastera's third, 'Neo-expressionist' period. Although he subsequently made great career strides also in the country of his birth, the external circumstances there remained untenable for him. In 1971, he moved with his second wife to Geneva, where he died in 1983.

Youtube
Weitere Bilder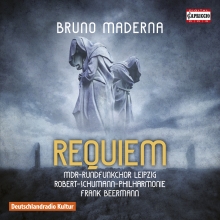 Bruno Maderna
Requiem (1946) World Première Recording
Tomsche · Göring · Berchtold · Mészár · MDR Rundfunkchor Leipzig · Robert-Schumann-Philharmonie Frank Beermann
C5231 PC: 21 845221052311
Bruno Maderna's Requiem was long considered lost and was indeed only premiered in the Teatro la Fenice in Venice in November 2009 – about 36 years after his death.
In 1943, Maderna was called up for military service and fought as a partisan against Italy's erstwhile allies, the Germans. He was taken prisoner by the SS, who interrogated him in Dachau and released him shortly afterwards. 'At that moment, it was the only possibility to write a requiem and then to die', Maderna said later. The Requiem suggests an intensive study of the models in the genre, e.g. those by Giuseppe Verdi and Hector Berlioz. At the same time, as a 'War Requiem' the work is a pacifist manifesto.

Weitere Bilder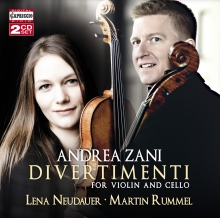 Andrea Zani (1696-1757)
Divertimenti for violin and cello
Lena Neudauder, violin · Martin Rummel, cello
2CD-Set: C5264 PC: 21 (Special Price) UPC: 845221052649
With great likelihood – at least as far as it can be said almost 300 years later – these twelve duos for violin and cello without accompanying continuo of 1734 are the earliest works with this instrumentation in which the violin and cello parts enjoy equal rights. The fact that Zani is largely forgotten today is probably due to the circumstance that his music has mainly been preserved in handwritten form and has hardly been accessible through recordings. Recently, the cello concertos (Capriccio CD C5145) and a few violin concertos have been re-discovered, but a large number of other treasures are still slumbering in different monastery and palace libraries throughout Europe. In these duos, we can experience the minimal form of chamber music with the maximal entertainment value. Andrea Zani is a composer whose name is worth noting and from whom it is to be hoped that many more treasures can be recovered.

Weitere Bilder