cd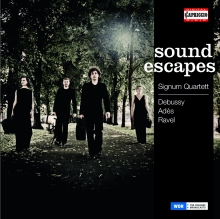 Signum Quartet
Debussy: String Quartet in G minor · Thomas Adès: Arcadiana · Maurice Ravel: String Quartet in F Major
Signum Quartett
C5239 PC: 21 UPC: 845221052397
'Music must be freed from all learned bombast. It must endeavour with modesty to give joy;
Claude Debussy, 1910
It is a plea for the direct experience of a music that had become fed up with the constraints of traditional forms. Debussy's music especially reveals characteristics that justifiably move it into the proximity of Impressionist painting, as it produces moving paintings, landscapes of sound, soundscapes in the narrowest sense of the word that can draw the listener into the middle of the picture. Maurice Ravel's String Quartet, completed in 1903, had to be and was compared with Debussy's quartet. At the same time, it can be seen here how Ravel's musical diction – based on Debussy's – prepared the way for French Modernism. Like only few of his colleagues, the Briton Thomas Adès, born in 1971, is capable of fusing traditional elements from music history, including obvious references to existing compositions, with modern sound production into an individual style appealing directly to the listener.
SIGNUM QUARTETT
Kerstin Dill, Violine / violin · Annette Walther, Violine / violin
Xandi van Dijk, Viola / viola · Thomas Schmitz, Violoncello / cello

Weitere Bilder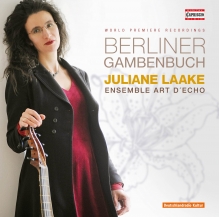 World Premiere Recordings Berliner Gambenbuch
Suite in G · Passions Suite · Easter Suite Suite in D minor
Juliane Laake · Ensemble Art d'Echo
C5239 PC: 21 UPC: 845221052069


Suite G-Dur / in G major
Weihnachts-Suite I / Christmas Suite I
Weihnachts-Suite II / Christmas Suite II:
Suite d-Moll / in D minor
Suite G-Dur / in G major (Skordatur)
Passions-Suite g-Moll / in G minor (Skordatur)
Oster-Suite / Easter Suite
Suite B-Dur / in B flat major (Skordatur)

Ensemble Art d'Echo:
Kai Roterberg, Gesang / Vocal · Ophira Zakai, Theorbe / theorbo
Klaus Eichhorn, Truhenorgel / organ
Juliane Laake
Viola da gamba – Leitung / Director
At the Bibliothèque Nationale in Paris there exists a very unusual 17th century manuscript of music for solo viola da gamba (lyra viol), known only by its shelf number Réserve 1111. This tiny leather-bound book is elongated and has 270 pages. Compiled by at least eight different individual hands, the music is notated almost entirely in tablature and reflects a variety of scordatura tunings. It was acquired by the Berlin library in 1880 and is generally thought to originate from the Brandenburg region that is part of northern Germany. Near the end of the Thirty Years War, Brandenburg started to regain its prosperity and stability under the leadership of Frederick William, known as the "Great Elector" (reigned 1640-1688). Quite a number of the finest viola da gamba players of the day are known to have visited or spent time there. Frederick William himself played the treble viol. Rés. 1111 has never been published in a facsimile or modern edition. Not only were there a great number of pieces with which to come to grips, but Juliane Laake also had to find some way to organize them into a coherent and presentable narrative. What you hear now is a record of her exploration and sleuthing and discovery.

Weitere Bilder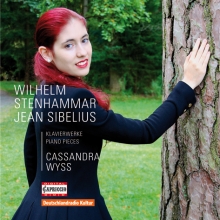 WILHELM STENHAMMAR · JEAN SIBELIUS
Piano Sonata No. 4 · Impromptu-Valse · Valse triste · Finlandia
Cassandra Wyss, piano
C5229 PC: 21 UPC: 845221052298
With the pianistic talent of the young artist Cassandra Wyss the compilation of works by Wilhelm Stenhammar and Jean Sibelius on one CD emerges as a gateway into the world of Nordic sound gems. With her artistic courage to be stubborn – to be understood in the spirit of Hermann Hesse –, namely to select precisely those works that suit her as a pianist, Cassandra Wyss enables the careful listener to take a new and very personal view of the rich repertoire of Scandinavian music.

Weitere Bilder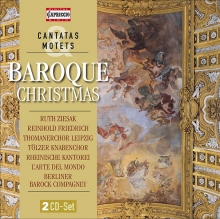 BAROQUE CHRISTMAS - Cantatas & Motets
Wilhelm Friedemann Bach · Carl Philipp Emanuel Bach · Dietrich Buxtehude · Pál Esterházy · Nicola Porpora
Ruth Ziesak · Wilfried Jochens ·Thomanerchor Leipzig · Rheinische Kantorei · Berliner Barock-Compagney etc.
2CD-Set · C5217 PC: 21 (Special Price) 845221052175
COMPACT

DISC

1 [67:49]


WILHELM

FRIEDEMANN

BACH

(1710-1784) Lasset uns ablegen die Werke der Finsternis · Let Us Cast off the Works of Darkness

JOHANN

CHRISTOPH

BACH

(1642-1703): Lieber Herr Gott, wecke uns auf

JOHANN

CHRISTOPH

FRIEDRICH

BACH

(1732 – 1795) Wachet auf, ruft uns die Stimme (ca. 1780)

CARL

PHILIPP

EMANUEL

BACH

(1714-1788) Auf, schicke dich recht feierlich Wq 249 (1775)

COMPACT

DISC

2 [65:53]
JOHANN

SEBASTIAN

BACH

(1685 – 1750):
Lobe den Herrn, meine Seele

BWV

143
CHRISTIAN

GEIST

(ca. 1640 – 1711)
Wie schön leuchtet der Morgenstern
DIETRICH

BUXTEHUDE

(1637-1707):
Das neugeborne Kindelein
GEORG

PHILIPP

TELEMANN

(1681-1767):
"Göttlichs Kind, lass mit Entzücken"
FRA

G. M. PO

DEL

FINALE

(ca. 1700)
:
"Oh quam jubilat"
PÁL

ESTERH

ÁZY (1635-1713):
Cur fles, Jesu
NICOLA

ANTONIO

PORPORA

(1686-1768):
"Stella lucide"
CARL

PHILIPP

EMANUEL

BACH

(1714-1788):
Heilig
Wq 217 (1776)
Ruth Ziesak,
Sopran / soprano
· Wilfried Jochens,
Tenor / tenor
· Klaus Mertens,
Bass/bass
Reinhold Friedrich,
Trompete / trumpet
Thomanerchor Leipzig · Tölzer Knabenchor · Rheinische Kantorei • Das Kleine Konzert · Berliner Barock-Compagney · L'Arte del mondo · Werner Ehrhardt · Hermann Max

Baroque Christmas Rarities
Beside the famous master of Baroque Music – Johann Sebastian Bach – this 2CD-Set includes nearly unknown but not less atmospheric treasures of baroque Christmas music. Most of them were commissioned works for the feast and includes very different styles: from festive cantatas, moody motets to chamber musically solo songs. A "must" for all lovers of Baroque Music as well for listeners they would like to find some extraordinary music for the upcoming feast.
Weitere Bilder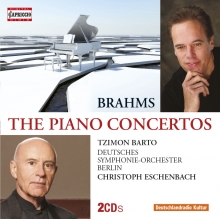 Eschenbach - Barto
Johannes Brahms: The Piano Concertos
Tzimon Barto · Deutsches Symphonie-Orchester Berlin · Christoph Eschenbach
2CD-Set C5210 PC: 21 (Special Price) 845221052106



COMPACT DISC 1
Konzert für Klavier und Orchester Nr. 1 d-moll op. 15
Concerto for piano and orchestra no. 1 in D minor op. 15
Ballade op. 10 No. 1 d-moll / in D minor
Ballade op. 10 No. 2 D-Dur / in D major

COMPACT DISC 2
Konzert für Klavier und Orchester Nr. 2 B-Dur op. 83
Concerto for piano and orchestra no. 2 in B flat major op. 83
Ballade op. 10 No. 3 h-moll / in B minor
Ballade op. 10 No. 4 H-Dur / in B major

The american pianist Tzimon Barto and the world famous conductor Christoph Eschenbach have a very long and close friendship together. After their successful recording of Tchaikovsky's B flat Minor Concerto (Capriccio C5065) they follow up now
with the Brahms Concertos and give us again a sample of their close and interesting work together. Brahms concertos had bad critics in the time of their first performance but today they are one of the most performed and beloved masterpieces of piano literature. Barto and Eschenbach shows their own very special interpretation which might be sometimes strange listening but gives a new focus on these masterpieces.

Weitere Bilder