cd
GUSTAV MAHLER DAS LIED VON DER ERDE
Arr.: Schönberg / Riehn
Ivonne Fuchs · Markus Schäfer · Linos Ensemble
C5136 PC: 21 845221051369
'… a veritable and precise knowledge of Modern Music' (Alban Berg)
As little as it was perceived by the general public during its short existence, in accordance with its genesis, all the more remarkable were the effects and the aftereffects of the Society for Musical Private Performances, founded by Arnold Schoenberg in Mödling near Vienna in November 1918,
especially as it was associated with the intention to keep away unpopular and malicious critics and 'to give Arnold Schoenberg the opportunity personally to carry out his intention of providing artists and art lovers with a veritable and precise knowledge of Modern Music', as Alban Berg described in a leaflet in 1919. A speciality of the society concerts was that within the framework of the means available by no means exclusively chamber music, solo pieces and songs were performed, but to a great extent also originally large-scale orchestral works, for which topical, artistically top-quality were produced. Among Mahler's works, Symphonies Nos. 4, 6 and 7 and the Lieder eines fahrenden Gesellen could be presented this way. In autumn 1921, he embarked on the arrangement of Mahler's Das Lied von der Erde, which, however, he broke off in the middle of the first movement. The continuation was to be taken over by Webern, but this did not happen, evidently as a consequence of the end of the society. It was only in 1982/83 that the German composer, conductor and musicologist Rainer Riehn (b. 1941) was prepared to continue what had been begun.

Weitere Bilder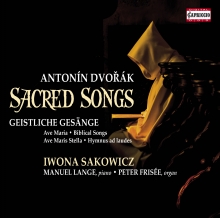 ANTONÍN DVOŘÁK SACRED SONGS
Biblické Písně op. 99 / Biblical Songs · Ave Maria · Hymnus ad laudes in festo Sanctae Trinitatis
IWONA SAKOWICZ · MANUEL LANGE · PETER FRISÈE
C5207 PC: 21 845221052076
Testimony to fervent piety
The Biblical Songs op. 99 were written in 1894 during Dvořák's time in America (1892-95), when he was working as artistic director and professor of composition at the New York Conservatory of Music. His 9th Symphony, appositely termed 'From the New World' was to be followed by a further symphony, but Dvořák opted for treating the Biblical Songs, which, in their austerity, hardly allow scope for American scent but are rather reminiscent of the composer's Czech homeland, if of anything concrete at all.
The fact that the composer so intensively studied the psalms of the Old Testament was not least connected to external circumstances, e.g. to the economic crisis of 1893, which also affected the New York Conservatory. He was also suffering from the death of Hans von Bülow, was grieving for Gounod and Tchaikovsky and in addition, he learnt about the grave sickness of his father, who died two days after the Biblical Songs had been completed. Dvořák, the Catholic, had long demonstrated his faith with numerous works of fervent piety: Stabat Mater (1876), Requiem (1890), the Mass in D major as well as the pieces for solo voice and organ, for instance, the works that can be heard on this CD – Ave Maria, Ave Maris Stella and Hymnus ad laudes in festo Sanctae Trinitatis (1877-79) as well as the preludes and fugues for organ of 1859 by the then 18-year-old.

Weitere Bilder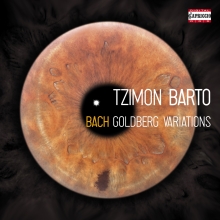 Johann Sebastian Bach
GOLDBERG VARIATIONS
Tzimon Barto, piano
C5243 PC: PC: 21 UPC: 845221052434
The Goldberg Variations' alternation of connection and freedom, fantasy and strict form, was able to lead in a hitherto unknown way to a higher unity and raise them to the rank of a real compendium of the art of variation, which particularly strongly influenced Beethoven, Brahms and Reger. The american pianist Tzimon Barto shows us his own fascinating interpretation. A new focus to this masterwork with Barto's well known sensibility.
Weitere Bilder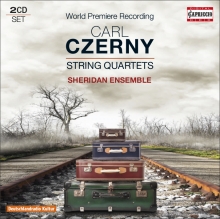 CARL CZERNY: String Quartets
Sheridan Ensemble

C5234 (2CD) PC: 21 (Special Price) 845221052342
Known as a piano teacher, with whose works almost every piano pupil should be familiar and possibly also as a pupil of Beethoven, Carl Czerny enjoys practically no fame as a composer today. The composing maniac (round about 800 published works) acquired a great reputation (and wealth) from piano teaching and writing educational works for the piano and compositions the market expected from him and from which he earned a lot of money. At the moment, seven quartets are recorded, four of which were probably intended for publication. Czerny composed in the tradition of Haydn and Beethoven. Echoes of Mendelssohn can be discerned as well as a romantic style full of drama and profundity of expression. The quartets have only been passed down as manuscripts from Czerny's estate, which can be found in the archives of the Society of Friends of Music in Vienna.

Weitere Bilder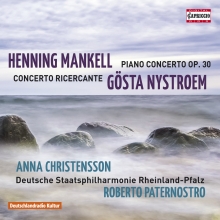 HENNING MANKELL: Piano Concerto Op. 30 GÖSTA NYSTROEM: Concerto ricercante
Anna Christensson
Deutsche Staatsphilharmonie Rheinland-Pfalz · Roberto Paternostro
C5240 PC: 21 845221052403
World Premiere Recording
HENNING MANKELL (1868-1930)
Concerto for piano and orchestra, op. 30 (1917)
Konzert für Klavier und Orchester, op. 30 (1917)
GÖSTA NYSTROEM (1890-1966)
Concerto ricercante (1959)
for piano and chamber orchestra / für Klavier und Kammerorchester (1959)
Henning Mankell (1868-1930), whose grandson and namesake has become one of Sweden's most successful authors of crime novels, was himself a modest person, not very interested in a public career. Mankell earned his livelihood as a private teacher of piano and music theory in Stockholm, as a music critic and as a member of the board of the Academy of Music. If Mankell's life was a tranquil one, his compositions were all the more colourful, at least those from the last two decades of his life. His works were given labels such as 'Impressionism' or 'Futurism' by the critics of the age. He was probably interested in French Impressionism, but he did not identify with it. Many of Mankell's works, and especially the bolder ones, remained unpublished for a long time, but were still occasionally performed by musicians who recognized their value.
Gösta Nystroem (1890-1966) had an obvious talent both for pictorial art and music. He had a lifelong fascination for the sea and loved to be among fishermen, sometimes even taking part in their work at sea. Two composers had a special influence on him in Paris: Stravinsky and Honegger. For a few years, Nystroem used dissonance extensively, influenced by the style of The Rite of spring. Nystroem followed Vincent d'Indy's historically oriented teaching, which was of great importance to him, but his most inspiring teacher in Paris was the Russian music theorist Leonid Sabaneyev, with whom he worked for several years. The composer later declared himself to be both 'a great lover of absolutely pure music' and 'an incurable romantic', a description that is relevant for this recording and also for his instrumental music in general.

Weitere Bilder