cd
CANCIONES ESPAÑOLAS
DE FALLA · GRANADOS · MOMPOU · MONTSALVATGE
ZORYANA KUSHPLER, mezzo-soprano · OLENA KUSHPLER, piano
C5193 PC: 21 845221051932
After the successful album release "Slavonic Souls" (Capriccio C5039) the Vienna State Opera Singer Zoryana Kushpler takes care with her twin sister Olena to famous spanish songs and has also included some rarities in her program of this rich musically culture.
Weitere Bilder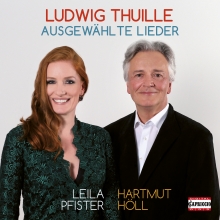 Ludwig Thuille (1861-1907)
Selected Songs
Leila Pfister, mezzo-soprano Hartmut Höll, piano
C5238 PC: 21 845221052380
op. 12/3: Die stille Stadt (Richard Dehmel) · aus / from op. 19: 1 Die Kleine (Joseph von Eichendorff) · 2 Sommermittag (Theodor Storm) · 4 Frau Nachtigall · 5 Spinnerlied (aus »Des Knaben Wunderhorn«) · aus / from op. 15: 1 Mädchenlied · 3 Lied der jungen Hexe (Otto Julius Bierbaum) · op. 5: 1 Klage · 2 Sommermorgen · 3 Es klingt der Lärm (Karl Stieler) · op. 24: 1 Wenn die Sonne · 2 Die Spinnerin · 3 Ich wollt' ein Sträußlein (Clemens Brentano) · op. 26,3: Seliges Vergessen (Joseph von Eichendorff) · o.op.: Urschlamm- Idyll (Theodor von Vischer)
Leila Pfister, Mezzosopran / mezzo-soprano
Hartmut Höll, Klavier / piano
Ludwig Thuille was a comprehensively and multifariously educated musician: a composer, pianist, choir director, singer, music teacher (composition and piano) and music theorist.
For until a short time ago Ludwig Thuille was a shadowy figure encountering the reader of yellowed books. The reference to his historical importance as head of the 'Munich School' did not mean much, It is only Thuille's correspondence with Richard Strauss that has kept his erstwhile significance alive. Signs of their friendship were the almost contemporaneous settings of specific poems. Campaigned for his Lieder, now, after the first release with Roman Trekel (Capriccio CD C5058) Hartmut Höll presenting an additional album with the mezzo-sopranist Leila Pfister of these unknown songs.
Weitere Bilder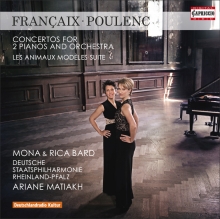 JEAN FRANÇAIX FRANCIS POULENC
Concertos for two pianos and orchestra Les Animaux modèles
Mona & Rica Bard, pianos Deutsche Staatsphilharmonie Rheinland-Pfalz Ariane Matiakh
C5237 PC: 21 845221052373
JEAN FRANÇAIX (1912-1997)
Concerto for two pianos and orchestra (1965)
FRANCIS POULENC (1899-1963)
Concerto for two pianos and orchestra in D Minor FP 61 (1932)
Les Animaux modèles FP 111 (1941)
Ballet after Jean de la Fontaine (Orchestral Suite)
MONA & RICA BARD, piano
DEUTSCHE STAATSPHILHARMONIE RHEINLAND-PFALZ
ARIANE MATIAKH, conductor
Writing a concerto for two pianos is a complex procedure. Jean Françaix wanted his own one to be brilliant and cheerful, with numerous technical 'acrobatics. The challenge it represents has been brilliantly resolved by Mona and Rica Bard directed by Ariane Matiakh. The three musicians have realized the composer's hope throughout his life: making music 'that gives pleasure'. Claude Françaix, 2014 (Pianist and composers daughter)
In his musical aesthetics, Françaix was close to the 'Groupe des six' from the outset, and in the connection between cheerfulness and elegance so typical of him to Poulenc in particular. This applies especially to the Concerto for Two Pianos and Orchestra, written in 1965, which the composer premiered in Maastricht with his daughter Claude on 26 November of the same year.It is not difficult to discern that Françaix was well acquainted with Poulenc's Double Concerto when he composed his piece. Of the six, the Paris-born Poulenc was probably the 'most French'. Influenced by Surrealism and Apollinaire, on the one hand, and then to a large degree by Catholicism after roughly the middle of his life, he derived his stylistic elements from the greats of music history – from Mozart to Stravinsky. Most striking is surely the second movement of the concerto representing a dialogue of the composer with Mozart.

Weitere Bilder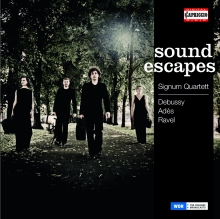 Signum Quartet
Debussy: String Quartet in G minor · Thomas Adès: Arcadiana · Maurice Ravel: String Quartet in F Major
Signum Quartett
C5239 PC: 21 UPC: 845221052397
'Music must be freed from all learned bombast. It must endeavour with modesty to give joy;
Claude Debussy, 1910
It is a plea for the direct experience of a music that had become fed up with the constraints of traditional forms. Debussy's music especially reveals characteristics that justifiably move it into the proximity of Impressionist painting, as it produces moving paintings, landscapes of sound, soundscapes in the narrowest sense of the word that can draw the listener into the middle of the picture. Maurice Ravel's String Quartet, completed in 1903, had to be and was compared with Debussy's quartet. At the same time, it can be seen here how Ravel's musical diction – based on Debussy's – prepared the way for French Modernism. Like only few of his colleagues, the Briton Thomas Adès, born in 1971, is capable of fusing traditional elements from music history, including obvious references to existing compositions, with modern sound production into an individual style appealing directly to the listener.
SIGNUM QUARTETT
Kerstin Dill, Violine / violin · Annette Walther, Violine / violin
Xandi van Dijk, Viola / viola · Thomas Schmitz, Violoncello / cello

Weitere Bilder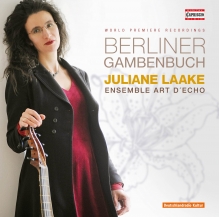 World Premiere Recordings Berliner Gambenbuch
Suite in G · Passions Suite · Easter Suite Suite in D minor
Juliane Laake · Ensemble Art d'Echo
C5239 PC: 21 UPC: 845221052069


Suite G-Dur / in G major
Weihnachts-Suite I / Christmas Suite I
Weihnachts-Suite II / Christmas Suite II:
Suite d-Moll / in D minor
Suite G-Dur / in G major (Skordatur)
Passions-Suite g-Moll / in G minor (Skordatur)
Oster-Suite / Easter Suite
Suite B-Dur / in B flat major (Skordatur)

Ensemble Art d'Echo:
Kai Roterberg, Gesang / Vocal · Ophira Zakai, Theorbe / theorbo
Klaus Eichhorn, Truhenorgel / organ
Juliane Laake
Viola da gamba – Leitung / Director
At the Bibliothèque Nationale in Paris there exists a very unusual 17th century manuscript of music for solo viola da gamba (lyra viol), known only by its shelf number Réserve 1111. This tiny leather-bound book is elongated and has 270 pages. Compiled by at least eight different individual hands, the music is notated almost entirely in tablature and reflects a variety of scordatura tunings. It was acquired by the Berlin library in 1880 and is generally thought to originate from the Brandenburg region that is part of northern Germany. Near the end of the Thirty Years War, Brandenburg started to regain its prosperity and stability under the leadership of Frederick William, known as the "Great Elector" (reigned 1640-1688). Quite a number of the finest viola da gamba players of the day are known to have visited or spent time there. Frederick William himself played the treble viol. Rés. 1111 has never been published in a facsimile or modern edition. Not only were there a great number of pieces with which to come to grips, but Juliane Laake also had to find some way to organize them into a coherent and presentable narrative. What you hear now is a record of her exploration and sleuthing and discovery.

Weitere Bilder