cd
LUKA KUSZTRICH - Caprice Viennois
Bank Austria Artist Of The Year
Kreisler · Brahms · Enescu · Ravel · Dora Deliyska, piano
C5215 PC: 21 845221052151
FRITZ KREISLER (1875-1962)
Miniature Viennese March (1925) · Old Viennese Dance Melodies (1905)
Caprice Viennois, op. 2 (1910)
JOHANNES BRAHMS (1833-1897): Hungarian Dance No. 1
MAURICE RAVEL (1875-1937): Rhapsody for Violin and Piano 'Tzigane' (1924)
GEORGE ENESCU (1881-1955)
Sonata for Violin and Piano No. 3 in A Minor op. 25 (1926)
dans le caractère populaire roumain
In recent years, the focus of the cultural sponsoring of Bank Austria has continuously shifted
towards the support of young and talented artists – both nationally in Austria and internationally.
The winner of the season 2014/15 is the young violinist Luka Kusztirch. Now Capriccio presents his debut album which was recorded as part oft he "Bank Austria Artist Of The Year" prize. The program shows us a big range from austria, hungary to romania where the difficult violin sonata of George Enescu close the interesting musically trip.

Weitere Bilder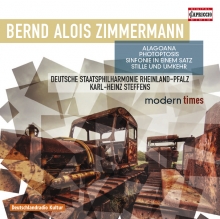 BERND ALOIS ZIMMERMANN
Orchesterwerke · Orchestral Pieces
Deutsche Staatsphilharmonie Rheinland-Pfalz · Karl-Heinz Steffens
C5213 PC: 21 845221052137

BERND ALOIS ZIMMERMANN (1918-1970)
Alagoana. Caprichos Brasileiros – Ballett (ca. 1940-50)
Sinfonie in einem Satz (1947-52/rev. 1953)
Photoptosis. Prélude für großes Orchester (1968)
Stille und Umkehr. Orchesterskizzen (1970)
DEUTSCHE STAATSPHILHARMONIE RHEINLAND-PFALZ
KARL-HEINZ STEFFENS, Dirigent / conductor

Among the German avant-garde composers after the Second World War, he was the great outsider. Despite all ruthless innovation, his creative ethos was characteristic of the German tradition in the dimensions of idealistic and philosophical complexity and bitter and disjointed tragedy. Zimmermann was initially strongly influenced by the polyphonic currents of neo-Classicism and Expressionism in the wake of Hindemith, Jarnach and Stravinsky, but his own voluminous and daring characteristics quickly crystallized. It was not to be an easy position for him over the next two decades, as he felt himself to be the eldest among the young composers and at best saw companions in his elder colleagues Luigi Dallapiccola and Karl Amadeus Hartmann. It was only the premiere of his opera Die Soldaten that brought him broad and undisputed recognition, and Die Soldaten was soon considered the most important German opera since Alban Berg. As start for the upcoming CD edition "modern times" the conductor Karl-Heinz Steffens and his orchestra, the Deutsche Staatsphilharmonie Rheinland-Pfalz, take care of the most unknown orchestral pieces of this composer.

Youtube
Weitere Bilder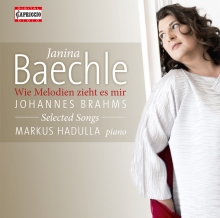 Janina Baechle
Brahms: Selected Songs
Markus Hadulla, piano
C5216 PC: 21 845221052168
JOHANNES BRAHMS (1833-1897)
Wie Melodien zieht es mir op. 105,1
9 Lieder op. 32
Dein blaues Auge op. 59,8
Es träumte mir op. 57,3
Meine Lieder op. 106,4
Abendregen op. 70,4
Regenlied WoO posth 23
Regenlied op. 59,3
5 Lieder der Ophelia WoO posth 22
4 ernste Gesänge op. 121
Sapphische Ode op. 94,4
JANINA BAECHLE, Mezzosopran / mezzo-soprano
MARKUS HADULLA, Klavier / piano
(Original Historic Brahms Piano, Brahms-Museum Mürzzuschlag, Austria)

If the German Lied is 'Romantic', it is not so either because it expresses the effusions of a nostalgic heart or because it embodies the perfection of the union between music and poetry or because it goes back in the annals of our cultural historians. No, the Lied is Romantic because it sets an endless dialectic in motion between fragments and totality, between perfect closure and infinite opening. Unlike Wolf (his inimical counterpart), for instance, Brahms was not tormented by the issue of the union between music and poetry, as he was confident of his own practices and did not postulate the problem in such terms. In this sense, 'Wie Melodien zieht es mir' (op. 105/1, 1886) is a kind of discrete manifesto: the melody seems to confirm the closed eyes that Klaus Groth's lines attribute with the magic of poetry and the heady fragrance of music. The art accomplished by Janina Baechle and Markus Hadulla does not solely consist of an intelligence afflicted with Brahmsian structures, but, in addition, of one constituting a tissue of infinite network, uniting in the very form of their 'programme' the true essence of Brahms' 'Romanticism', group by group, from one isolated song to the other. A song recital like the one presented here by these two exceptional musicians is Ariadne's thread guiding us to infinity.
Dorian Astor

German mezzo-soprano Janina Baechle, many years a member of the Vienna State Opera, will be invited in the near future as Brangäne (Tristan und Isolde) to the Opéra de Bordeaux, Jezibaba (Rusalka) to the Opéra de Lyon and the Wiener Staatsoper. Fricka she will sing at the Canadian Opera, Toronto, Erda (Rheingold) at the Semperoper Dresden and in a concert version with the Bavarian Radio Munich (under Simon Rattle), Mutter (Hänsel und Gretel) in a new production of the Wiener Staatsoper.
Important concerts: Schoenberg's Gurre-Lieder in Paris, Recitals f.e. at the Opéra de Bastille, Paris, at the Musée d'Orsay, at the Hugo Wolf Academy Stuttgart, in Montoire and Braunschweig, Mahler's 8. Sinfonie in Graz, Oedipus Rex, Dvorak Requiem as well as Wagenaar's Aveux de Phèdre with the Nederlands Radio Philharmonic Orchestra.





Weitere Bilder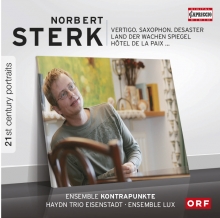 21st century portraits Vol. 3
Norbert Sterk (*1968)
Ensemble Kontrapunkte · Oslo Sinfonietta · Haydn Trio Eisenstadt
C5164 PC: 21 845221051642

NORBERT STERK (*1968)
[1] Die Ankunft des Atemzugs. The Arrival of Breath (2005
[2] "…wenn die Vögel die Nacht aufritzen – "
,when the birds rip open the night' (2007)
[3] Vertigo. Saxophon. Desaster (2010)
[4] "…aus Finsternissen losgelöst" / ,Released from Darkness' (2007)
[5] land der wachen spiegel. land of sleepless mirrors (2007/11)
[6] Hôtel de la Paix (2005)
CHRISTIAN HILZ, /bass-baritone (6) . VERA KLUG,flute (5)
GERALD PREINFALK, soprano saxophone (3) . KARI RONNEKLEIV, violin (1)
ENSEMBLE KONTRAPUNKTE . PETER KEUSCHNIG, Dirigent/ conductor (3)
ENSEMBLE LUX (4) . HAYDN TRIO EISENSTADT (6) · OSLO SINFONIETTA . ANDREA PESTALOZZA, Dirigent/ conductor (1) · ENSEMBLE STIMMWERCK (2)

'Composing is the attempt to bring the tranquillity – and the noise – in me to life'
(Norbert Sterk)
He is one of the many individualists on the contemporary Austrian music scene. No adherent of any group or school, positioning within stereotypes between aesthetic ideologies, such as characterized the 1970s and 1980s, is completely alien to him.
At the Conservatoire of the City of Vienna, he studied piano, double bass, music theory and composition with Karl Heinz Gruber, and at Vienna University he studied philosophy, musicology and theatre studies. He also attended seminars held by Iván Eröd, Karl Heinz Füssl, Alfred Schnittke and Kurt Schwertsik. The different approaches of his teachers stand symbolically for Sterk's formation of his own style. Expressive melodic development, on the one hand, and primarily acoustically targeted musical processes, on the other, are just as important components of his work as original reorchestrations of classics of the 20th century, especially in an early period of his development. This compilation combines works of the years 2005-2011, thus presenting the composer with temporally very close works.
Weitere Bilder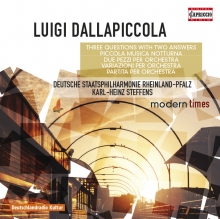 LUIGI DALLAPICCOLA
Orchesterwerke · Orchestral Pieces
Deutsche Staatsphilharmonie Rheinland-Pfalz · Karl-Heinz Steffens
C5214 PC: 21 845221052144
LUIGI DALLAPICCOLA (1904 – 1975)
Partita per orchestra (1930-32)
Due Pezzi per orchestra (1946-1947)
Piccola Musica Notturna (1954)
Variazioni per orchestra (1952-1954)
Three Questions with Two Answers per orchestra (1962)
ARANTZA EZENARRO, soprano (Partita)
DEUTSCHE STAATSPHILHARMONIE RHEINLAND-PFALZ
KARL-HEINZ STEFFENS, Dirigent / conductor

VIDEO TRAILER
https://www.youtube.com/watch?v=Fu-wg4oD9Bw

Together with Giorgio Federico Ghedini and Goffredo Petrassi, who was also born in 1904, Luigi Dallapiccola was the most significant composer of the second generation of Modernism in Italy, following Ottorino Respighi, Ildebrando Pizzetti, Alfredo Casella and Gian Francesco Malipiero, and undoubtedly the most successful and famous among them. He first became internationally well-known with the Partita per orchestra, written at the beginning of the 1930s, which was premiered on 22 January 1933. His music now became increasingly more chromatic and, fascinated by Anton Webern and Alban Berg throughout his life, he discovered the twelve tone technique, which he as an Italian explored in a way of his very own, deliberately retaining strongly diatonic links and lyrical naturalness. With this second CD of the new CD-Edition "modern times", Karl-Heinz Steffens and the Deutsche Staatsphilharmonie Rheinland-Pfalz take care of the still not very famous orchestral pieces of this composer.

Youtube
Weitere Bilder