cd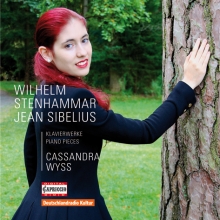 WILHELM STENHAMMAR · JEAN SIBELIUS
Piano Sonata No. 4 · Impromptu-Valse · Valse triste · Finlandia
Cassandra Wyss, piano
C5229 PC: 21 UPC: 845221052298
With the pianistic talent of the young artist Cassandra Wyss the compilation of works by Wilhelm Stenhammar and Jean Sibelius on one CD emerges as a gateway into the world of Nordic sound gems. With her artistic courage to be stubborn – to be understood in the spirit of Hermann Hesse –, namely to select precisely those works that suit her as a pianist, Cassandra Wyss enables the careful listener to take a new and very personal view of the rich repertoire of Scandinavian music.

Weitere Bilder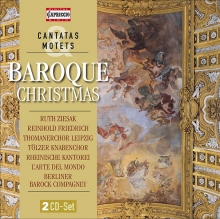 BAROQUE CHRISTMAS - Cantatas & Motets
Wilhelm Friedemann Bach · Carl Philipp Emanuel Bach · Dietrich Buxtehude · Pál Esterházy · Nicola Porpora
Ruth Ziesak · Wilfried Jochens ·Thomanerchor Leipzig · Rheinische Kantorei · Berliner Barock-Compagney etc.
2CD-Set · C5217 PC: 21 (Special Price) 845221052175
COMPACT

DISC

1 [67:49]


WILHELM

FRIEDEMANN

BACH

(1710-1784) Lasset uns ablegen die Werke der Finsternis · Let Us Cast off the Works of Darkness

JOHANN

CHRISTOPH

BACH

(1642-1703): Lieber Herr Gott, wecke uns auf

JOHANN

CHRISTOPH

FRIEDRICH

BACH

(1732 – 1795) Wachet auf, ruft uns die Stimme (ca. 1780)

CARL

PHILIPP

EMANUEL

BACH

(1714-1788) Auf, schicke dich recht feierlich Wq 249 (1775)

COMPACT

DISC

2 [65:53]
JOHANN

SEBASTIAN

BACH

(1685 – 1750):
Lobe den Herrn, meine Seele

BWV

143
CHRISTIAN

GEIST

(ca. 1640 – 1711)
Wie schön leuchtet der Morgenstern
DIETRICH

BUXTEHUDE

(1637-1707):
Das neugeborne Kindelein
GEORG

PHILIPP

TELEMANN

(1681-1767):
"Göttlichs Kind, lass mit Entzücken"
FRA

G. M. PO

DEL

FINALE

(ca. 1700)
:
"Oh quam jubilat"
PÁL

ESTERH

ÁZY (1635-1713):
Cur fles, Jesu
NICOLA

ANTONIO

PORPORA

(1686-1768):
"Stella lucide"
CARL

PHILIPP

EMANUEL

BACH

(1714-1788):
Heilig
Wq 217 (1776)
Ruth Ziesak,
Sopran / soprano
· Wilfried Jochens,
Tenor / tenor
· Klaus Mertens,
Bass/bass
Reinhold Friedrich,
Trompete / trumpet
Thomanerchor Leipzig · Tölzer Knabenchor · Rheinische Kantorei • Das Kleine Konzert · Berliner Barock-Compagney · L'Arte del mondo · Werner Ehrhardt · Hermann Max

Baroque Christmas Rarities
Beside the famous master of Baroque Music – Johann Sebastian Bach – this 2CD-Set includes nearly unknown but not less atmospheric treasures of baroque Christmas music. Most of them were commissioned works for the feast and includes very different styles: from festive cantatas, moody motets to chamber musically solo songs. A "must" for all lovers of Baroque Music as well for listeners they would like to find some extraordinary music for the upcoming feast.
Weitere Bilder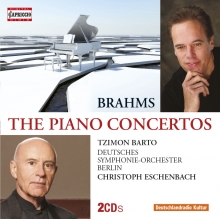 Eschenbach - Barto
Johannes Brahms: The Piano Concertos
Tzimon Barto · Deutsches Symphonie-Orchester Berlin · Christoph Eschenbach
2CD-Set C5210 PC: 21 (Special Price) 845221052106



COMPACT DISC 1
Konzert für Klavier und Orchester Nr. 1 d-moll op. 15
Concerto for piano and orchestra no. 1 in D minor op. 15
Ballade op. 10 No. 1 d-moll / in D minor
Ballade op. 10 No. 2 D-Dur / in D major

COMPACT DISC 2
Konzert für Klavier und Orchester Nr. 2 B-Dur op. 83
Concerto for piano and orchestra no. 2 in B flat major op. 83
Ballade op. 10 No. 3 h-moll / in B minor
Ballade op. 10 No. 4 H-Dur / in B major

The american pianist Tzimon Barto and the world famous conductor Christoph Eschenbach have a very long and close friendship together. After their successful recording of Tchaikovsky's B flat Minor Concerto (Capriccio C5065) they follow up now
with the Brahms Concertos and give us again a sample of their close and interesting work together. Brahms concertos had bad critics in the time of their first performance but today they are one of the most performed and beloved masterpieces of piano literature. Barto and Eschenbach shows their own very special interpretation which might be sometimes strange listening but gives a new focus on these masterpieces.

Weitere Bilder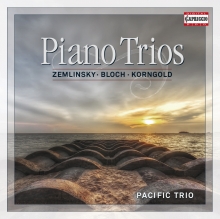 Piano Trios
Zemlinsky · Bloch · Korngold
Pacific Trio
C5221 PC: 21 845221052212
ALEXANDER VON ZEMLINSKY (1871-1942)
Trio for Piano, Violin and Cello in D Minor, op. 3

ERNEST BLOCH (1880-1959)
Three Nocturnes for Piano, Violin and Cello

ERICH WOLFGANG KORNGOLD (1897-1957)
Trio for Piano, Violin and Cello in D Major, op. 1

PACIFIC TRIO
Roger Wilkie, Violine / violin · John Walz, Violoncello / cello
Edith Orloff, Klavier / piano

Zemlinsky, Korngold and Bloch also shared the fate of so many other important musical voices of the early twentieth century when their music was banned, and their lives and careers upended, by the Nazi regime. All three names can be found in the infamous Lexikon der Juden in der Musik, first published under the auspices of the Nazi Party in 1940. These policies, and others, created a rupture in the seamless heritage of German music, removing thousands of worthy works from performance, from publication and—for many— from posterity. It is the hope that musicians and music-lovers everywhere will hear these three works, and be intrigued to listen to—and to play—these and other chamber works by the many composers whose fortunes were curtailed by unfortunate timing on the stage of twentieth-century Europe. James Conlon


Weitere Bilder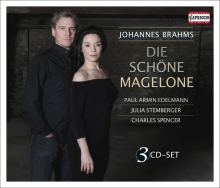 Johannes Brahms: Die schöne Magelone
Romances op. 33 and Audiobook
Paul Armin Edelmann Julia Stemberger Charles Spencer
3CD-Set: C5225 PC: 22 845221052250
The Magelone cycle is full of strange contrasts. As an artistic edifice, it has a striking singularity. Brahms took his source from the true beginning of literary Romanticism. He sought a text that, for its part, pointed back further into the past, paying reverence to a folk tone steeped in tradition. Brahms composed trend-setting music for the piano, but in vocal terms considered proximity to the folk song appropriate. 'Brahms, the progressive musician', as Arnold Schoenberg termed him in an eponymous essay, showed himself from his typical side in the Magelone Songs.
The rising austrian star for Lied Recitals, Paul Armin Edelmann, take intensive care of this song cycle. Together with the famous austrian Theater- and Movie actor Julia Stemberger these CDs includes beside the Brahms Romances also the complete
literarly text by Ludwig Tieck.

Weitere Bilder