cd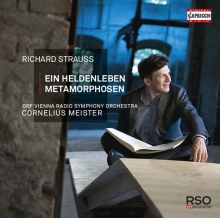 RICHARD STRAUSS
Ein Heldenleben Metamorphosen
ORF Vienna Radio Symphony Orchestra Cornelius Meister
C5208 PC: 21 845221052083
Ein Heldenleben op. 40 was written in 1898, so to speak at the end of a decade, in which Strauss with orchestral works such as Don Juan, Macbeth, Tod und Verklärung, Till Eulenspiegel's lustige Streiche, Also sprach Zarathustra and Don Quixote had highly intensively and successfully set to music extra-musical stories with purely instrumental means. In the popular genre of programme music, he could justifiably count on a positive response on the part of his public.
The ORF Vienna Radio Symphony Orchestra under the direction of his chief conductor Cornelius Meister did a lot of performances of Richard Strauss works during the Jubilee year 2014. The Highlight of this concert series at the Vienna Konzerthaus was the "Heldenleben" performance, enthusiastic acclaimed by press and audience.

Weitere Bilder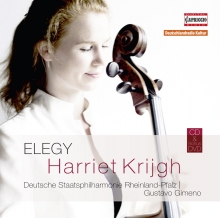 Harriet Krjigh: Elegy
Ernest Bloch: From Jewish Life - No. 1 Prayer · Max Bruch: Kol Nidrei · Jules Massenet: Élégie · Jacques Offenbach: Les larmes de Jacqueline etc.
Deutsche Staatsphilharmonie Rheinland-Pfalz · Gustavo Gimeno
1CD + Bonus DVD: C5222 PC: 21 845221052229

VIDEO TRAILER
https://www.youtube.com/watch?v=2I29iiwSeds

Ernest Bloch: From Jewish Life - No. 1 Prayer · Max Bruch: Kol Nidrei, op. 47
Jules Massenet: Élégie · Jacques Offenbach: Les larmes de Jacqueline, op. 76/2
Gabriel Fauré: Élégie in C Minor | c-moll op. 24 · Pablo Casals: Song of the birds

Bonus – DVD
Harriet Krijgh
The Cello and the Rainbow | Das Cello und der Regenbogen
The Portrait – Das Portrait
Subtitles: English · Picture Format: NTSC / Colour / 16:9 · DVD Format: DVD 5
YouTube:
https://www.youtube.com/watch?v=2I29iiwSeds&list=UUr7KYgaquRN-_lVg-nlonHQ

Euripides interprets "Elegy", the grand ancient song of lament, as a "barbaric, Asian cry of sorrow". To some extent an exotic sound coloration also infuses the elegiac compositions of the European masters of romantic and early modern music that have been assembled for this CD.
Twenty-three year old Dutch cellist Harriet Krijgh is one of today's most exciting and promising young cellists. Harriet has been invited on to the "Rising Star" series of the European Concert Hall Organisation (ECHO) for the 2015/16 season, she was nominated by Musikverein and Konzerthaus Vienna.
The included Bonus-DVD shows for the first time a documentary about life and career of the young cellist Harriet Krjigh.

Weitere Bilder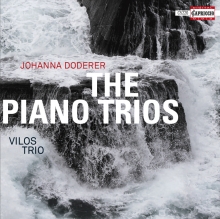 JOHANNA DODERER
World Premiere Recording · The Piano Trios
Vilos Trio
C5220 PC: 21 845221052205
Trio for piano, violin and cello No. 3 DWV 64 (2009)
"For the Gustav Mahler Jubilee 2010 and 2011"
Trio for piano, violin and cello No. 2 DWV 52 (2008)
"Dedicated to Haydn"
Trio for piano, violin and cello No. 1 DWV 31 (2002)
Trio for piano, violin and cello No. 4 DWV 79 (2013) "Morning"
VILOS TRIO
Dalia Dedinskaite, Violine / violin · Gleb Pyšniak, Violoncello / cello
Ole Christian Haagenrud, Klavier / piano

"I have the good fortune that I always really live in music"
Johanna Doderer studied composition in Graz with Beat Furrer (composition), later in Vienna with Klaus Peter Sattler (composition for film and media) and with Erich Urbanner (composition).
Her current work ranges broadly from Chamber Music to orchestral work and to meanwhile 6 operas.
"The classical instrumentation of a piano trio is a demanding task. It's like a small orchestra. In terms of artistry, technique and knowledge, you have to be good enough to meet the sound a piano trio can produce. It's absolute music."
"…Doderer cares about content, not about cheap effect. As she perfectly masters her writing, she is able to prove convincingly in her very densely written score, that even today you can still create intense music by using sound models deriving from the late romantic period, and which can be combined in an ideal way with forms of 'minimal music'…" (Die Presse)



Youtube
Weitere Bilder
LUKA KUSZTRICH - Caprice Viennois
Bank Austria Artist Of The Year
Kreisler · Brahms · Enescu · Ravel · Dora Deliyska, piano
C5215 PC: 21 845221052151
FRITZ KREISLER (1875-1962)
Miniature Viennese March (1925) · Old Viennese Dance Melodies (1905)
Caprice Viennois, op. 2 (1910)
JOHANNES BRAHMS (1833-1897): Hungarian Dance No. 1
MAURICE RAVEL (1875-1937): Rhapsody for Violin and Piano 'Tzigane' (1924)
GEORGE ENESCU (1881-1955)
Sonata for Violin and Piano No. 3 in A Minor op. 25 (1926)
dans le caractère populaire roumain
In recent years, the focus of the cultural sponsoring of Bank Austria has continuously shifted
towards the support of young and talented artists – both nationally in Austria and internationally.
The winner of the season 2014/15 is the young violinist Luka Kusztirch. Now Capriccio presents his debut album which was recorded as part oft he "Bank Austria Artist Of The Year" prize. The program shows us a big range from austria, hungary to romania where the difficult violin sonata of George Enescu close the interesting musically trip.

Weitere Bilder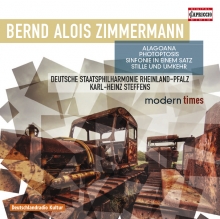 BERND ALOIS ZIMMERMANN
Orchesterwerke · Orchestral Pieces
Deutsche Staatsphilharmonie Rheinland-Pfalz · Karl-Heinz Steffens
C5213 PC: 21 845221052137

BERND ALOIS ZIMMERMANN (1918-1970)
Alagoana. Caprichos Brasileiros – Ballett (ca. 1940-50)
Sinfonie in einem Satz (1947-52/rev. 1953)
Photoptosis. Prélude für großes Orchester (1968)
Stille und Umkehr. Orchesterskizzen (1970)
DEUTSCHE STAATSPHILHARMONIE RHEINLAND-PFALZ
KARL-HEINZ STEFFENS, Dirigent / conductor

Among the German avant-garde composers after the Second World War, he was the great outsider. Despite all ruthless innovation, his creative ethos was characteristic of the German tradition in the dimensions of idealistic and philosophical complexity and bitter and disjointed tragedy. Zimmermann was initially strongly influenced by the polyphonic currents of neo-Classicism and Expressionism in the wake of Hindemith, Jarnach and Stravinsky, but his own voluminous and daring characteristics quickly crystallized. It was not to be an easy position for him over the next two decades, as he felt himself to be the eldest among the young composers and at best saw companions in his elder colleagues Luigi Dallapiccola and Karl Amadeus Hartmann. It was only the premiere of his opera Die Soldaten that brought him broad and undisputed recognition, and Die Soldaten was soon considered the most important German opera since Alban Berg. As start for the upcoming CD edition "modern times" the conductor Karl-Heinz Steffens and his orchestra, the Deutsche Staatsphilharmonie Rheinland-Pfalz, take care of the most unknown orchestral pieces of this composer.

Youtube
Weitere Bilder