cd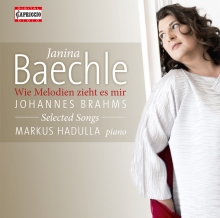 Janina Baechle
Brahms: Selected Songs
Markus Hadulla, piano
C5216 PC: 21 845221052168
JOHANNES BRAHMS (1833-1897)
Wie Melodien zieht es mir op. 105,1
9 Lieder op. 32
Dein blaues Auge op. 59,8
Es träumte mir op. 57,3
Meine Lieder op. 106,4
Abendregen op. 70,4
Regenlied WoO posth 23
Regenlied op. 59,3
5 Lieder der Ophelia WoO posth 22
4 ernste Gesänge op. 121
Sapphische Ode op. 94,4
JANINA BAECHLE, Mezzosopran / mezzo-soprano
MARKUS HADULLA, Klavier / piano
(Original Historic Brahms Piano, Brahms-Museum Mürzzuschlag, Austria)

If the German Lied is 'Romantic', it is not so either because it expresses the effusions of a nostalgic heart or because it embodies the perfection of the union between music and poetry or because it goes back in the annals of our cultural historians. No, the Lied is Romantic because it sets an endless dialectic in motion between fragments and totality, between perfect closure and infinite opening. Unlike Wolf (his inimical counterpart), for instance, Brahms was not tormented by the issue of the union between music and poetry, as he was confident of his own practices and did not postulate the problem in such terms. In this sense, 'Wie Melodien zieht es mir' (op. 105/1, 1886) is a kind of discrete manifesto: the melody seems to confirm the closed eyes that Klaus Groth's lines attribute with the magic of poetry and the heady fragrance of music. The art accomplished by Janina Baechle and Markus Hadulla does not solely consist of an intelligence afflicted with Brahmsian structures, but, in addition, of one constituting a tissue of infinite network, uniting in the very form of their 'programme' the true essence of Brahms' 'Romanticism', group by group, from one isolated song to the other. A song recital like the one presented here by these two exceptional musicians is Ariadne's thread guiding us to infinity.
Dorian Astor

German mezzo-soprano Janina Baechle, many years a member of the Vienna State Opera, will be invited in the near future as Brangäne (Tristan und Isolde) to the Opéra de Bordeaux, Jezibaba (Rusalka) to the Opéra de Lyon and the Wiener Staatsoper. Fricka she will sing at the Canadian Opera, Toronto, Erda (Rheingold) at the Semperoper Dresden and in a concert version with the Bavarian Radio Munich (under Simon Rattle), Mutter (Hänsel und Gretel) in a new production of the Wiener Staatsoper.
Important concerts: Schoenberg's Gurre-Lieder in Paris, Recitals f.e. at the Opéra de Bastille, Paris, at the Musée d'Orsay, at the Hugo Wolf Academy Stuttgart, in Montoire and Braunschweig, Mahler's 8. Sinfonie in Graz, Oedipus Rex, Dvorak Requiem as well as Wagenaar's Aveux de Phèdre with the Nederlands Radio Philharmonic Orchestra.





Weitere Bilder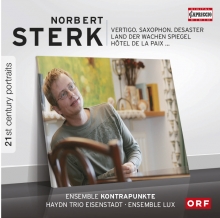 21st century portraits Vol. 3
Norbert Sterk (*1968)
Ensemble Kontrapunkte · Oslo Sinfonietta · Haydn Trio Eisenstadt
C5164 PC: 21 845221051642

NORBERT STERK (*1968)
[1] Die Ankunft des Atemzugs. The Arrival of Breath (2005
[2] "…wenn die Vögel die Nacht aufritzen – "
,when the birds rip open the night' (2007)
[3] Vertigo. Saxophon. Desaster (2010)
[4] "…aus Finsternissen losgelöst" / ,Released from Darkness' (2007)
[5] land der wachen spiegel. land of sleepless mirrors (2007/11)
[6] Hôtel de la Paix (2005)
CHRISTIAN HILZ, /bass-baritone (6) . VERA KLUG,flute (5)
GERALD PREINFALK, soprano saxophone (3) . KARI RONNEKLEIV, violin (1)
ENSEMBLE KONTRAPUNKTE . PETER KEUSCHNIG, Dirigent/ conductor (3)
ENSEMBLE LUX (4) . HAYDN TRIO EISENSTADT (6) · OSLO SINFONIETTA . ANDREA PESTALOZZA, Dirigent/ conductor (1) · ENSEMBLE STIMMWERCK (2)

'Composing is the attempt to bring the tranquillity – and the noise – in me to life'
(Norbert Sterk)
He is one of the many individualists on the contemporary Austrian music scene. No adherent of any group or school, positioning within stereotypes between aesthetic ideologies, such as characterized the 1970s and 1980s, is completely alien to him.
At the Conservatoire of the City of Vienna, he studied piano, double bass, music theory and composition with Karl Heinz Gruber, and at Vienna University he studied philosophy, musicology and theatre studies. He also attended seminars held by Iván Eröd, Karl Heinz Füssl, Alfred Schnittke and Kurt Schwertsik. The different approaches of his teachers stand symbolically for Sterk's formation of his own style. Expressive melodic development, on the one hand, and primarily acoustically targeted musical processes, on the other, are just as important components of his work as original reorchestrations of classics of the 20th century, especially in an early period of his development. This compilation combines works of the years 2005-2011, thus presenting the composer with temporally very close works.
Weitere Bilder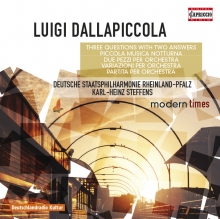 LUIGI DALLAPICCOLA
Orchesterwerke · Orchestral Pieces
Deutsche Staatsphilharmonie Rheinland-Pfalz · Karl-Heinz Steffens
C5214 PC: 21 845221052144
LUIGI DALLAPICCOLA (1904 – 1975)
Partita per orchestra (1930-32)
Due Pezzi per orchestra (1946-1947)
Piccola Musica Notturna (1954)
Variazioni per orchestra (1952-1954)
Three Questions with Two Answers per orchestra (1962)
ARANTZA EZENARRO, soprano (Partita)
DEUTSCHE STAATSPHILHARMONIE RHEINLAND-PFALZ
KARL-HEINZ STEFFENS, Dirigent / conductor

VIDEO TRAILER
https://www.youtube.com/watch?v=Fu-wg4oD9Bw

Together with Giorgio Federico Ghedini and Goffredo Petrassi, who was also born in 1904, Luigi Dallapiccola was the most significant composer of the second generation of Modernism in Italy, following Ottorino Respighi, Ildebrando Pizzetti, Alfredo Casella and Gian Francesco Malipiero, and undoubtedly the most successful and famous among them. He first became internationally well-known with the Partita per orchestra, written at the beginning of the 1930s, which was premiered on 22 January 1933. His music now became increasingly more chromatic and, fascinated by Anton Webern and Alban Berg throughout his life, he discovered the twelve tone technique, which he as an Italian explored in a way of his very own, deliberately retaining strongly diatonic links and lyrical naturalness. With this second CD of the new CD-Edition "modern times", Karl-Heinz Steffens and the Deutsche Staatsphilharmonie Rheinland-Pfalz take care of the still not very famous orchestral pieces of this composer.

Youtube
Weitere Bilder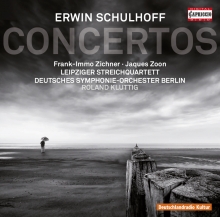 Erwin Schulhoff (1894-1942)
Concertos
Frank-Immo Zichner, piano · Jaques Zoon, flute · Leipziger Streichquartett · Deutsches Symphonie-Orchester Berlin · Roland Kluttig
C5197 · 1CD PC: 21 UPC: 845221051970
[1] – [3] Concerto for piano and small orchestra, op. 43 WV 66 (1923)
[4] – [6] Concerto Doppio for flute and piano, string orchestra and 2 horns
[7] – [9] Concerto for string quartet and wind ensemble WV 97 (1930)
Beethoven / Arr.: Schulhoff: Rondo a capriccio op. 129
[10] "Rage over a lost Penny"
Erwin Schulhoff, born in 1894 as the son of a rich businessman in Prague, already knew as a small child that music was to become the most important thing in his life. As an internationally successful pianist and composer, he was one of the most important Czech artists in the first half of the 20th century. The young composer abruptly became aware of the earnestness of life with the outbreak of the First World War. Schulhoff felt disgust at the horrors of combat he experienced first-hand as a soldier. He could not compose during this period. In 1918, he noted in his diary in profound disillusion: 'It is an atmosphere in which it can frequently happen that you lose faith in yourself'. In Dresden Schulhoff came first into contact with a young artistic generation of Dadaists. For the artists scarred by the war, Dadaism was an expression of their attitude towards life: rage, helplessness and nihilism found expression in word and image as glaring derision, scorn and shameless provocation. In this climate, Schulhoff discovered the jazz that was spilling over from America. This, too, can absolutely be seen as a provocation in the Dadaist sense. The Concerto for Piano and Small Orchestra WV 66 is a wild blend of Impressionist, late-Romantic and jazz-inspired sounds and rhythms.

Weitere Bilder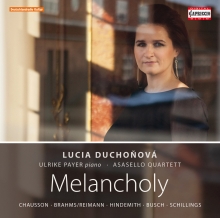 Melancholy
CHAUSON: Chanson Perpétuelle · HINDEMITH: Melancholy · BRAHMS/REIMANN: 
5 Ophelia-Lieder · GRETCHANINOW: Tote Blätter · SCHILLINGS: Abenddämmerung CANTELOUBE: Colloque sentimental · LEKEU: Nocturne

Lucia Duchonová, mezzo-soprano · Ulrike Payer, piano · Asasello Quartett
C5144 PC: 21 845221051444
Melancholy, that wavering mood Heinrich Heine aptly captured in the line 'I don't know what it means that I am so sad' in his poem Lorelei, has inspired countless artists, especially poets and musicians. Above all in the genre of song. This recital now presents a splendid selection, and the programme offers many a find that is rather on the periphery of the customary song repertoire. Moreover, the palette of colour is expanded by the fact that the accompaniment is not only entrusted to the piano, but is also in a chamber music version. Mezzo-soprano Lucia Duchoňová hails from Trnava in western Slovakia. Her first solo CD featuring compositions by Joaquin Turina was nominated for a Grammy Award in the category 'The Best Vocal Performance' in 2010.


Weitere Bilder