cd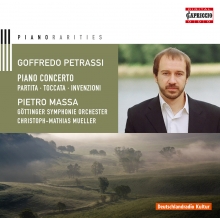 GOFFREDO PETRASSI (1904-2003)
Concerto per pianoforte e orchestra · Partita · Toccata · Invenzioni
Pietro Massa, piano · Göttinger Symphonie Orchester · Christoph-Mathias Mueller
C5155 PC: 21 845221051550

Concerto per pianoforte e orchestra (1936/39)
Concerto for piano and orchestra · Konzert für Klavier und Orchester

Partita (1926) · Toccata per pianoforte (1933)
Invenzioni per pianoforte (1942/44)

In addition to Luigi Dallapiccola (1904-1975), the Roman composer Goffredo Petrassi (1904–2003) represents a salient figure in the development of Italian music history in the 20th century. His career as a composer began in 1934, when Alfredo Casella conducted his Partita for orchestra at the Festival of the International Society for New Music in Amsterdam. Petrassi's ensuing recognition led to him taking over central positions in Italy's music scene of the time. From 1937 to 1940, he was the general director of the Teatro La Fenice in Venice; from 1947 to 1950, he directed the Accademia Filarmonica Romana and from 1954 to 1956 he was head of the International Society for New Music. He commenced his teaching as a member of the Accademia S. Cecilia, and after 1939 he worked as a composition teacher at the conservatoire, where he finally took over the master class for composition in 1960. He died in Rome in 2003 at the age of 98.


Weitere Bilder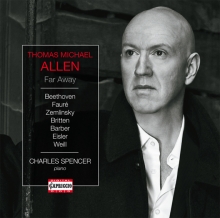 THOMAS MICHAEL ALLEN: Far Away
Beethoven · Fauré · Zemlinsky · Britten · Barber · Eisler · Weill
Charles Spencer, piano
C5194 PC: 21 845221051949





Ludwig van Beethoven: An die ferne Geliebte Op. 98
Gabriel Fauré: Mélodies de Venise Op. 58
Alexander von Zemlinsky Walzer-Gesänge nach Toskanischen Volksliedern von
Ferdinand Gregorovius Op. 6
Benjamin Britten: Seven Sonnets of Michelangelo Op. 22
Samuel Barber: Mélodies passagères Op. 27
Hans Eisler: Songs from the Hollywood Songbook
Kurt Weill: Street Scene: "Lonely House" · Lady in the Dark: "My Ship"
Love Life: "Here I'll Stay"

THOMAS MICHAEL ALLEN, Tenor / tenor
CHARLES SPENCER, Klavier / piano

"The general theme of this recording," observes tenor Thomas Michael Allen, "is of things far away and a sense of being out of place, especially in terms of composers setting texts in languages not their own, or texts about places far from them; a longing for, or fascination with, foreign things or foreign styles." Indeed, Far Away includes songs by four European composers who were living, or would live, in the United States; an American setting French poems written by an Austrian; a French composer imagining eighteenth-century Italy; and a German in Vienna writing of a man's longing for his distant beloved. Mr. Allen, too, is "far away." The American singer has lived and worked in Germany since 1995. The funny thing is that I don't really feel like I completely fit in here either, but at least here my role is clear: I'm a foreigner." Estrangement takes many forms.

Weitere Bilder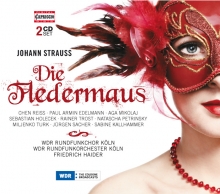 JOHANN STRAUSS: DIE FLEDERMAUS
AGA MIKOLAJ · CHEN REISS · PAUL ARMIN EDELMANN · RAINER TROST SEBASTIAN HOLECEK
WDR RUNDFUNKCHOR KÖLN WDR RUNDFUNKORCHESTER KÖLN · FRIEDRICH HAIDER
2CD-Set: C5167 PC: 21 845221051673
Operette in drei Akten · Operetta in Three Acts
Libretto: Carl Haffner & Richard Genée
nach der Komödie / after the comedy "Le Réveillon"
- Complete Musical Recording , sung in German –
Johann Strauss' Die Fledermaus, the Waltz King's main work, is still abreast of the time today. Or to put it better: it is once more. The situation in 1874, when the operetta was premiered was considerably more dramatic than the current crisis: the collapse and the closure by the police of the Vienna stock exchange on 9 May 1873 with more than a hundred bankruptcies in a single day. Millionaires suddenly became beggars. So, even at that time there were good reasons for saying 'Glücklich ist, wer vergisst, was doch nicht zu ändern ist' ('Fortunate is he who can forget what cannot be changed'), which flutters like a flag over Die Fledermaus: examples of positive thinking in times of crisis.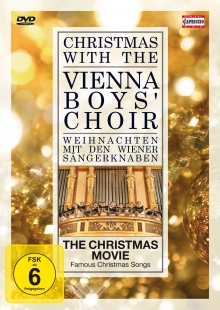 Christmas with the Vienna Boys' Choir - THE CHRISTMAS MOVIE
incl. World Famous Christmas Songs
PUERI CONCINITE · JOY TO THE WOLRD · SILENT NIGHT · THE LITTLE DRUMMER BOY · O DU FRÖHLICHE etc.
1DVD · C9004 PC: 30 UPC: 845221090047
Vienna: the festively decorated Augarten Palace, the home of the world-famous Vienna Boys' Choir. As at Christmas time every year, the choirboys are preparing for the coming feast with great joy. There are frequent rehearsals, while Santa Claus looks for his way through the long corridors. Over there, the Christmas tree is being set up and adorned with merry songs on the lips. The sweetish scent of baked apples wafts over from the kitchen, and the the large fireplace in the Baroque banquet hall bestows warmth and a feeling of security. It is a festival of songs, a feast for the boys, without an audience and without loud applause. They are singing for themselves and the Christmas feast – and the boy in the crib.
incl. World Famous Christmas Songs
1. PUERI CONCINITE · 2. JOY TO THE WOLRD (I) · 3. GOD REST YE MERRY GENTLEMEN 4. THE LITTLE DRUMMERBOY · 5. JOY TO THE WORLD (II) · 6. O DU FRÖHLICHE 7. O HEILAND REISS DIE HIMMEL AUF · 8. ES HAT SICH HALT ERÖFFNET · 9. IHR KINDERLEIN KOMMET · 10. STILLE NACHT, HEILIGE NACHT · 11. VOM HIMMEL HOCH · 12. GOOD KING WENCESLAS · 13. DECK THE HALLS · 14. ADESTE FIDELES · 15. STILL, STILL, STILL
[SUBTITLES: Original / Deutsch / English] · [PICTURE FORMAT: NTSC · Colour · 16:9]
[REGION CODE: 0 (Worldwide)] · [DVD FORMAT: DVD 5] · [RUNNING TIME: appr. 40min.]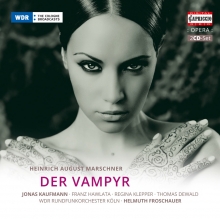 HEINRICH AUGUST MARSCHNER: DER VAMPYR
Romantic Opera Complete Recording
Jonas Kaufmann · Regina Klepper · Franz Hawlata · Thomas Dewald · WDR Rundfunkorchester Köln · Helmuth Froschauer
2CD · C5184 PC: 21 (Special Price) UPC: 845221051840
HEINRICH AUGUST MARSCHNER (1795-1861)
DER VAMPYR
Romantische Oper in 2 Aufzügen · Romantic Opera in 2 Acts
Text: Wilhelm August Wohlbrück
- Gesamtaufnahme / Complete Recording -
JONAS KAUFMANN
FRANZ HAWLATA · REGINA KLEPPER · THOMAS DEWALD
WDR RUNDFUNKORCHESTER KÖLN · HELMUTH FROSCHAUER
Something demonic and ghostly fills the air: we find ourselves in the age of Dark Romanticism, which cast its shadow on the opera. The fateful drama is of Scottish origin, whose essence consists of inherited curses, dark, guilty entanglements and bloody props, in order to wake fatalistic shivers. Among the audience at the premiere performance of the "Vampire" in 1828 at the Sächsisches Hoftheater in Leipzig was 15-year-old Richard Wagner. Marschner's opera crosses the path of the theatre novice many times. In 1833 the fledgling répétiteur Wagner in Würzburg got involved in:
"However, soon the Marschner score interested me sufficiently to make it worth while to have my bitter work published. I contributed a new allegro movement to Aubry's tenor aria in Marschner's 'Vampire', which I also wrote the text to. My resulting work was demonic and effective, registering the acclaim of the audience and encouraging recognition from my brother".
Wagner could still get worked up about the "loathsomeness of the thematic"; even Hans Pfitzner had to placatingly defend and emphasise the 'gruesomeness' of the text, the 'shivering' was the "best part of Marschner's music". Edgar Istel also captured his theatrical impression in creepy gothic words: "Whoever saw how the once-bitten vampire returns to life rises up by moonlight to the sounds of Marschner's ghostly music, they will never forget this impression."
Weitere Bilder