cd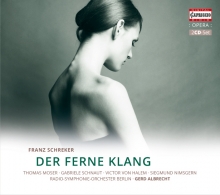 Franz Schreker: Der Ferne Klang
Opera Complete Recording
Moser · Schnaut · Von Halem · Nimsgern · RSO Berlin · Gerd Albrecht
2CD · C5178 PC: 21 UPC: 845221051789
FRANZ SCHREKER (1878-1934)
DER FERNE KLANG
Opera in 3 Acts · Text: Franz Schreker
- Gesamtaufnahme / Complete Recording -
THOMAS MOSER · GABRIELE SCHNAUT
VICTOR VON HALEM · SIEGMUND NIMSGERN
RADIO-SYMPHONIE-ORCHESTER BERLIN
GERD ALBRECHT
"Der ferne Klang came into being from a twofold need. As a young man I was in a ferment: youth and longing clamoured for self-expression. Longing – to attain an artistic ideal, fame, joy in life, a woman, love! And I wanted to create, wanted to mould everything into sound pictures […] Then in the nick of time I thought of myself, of the drama of growing up, of the folly of this life with its uncertain issue, of all the tragedies that harshly befall us and now and again – often only fleetingly – involve us in their confusion of scene. And I wrote Der ferne Klang out of myself, out of my own youthful experience. (Franz Schreker)
The sensational reception of Der ferne Klang at its first performance on 18 August 1912 in Frankfurt set on foot Schreker's unusually successful career as an opera composer: his works often achieved a higher number of performances than the music-dramas of Richard Strauss. His appointment as teacher at the Vienna Academy of Music enabled him to concentrate on further operas: Das Spielwerk und die Prinzessin (1909 -1912), Die Gezeichneten (1912 -1915) and Der Schatzgräber (1916 -1919). In 1920 Franz Schreker took over the direction of the Berlin High School for Music. He appointed lecturers there of the rank of Arthur Schnabel and Paul Hindemith. Violent political attacks forced Schreker in 1932 to resign his position as director. His work was suppressed and still remained largely forgotten for decades after the war.
Also available:
Weitere Bilder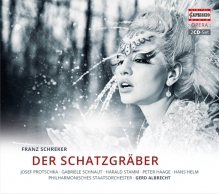 Franz Schreker: Der Schatzgräber
Opera Complete Recording
Protschka · Schnaut · Stamm · Haage · Philharmonisches Staatsorchester · Gerd Albrecht
2CD · C5175 PC: 21 UPC: 845221051758
LIVE FROM HAMBURG STATE OPERA
FRANZ SCHREKER (1878-1934)
DER SCHATZGRÄBER
Opera with a Prologue, 4 Acts and an Epilogue
- Gesamtaufnahme / Complete Recording -
JOSEF PROTSCHKA · GABRIELE SCHNAUT · HARALD STAMM
PETER HAAGE
PHILHARMONISCHES STATTSORCHESTER
GERD ALBRECHT

Franz Schreker's operas were among the most played works of the Weimar Republic. And, in fact, Der Schatzgräber was to become one of the most performed of all contemporay operas during the years of his time: in all 385 performances of the work are between 1920 – the year of the premiere – and 1932 in 50 different cities and productions. If these figures are compared with the 166 performances given to Alban Berg's Wozzeck between 1925 and 1936 in 29 different productions, then the popularity of schreker's opera is to be clearly recognized. Franz Schreker was almost exclusively a composer of operas – an almost singular case in the history of twentieth-century music – the reasons for which are to be found in his technique of musical composition. Schreker accepted and extended the independence of the individual harmonic (chordal) combination as a sonorous value in its own right as was first realized in Wagner's Tristan and Isolde. This is programmatically formulated in the Tristan - quotation occurring in the Interlude of Act III of Der Schatzgräber. As is also the case in the dramatic works of Wagner – certain tonal centres are utilized as "sonorous ciphers" for differing levels of dramatic meaning. Thus, in Der Schatzgräber the tone c sharp denotes the realm of illusion – the world of the treasure – while the tone d implies its opposite, the realm of reality or real life.
The work was however not only Schreker's most successful opera but also his last successful opera. Its later sudden loss of popularity coincides with the change in cultural climate of the year of 1924, a change which is documented in the fine arts by the transition from Expressionism to so-called New Objectivitiy (Neue Sachlichkeit) and on the political scene by the initial phase of economic consolidation in the young Republic.
Also available:
Weitere Bilder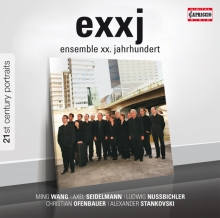 21st century portraits
ensemble xx. jahrhundert
Compositions by: Ming Wang · Axel Seidelmann · Ludwig Nussbichler · Christian Ofenbauer · Alexander Stankovski
C5171 PC: 21 845221051710
In the course of its more than forty years in existence, the ensemble xx. jahrhundert has constantly and successfully championed aesthetically diverse contemporary Austrian music: with commissions for compositions, world premieres in Austria and abroad, with radio productions and with the treatment of traditional cultural principles – in recent years particularly intensively in co-operation with the Austrian Composers' Society (ÖKB). In the course of five years, up to now 36 works by 35 composers have been performed in the jointly held concerts – not just a few of them were world premieres. The concentrated acquisition of new listening experiences and the exchange of impressions and opinions in personal contacts between the audience and the composers and performers take place in a communicative and casual environment.
Weitere Bilder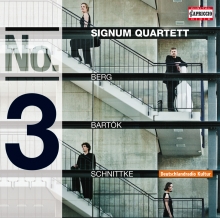 Signum Quartett - No. 3
BERG: String Quartet Op. 3 · Bartók: String Quartet No. 3 · Schnittke: String Quartet No. 3

C5163 PC: 21 UPC: 845221051635
Believing that an elaborate construction of the score and beauty of sound stand in each other's way is a myth rooted in the 18th century. What links Beethoven and Schubert to the generation of composers around 1900 is their quest for a new sound at a time that the genre of the string quartet seemed to have reached the end of its development.
'One thing is certain,' Schoenberg commented about Alban Bergs Op.3, 'that his string quartet has surprised me unbelievably with the wealth and freedom of its musical diction, the energy and assuredness of its presentation, its meticulous elaboration and its remarkable originality.'
Unlike Berg, who developed his form of atonality as a radicalized continuation of tonality, Béla Bartók's style resulted from a return to the folk music of South-East Europe. Bartók's six string quartets show these changes as in a mirror. He wrote the String Quartet No. 3 in Budapest in 1927, at a time when he was discovering the characteristic severity of his musical diction.
A third route in the quest for a new sound was taken by Alfred Schnittke, born in the German enclave on the Volga in 1934. His course is characterized less by radicalism than by reconciliation. Schnittke's so-called polystylism employs as a matter of course direct or alienated stylistic quotations from bygone centuries, embedding them in a modern and atonal context.
Weitere Bilder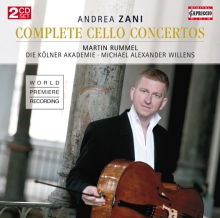 Andrea Zani (1696-1757)
Complete Cello Concertos
Martin Rummel, cello Die Kölner Akademie Michael Alexander Willens
2CD · C5145 PC: 21 UPC: 845221051451
The rumour that the solo concerto repertoire for cellists is limited has probably been sufficiently refuted in the meantime. But it was in the first half of the 18th century that the alternatives to Antonio Vivaldi's many concertos were scant. Hence the discovery of twelve 'new' cello concertos from this period is correspondingly exciting. The fact that the discovery of these works by Andrea Zani is the success of a musicologist who wrote her Ph.D. thesis at the University of Canterbury in Christchurch (New Zealand) is one of the positive miracles of modern communications technology. Dr. Jill Ward has presented a comprehensive complete edition of all the currently known works by Andrea Zani and written an impressive biography. Only few detailes are known about the life of Andrea Zani. Born in Casalmaggiore on 9 September 1696 his way took him from Mantua, Milano to Vienna where Antonio Caldara was vice maestro da cappella at the imperial court. Zani's death through the over-turning of a coach on a journey to Mantua in September 1757 cut short the career of a musician still in his prime, highly regarded by his contemporaries, and a not insignificant figure as instrumental music moved into the pre-classical era.
Hörprobe