cd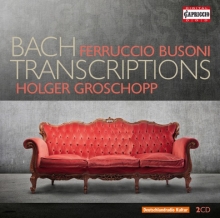 Ferruccio Busoni
Bach Transcriptions
Holger Groschopp, piano
2CD · C5198 PC: 21 (Special Price) UPC: 845221051987
BACH TRANSCRIPTIONS
Prelude and Fugue in D major · Toccata in D minor · Choral Preludes for the organ by Bach · Toccata in C major · Choral Prelude · Capriccio on the departure of his most beloved brother · »Floh-Sprung«-Canon (Premiere recording) · Improvisation on the Bach Chorale 'O friend of souls, how well is me' (Premiere recording)
Three transcriptions from Busoni's circle
Anna Weiß-Busoni (1833–1909): »Ferruccio« OP. 9 (Premiere recording)

The present album is to be understood as a complement to the box of four CDs (CAPRICCIO 7015) containing transcriptions and paraphrases based on seventeen different composers. It features Bach arrangements not yet represented in that collection but does not include those works that Busoni published without exercising significant changes in his capacity as an editor.
The program also includes some world premiere recordings of transcriptions the Berlin Pianist Holger Groschopp could find in the archives, and the arrangement of works by Bach also enjoyed great popularity in Busoni's circle of pupils – as some of the world premiere recorded pieces demonstrate.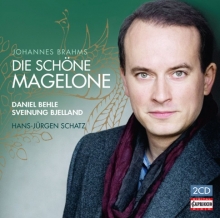 Brahms: Die schöne Magelone
Daniel Behle, Tenor · Sveinung Bjelland, Klavier
Hans-Jürgen Schatz, Erzähler
2CD · C5203 PC: 21 (Special Price) UPC: 845221052038
This double CD for the first time combines two possible views of the song cycle with Romances from L. Tieck's 'Magelone' op. 33 by Johannes Brahms. On the one hand, the first CD offers the opportunity to listen to the song cycle without the prose text, and the second CD presents a version, in which before each of the songs a sensitive abridgement of Tieck's text by Hans-Jürgen Schatz can be heard. The unabridged text by Ludwig Tieck would result in an overweight of the text, and the music would clearly move into the background. This was probably also a thought that Johannes Brahms had, and for this reason he may have preferred a performance without the prose text, especially as the story by Tieck was well-known in the 19th century. With the 15 romances, Brahms reaches a new level in compositional terms. The songs seem to be uninfluenced by contemporary works, and merely Schubert's songs might have been models in many passages. Here, the declamation close to the text must be mentioned in particular. Otherwise, Brahms moves completely independently of external influences, creating a new, almost symphonic style that is particularly seen in the preludes and postludes. Sometimes, people even speak freely about 'Brahms' sole opera'.

Weitere Bilder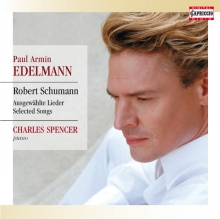 PAUL ARMIN EDELMANN
Schumann: Selected Songs
Charles Spencer, piano
C5172 PC: 21 845221051727





ROBERT SCHUMANN (1810 – 1856)
Zwölf Gedichte von Justinus Kerner (1786-1862), Op. 35
Es leuchtet meine Liebe, Op. 127 No. 3 (Heinrich Heine, 1797-1856)
Mein Wagen rollet langsam, Op. 142 No. 4 (Heinrich Heine)
Belsazar Op. 57 (Heinrich Heine)
Sechs Gedichte (Nikolaus Lenau, 1802-1850)
und Requiem Op. 90 (Leberecht Dreves, 1816-1870)

PAUL ARMIN EDELMANN, Bariton / baritone
CHARLES SPENCER, Klavier / piano

Although Robert Schumann was always very keen on literature, as a young man he did not show very much interest in the genre of the song. As a student in Leipzig, he composed a few songs, including five by the Swabian poet Justinus Kerner. But afterwards he mainly devoted himself to instrumental music. But a year later, he composed 138 songs in a feverish fit of work. 'Composing and playing music,' he wrote to Clara, 'almost kills me. Ah, Clara, what a bliss it is to write for song; I had missed it for a long time.
"Paul Armin Edelmann is the perfect song-poet with a wonderfully balanced and seamless voice; a dreamy, soft legato binding every phrase, text and music in an exemplary manner into a single unit of song and story. A feast for the ears." (FonoForum)


Weitere Bilder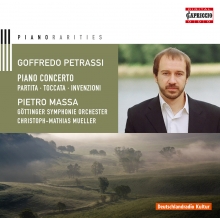 GOFFREDO PETRASSI (1904-2003)
Concerto per pianoforte e orchestra · Partita · Toccata · Invenzioni
Pietro Massa, piano · Göttinger Symphonie Orchester · Christoph-Mathias Mueller
C5155 PC: 21 845221051550

Concerto per pianoforte e orchestra (1936/39)
Concerto for piano and orchestra · Konzert für Klavier und Orchester

Partita (1926) · Toccata per pianoforte (1933)
Invenzioni per pianoforte (1942/44)

In addition to Luigi Dallapiccola (1904-1975), the Roman composer Goffredo Petrassi (1904–2003) represents a salient figure in the development of Italian music history in the 20th century. His career as a composer began in 1934, when Alfredo Casella conducted his Partita for orchestra at the Festival of the International Society for New Music in Amsterdam. Petrassi's ensuing recognition led to him taking over central positions in Italy's music scene of the time. From 1937 to 1940, he was the general director of the Teatro La Fenice in Venice; from 1947 to 1950, he directed the Accademia Filarmonica Romana and from 1954 to 1956 he was head of the International Society for New Music. He commenced his teaching as a member of the Accademia S. Cecilia, and after 1939 he worked as a composition teacher at the conservatoire, where he finally took over the master class for composition in 1960. He died in Rome in 2003 at the age of 98.


Weitere Bilder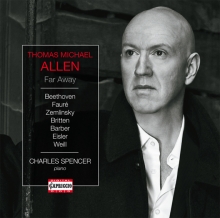 THOMAS MICHAEL ALLEN: Far Away
Beethoven · Fauré · Zemlinsky · Britten · Barber · Eisler · Weill
Charles Spencer, piano
C5194 PC: 21 845221051949





Ludwig van Beethoven: An die ferne Geliebte Op. 98
Gabriel Fauré: Mélodies de Venise Op. 58
Alexander von Zemlinsky Walzer-Gesänge nach Toskanischen Volksliedern von
Ferdinand Gregorovius Op. 6
Benjamin Britten: Seven Sonnets of Michelangelo Op. 22
Samuel Barber: Mélodies passagères Op. 27
Hans Eisler: Songs from the Hollywood Songbook
Kurt Weill: Street Scene: "Lonely House" · Lady in the Dark: "My Ship"
Love Life: "Here I'll Stay"

THOMAS MICHAEL ALLEN, Tenor / tenor
CHARLES SPENCER, Klavier / piano

"The general theme of this recording," observes tenor Thomas Michael Allen, "is of things far away and a sense of being out of place, especially in terms of composers setting texts in languages not their own, or texts about places far from them; a longing for, or fascination with, foreign things or foreign styles." Indeed, Far Away includes songs by four European composers who were living, or would live, in the United States; an American setting French poems written by an Austrian; a French composer imagining eighteenth-century Italy; and a German in Vienna writing of a man's longing for his distant beloved. Mr. Allen, too, is "far away." The American singer has lived and worked in Germany since 1995. The funny thing is that I don't really feel like I completely fit in here either, but at least here my role is clear: I'm a foreigner." Estrangement takes many forms.

Weitere Bilder