cd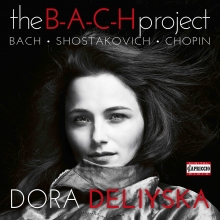 DORA DELIYSKA THE B-A-C-H PROJECT
BACH · CHOPIN · SHOSTAKOVICH
Dora Deliyska, piano
C5335 PC: 21 845221053356
Based on a thorough musical analysis, I have tried to make a selection of pieces that will not only respond musically to one another, but also represent part of an overarching concept, the structure of B-A-C-H. The core of my concept is based on the idea of how musical compositions, written in different centuries with different compositional styles, can find a connection between one another, giving rise to very new and unique reflections. This way, the three composers (Bach, Chopin, Shostakovich) 'communicate' with one another, mutually influencing their artistic ideas. Dora Deliyska

B
J. S. Bach: Prelude Nr.12, BWV 867, in B-flat minor · Schostakowitsch: Prelude Nr. 16, in B-flat minor · J. S. Bach: Fugue Nr.12, BWV 867, in in B-flat minor · Schostakowitsch: Prelude Nr. 21, in B-flat major · Fugue Nr. 21, in B-flat major
A
J. S. Bach: Prelude Nr. 20, BWV 889, in A-minor · Schostakowitsch: Prelude Nr.2 in A-minor – Fugue Nr.2, in A minor · Chopin: Etude Nr.4, op. 25, in A minor · Etude Nr.11, op. 25, in A minor
C
Schostakowitsch: Prelude Nr.1, in C major / Fugue Nr.1, in C-major
J. S. Bach: Prelude Nr.1, BWV 846, in C-major · Chopin: Etude Nr. 1, op.10, in C-major · F. Chopin: Etude Nr. 12, op.25, in C-minor
H
Schostakowitsch: Prelude Nr.6, in B-minor · J. S. Bach: Prelude Nr.24, BWV 869, in B-minor Prelude Nr.24, BWV 893, in B-minor · Chopin: Etude Nr. 10, op. 25, in B-minor

DORA DELIYSKA, Klavier / piano


Weitere Bilder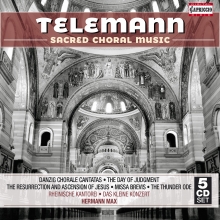 TELEMANN: Sacred Choral Music
Die Donnerode · Der Herr ist König · Der Tag des Gerichts · Danziger Choralkantaten · Missa brevis · Die Auferstehung und Himmelfahrt Jesu
Rheinische Kantorei · Das Kleine Konzert · Hermann Max
5CD-Set · C7215 PC: Special Price: 04 UPC: 845221072159
COMPACT
DISC
1
Die Donnerode
(The Thunder Ode)
TWV
6:3
Cantata in 2 parts for 5 solo voices, choir and orchestra
Der Herr ist König
(The Lord Is King)
TWV
8:6
Cantata for soprano, tenor, bass, choir and orchestra
COMPACT
DISC
2
Der Tag des Gerichts / The Day Of Judgment
TWV
6:8
COMPACT
DISC
3
Danziger Choralkantaten
/
Danzig Chorale Cantatas
COMPACT
DISC
4
Alles redet itzt und singet
(Kantate / Cantata
TWV
20:10)
Missa brevis
TWV
9:14
Deus judicium tuum
TWV
7:7 (Motette / Motet)
COMPACT
DISC
5
Die Auferstehung und Himmelfahrt Jesu
TWV
6:6
The Resurrection and Ascension Of Jesus
TWV
6:6
Barbara Schlick · Veronika Winter · Wildfried Jochens · Klaus Mertens
RHEINISCHE

KANTOREI

·

DAS

KLEINE

KONZERT

·

HERMANN

MAX
"Lulli is given praise, Corelli great acclaim; Telemann alone is above all fame", wrote the music author Johann Mattheson in 1740. Mattheson's claim was quite accurate: the director of music in Hamburg had less need to fight for recognition than ever. His leading role in the musical life of northern and central Germany was undisputed. With this 5CD-Collection Capriccio presents some most important Sacred Music Masterpieces from his early age to the later period. Telemann attempted to give each poem the music that "it could endure": each new "musical poetry" consequently stimulated an attempt at an artistically suitable musical realisation.
Weitere Bilder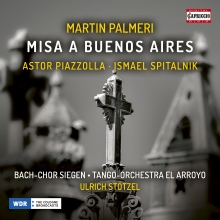 NARTIN PALMERI: MISA A BUENOS AIRES
Piazzolla: Oblivion · Milonga · Spitalnik: El Troesma
Dagmar Linde · Rocco Heinz · Bach-Chor Siegen · Tango-Orchester "El Arroyo" · Ulrich Stötzel
C5343 PC: 21 UPC: 845221053431
Many works by the Argentinian composer Martín Palmeri are completely inspired by the style of 'Tango Nuevo' in terms of form and harmony, as is also the case with the tango mass Misa a Buenos Aires, composed in 1996. In his Misatango the composer combines the text of the Latin mass with the traditional music of his homeland, making the classical Roman Catholic mass, such as it has been set to music for centuries, appear in new apparel.


Youtube
Weitere Bilder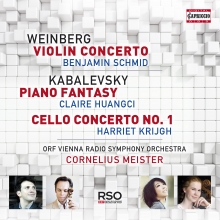 WEINBERG: Violin Concerto KABALEVSKY: Piano Fantasy · Cello Concerto
BENJAMIN SCHMID · CLAIRE HUANGCI · HARRIET KRIJGH
ORF VIENNA RADIO SYMPHONY ORCHESTRA · CORNELIUS MEISTER
C5310 PC: 21 UPC: 845221053103
MIECZYSŁAW

WEINBERG

(1919 – 1996)
Concerto for violin and orchestra, op. 67 (1959)


DMITRY

KABALEVSKY

(1904 – 1987)
Fantasy in F minor for piano and orchestra (after Schubert D 940)(1961)
Concerto for cello and orchestra no. 1 in G minor, op. 49
Dmitry Kabalevsky – despite the vague name recognition a widely unknown composer of socialist-realist music – has rightly been forgotten, if only because of his actively unsavory, toadying, opportunist politics that netted him three Stalin Prizes and four Orders of Lenin. He was chummy with the Russian Association of Proletarian Musicians when that seemed expedient and later a very active member of the Union of Soviet Composers. Weinberg is the exact opposite of Kabalevsky, politically and musically. He was a life-long victim of the Soviet Union and his music is – some genuine incidences of humor apart – a dense shot of genius that makes breathing difficult, not easy. With this Album Capriccio presents with a famous cast the music of two nearly forgotten Russian Masters their music and biography could not be more different.
Youtube
Weitere Bilder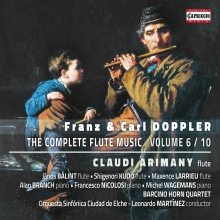 FRANZ & CARL DOPPLER EDITION 6/10
The Complete Flute Music - Vol. 6/10
Claudi Arimany · Shigenori Kudo · Maxence Larrieu · János Balint · Alan Branch · Michel Wagemans · Francesco Nicolosi · Barcino Horn Quartet · Orquesta Sinfónica Ciudad de Elche • Leonardo Martínez
C5300 PC: 21 UPC: 845221053004
"Valse di Bravura", Op. 33 (F&C) for two flutes and piano · Chanson d´amour. Air Varié, Op. 20 (F) for flute and piano · "Das Waldvöglein" (L'oiseau des bois). Idylle, Op. 21 (F) for flute and four horns · Morceaux favoris sur "Der Freischütz" opéra de C.M. von Weber (F) (WPR) for solo flute with piano ad libitum · Potpourri sur "Bánk-Bán" opéra hongroise de F. Erkel © (WPR) for piano and flute · Duo sur "La Muette de Portici" opéra de D.F.E. Aubert (F) (WPR) for two solo flutes · Moderato (F) (WPR) for flute and piano · "Fantaisie sur des motifs hongrois" © (WPR) for two flute and orchestra (original1853 Doppler orchestral version)
C = Carl Doppler / F=Franz Doppler / WPR=World premiere recording
The Doppler brothers played a dominant role in the Imperial-Royal Monarchy's musical life as composers, conductors, musicians and orchestral soloists. They were on good terms with acknowledged artists of the era, such as Ferenc Liszt and Ferenc Erkel, as well as Jozsef Bajza, director of the Budapest National Theatre.
This is the sixth release in a set of 10 CDs comprising the Dopplers' complete music for flute(s), including various arrangements. Flautist Claudi Arimany spent
decades researching this project, inspiring many famous musicians to become involved in its realisation.


Weitere Bilder