cd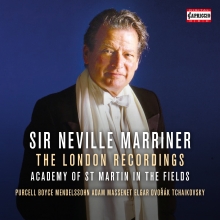 SIR NEVILLE MARRINER - The London Recordings
PURCELL BOYCE MENDELSSOHN ADAM MASSENET ELGAR DVORAK TCHAIKOVSKY
ACADEMY OF ST MARTIN IN THE FIELDS
14CD-Set · C7250 PC: 07 UPC: 845221072500

CD 1 HENRY PURCELL: Opera Suites
CD 2 WILLIAM BOYCE: 8 Symphonies
CD 3 FELIX MENDELSSOHN BARTHOLDY: Overtures
CD 4 ADOLPHE CHARLES ADAM Giselle
CD 5 JULES MASSENET: Ballet Suites
CD 6 EDWARD ELGAR: Enigma Variations
The Wand Of Youth Suites Nos. 1 & 2
CD 7+8 ANTONIN DVORAK:
Symphonies Nos. 7, 8 & 9 "From The New World"
Carnival Overture · Othello Overture
CD 9-14 PETER TCHAIKOVSKY:
The Symphonies Nos. 1-6
Manfred Symphony · Capriccio Italien · Overture "1812" · Francesca da Rimini
Neville Marriner was the Academy of St. Martin in the Fields – the orchestra he founded in 1958 and led for over half a century. Moreover, he was the face of classical music to millions of listeners… in a way that only Toscanini, Bernstein, and Karajan have rivalled in the age of recorded sound. In the later years, it was Capriccio, that stepped in when other labels showed no interest to record the Academy in the bigger romantic repertoire. The central element of this collection is the set of Tchaikovsky symphonies."The members of the Academy, trained on quite different repertory, let their hair down in playing that is both crisp and alert, obviously enjoying their outing into this pop repertory." Edward Greenfield, Gramophone


Weitere Bilder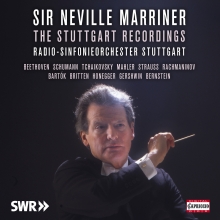 Sir Neville Marriner - The Stuttgart Recordings
BEETHOVEN SCHUMANN TCHAIKOVSKY MAHLER STRAUSS RACHMANINOV BARTOK BRITTEN HONEGGER GERSHWIN
RADIO-SINFONIEORCHESTER STUTTGART
15CD-Box C7230 PC: 07 UPC: 845221072302
CD 1 + 2 LUDWIG VAN BEETHOVEN: Overtures
CD 3 – 5 ROBERT SCHUMANN
Symphonies Nos. 1 – 4 · "Zwickauer" · Manfred Overture
CD 6 – 7 PETER TCHAIKOVSKY: Orchestral Suites 1-4
CD 8 GUSTAV MAHLER: Symphony No. 4
CD 9 – 10 RICHARD STRAUSS
Don Juan · Till Eulenspiegel · Capriccio · Rosenkavalier-Suite
CD 11 SERGE RACHMANINOV: Symphony No. 2· Vocalise
CD 12 BELA BARTOK: Der wunderbare Mandarin
CD 13 BENJAMIN BRITTEN: Sinfonietta op. 1 · Sinfonia da Requiem
ARTHUR HONEGGER: Sinfonie Nr. 3 "Liturgique"
CD 14 GEORGE GERSHWIN
Rhapsody in Blue · Piano Concerto in F · An American In Paris
CD 15 BARBER · COPLAND · GERSHWIN · BERNSTEIN
In Stuttgart, 1983 – 1989,Neville Marriner followed Sergiu Celibidache, offering quite the contrast to that willfully prodigious Romanian broodingly charismatic style with his own easygoing, less spectacular but genial manner and music-making. His sound wasn't as dense and carefully crafted, but the ensemble's playing became lighter and flexible, agile rather than probing. It is in his Stuttgart period that Marriner increasingly focused on repertoire that went beyond the baroque and classical periods. This compilation offers repertoire which music lovers will be less likely to associate with Marriner: German romanticism, including all of Schumann's Symphonies, Richard Strauss, Tchaikovsky and Rachmaninoff, Mahler, Bartók and Gershwin – The fundamental impression that comes from re-listening to these performances, apart from good and fresh music-making, is one of sympatheticmusic-making. That feels about right as an epitaph for the man and his body of work.

Weitere Bilder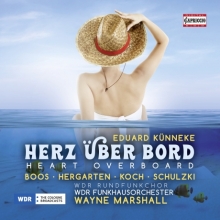 EDUARD KÜNNEKE: HERZ ÜBER BORD
Annika Boos Linda Hergarten Martin Koch
WDR FUNKHAUSORCHESTER KÖLN WAYNE MARSHALL
C5319 PC: 21 UPC: 845221053196
Driven by success, Künneke committed himself to the genre of the operetta in the 1920s and 1930s. The diversity of his many operettas reveals Künneke's enormous adaptability to the stylistic currents of entertainment music at that time. He had most international success with Der Vetter aus Dingsda (1921), with which Künneke has almost exclusively been identified up to today. His successful operettas were even adapted for London and New York. Herz über Bordwas premiered in 1935, initially at the Zurich Opera and was performed almost 500 times between 1935 and 1937, including in Dresden, Stuttgart, Stockholm and Berlin. The Berliner Zeitungnoted: 'Once again, we can listen to operetta music written by an artist, a man of taste. Every number has its own weight'.
902
Weitere Bilder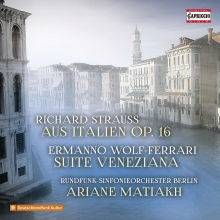 R. STRAUSS: Aus Italien · WOLF-FERRARI: Suite Veneziana
Rundfunk-Sinfonieorchester Berlin
Ariane Matiakh
C5344 PC: 21 UPC: 845221053448
'Never have I really believed in inspiration by the beauty of nature; I was put right by the ruins of Rome. There my ideas just flew to me.' Richard Strauss
"Aus Italien"was the first major symphonic poem mirroring diverse moods to be composed by Richard Strauss and that was to be followed by later masterpieces such as Don Juan, Tod und Verklärung, Ein Heldenleben or Eine Alpensinfonie. The Venetian Suite was written in 1935 by then almost 60-year-old Ermanno Wolf-Ferrari. It is the music of an opera composer, accustomed to illustrating events with his music, and yet in his concert works handing over many things to the imagination of the listeners, not wanting to give all the answers in advance.

Weitere Bilder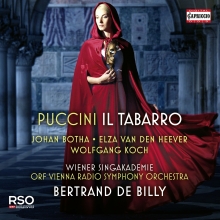 GIACOMO PUCCINI: IL TABARRO
Botha · Koch · Brunner · van den Heever
WIENER SINGAKADEMIE · ORF VIENNA RADIO SYMPHONY ORCHESTRA · BERTRAND DE BILLY
C5326 PC: 21 UPC: 845221053264
IL

TABARRO


Opera in un atto / Opera in one act (1913-16)
Libretto: Giuseppe Adami (1878-1946) nach / after Didier Golds "La Houppelande


LUIGI

: Johan Botha, Tenor / tenor


MICHELE

: Wolfgang Koch, Bariton / baritone
LA

FRUGOLA

: Heidi Brunner, Sopran / soprano


GIORGETTA

: Elza van den Heever, Sopran / soprano
IL

TINCA

/

LIEDERVERK

Ä

UFER

(Song Seller) /

LIEBENDER

(Lover)
Charles Reid, Tenor / tenor
IL

TALPA

: Janusz Monarcha Bass / bass


LIEBENDE

: Elisabeta Marin, Sopran / soprano


WIENER

SINGAKADEMIE


(Einstudierung / Chorus Master: Heinz Ferlesch)


ORF

VIENNA

RADIO

SYMPHONY

ORCHESTRA




BERTRAND

DE

BILLY

, Dirigent / conductor

With "Il tabarro" Puccini wrote the first part of his projected opera triptych, with which he ultimately intended to parody and reverse Wagner's Ring tetralogy by stringing together three completely incoherent short stories. Once more, for Il tabarro the composer virtually emigrated to France, to which he had already made declarations of love with La Bohème and Manon Lescaut. This affinity is now mirrored more clearly than in these two operas in the music of The Cloak, which emanates French, well-nigh Impressionist perfume. Bertrand de Billy knows how to make the the score alive with a fantastic cast on his side. World famous tenor Johan Botha was on the top of his carreer.
Youtube
Weitere Bilder