cd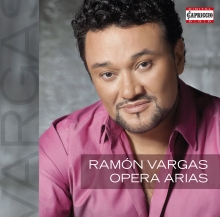 Ramón Vargas - Opera Arias
Ponchielli: La Gioconda · Verdi: Simon Boccanegra · Boito: Mefistofele · Puccini: Tosca · Massenet: Werther · Gounod: Faust
Budapest Symphony Orchestra · Riccardo Frizza
C5165 PC: 21 845221051659
Music can do much, much more than politics, religion or sport. Where they separate, music unites; music encourages harmony in every respect. – Ramón Vargas

A reviewer once wrote that his voice was like two elements flowing into each other: the elegance and the technical sovereignty of a 'Tenore di grazia' like Alfredo Kraus and the silver core and the 'tears' of a Fritz Wunderlich.
Having sung more than 40 roles, Ramón Vargas is recognized as one of the leading lyrical tenors of the present. His interpretations of Mozart, Bellini and Donizetti are celebrated throughout the world.
In recent years, he has turned to the French repertoire with success: e.g. Werther, Manon, Romèo and La damnation de Faust. He has also devoted himself to Puccini and new Verdi operas such as La Bohème, Un Ballo in maschera, Simone Boccanegra, I due Foscari, La traviata, Rigoletto, Ernani etc. which some of them he presents the first time on CD on this new album!
Weitere Bilder
Hörprobe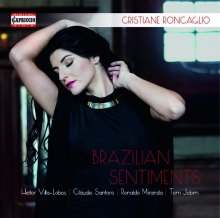 Cristiane Roncaglio - Brazilian Sentiments
Songs by HEITOR VILLA-LOBOS · CLAUDIO SANTORO · TOM JOBIM · RONALDO MIRANDA
André Bayer, guitar · Cristian Peix, piano
C5159 PC: 21 845221051598
Brazilian song has a long history whose origin can be established from the end of the 18th century with the rise of "modinha". This kind of song was already widely known among the urban bourgeoisie around 1775, both in Rio de Janeiro and Lisbon. The precise origin of "modinha" is still controversial. It has being widely accepted that it was introduced by the Portuguese. At the beginning of the 20th century, the composer Alberto Nepomuceno reacted to what he considered an excessive use of foreign languages in all art songs composed in Brazil, notably French and Italian. He claimed that a People that did not sing in its own language had no motherland. But it was definitely after the 1922 Week of Modern Art, in São Paulo, that the genre found its better defined form. Many songs on texts by the modernistic poets have then emerged.
Villa-Lobos used poems by Manuel Bandeira and Ronald de Carvalho still back in the 1920s for his songs. He gradually found a balance between popular song style and chamber song's refinement. The "Canção de Amor" as well as "Cair da Tarde" and "Veleiro", belong to one of his last works. "Minha Terra" of 1923 was the first hit song by Waldemar Henrique.
Cláudio Santoro's output as a composer is very large and covers all genres. In the 50's, he embraced the cause of nationalist music and began writing music inspired by the folk traditions of São Paulo state's countryside and the Brazilian Northeast. "Aquarela do Brasil", by Ary Barroso, became famous worldwide thanks to American cinema through the film "Você já foi à Bahia?" (Have you been to Bahia?), by Walt Disney, in 1944. This is a typical samba with a very positive message, which was once considered by many as propaganda for the "Estado Novo" dictatorship that had settled in Brazil, through the figure of Getulio Vargas in the 1930s.
Bossa Nova developed from the late '50s on as an essentially urban music, in Rio de Janeiro. Unlike the nostalgic country life's approach so common before in popular music until then, this new rhythm had a more direct appeal to the everyday city life. It evolved somehow from samba, although much less rhythmic. And the bridge between pop song and art song could not have been more evident than in the music of Tom Jobim.
Weitere Bilder
Hörprobe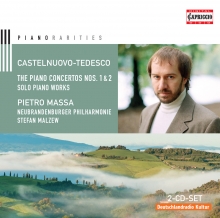 piano rarities - MARIO CASTELNUOVO-TEDESCO: Piano Concertos Nos.1 & 2
Solo Piano Works
Pietro Massa, piano Neubrandenburger Philharmonie · Stefan Malzew
2CD-Set C5156 PC: 21 (Special Price) UPC: 845221051567
Mario Castelnuovo-Tedesco (Florence 1895 – Beverly Hills 1968) was a composer and humanist. His life was characterized by a lasting tendency to discover himself as a component of ancient cultural traditions, first the Tuscan and then the Jewish one. On the other hand, he showed an inclination to withdraw from the historical present, on the one hand, due to his reserved disposition and, on the other, because of the tragic events that rocked his existence.
In 1939, he took his leave of his country and emigrated to the USA to safeguard the future of his own family and above all protect the lives of his two children. Arturo Toscanini and Jascha Heifetz, who had already performed his music several times, supported him in this difficult period and made a substantial contribution to him obtaining a position as the composer of film music with Metro Goldwyn Mayer.
The Piano Concertos in G major No. 1 op. 46 and in F major No. 2 op. 92 were written in 1927 and 1936/37 respectively; the latter presumably while preparing for exile.

Weitere Bilder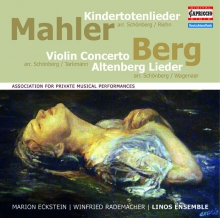 MAHLER: Kindertotenlieder BERG: Altenberg Lieder · Violinkonzert
Marion Eckstein Winfried Rademacher
LINOS ENSEMBLE
C5135 PC: 21 UPC: 845221051352
ASSOCIATION FOR PRIVATE MUSICAL PERFORMANCES: "Every glance can be expanded into a poem, and every sob into a novel' – Arnold Schoenberg's words on the works of the Expressionist period of the Viennese School describe the diction in the atonal works of his pupil Alban Berg. In 1918, a novel and up to today conceptionally exciting form of event was established with the Association for Private Musical Performances in Vienna. A dominant practice in the cultivation of repertoire was the artistically high-quality arrangement of large orchestral works for piano and smaller ensembles. These historical conditions served as the inspiration for this production with works by Gustav Mahler and Alban Berg, here in new interpretations by three composers of our time. Due to his supplements to Schoenberg's arrangements of Mahler orchestral songs, Rainer Riehn has gained a wealth of experience with the arrangement practice of the association and reinterprets Mahler's Kindertotenlieder. Alban Berg's Violin Concerto, a musical epitaph, was rearranged for the Linos Ensemble by the composer and arranger Andreas N. Tarkmann. Finally, the arrangement for chamber orchestra of Berg's Altenberg-Lieder goes back to the Danish composer and music theorist Diderik Wagenaar.
Weitere Bilder
Hörprobe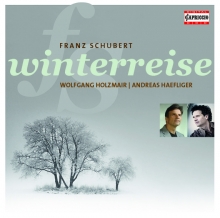 SCHUBERT: Winterreise
Wokfgang Holzmair
Andreas Haefliger, piano
C5149 PC: 21 UPC: 845221051499
For Schubert, the winter cold was less the expression of directly physical discomfiture than one of the mental state of inner isolation. Schubert seems personally to have identified with the fate of a wanderer full of restlessness.
This depression is not just melancholy or even sentiment. 'He was certainly not born a melancholic, but became one in this world, which he called miserable and had been poor and empty for him since his days at boarding school', Hans J. Fröhlich writes in his Schubert biography.
Wolfgang Holzmair performs in recitals throughout the world, including London, Lisbon, New York, Washington, at the Risör Festival (Norway), Bath Festival (UK), Menuhin Festival (Switzerland), Bregenz Festival and Carinthian Summer Festival (Austria), and in 2012 again in London, New York and Washington, as well as in Baltimore, Berkeley, Moscow, Oxford, Liège, etc.

Weitere Bilder