cd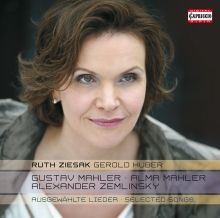 RUTH ZIESAK
Gustav Mahler · Alma Mahler · Alexander Zemlinsky
Ruth Ziesak, soprano Gerold Huber, piano
C5119 PC: 21 UPC: 845221051192
Wherever she goes and looks in the male world, she is the mistress and ruler', reports Gustav Klimt, with whom Alma, just 20 years old, fell in love in 1898, much to the chagrin of her mother. The list of admirers that accumulated in the course of Alma's following life reads like a 'Who's who' of the intellectual life of the time. In Heine's poem Ich wandele unter Blumen, which Alma set to music at a young age, she saw a mirror of her effect on the strong sex: 'Ich wandle unter Blumen/ Und blühe selber mit .. ('I stroll amongst flowers/And blossom myself, too…). One of those that were strolling along was Alexander Zemlinsky. Enraptured by Alma's lively charm, he spontaneously decided to give a present to the almost stranger: 'Miss, […] a booklet of songs is being published. May I dedicate it to you?' The presentee was 'rigid with joy' at the Five Songs op. 7 dedicated to her and requested the composer to become her teacher.
When she presented him some of her songs – sadly, only a tiny fraction of her compositions is preserved today – Zemlinsky saw 'a lot of talent but little skill'.
Caught in the dichotomy between defiant rebellion and yearned-for submission – it was no coincidence that Alma felt attracted to dominant and usually considerably older men – she ultimately opted for Gustav Mahler and against composition.
'Und unter ihren Zweigen,/ da bin ich ganz allein,/ da bin ich ganz mein eigen,/
ganz nur dein' ('And under its branches/ there I am completely alone/ there I am completely myself/ utterly yours') are the final words of the song Waldseligkeit.


Weitere Bilder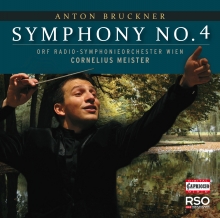 ANTON BRUCKNER: Symphony No. 4 "Romantic"
(1878/1880 Version by Leopold Nowak)
ORF Radio-Symphonieorchester Wien · Cornelius Meister
C5150 PC: 21 UPC: 845221051505
It is the only symphony by Bruckner that the composer himself gave a subtitle 'The Romantic'. However, in keeping with usage at the time it does not refer to 'Romanticism' in today's understanding of the word, but to an aesthetic attitude of the desire for the pervasion of art and nature. Hence, the French horns setting the tone from the outset can be interpreted programmatically: through them the spirit wafts through nature. For over an hour Anton Bruckner composed music in such an orgiastic and cheerful, Dionysian and Apollonian, voluptuous and boastful tone.
The ORF (Austrian Radio and Television) Vienna Radio Symphony Orchestra is a top orchestra of world renown; the orchestra defines itself in the Vienna orchestral tradition. The Orchestra emerged from the former Austrian Radio Orchestra in 1969. Cornelius Meister, born in Hanover in 1980, has been principal conductor and artistic director of the ORF Radio Symphony Orchestra Vienna since September 2010. With the RSO Vienna he holds regular concerts in Vienna Musikverein and Vienna Konzerthaus. Extensive tours have taken him to Japan and throughout Europe, including to Salzburg Festival. Together with the RSO Vienna, he is present on European radio, European television, on CDs and in the internet.

Tour Dates:

Dienstag, 29. Januar 2013
KÖLN: Kölner Philharmonie, Bischofsgartenstr. 1, 50667 Köln / 20.00

Mittwoch, 30. Januar 2012
Berlin: Philharmonie Berlin, Herbert-von-Karjan-Str.1, 10785 Berlin
20.00

Donnerstag, 31. Januar 2012
Hannover: Congress Centrum, Theodor-Heuss-Pl.1-3, 30175 Hannover / 20.00

Freitag, 01. Februar 2012
Düsseldorf: Tonhalle, Ehrenhof 1, 40479 Düsseldorf / 20.00

Sonntag, 03. Februar 2012
Dortmund: Konzerthaus, Brückstr.21, 44135 Dortmund / 16.00

Montag, 04. Februar 2012
Heilbronn: Kongresszentrum Harmonie, Allee 28, 74072 Heilbronn / 19.30

Dienstag, 05. Februar 2012
Frankfurt: Alte Oper Frankfurt, Opernplatz, 60313 Frankfurt / 20.00



Weitere Bilder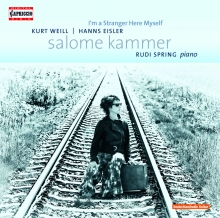 SALOME KAMMER - I'm a Stranger Here Myself
Songs by Hanns Eisler & Kurt Weill
Salome Kammer, voice Rudi Spring, piano
C5154 PC: 21 UPC: 845221051543
The composers Kurt Weill and Hanns Eisler and the poet Bert Brecht all experienced the fascinations and abysses of foreign lands and exile. What good fortune it must have been in Berlin in the 1920s when Weill and Brecht had such great success with their songs always telling of far-away countries and unknown things. At the time, they created an unmistakable style that has remained unique up to today with its mixture of popular music, supreme musical sophistication and political claims.
Salome Kammer's repertoire cannot be classified into subjects and genres. It covers avant-garde song and virtuoso vocal experiments, classical melodrama, song recitals, Dada poetry, vocal jazz or Broadway songs. Salome Kammer has held the international premieres of many works of New Music.


Weitere Bilder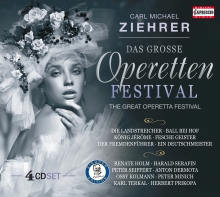 CARL MICHAEL ZIEHRER - Operetta Festival
Die drei Wünsche · Ball bei Hof · Die Landstreicher · König Jérôme · Der Fremdenführer · Ein Deutschmeister · Der Husarengeneral ...
RENATE HOLM · HARALD SERAFIN · SYLVANA DUSSMANN · PETER SEIFFERT · ANTON DERMOTA · KURT EQUILUZ · OSSY KOLMANN · PETER MINICH · JÖRG SCHNEIDER
4CD-Box · C7147 PC: 22 UPC: 845221071473
CARL MICHAEL ZIEHRER (1843-1922)
The folksy creation of Ziehrer's operetta melodies can be seen as a transition between the opera-like stage works of the ageing Strauss and the young Lehar, full of completely new performance elements and electrifying impulses. Ziehrer's operetta blend falls back on Old Viennese elements of popular theatre, passing them on to a new generation (Benatzky, Lehar, Oskar Strauss).
This 4CD-Set presents for the first time an impressive Selection of Ziehrer's more than 20 Operetta Masterpieces, including rear recordings from the Austrian Radio Archive and new Productions of the Carl Michael Ziehrer Society in Vienna.

Weitere Bilder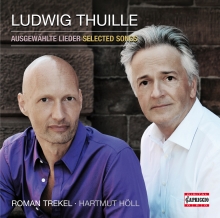 LUDWIG THUILLE: Selected Songs
(1861-1907)
Roman Trekel, baritone Hartmut Höll, piano
C5058 PC: 21 UPC: 845221050584
For until a short time ago Ludwig Thuille was a shadowy figure encountering the reader of yellowed books. The reference to his historical importance as head of the 'Munich School' did not mean much, It is only Thuille's correspondence with Richard Strauss that has kept his erstwhile significance alive. Signs of their friendship were the almost contemporaneous settings of specific poems, how good it would have been to be present when Thuille and Strauss presented their Lieder to each other and discussed their findings.
In the meantime, the situation has changed, and an updated discography would cover recordings of many of Thuille's works. Campaigned for his Lieder, now, Roman Trekel and Hartmut Höll are for the first time presenting an album in the instrumentation for male voice and piano.

Weitere Bilder