cd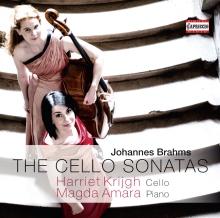 Harriet Krijgh - Brahms Cello Sonatas

Harriet Krijgh, cello Magda Amara, piano
C5173 PC: 21 UPC: 845221051734
After the first album with french cello music and the very successful recording of the Haydn Cello Concertos the young cellist Harriet Krijgh continues now with the pearls of german-romantic cello literatur: the recording of boht cello sonatas by Johannes Brahms.
'I used to play the fiddle myself', Johannes Brahms once told his Viennese composer colleague Richard Heuberger, 'but my instrument was the cello. I played concerts on it'. That Brahms' two cello sonatas were 'miraculous pearls of chamber music', as a critic wrote in the Neue Berliner Musikalische Zeitung in 1873, was sadly not recognized by all contemporaries at once. Some listeners were simply floored by the dense texture of the compositions. But a short time later, they were to establish themselves everywhere and have ranked among the outstanding works in the cello repertoire up to today.
Youtube
Weitere Bilder
Anne Schwanewilms
Schumann: Liederkreis op.39 · Wolf: Mörike-Lieder
Manuel Lange, piano
1CD · C5166 PC: 21 UPC: 845221051666
Anne Schwanewilms ranks among the greatest Strauss and Wagner interpreters today, but her secret love still belongs to the Lied. 'Up to now I insist on my song recitals, that means pursuing the path of my soul, then I am the orchestra, the singers, the driving force with all together. The pianist is my most important partner, and it is quite simple communication to produce pure music, in the simplest form.'
For her new album, the soprano celebrated worldwide quite deliberately chose songs by Robert Schumann and Hugo Wolf. 'It is the conception of a 'somnambulist's gait', enlivened by memories, dreams and steps back into the past – for the tranquillity that can emerge with Schumann and Wolf is for me incredibly intensive and fascinating.' Anne Schwanewilms is accompanied by the pianist and song expert Manuel Lange.
Youtube
Weitere Bilder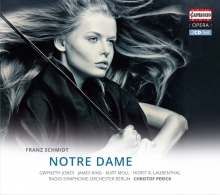 Franz Schmidt: Notre Dame
Opera Complete Recording
Jones · King · Moll · Laubenthal · RSO Berlin · Christof Perick
2CD · C5181 PC: 21 UPC: 845221051819
FRANZ SCHMIDT (1874-1939)
NOTRE DAME
Romantic Opera in 2 Acts
Text: Leopold Wilk, Franz Schmidt
- Gesamtaufnahme / Complete Recording -
GWYNETH JONES · JAMES KING · KURT MOLL
HORST R. LAUBENTHAL
RADIO-SYMPHONIE-ORCHESTER BERLIN
CHRISTOF PERICK
"Notre Dame" immediately evokes the hunchbacked bellringer, Quasimodo, and the films with C. Laughton and A Quinn; one remembers a gruesome, bloodthirsty tale from the late Middle Ages about deformed people, gypsies, villains, knights and priests. With their percise feel for the psychology of the plot, Franz Schmidt and his librettist Leopold Wilk condensed and modified the story and shifted its emphasis. In his novel The Hunchback of Notre Dame, Victor Hugo's prime intent was to portray 19th century Paris (with Notre Dame Cathedral as the symbolic main character) and to express his social concern for outcasts and the aesthetic and moral worth of ugliness. The opera is dominated not by Paris, not by Quasiomodo (of the five main characters, he has the smallest part), but by Esmeralda. She is at the centre oft the web of stories which make up the plot. The four principal male characters, Phoebus, Gringoire, the Archdeacon, and Quasimodo, have one thing in common – their love for Esmeralda. Men seem to be irresistibly attracted to her, even "bewitched". The lives of these four men are changed, and later destroyed, by their passion for Esmeralda. Meeting Esmeralda has disastrous consequences for all people involved. In her effect on men and the ensuing events, Esmeralda reminds one of Lulu. She is the innocent sister of child-woman Lulu. – However, Alban Berg was not to write his opera for another thirty years.
Also available:
Weitere Bilder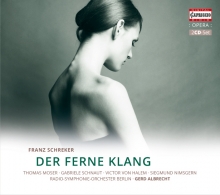 Franz Schreker: Der Ferne Klang
Opera Complete Recording
Moser · Schnaut · Von Halem · Nimsgern · RSO Berlin · Gerd Albrecht
2CD · C5178 PC: 21 UPC: 845221051789
FRANZ SCHREKER (1878-1934)
DER FERNE KLANG
Opera in 3 Acts · Text: Franz Schreker
- Gesamtaufnahme / Complete Recording -
THOMAS MOSER · GABRIELE SCHNAUT
VICTOR VON HALEM · SIEGMUND NIMSGERN
RADIO-SYMPHONIE-ORCHESTER BERLIN
GERD ALBRECHT
"Der ferne Klang came into being from a twofold need. As a young man I was in a ferment: youth and longing clamoured for self-expression. Longing – to attain an artistic ideal, fame, joy in life, a woman, love! And I wanted to create, wanted to mould everything into sound pictures […] Then in the nick of time I thought of myself, of the drama of growing up, of the folly of this life with its uncertain issue, of all the tragedies that harshly befall us and now and again – often only fleetingly – involve us in their confusion of scene. And I wrote Der ferne Klang out of myself, out of my own youthful experience. (Franz Schreker)
The sensational reception of Der ferne Klang at its first performance on 18 August 1912 in Frankfurt set on foot Schreker's unusually successful career as an opera composer: his works often achieved a higher number of performances than the music-dramas of Richard Strauss. His appointment as teacher at the Vienna Academy of Music enabled him to concentrate on further operas: Das Spielwerk und die Prinzessin (1909 -1912), Die Gezeichneten (1912 -1915) and Der Schatzgräber (1916 -1919). In 1920 Franz Schreker took over the direction of the Berlin High School for Music. He appointed lecturers there of the rank of Arthur Schnabel and Paul Hindemith. Violent political attacks forced Schreker in 1932 to resign his position as director. His work was suppressed and still remained largely forgotten for decades after the war.
Also available:
Weitere Bilder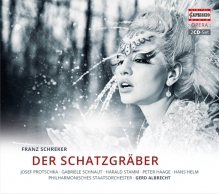 Franz Schreker: Der Schatzgräber
Opera Complete Recording
Protschka · Schnaut · Stamm · Haage · Philharmonisches Staatsorchester · Gerd Albrecht
2CD · C5175 PC: 21 UPC: 845221051758
LIVE FROM HAMBURG STATE OPERA
FRANZ SCHREKER (1878-1934)
DER SCHATZGRÄBER
Opera with a Prologue, 4 Acts and an Epilogue
- Gesamtaufnahme / Complete Recording -
JOSEF PROTSCHKA · GABRIELE SCHNAUT · HARALD STAMM
PETER HAAGE
PHILHARMONISCHES STATTSORCHESTER
GERD ALBRECHT

Franz Schreker's operas were among the most played works of the Weimar Republic. And, in fact, Der Schatzgräber was to become one of the most performed of all contemporay operas during the years of his time: in all 385 performances of the work are between 1920 – the year of the premiere – and 1932 in 50 different cities and productions. If these figures are compared with the 166 performances given to Alban Berg's Wozzeck between 1925 and 1936 in 29 different productions, then the popularity of schreker's opera is to be clearly recognized. Franz Schreker was almost exclusively a composer of operas – an almost singular case in the history of twentieth-century music – the reasons for which are to be found in his technique of musical composition. Schreker accepted and extended the independence of the individual harmonic (chordal) combination as a sonorous value in its own right as was first realized in Wagner's Tristan and Isolde. This is programmatically formulated in the Tristan - quotation occurring in the Interlude of Act III of Der Schatzgräber. As is also the case in the dramatic works of Wagner – certain tonal centres are utilized as "sonorous ciphers" for differing levels of dramatic meaning. Thus, in Der Schatzgräber the tone c sharp denotes the realm of illusion – the world of the treasure – while the tone d implies its opposite, the realm of reality or real life.
The work was however not only Schreker's most successful opera but also his last successful opera. Its later sudden loss of popularity coincides with the change in cultural climate of the year of 1924, a change which is documented in the fine arts by the transition from Expressionism to so-called New Objectivitiy (Neue Sachlichkeit) and on the political scene by the initial phase of economic consolidation in the young Republic.
Also available:
Weitere Bilder