cd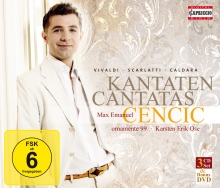 MAX EMANUEL CENCIC - Cantatas
Vivaldi · D. Scarlatti · Caldara
ornamente 99 · Karsten Eric Ose
3CD+Bonus DVD: C7142 PC: 22 UPC: 845221071428
Throughout the last few years, Max Emanuel Cencic has become one of the best
countertenors of his time, who delights both audiences and experts during his
performances. At an early age, he was already a member and a soloist with the
Vienna Boys' Choir, and he began his solo career as a soprano in 1992.
In 2001, he switched his vocal fach to become a countertenor.
His first albums he has released on Capriccio Label and now we present
3 recordings of the past in a new 3CD-package including also 1 Bonus-DVD
who shows the young singer in private athmosphere, with interviews and Video
Clips. His newer CD productions include, among others, Vivaldi's Il Farnace,
with Max Emanuel Cencic performing the leading role (to be released by EMI/
Virgin Classics), Vinci's L'Artaserse (to be released by EMI/ Virgin Classics 2012)
and Händel's Alessandro with Max Emanuel Cencic performing the leading role
(to be released by Decca in 2013 ). Max Emanuel Cencic will interpret the role of
Farnace at the Théâtre des Champs Elysées in Paris, the Opéra de Lausanne,
the Concertgebouw Amsterdam, the Musikfest Bremen, the Opéra National du
Rhin in Strasbourg and Mulhouse, the Grand Théâtre in Monaco and at the
Opera Royal in Versailles, among others.

Weitere Bilder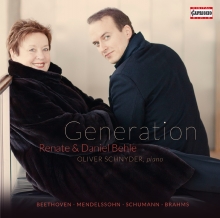 RENATE & DANIEL BEHLE - GENERATION -
Beethoven · Mendelssohn · Schumann · Brahms · Wagner
Oliver Schnyder, piano
C5148 PC: 21 UPC: 845221051482
That the children of famous singers later become singers themselves is a phenomenon that does not occur so seldom. In this respect, Renate and Daniel Behle find themselves in an illustrious line of ancestors: Christa Ludwig's parents were both singers, and throughout her life her mother remained her sole teacher (and was also the most important mentor for Renate Behle). Similarly, Willi Domgraf-Fassbaender was the only singing teacher of his daughter Brigitte Fassbaender. The Kollo family is meanwhile singing in at least the fourth generation, and the Viennese singer Ruthilde Boesch taught not only her son Christian, but also her grandson Florian. But the way to assuming the parents' profession is different every time. Something like an 'awareness of the guild' is probably the exception in classical singing.
In the meantime Renate Behle is officially retired, as she herself says. And even if she still performs major roles on the stage, her timetable is now generous enough to revive old passions with more free time. Indeed, now she can watch and hear how the next generation goes its way. Meanwhile, her son Daniel is in great demand as a tenor on the great opera and concert stages of the world. Both singers relate how their first joint recording came about.
Renate Behle: 'I have always wanted to avoid any appearance that Daniel makes a career or derives any advantages due to me, the established singer. Indeed, sometimes it seemed to me to be rather a disadvantage for Daniel that I was so well-known. For this reason, we have deliberately eschewed joint appearances. He was to make it alone – and that is just what he has done.'

Weitere Bilder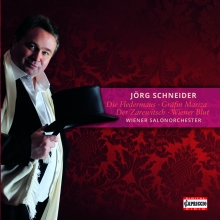 JÖRG SCHNEIDER - Famous Operetta Arias
Die Fledermaus · Der Zigeunerbaron · Wiener Blut · Gräfin Maritza · Der Bettelstudent · Paganini
Wiener Salonorchester
C5109 PC: 21 UPC: 845221051093
I think that operetta has much higher demands than is often considered. If one performs this genre on a high level of quality, then it is sometimes even more demanding than opera. (JÖRG SCHNEIDER, INTERVIEW 2012)

The Austrian tenor Jörg Schneider has enjoyed a career that has flourished in Europe and especially in Italy, where he sang in almost every important operahouse. He started his career in 1995 as member of the Staatstheater Wiesbaden. From 1997 on till 2000 he was member of the Deutsche Oper am Rhein Düsseldorf. As a freelancer he sang Belmonte at the Deutsche Oper Berlin, Tamino at the Opernhaus Zürich and at the Teatro Communale Firenze.
He sang Belmonte in "Entführung" under the baton of Zubin Mehta in Tel Aviv, "Kantate auf den Tod Haydns" from Luigi Cherubini under the baton of Riccardo Muti at the Musikverein in Vienna, and Jacquino in "Fidelio" under the baton of Claudio Abbado in Ferrara, Reggio Emilia, Madrid/ Teatro Real and Baden-Baden etc. On January 1st in 2008 Mr Schneider made his debut as Alfred in "Die Fledermaus" at the Vienna State Opera (he returned meanwhile as Tamino in "Zauberflöte", Narraboth in "Salome" and as Flamand in "Capriccio" opposite Renèe Fleming) and in January 2009 he collaborated for the first time with Maestro Christian Thielemann in Baden-Baden, Munich and Paris.


Weitere Bilder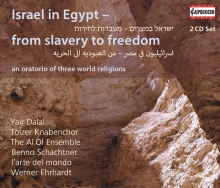 ISRAEL IN EGYPT from slavery to freedom
an oratorio of three world religions
YAIR DALAL · TÖLZER KNABENCHOR · THE AL OL ENSEMBLE · l'arte del mondo · WERNER EHRHARDT
C5151 (2CD-Set) PC: 22 UPC: 845221051512
"The best concert of Israel Festival 2011 – an evening of musical and human
brother hood, breaking national and relegious barriers" (Yon Feder, y net 2011)

"Israel in Egypt was a chain of climaxes –
a fantasy of a paradise (Chagai Chitron, Haaretz 2011)

This project has been created on the basis of the common history and roots of the three monotheistic religions Islam, Christianity and Judaism.
Israel in Egypt is one of the best-known and most popular oratorios by Georg Friedrich Handel. The exodus of the Jewish people and the reflections on it, as they are described in Israel in Egypt, are rendered both in the Jewish Torah and the Christian Bible (Book of Moses, Old Testament) and therefore form a substantial part of both religions. However, the role of the Torah (Judaism) and the five Books of Moses (Christianity) is also quite important in the Islamic tradition: Muslim believers are familiar with various suras of the Koran that show just how deeply the Koran itself is rooted in the Torah and the five Books of Moses; and, according to the Koran, the Prophet Mohammed's appearance is predicted in the Torah and in the five Books of Moses. The Torah and the five Books of Moses therefore form a hugely important spiritual basis for the three major monotheistic world religions.
For the musical and formal realisation of the concert project "Israel in Egypt – From Slavery to Freedom", musicians from the (Western) European Baroque tradition (Baroque orchestra and choir), and hence from a Christian background, are joined by musicians from Jewish and Muslim backgrounds. Apart from the Israeli oud player and violinist Yair Dalal, with whom the project concept is being developed, a Jewish cantor and several musicians from Arabic and Muslim cultures will also be involved. On the one hand, these musicians will enter into a musical concert dialogue with each other and, on the other hand, they will create individual musical pieces together. The idea is not so much a confrontation of musical and narrative levels, but rather a collective moulding of the story of Israel in Egypt. The basic musical form of Handel's oratorio and its nar rative structure will remain untouched, for the most parts.



Weitere Bilder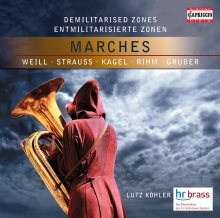 DEMILITARISED ZONES: Marches
KAGEL: 10 Marches to miss the victory · H.K.GRUBER: Demilitarised Zone · WEILL: Kanonensong ...
hr brass
C5121 PC: 01 845221051215
hr-brass
is not a marching band but the brass section of one of the great German symphony orchestras. But even an ensemble like this stands in the
centuries-old tradition of music, with "trumpets and drums" which, at least quantitatively, has its centre of gravity in the military and ceremonial sphere. Therefore it attracted the Frankfurt musicians to take a stand with their
own production on the subject of marches.
The music on the present CD reflects the diverse feelings which appear thereby. Some of the 20th-century compositions assembled here are to be understood against this background: in one way or another they react musically to the political misuse of music. Central to these are the 10 Marches to miss the victory by Mauricio Kagel. The unmilitarised zones by HK Gruber are islands of peace in a
chaotic sequence of the most varied march fragments that go from the Badenweiler March via Sousa's Washington Post march to the Hungarian march of Berlioz.



Weitere Bilder