cd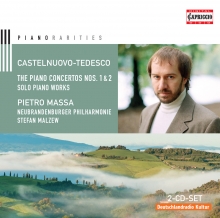 piano rarities - MARIO CASTELNUOVO-TEDESCO: Piano Concertos Nos.1 & 2
Solo Piano Works
Pietro Massa, piano Neubrandenburger Philharmonie · Stefan Malzew
2CD-Set C5156 PC: 21 (Special Price) UPC: 845221051567
Mario Castelnuovo-Tedesco (Florence 1895 – Beverly Hills 1968) was a composer and humanist. His life was characterized by a lasting tendency to discover himself as a component of ancient cultural traditions, first the Tuscan and then the Jewish one. On the other hand, he showed an inclination to withdraw from the historical present, on the one hand, due to his reserved disposition and, on the other, because of the tragic events that rocked his existence.
In 1939, he took his leave of his country and emigrated to the USA to safeguard the future of his own family and above all protect the lives of his two children. Arturo Toscanini and Jascha Heifetz, who had already performed his music several times, supported him in this difficult period and made a substantial contribution to him obtaining a position as the composer of film music with Metro Goldwyn Mayer.
The Piano Concertos in G major No. 1 op. 46 and in F major No. 2 op. 92 were written in 1927 and 1936/37 respectively; the latter presumably while preparing for exile.

Weitere Bilder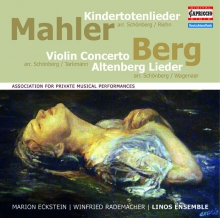 MAHLER: Kindertotenlieder BERG: Altenberg Lieder · Violinkonzert
Marion Eckstein Winfried Rademacher
LINOS ENSEMBLE
C5135 PC: 21 UPC: 845221051352
ASSOCIATION FOR PRIVATE MUSICAL PERFORMANCES: "Every glance can be expanded into a poem, and every sob into a novel' – Arnold Schoenberg's words on the works of the Expressionist period of the Viennese School describe the diction in the atonal works of his pupil Alban Berg. In 1918, a novel and up to today conceptionally exciting form of event was established with the Association for Private Musical Performances in Vienna. A dominant practice in the cultivation of repertoire was the artistically high-quality arrangement of large orchestral works for piano and smaller ensembles. These historical conditions served as the inspiration for this production with works by Gustav Mahler and Alban Berg, here in new interpretations by three composers of our time. Due to his supplements to Schoenberg's arrangements of Mahler orchestral songs, Rainer Riehn has gained a wealth of experience with the arrangement practice of the association and reinterprets Mahler's Kindertotenlieder. Alban Berg's Violin Concerto, a musical epitaph, was rearranged for the Linos Ensemble by the composer and arranger Andreas N. Tarkmann. Finally, the arrangement for chamber orchestra of Berg's Altenberg-Lieder goes back to the Danish composer and music theorist Diderik Wagenaar.
Weitere Bilder
Hörprobe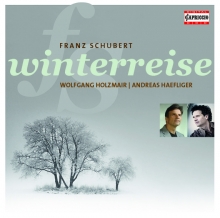 SCHUBERT: Winterreise
Wokfgang Holzmair
Andreas Haefliger, piano
C5149 PC: 21 UPC: 845221051499
For Schubert, the winter cold was less the expression of directly physical discomfiture than one of the mental state of inner isolation. Schubert seems personally to have identified with the fate of a wanderer full of restlessness.
This depression is not just melancholy or even sentiment. 'He was certainly not born a melancholic, but became one in this world, which he called miserable and had been poor and empty for him since his days at boarding school', Hans J. Fröhlich writes in his Schubert biography.
Wolfgang Holzmair performs in recitals throughout the world, including London, Lisbon, New York, Washington, at the Risör Festival (Norway), Bath Festival (UK), Menuhin Festival (Switzerland), Bregenz Festival and Carinthian Summer Festival (Austria), and in 2012 again in London, New York and Washington, as well as in Baltimore, Berkeley, Moscow, Oxford, Liège, etc.

Weitere Bilder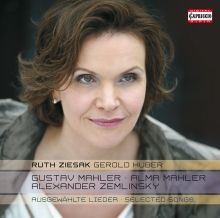 RUTH ZIESAK
Gustav Mahler · Alma Mahler · Alexander Zemlinsky
Ruth Ziesak, soprano Gerold Huber, piano
C5119 PC: 21 UPC: 845221051192
Wherever she goes and looks in the male world, she is the mistress and ruler', reports Gustav Klimt, with whom Alma, just 20 years old, fell in love in 1898, much to the chagrin of her mother. The list of admirers that accumulated in the course of Alma's following life reads like a 'Who's who' of the intellectual life of the time. In Heine's poem Ich wandele unter Blumen, which Alma set to music at a young age, she saw a mirror of her effect on the strong sex: 'Ich wandle unter Blumen/ Und blühe selber mit .. ('I stroll amongst flowers/And blossom myself, too…). One of those that were strolling along was Alexander Zemlinsky. Enraptured by Alma's lively charm, he spontaneously decided to give a present to the almost stranger: 'Miss, […] a booklet of songs is being published. May I dedicate it to you?' The presentee was 'rigid with joy' at the Five Songs op. 7 dedicated to her and requested the composer to become her teacher.
When she presented him some of her songs – sadly, only a tiny fraction of her compositions is preserved today – Zemlinsky saw 'a lot of talent but little skill'.
Caught in the dichotomy between defiant rebellion and yearned-for submission – it was no coincidence that Alma felt attracted to dominant and usually considerably older men – she ultimately opted for Gustav Mahler and against composition.
'Und unter ihren Zweigen,/ da bin ich ganz allein,/ da bin ich ganz mein eigen,/
ganz nur dein' ('And under its branches/ there I am completely alone/ there I am completely myself/ utterly yours') are the final words of the song Waldseligkeit.


Weitere Bilder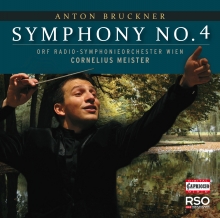 ANTON BRUCKNER: Symphony No. 4 "Romantic"
(1878/1880 Version by Leopold Nowak)
ORF Radio-Symphonieorchester Wien · Cornelius Meister
C5150 PC: 21 UPC: 845221051505
It is the only symphony by Bruckner that the composer himself gave a subtitle 'The Romantic'. However, in keeping with usage at the time it does not refer to 'Romanticism' in today's understanding of the word, but to an aesthetic attitude of the desire for the pervasion of art and nature. Hence, the French horns setting the tone from the outset can be interpreted programmatically: through them the spirit wafts through nature. For over an hour Anton Bruckner composed music in such an orgiastic and cheerful, Dionysian and Apollonian, voluptuous and boastful tone.
The ORF (Austrian Radio and Television) Vienna Radio Symphony Orchestra is a top orchestra of world renown; the orchestra defines itself in the Vienna orchestral tradition. The Orchestra emerged from the former Austrian Radio Orchestra in 1969. Cornelius Meister, born in Hanover in 1980, has been principal conductor and artistic director of the ORF Radio Symphony Orchestra Vienna since September 2010. With the RSO Vienna he holds regular concerts in Vienna Musikverein and Vienna Konzerthaus. Extensive tours have taken him to Japan and throughout Europe, including to Salzburg Festival. Together with the RSO Vienna, he is present on European radio, European television, on CDs and in the internet.

Tour Dates:

Dienstag, 29. Januar 2013
KÖLN: Kölner Philharmonie, Bischofsgartenstr. 1, 50667 Köln / 20.00

Mittwoch, 30. Januar 2012
Berlin: Philharmonie Berlin, Herbert-von-Karjan-Str.1, 10785 Berlin
20.00

Donnerstag, 31. Januar 2012
Hannover: Congress Centrum, Theodor-Heuss-Pl.1-3, 30175 Hannover / 20.00

Freitag, 01. Februar 2012
Düsseldorf: Tonhalle, Ehrenhof 1, 40479 Düsseldorf / 20.00

Sonntag, 03. Februar 2012
Dortmund: Konzerthaus, Brückstr.21, 44135 Dortmund / 16.00

Montag, 04. Februar 2012
Heilbronn: Kongresszentrum Harmonie, Allee 28, 74072 Heilbronn / 19.30

Dienstag, 05. Februar 2012
Frankfurt: Alte Oper Frankfurt, Opernplatz, 60313 Frankfurt / 20.00



Weitere Bilder