cd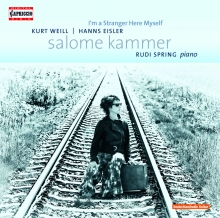 SALOME KAMMER - I'm a Stranger Here Myself
Songs by Hanns Eisler & Kurt Weill
Salome Kammer, voice Rudi Spring, piano
C5154 PC: 21 UPC: 845221051543
The composers Kurt Weill and Hanns Eisler and the poet Bert Brecht all experienced the fascinations and abysses of foreign lands and exile. What good fortune it must have been in Berlin in the 1920s when Weill and Brecht had such great success with their songs always telling of far-away countries and unknown things. At the time, they created an unmistakable style that has remained unique up to today with its mixture of popular music, supreme musical sophistication and political claims.
Salome Kammer's repertoire cannot be classified into subjects and genres. It covers avant-garde song and virtuoso vocal experiments, classical melodrama, song recitals, Dada poetry, vocal jazz or Broadway songs. Salome Kammer has held the international premieres of many works of New Music.


Weitere Bilder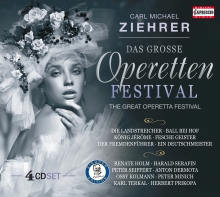 CARL MICHAEL ZIEHRER - Operetta Festival
Die drei Wünsche · Ball bei Hof · Die Landstreicher · König Jérôme · Der Fremdenführer · Ein Deutschmeister · Der Husarengeneral ...
RENATE HOLM · HARALD SERAFIN · SYLVANA DUSSMANN · PETER SEIFFERT · ANTON DERMOTA · KURT EQUILUZ · OSSY KOLMANN · PETER MINICH · JÖRG SCHNEIDER
4CD-Box · C7147 PC: 22 UPC: 845221071473
CARL MICHAEL ZIEHRER (1843-1922)
The folksy creation of Ziehrer's operetta melodies can be seen as a transition between the opera-like stage works of the ageing Strauss and the young Lehar, full of completely new performance elements and electrifying impulses. Ziehrer's operetta blend falls back on Old Viennese elements of popular theatre, passing them on to a new generation (Benatzky, Lehar, Oskar Strauss).
This 4CD-Set presents for the first time an impressive Selection of Ziehrer's more than 20 Operetta Masterpieces, including rear recordings from the Austrian Radio Archive and new Productions of the Carl Michael Ziehrer Society in Vienna.

Weitere Bilder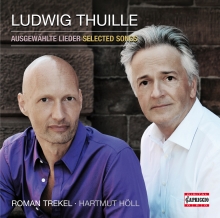 LUDWIG THUILLE: Selected Songs
(1861-1907)
Roman Trekel, baritone Hartmut Höll, piano
C5058 PC: 21 UPC: 845221050584
For until a short time ago Ludwig Thuille was a shadowy figure encountering the reader of yellowed books. The reference to his historical importance as head of the 'Munich School' did not mean much, It is only Thuille's correspondence with Richard Strauss that has kept his erstwhile significance alive. Signs of their friendship were the almost contemporaneous settings of specific poems, how good it would have been to be present when Thuille and Strauss presented their Lieder to each other and discussed their findings.
In the meantime, the situation has changed, and an updated discography would cover recordings of many of Thuille's works. Campaigned for his Lieder, now, Roman Trekel and Hartmut Höll are for the first time presenting an album in the instrumentation for male voice and piano.

Weitere Bilder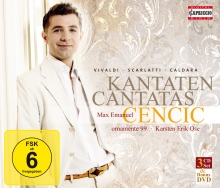 MAX EMANUEL CENCIC - Cantatas
Vivaldi · D. Scarlatti · Caldara
ornamente 99 · Karsten Eric Ose
3CD+Bonus DVD: C7142 PC: 22 UPC: 845221071428
Throughout the last few years, Max Emanuel Cencic has become one of the best
countertenors of his time, who delights both audiences and experts during his
performances. At an early age, he was already a member and a soloist with the
Vienna Boys' Choir, and he began his solo career as a soprano in 1992.
In 2001, he switched his vocal fach to become a countertenor.
His first albums he has released on Capriccio Label and now we present
3 recordings of the past in a new 3CD-package including also 1 Bonus-DVD
who shows the young singer in private athmosphere, with interviews and Video
Clips. His newer CD productions include, among others, Vivaldi's Il Farnace,
with Max Emanuel Cencic performing the leading role (to be released by EMI/
Virgin Classics), Vinci's L'Artaserse (to be released by EMI/ Virgin Classics 2012)
and Händel's Alessandro with Max Emanuel Cencic performing the leading role
(to be released by Decca in 2013 ). Max Emanuel Cencic will interpret the role of
Farnace at the Théâtre des Champs Elysées in Paris, the Opéra de Lausanne,
the Concertgebouw Amsterdam, the Musikfest Bremen, the Opéra National du
Rhin in Strasbourg and Mulhouse, the Grand Théâtre in Monaco and at the
Opera Royal in Versailles, among others.

Weitere Bilder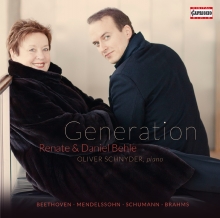 RENATE & DANIEL BEHLE - GENERATION -
Beethoven · Mendelssohn · Schumann · Brahms · Wagner
Oliver Schnyder, piano
C5148 PC: 21 UPC: 845221051482
That the children of famous singers later become singers themselves is a phenomenon that does not occur so seldom. In this respect, Renate and Daniel Behle find themselves in an illustrious line of ancestors: Christa Ludwig's parents were both singers, and throughout her life her mother remained her sole teacher (and was also the most important mentor for Renate Behle). Similarly, Willi Domgraf-Fassbaender was the only singing teacher of his daughter Brigitte Fassbaender. The Kollo family is meanwhile singing in at least the fourth generation, and the Viennese singer Ruthilde Boesch taught not only her son Christian, but also her grandson Florian. But the way to assuming the parents' profession is different every time. Something like an 'awareness of the guild' is probably the exception in classical singing.
In the meantime Renate Behle is officially retired, as she herself says. And even if she still performs major roles on the stage, her timetable is now generous enough to revive old passions with more free time. Indeed, now she can watch and hear how the next generation goes its way. Meanwhile, her son Daniel is in great demand as a tenor on the great opera and concert stages of the world. Both singers relate how their first joint recording came about.
Renate Behle: 'I have always wanted to avoid any appearance that Daniel makes a career or derives any advantages due to me, the established singer. Indeed, sometimes it seemed to me to be rather a disadvantage for Daniel that I was so well-known. For this reason, we have deliberately eschewed joint appearances. He was to make it alone – and that is just what he has done.'

Weitere Bilder