cd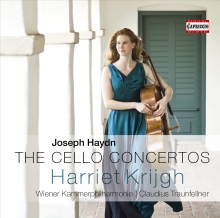 HARRIET KRIJGH - Haydn: Cello Concertos 1 & 2
Wiener Kammerphilharmonie · Claudius Traunfellner

C5139 PC: 21 UPC: 845221051390
After her highly appraised Debut CD with French Music for cello and piano (Capriccio C5131), Harriet Krijgh presents on her 2nd CD her virtuosity and technical finesse with the new recording of both Cello Concertos by Joseph Haydn.
"…and with great joy the soloist also brought her cello concert in D-sharp: the 21 year old Dutch Harriet Krijgh, at the moment still a student in Vienna, mastered it with technical finesse, pleasantly singing tone and skilled, engaging stage presence. Remarkable is also her surety in the highest positions." Wiener Zeitung, Austria 2012 04 27

In view of her competitors, how does the merely 21 year old Dutch cellist realize the fact that her cello sounds a trace rounder, fuller and more poetic?
Der Spiegel – Kulturspiegel

"What else to wait for, when at the mere age of 20 she can already play all the pieces on her beautifully sounding Hendrik Jacobs Cello? What is more, Harriet Krijgh never shows off her virtuosity, yet is always in track with the music. Her warm, unforced and at the same time strong tone is seductive, her interpretation sensitive and thoughtful. Bravissimo!"
Mirjam Jessa – Ö1 Radio

Harriet Krijgh works with much compassion and displays that already at age 21 one can understand a great deal of passionate expression…
Radio Berlin Brandenburg 2012 03 29

Weitere Bilder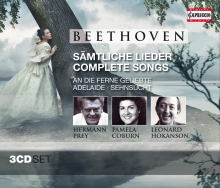 Ludwig van Beethoven
Complete Songs for Voice and Piano
Hermann Prey · Pamela Coburn · Leonard Hokanson, piano
3CD-Set · C5140 PC: 22 UPC: 845221051406
· Best Selling CD from Capriccio Back-Cataloge
Re-release of the complete songs for voice and piano with famous HERMANN PREY and PAMELA COBURN.
· Rarities like 8 Lieder op.52, Lobkowitz-Cantata, Der Jüngling in der Fremde
· Complete Booklet with Original Song Texts
· Special Price!

Weitere Bilder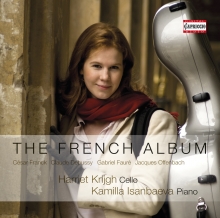 HARRIET KRIJGH - The French Album
Harriet Krijgh, cello · Kamilla Isanbaeva, piano
Franck · Debussy · Fauré · Offenbach
C5131 PC: 21 UPC: 845221051314

César Franck (1822–1890): Sonata for piano and violin (cello) in A Major Op.14
Claude Debussy (1862–1918): Sonata for cello and piano in d minor
Gabriel Fauré (1845–1924): Sicilienne Op. 78 · Èlègie Op.24 · Après un rêve
Jacques Offenbach (1819–1880): Les larmes de Jacqueline Op.76 No.2

HARRIET KRIJGH, Violoncello / cello
KAMILLA ISANBAEVA, Klavier / piano

The Debut Album of a young and exciting artist:
Harriet Krijgh was born in the Netherlands in 1991. She received her first cello lessons at the age of five. In 2000 she was admitted to the class of young talents at the Utrecht School of Arts, where she was taught by Lenian Benjamins. In 2004 Harriet moved the centre of her life to Austria to study cello performance with Lilia Schulz-Bayrova and Jontscho Bayrov at the Konservatorium Wien University.
Between 2008 and 2010 Harriet participated in several competitions. Among others, she received a first prize and the audience award at the Dutch Prinses Christina Concours, a first prize with excellence at the Austrian national competition Prima la Musica, a first prize and the Nicole Janigro Prize at the international Antonio Janigro Cello Competition in Croatia, as well as a first prize at the Fidelio competition in Vienna. As soloist artist Harriet is a member of the Live Music Now Foundation, which was established by Yehudi Menuhin.
Harriet Krijgh performs on a cello built by Hendrik Jacobs in Amsterdam in 1690,
which was placed at her disposal by the Dutch Nationaal Muziekinstrumentenfonds in
2011.

Weitere Bilder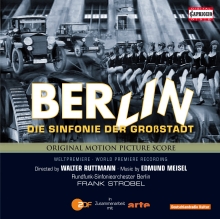 BERLIN - DIE SINFONIE DER GROßSTADT
ORIGINAL MOTION PICTURE SCORE · Music: Edmund Meisel
Rundfunk-Sinfonieorchester Berlin · Frank Strobel
C5067 PC: 21 UPC: 845221050676
ORIGINAL

MOTION

PICTURE

SCORE

(World Premiere Recording)
first complete new recording of the original score
Erste vollständige Neu-Aufnahme der Originalpartitur

After the successful release of the Original Motion Picture Score "Metropolis" (Capriccio CD C5066) another Masterpiece of the "Stummfilm-Era" will be realeased. Again in Co-Operation with the German Television

ZDF

and

ARTE

this movie is now completely renewed as movie and as well with a completely new recorded soundtrack after the original score by the composer Edmund Meisel (1894-1930). Film Music Expert and conductor Frank Strobel delivers a full range and deep impressive soundtrack with the Radio-Sinfonieorchester Berlin for the new TV-, Cinema-, and CD-Version.
Weitere Bilder
CONCERTO KÖLN - ITALIAN CONCERTOS
Francesco Durante · Antonio Vivaldi · Leonardo Leo · Giovanni Battista Pergolesi

2CD-Set: C5132 PC: 21 UPC: 845221051321
"The genius of the musician subjects the whole universe to his art … So if you
wish to know if any spark of this consuming fire burns in you, then fly in haste to Naples and hear the masterpieces of Leo, Durante, Jomelli and Pergolesi." (Jean-Jacques Rosseau, 1767).
Beside some matserpieces of Antonio Vivaldi, these 2CD-Set includes rarities of neapolitanian composers, like Francesco Durante or Leonardo Leo. Compositions rediscovered and recorded by the musicians of CONCERTO KÖLN with worldwide appreciation and honour.

Weitere Bilder