cd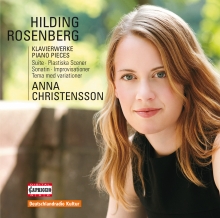 HILDING ROSENBERG (1892-1985)
Piano Rarities: Suite (1924); Plastiska scener (1921); Sonatin (1949); Tema med variationer (1941)
ANNA CHRISTENSSON, Klavier / piano
C5116 PC: 21 UPC: 845221051161
Until the middle of the 20th century most Swedish composers refused to accept new tendencies coming from Paris, Vienna or Berlin. However, also advocates of an avant-garde tonal language existed. Of all people, the 1892 born son of a poor couple looking after the herbary of a convent of nuns in the rural idyll of Bosjökloster, should emerge as the key player of Swedish Modernity: Hilding Rosenberg. He considered himself as pioneer, even as a guiding light for others. And indeed, the composer's merits are out of all proportion to his quite low name recognition nowadays.
The performance of Schönberg's chamber symphony op. 9 in Dresden was a sort of arousal for him. He himself later described it as a "distressing experience, which seemed to turn the common understanding how to compose music upside down." From this impulse his first string quartet was born, a piece which is said to have introduced atonality to Sweden.
Hilding Rosenberg became one of the most important personalities of Swedish musical life of the 20th century. Besides composing his own music, he made contemporary music as well as old masters available to the public as a conductor – he had studied with Hermann Scherchen among others. From 1932 until 1934 he even managed the Royal Swedish Opera in Stockholm. His personal contacts were far-reaching. Among the dramatists working with him were Bertold Brecht and the elderly Thomas Mann, whom Rosenberg visited in the USA. Numerous official awards and distinctions mark the meritorious career of a man, who on paper is considered the "father of Swedish modernity", but whose fame as composer is still somewhat secret.

Weitere Bilder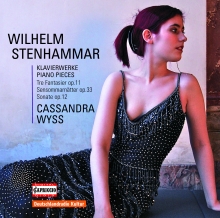 WILHELM STENHAMMAR (1871-1927)
Piano Rarities: Tre Fantasier op.11; Sensommarnätter op.33; Sonate op.12
CASSANDRA WYSS, Klavier / piano
C5117 PC: 21 UPC: 845221051178
Quite a few foreign visitors of the Stockholm Konserthuset probably ask themselves whom the bust, which is placed directly next to the entrance of the royal box, depicts. It is a portrayal of Wilhelm Stenhammar, whose prominent placing absolutely reflects the central role which Stenhammar played in the musical history of Sweden, even if outside of Scandinavia he is far less well known than his colleagues and friends Carl Nielsen and Jean Sibelius.
Already at the age of 23 Stenhammar cut a dash as pianist and composer: The premiere of his first piano concert in Stockholm in 1894 was such a great success that Richard Strauss put the piece on stage with the Berlin Philharmonics and Stenhammar as soloist shortly afterwards. The pieces dating from the 1890s mirror the adoption of European music tradition, whereas since 1900 a more reflexive element can be observed. From 1909 onwards, Stenhammar eventually focused on an intensive study of the counterpoint, which should lead the way out of the compositional crisis, which had affected the whole of Europe and had caused Arnold Schönberg in Vienna to abandon the major-minor tonality.



Weitere Bilder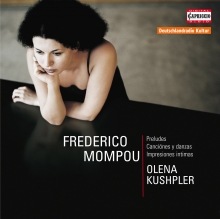 FREDERIC MOMPOU
Piano Rarities: Preludes, Canciónes y danzas, Impresiones intimas
OLENA KUSHPLER, Klavier / piano
C5115 PC: 21 UPC: 845221051154
"To achieve a maximum level of expressiveness with a minimum of means" was the defined goal of the pianist and composer Frederic Mompou y Dencausse, who was born in Barcelona in 1893.
ENRIQUE GRANADOS was convinced of young Mompou's talent and wrote a letter of recommendation to the conservatoire in Paris. In Paris, the focal point of the musical avant-garde in 1900, Mompou, who was characterized by timidity and neurasthenic upsets, at first did not manage to successfully deliver his letter of recommendation. Instead – and this must be considered a stroke of luck – he met Ferdinand Motte-Lacroix, who did not only become a splendid piano teacher for him but also a close friend and later an interpreter of his compositions.
Motte-Lacroix was exited by his student's talent and introduced him to the artistic circles of the city, in which at that time the outstanding Maurice Ravel and the compositions of the Groupe des Six caused sensations. This was an environment in which the timid Mompou would have been completely lost without the help of his friend and supporter. A concert on 15th of April 1921, in which Ferdinand Motte-Lacroix presented the works of his student to the public, became a rousing success for Mompou and was his breakthrough. For the next 20 years he lived as a celebrity in the French metropolis, interrupted only by short breaks.

Weitere Bilder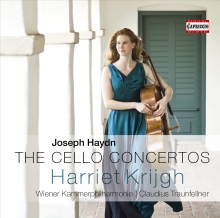 HARRIET KRIJGH - Haydn: Cello Concertos 1 & 2
Wiener Kammerphilharmonie · Claudius Traunfellner

C5139 PC: 21 UPC: 845221051390
After her highly appraised Debut CD with French Music for cello and piano (Capriccio C5131), Harriet Krijgh presents on her 2nd CD her virtuosity and technical finesse with the new recording of both Cello Concertos by Joseph Haydn.
"…and with great joy the soloist also brought her cello concert in D-sharp: the 21 year old Dutch Harriet Krijgh, at the moment still a student in Vienna, mastered it with technical finesse, pleasantly singing tone and skilled, engaging stage presence. Remarkable is also her surety in the highest positions." Wiener Zeitung, Austria 2012 04 27

In view of her competitors, how does the merely 21 year old Dutch cellist realize the fact that her cello sounds a trace rounder, fuller and more poetic?
Der Spiegel – Kulturspiegel

"What else to wait for, when at the mere age of 20 she can already play all the pieces on her beautifully sounding Hendrik Jacobs Cello? What is more, Harriet Krijgh never shows off her virtuosity, yet is always in track with the music. Her warm, unforced and at the same time strong tone is seductive, her interpretation sensitive and thoughtful. Bravissimo!"
Mirjam Jessa – Ö1 Radio

Harriet Krijgh works with much compassion and displays that already at age 21 one can understand a great deal of passionate expression…
Radio Berlin Brandenburg 2012 03 29

Weitere Bilder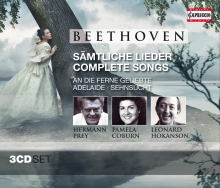 Ludwig van Beethoven
Complete Songs for Voice and Piano
Hermann Prey · Pamela Coburn · Leonard Hokanson, piano
3CD-Set · C5140 PC: 22 UPC: 845221051406
· Best Selling CD from Capriccio Back-Cataloge
Re-release of the complete songs for voice and piano with famous HERMANN PREY and PAMELA COBURN.
· Rarities like 8 Lieder op.52, Lobkowitz-Cantata, Der Jüngling in der Fremde
· Complete Booklet with Original Song Texts
· Special Price!

Weitere Bilder