cd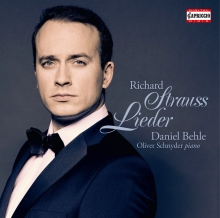 DANIEL BEHLE - RICHARD STRAUSS
Lieder
Daniel Behle, tenor · Oliver Schnyder, piano
C5110 PC: 21 UPC: 845221051109
Seen from the outside it may seem as if everything has gone pretty fast; four CDs of songs within two years, a Zauberflöten-recording under René Jacobs and in addition, continuous opera- and concert engagements. In reality, what may now seem as a »breakthrough« has been prepared by Daniel Behle over the long term. Also, the plan to record pieces by Richard Strauss after songs by Schubert, Schumann, Beethoven, Grieg, Brittan and Trojahn has developed over the years. Thus, the singer systematically broadened his repertoire on the stages of opera houses and concert halls as well as on recordings. »I am a lyrical Tenor and as such, one just gets introduced to the Schöne Müllerin, later to the Dichterliebe and eventually to the Winterreise (although I allow myself more time for that one) in the course of one's studies. At the moment I am quite happy to have opened another page besides the lightly lyrical: to dip into the late romantic era and to discover the outgoing, active and hands-on aspects of the period.«

Weitere Bilder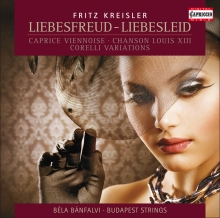 FRITZ KREISLER
Liebesfreud - Liebesleid · Caprice Viennoise · Corelli Variations
Budapest Strings · Béla Bánfalvi
C5120 PC: 01 UPC: 845221051208
For decades, Fritz Kreisler left the music world under the
misapprehension that he had found compositions by Cartier, Couperin, Dittersdorf,
Padre Martini, Porpora, Pugnani, Stamitz or Vivaldi in monasteries and castle archives and arranged these himself for violin and piano. He left questions as to the original sources unanswered. A number of friends knew all about how the public had been misled, but did not consider this to be deceitful or ruthless and had kept quiet: Efrem Zimbalist, Jascha Heifetz, Georges Enescu, and chiefly Kreisler's accompaniment on the piano, Franz Rupp, were some of these.. For they all knew the nature of this charming, almost casually relaxed violinist, who, for David Oistrach, was the "summit of violin art". At sixty, he then publicly and freely admitted that he had played a superb joke around thirty years before: he had concealed most of his own works behind the names of masters of the 17th and 18th centuries (he had generously omitted to draw the royalties payable to the author). The piano-accompanied miniatures (arranged here for strings) which caused offence to many a duped critic sixty years ago are part of the relaxing "Encores" of every great violinist today.


Weitere Bilder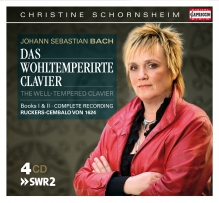 BACH: THE WELL-TEMPERED CLAVIER
Books I & II / Complete Recording
Christine Schornsheim, harpsichord
4CD · C7115 PC: 22 UPC: 845221071152
Christine Schornsheim, one of the most eminent specialists for historic keyboard instruments, has finalised her recordings of Bach's Wohltemperirtes Clavier on the Ruckers-Harpsichord at the Musée Unterlinden in Colmar this year. Only a few specimens by the celebrated harpsichord maker from 17th century Antwerp have survived and are still fully functional today.
"It is the most beautiful instrument I know, a nightingale: modest on the outside but its sound bedazzles. It is earthy, warm and singing, with a bright responsiveness; it has everything that is essential for Bach's polyphonic music."
Christine Schornsheim on the Ruckers-Harpsichord in Colmar

Weitere Bilder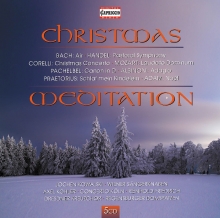 CHRISTMAS MEDITATION
Vienna Boys' Choir · Jochen Kowalski · Concerto Köln · Regensburger Domspatzen · Academy Of London

C5CD · C7073 UPC: 845221070735
COMPACT DISC 1
J.S.BACH / CH.GOUNOD: Ave Maria · HÄNDEL: Pastorale
TRADITIONAL: Süßer die Glocken nie klingen · VIVALDI: Largo

COMPACT DISC 2
BACH: Air · PRAETORIUS: Kindelein zart · MANFREDINI: Christmas Concerto · HÄNDEL: Largo · TRADITIONAL: O Jesulein zart

COMPACT DISC 3
MOLTER: Concerto Pastorale · ALBINONI: Adagio · MOZART: Laudate Dominum VIVALDI: The Four Seasons (Winter) · CORELLI: Christmas Concerto

COMPACT DISC 4
PACHELBEL: Canon in D · BRUCKNER: Ave Maria · ADAM: Noel
GABRIELI: Symphoniae sacrae II · BACH: Christmas Oratorio (Aria)

COMPACT DISC 5
SCHUBERT: Heilig, heilig · REGER: Mariä Wiegenlied · RHEINBERGER: Ave Maria · BRUCH: Jubilate, Amen · GRUBER: Stille Nacht, heilige Nacht

WIENER SÄNGERKNABEN · JOCHEN KOWALSKI · CONCERTO KÖLN
REGENSBURGER DOMSPATZEN · REINHOLD FRIEDRICH
DRESDNER KREUZCHOR · ACADEMY OF LONDON · NEUES BERLINER
KAMMERORCHESTER · THOMANERCHOR LEIPZIG · CAPPELLA COLONIENSIS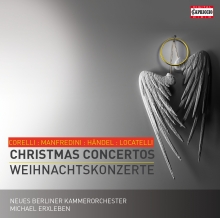 CHRISTMAS CONCERTOS
Corelli / Manfredini / Händel / Locatelli
Neues Berliner Kammerorchester · Michael Erxleben
1CD · C5108 PC: 01 845221051086
"Fatto per la notte di Natale" ("made for Christmas Eve") is how numerous Italian
composers of the Baroque period headed those orchestral concertos in which a
pastoral occupied a firm place as a symbol of intimate shepherds' music. Although it is natural to suppose that this pastoral and Christmas music was particularly cultivated in Rome, the home of this style was in the north of Italy, in Bologna. From 1670 the city fathers maintained in their gigantic basilica of San Petronio a small, full-time salaried orchestra which on ecclesiastical high holidays was reinforced to more than a hundred players by amateurs and musicians from the neighbourhood, and provided an incomparable splendour of sound in the divine service. The composers of the Bolognese school were either maestri di cappella at San Petronio or took part as musicians in this ensemble like ARCANGELO CORELLI, GIUSEPPE TORELLI or FRANCESCO MANFREDINI.


Weitere Bilder