cd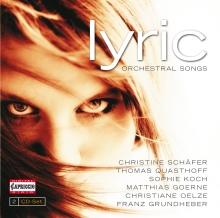 lyric - ORCHESTRAL SONGS
Christine Schäfer Thomas Quasthoff Matthias Goerne Sophie Koch Christiane Oelze Franz Grundheber
Orchestral Songs by: Mahler · Wolf · Zemlinsky · Schreker
C5101 · 2CD PC: 21 UPC: 845221051017
Not only a celebration of distinguished voices: This 2CD-album of recordings taken from the legendary Capriccio-Archive joins some of the world's leading singers together and simultaneously presents a broad repertoire of known and unknown songs for orchestra as well as some songs yet to be discovered.

Besides the Rückert-Lieder and the Lieder eines fahrenden Gesellen by GUSTAV MAHLER, also the Symphonischen Gesänge op.20 by ALEXANDER ZEMLINSKY, the 5 Gesänge für tiefe Stimme by FRANZ SCHRECKER and HUGO WOLF's 5 Orchesterlieder are assembled on this recording, as are the hitherto little known musical versions of lyrics by EGON WELLESZ and ERNST BLOCH.

Renowned conductors such as CHRISTOPH ESCHENBACH, GERD ALBRECHT or GARY BERTINI guarantee the quality of the artistic realisation of these complex scores.

Weitere Bilder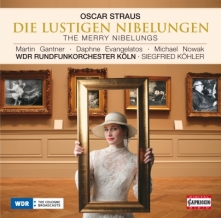 DIE LUSTIGEN NIBELUNGEN · THE MERRY NIBELUNGS
OSCAR STRAUS
Gantner · Evangelatos · Nowak · WDR RUNDFUNKORCHESTER KÖLN · SIEGFRIED KÖHLER
C5088 · 1CD PC: 21 UPC: 845221050881


Burleske Operette in drei Akten / Burlesque operetta in three acts von / by Rideamus
"At last! The reform of operetta!", exulted the critics after the first performance
of the Merry Nibelungs on 12 November 1904 in the Carltheater, Vienna. Johann
Strauss had been dead for five years and had taken the golden era of operetta to
the grave with him. And then there appeared in Vienna one Oscar Straus, and renewed this most Viennese of all genres with a work aimed at parodying contemporary society, as in the old Paris works of Offenbach. There every punch-Iine was laughed at, every musical allusion understood. There was equal laughter at the alliterative persiflage and the musical quotations from Richard Wagner's solemnity, there was laughter at dragon's-blood sausage and the dachshund dressed as a dragon, and at the parody of the Nibelung verse metre. And Oscar Straus's overflowing melodic richness gave enjoyment. Yet what lay, barely concealed, behind it all was also accepted: an attack on military display and Germanic arrogance.

Weitere Bilder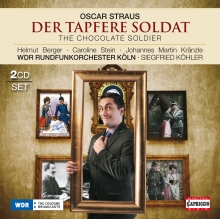 DER TAPFERE SOLDAT · THE CHOCO- LATE SOLDIER
OSCAR STRAUS
Kränzle · Stein · Dickie · Berger · WDR RUNDFUNKORCHESTER KÖLN · SIEGFRIED KÖHLER
2CD-Set · C5089 PC: 21 UPC: 845221050898
Oscar Straus was indeed born in Vienna (on 6 March 1870) but was not related to the famous Straus dynasty. In 1907 bis Waltz Dream, with Lehar's two years older Merry Widow, launched a worldwide Viennese fashion, until even Broadway reeled to the waltz step; and with his Chocolate Soldier, after a comedy by G.B. Shaw, he not only conquered England and the USA but, with his dramaturgically new musical form, is considered there a pioneer of the musical. There are plenty of evergreens, from operetta, from movies, lots of chansons and songs! "It is true – he once said – I am writing popular tunes to be chanted in the streets, but only in the choicest of streets".


Weitere Bilder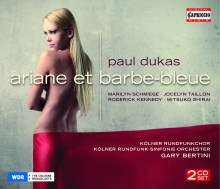 ARIANE ET BARBE-BLEUE
PAUL DUKAS

2CD-Set · C7112 PC: 22 UPC: 845221071121
Opera Complete Recording
Marilyn Schmiege · Roderick Kennedy Jocelyn Taillon · Mitsuko Shirai Monique Baudoin · KÖLNER RUNDFUNKCHOR · KÖLNER RUNDFUNK-SINFONIE-ORCHESTER · GARY BERTINI, conductor

OPÉRA EN TROIS ACTES
Oper in 3 Akten · Opera In 3 Acts
Text: Maurice Maeterlinck
Gesamtaufnahme · Complete Recording

Numerous authors have worked with this story in all possible ways – as fairy-tale, narrative, novel, drama, opera. Among the best-known works are the fairy-tale by Ludwig Bechstein, the puppet show by Georg Trakl, the narrative by Max Frisch as well as several pieces of music theatre. These include Jacques Offenbach's operetta, the opera "Ariane et Barbe-Bleu" by Paul Dukas – as well as the probably most prominent work – the opera "Bluebeard's Castle" by Béla Bartók.
The opinion on Bluebeard and his last wife – who is the culprit? who is the victim? – has changed over the centuries since Perrault published his fairy-tale in Paris 1697.
However, a very similar analysis of the "battle of the sexes" was already presented by Paul Dukas in 1907, ten years before the premiere of Béla Bartók's work, in "Ariane et Barbe-Bleue", his tree-act opera which was first performed at the Opera-comique in Paris. Thereby the composer set a text by the Belgian writer Maurice Maeterlinck to music.
The composer, who was known to be a slow worker, took seven years to set the libretto to music, at the same time altering it to represent his own vision. The result was greeted with great and ungrudging approval, especially by fellow composers and musicians. Vincent d'Indy thought that "Ariane" was the most important piece of music drama since Wagner; Karol Szymanowski, Ferruccio Busoni or Bruno Walter considered "Ariane et Barbe-Bleu" to be the most important French opera besides Debussy's "Pelleas et Melisande". Certainly, Dukas' music for "Bluebeard" has way less exotic flair than Debussy's "Pelléas".

From the archives of Westdeutsche Rundfunk Köln this Studio Recording, produced in 1986, is now presented for the first time on CD. Former chief conductor Gary Bertini had a very good cast on his hand to do this interesting production.



Weitere Bilder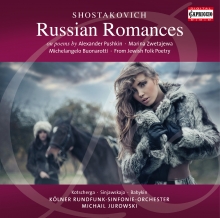 RUSSIAN ROMANCES
for solo voices and orchestra
DMITRI SHOSTAKOVICH
2CD-Set · C5095 PC: 21 UPC: 845221050959
FOMINA · SINJAWSKAJA · KASATSCHUK · KOTSCHERGA
KÖLNER RUNDFUNK-SINFONIE-ORCHESTER
MICHAIL JUROWSKI, conductor

3 Romances on poems by Alexander Pushkin op.46a
for bass and small orchestra
From Jewish folk poetry op.79
Song cycle for soprano, alto, tenor and orchestra
Six Romances on Verses by English Poets opus 62 / 140
for bass and small orchestra
Suite on verses by Michelangelo Buonarroti op.145
for bass and orchestra
6 Romances on words by Japanese poets op.21
for tenor and orchestra
6 Poems by Marina Tsvetayeva op.143a
for alto and small orchestra
For a composer of vocal music in a totalitarian state such as the former
Soviet Union, the very choice of poet was itself a declaration of commitment which – quite apart from the content – was linked to the life of the writer and above all his ideological evaluation by the Party. In his song-cycles, Shostakovich, a virtuoso in eloquent rhetoric behind the facade of beating the drum for Communism, made masterly use of the symbolic resonances of names such as Pushkin who hated the Tsars, or the Futurist Alexander Blok, or Shakespeare's timeless critique of power, or the Jewish culture that was so brutally suppressed after the War.
Weitere Bilder