cd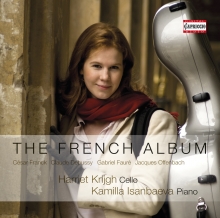 HARRIET KRIJGH - The French Album
Harriet Krijgh, cello · Kamilla Isanbaeva, piano
Franck · Debussy · Fauré · Offenbach
C5131 PC: 21 UPC: 845221051314

César Franck (1822–1890): Sonata for piano and violin (cello) in A Major Op.14
Claude Debussy (1862–1918): Sonata for cello and piano in d minor
Gabriel Fauré (1845–1924): Sicilienne Op. 78 · Èlègie Op.24 · Après un rêve
Jacques Offenbach (1819–1880): Les larmes de Jacqueline Op.76 No.2

HARRIET KRIJGH, Violoncello / cello
KAMILLA ISANBAEVA, Klavier / piano

The Debut Album of a young and exciting artist:
Harriet Krijgh was born in the Netherlands in 1991. She received her first cello lessons at the age of five. In 2000 she was admitted to the class of young talents at the Utrecht School of Arts, where she was taught by Lenian Benjamins. In 2004 Harriet moved the centre of her life to Austria to study cello performance with Lilia Schulz-Bayrova and Jontscho Bayrov at the Konservatorium Wien University.
Between 2008 and 2010 Harriet participated in several competitions. Among others, she received a first prize and the audience award at the Dutch Prinses Christina Concours, a first prize with excellence at the Austrian national competition Prima la Musica, a first prize and the Nicole Janigro Prize at the international Antonio Janigro Cello Competition in Croatia, as well as a first prize at the Fidelio competition in Vienna. As soloist artist Harriet is a member of the Live Music Now Foundation, which was established by Yehudi Menuhin.
Harriet Krijgh performs on a cello built by Hendrik Jacobs in Amsterdam in 1690,
which was placed at her disposal by the Dutch Nationaal Muziekinstrumentenfonds in
2011.

Weitere Bilder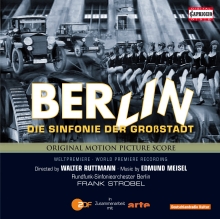 BERLIN - DIE SINFONIE DER GROßSTADT
ORIGINAL MOTION PICTURE SCORE · Music: Edmund Meisel
Rundfunk-Sinfonieorchester Berlin · Frank Strobel
C5067 PC: 21 UPC: 845221050676
ORIGINAL

MOTION

PICTURE

SCORE

(World Premiere Recording)
first complete new recording of the original score
Erste vollständige Neu-Aufnahme der Originalpartitur

After the successful release of the Original Motion Picture Score "Metropolis" (Capriccio CD C5066) another Masterpiece of the "Stummfilm-Era" will be realeased. Again in Co-Operation with the German Television

ZDF

and

ARTE

this movie is now completely renewed as movie and as well with a completely new recorded soundtrack after the original score by the composer Edmund Meisel (1894-1930). Film Music Expert and conductor Frank Strobel delivers a full range and deep impressive soundtrack with the Radio-Sinfonieorchester Berlin for the new TV-, Cinema-, and CD-Version.
Weitere Bilder
CONCERTO KÖLN - ITALIAN CONCERTOS
Francesco Durante · Antonio Vivaldi · Leonardo Leo · Giovanni Battista Pergolesi

2CD-Set: C5132 PC: 21 UPC: 845221051321
"The genius of the musician subjects the whole universe to his art … So if you
wish to know if any spark of this consuming fire burns in you, then fly in haste to Naples and hear the masterpieces of Leo, Durante, Jomelli and Pergolesi." (Jean-Jacques Rosseau, 1767).
Beside some matserpieces of Antonio Vivaldi, these 2CD-Set includes rarities of neapolitanian composers, like Francesco Durante or Leonardo Leo. Compositions rediscovered and recorded by the musicians of CONCERTO KÖLN with worldwide appreciation and honour.

Weitere Bilder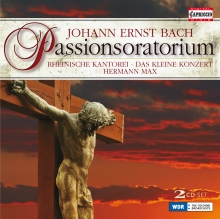 JOHANN ERNST BACH (1722-1777)
Passionsoratorium / Passion Oratorio (1764)
Rheinische Kantorei · Das Kleine Konzert · Hermann Max
2CD-Set: C5122 PC: 21 UPC: 845221051222



Passionsoratorium (1764)
für Sopran, Alt, Tenor, Bass, Chor, 2 Flöten, 2 Oboen, 2 Fagotte,
2 Hörner, Streicher und Basso continuo
Passion Oratorio (1764)
for soprano, alto, tenor, bass, chorus, 2 flutes, 2 oboes, 2 bassoons,
2 horns, strings and continuo

Das Vertrauen der Christen auf Gott
Eine Ode auf den 77. Psalm für Tenor, Chor und Orchester
An Ode on the 77th Psalm for tenor, chorus and orchestra

Meine Seele erhebt den Herrn
Motette für Soli, vierstimmigen Chor, Streicher und Basso continuo
Motet for solo voices, four-part chorus, strings and continuo

BARBARA SCHLICK, MARTINA LINS, Sopran / soprano · SILKE WEISHEIT, Alt / contralto · DAVID CORDIER, Countertenor · CHRISTOPH PRÉGARDIEN, MARTIN SCHMITZ, Tenor
STEPHEN VARCOE, HANS-GEORG WIMMER, Bass
RHEINISCHE KANTOREI · DAS KLEINE KONZERT
HERMANN MAX, Dirigent / conductor

One of the peculiarities of today's concert world is that from the rich tradition provided by the former genre of the Passion of Christ set to music, only two works have been able to establish temselves permanently – the two monumental Passions by Johann Sebastian Bach. The Passion Oratorio by Johann Ernst Bach, the nephew, godson and pupil of Johann Sebastian, is one of the lesser-known works. To this day, J.E. Bach's own vocal works have not been documented, indeed, they have not even been completely catalogued. It is possible with some difficulty to trace about 20 compositions. In order to be able to correctly assess his musical achievement, reference must also be made to the other music of Johann Ernst Bach's day and age. Despite his isolation in Eisenach in Thuringia, he was in no way cut off from the contemporary musical developments taking place in the large musical centres of Berlin, Dresden and Hamburg. With his explicit commitment to sacred music, Johann Ernst Bach occupies an extremely isolated position among the Protestant German composers of the second half of the 18th century. For Carl Philipp Emanuel and Wilhelm Friedemann Bach, for example, the production of sunday cantatas was
one of the more tiresome duties associated with their professional existence. On this point, Johann Ernst Bach took a very different view. Although the religious works of both Telemann and J. S. Bach were, in his opinion, "admirable masterpieces", he strongly criticised the decay of sacred music during his own generation and demanded that this be counteracted by "artistic and regular styles of composition".



Weitere Bilder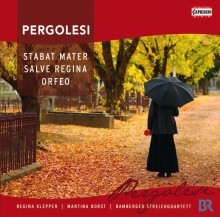 STABAT MATER SALVE REGINA · ORFEO
Giovanni Battista Pergolesi
Klepper · Borst · Bamberger Streichquartett
C5130 PC: 01 UPC: 845221051307


Stabat Mater
für Sopran, Mezzosopran, Streicher und Orgel (1736)
for soprano, mezzo-soprano, strings and organ
Salve Regina
für Mezzosopran, Streicher und Basso continuo (1736)
for mezzo-soprano, strings and continuo
Orfeo
Kantate für Sopran, Streicher und Basso continuo
Cantata for soprano, strings and continuo

REGINA KLEPPER, Sopran / soprano
MARTINA BORST, Mezzosopran / mezzo-soprano
BAMBERGER STREICHQUARTETT
STEFAN ADELMANN, Kontrabass / double-bass
BERTHOLD HÖPS, Cembalo & Orgel / harpsichord and organ

GIOVANNI BATTISTA PERGOLESI is one of those extraordinary musical figures who must be credited both with being outstanding creative geniuses and dying an untimely death. In his life-story, as in his epoch-making work, he has much in common with Mozart and Richard Wagner even spoke of him as a "génie supérieur". What is more, only five years in all were granted him for creative composition before he succumbed at an early age to an insidious tuberculosis. Scarcely anyone, perhaps, has described Pergolesi's vocal works more splendidly and with more understanding than the philosopher and pedagogue Jean-Jacques Rousseau, author of the Dictionnaire de musique that was extremely widespread in the 19th century, when he wrote: "Here everything contributes to deepening the effect of the text: the harmony serves only to shape it more forcefully, the accompaniment embellishes it without distorting it. in a word, the whole work of art simultaneously communicates one melody to the ear and only one idea to the mind." This CD offers 3 Masterpieces recorded by the long time Duo REGINA KLEPPER and MARTINA BORST, accompanied by the BAMBERG STRING QUARTET.



Weitere Bilder