cd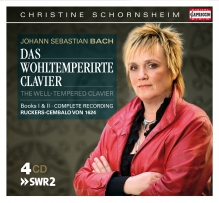 BACH: THE WELL-TEMPERED CLAVIER
Books I & II / Complete Recording
Christine Schornsheim, harpsichord
4CD · C7115 PC: 22 UPC: 845221071152
Christine Schornsheim, one of the most eminent specialists for historic keyboard instruments, has finalised her recordings of Bach's Wohltemperirtes Clavier on the Ruckers-Harpsichord at the Musée Unterlinden in Colmar this year. Only a few specimens by the celebrated harpsichord maker from 17th century Antwerp have survived and are still fully functional today.
"It is the most beautiful instrument I know, a nightingale: modest on the outside but its sound bedazzles. It is earthy, warm and singing, with a bright responsiveness; it has everything that is essential for Bach's polyphonic music."
Christine Schornsheim on the Ruckers-Harpsichord in Colmar

Weitere Bilder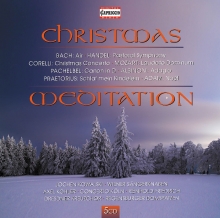 CHRISTMAS MEDITATION
Vienna Boys' Choir · Jochen Kowalski · Concerto Köln · Regensburger Domspatzen · Academy Of London

C5CD · C7073 UPC: 845221070735
COMPACT DISC 1
J.S.BACH / CH.GOUNOD: Ave Maria · HÄNDEL: Pastorale
TRADITIONAL: Süßer die Glocken nie klingen · VIVALDI: Largo

COMPACT DISC 2
BACH: Air · PRAETORIUS: Kindelein zart · MANFREDINI: Christmas Concerto · HÄNDEL: Largo · TRADITIONAL: O Jesulein zart

COMPACT DISC 3
MOLTER: Concerto Pastorale · ALBINONI: Adagio · MOZART: Laudate Dominum VIVALDI: The Four Seasons (Winter) · CORELLI: Christmas Concerto

COMPACT DISC 4
PACHELBEL: Canon in D · BRUCKNER: Ave Maria · ADAM: Noel
GABRIELI: Symphoniae sacrae II · BACH: Christmas Oratorio (Aria)

COMPACT DISC 5
SCHUBERT: Heilig, heilig · REGER: Mariä Wiegenlied · RHEINBERGER: Ave Maria · BRUCH: Jubilate, Amen · GRUBER: Stille Nacht, heilige Nacht

WIENER SÄNGERKNABEN · JOCHEN KOWALSKI · CONCERTO KÖLN
REGENSBURGER DOMSPATZEN · REINHOLD FRIEDRICH
DRESDNER KREUZCHOR · ACADEMY OF LONDON · NEUES BERLINER
KAMMERORCHESTER · THOMANERCHOR LEIPZIG · CAPPELLA COLONIENSIS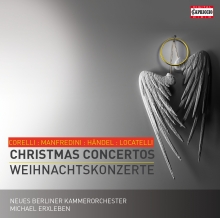 CHRISTMAS CONCERTOS
Corelli / Manfredini / Händel / Locatelli
Neues Berliner Kammerorchester · Michael Erxleben
1CD · C5108 PC: 01 845221051086
"Fatto per la notte di Natale" ("made for Christmas Eve") is how numerous Italian
composers of the Baroque period headed those orchestral concertos in which a
pastoral occupied a firm place as a symbol of intimate shepherds' music. Although it is natural to suppose that this pastoral and Christmas music was particularly cultivated in Rome, the home of this style was in the north of Italy, in Bologna. From 1670 the city fathers maintained in their gigantic basilica of San Petronio a small, full-time salaried orchestra which on ecclesiastical high holidays was reinforced to more than a hundred players by amateurs and musicians from the neighbourhood, and provided an incomparable splendour of sound in the divine service. The composers of the Bolognese school were either maestri di cappella at San Petronio or took part as musicians in this ensemble like ARCANGELO CORELLI, GIUSEPPE TORELLI or FRANCESCO MANFREDINI.


Weitere Bilder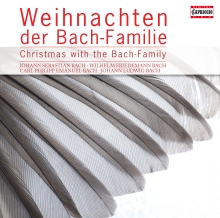 WEIHNACHTEN der BACH-FAMILIE / CHRISTMAS WITH THE BACH-FAMILY
Johann Sebastian Bach / Wilhelm Friedemann Bach / Carl Philipp Emanuel Bach / Johann Ludwig Bach

1CD · C5105 PC: 01 UPC: 845221051055
In addition to JOHANN SEBASTIAN BACH, regarded by many as the greatest composer of all times, other members of this widely ramified family took up the profession of the composer: first of all his sons CARL PHILIPP EMANUEL BACH, JOHANN CHRISTOPH FRIEDRICH, JOHANN CHRISTIAN and WILHELM FRIEDEMANN. This CD offers Christmas Motets and Highlights from Christmas Cantatas written by these and other members of one of the most productive families in music history.

Weitere Bilder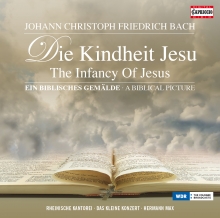 Die Kindheit Jesu - The Infancy Of Jesu
Johann Christoph Friedrich Bach
Rheinische Kantorei · Das Kleine Konzert · Hermann Max
1CD · C5104 PC: 21 UPC: 845221051048



A Biblical picture
Text: Johann Gottfried Herder (1744-1803)
Oratorio for Solo Voices, Four-part Chorus and Orchestra
Johann Christoph Friedrich Bach, the second youngest son of
Johann Sebastian Bach, was active at the Count of Schaumburg-Lippe's court in Bückeburg from 1750 until his death on 26 January 1795. When Friedrich came to the North German capital in 1750, shortly before his 18th birthday, he demonstrably until then had no other teacher than his father. In Bückeburg, however, he immediately became acquainted with a music style that he could scarcely have encountered previously: the music of the Italian operas and cantatas, as well as the instrumental compositions, of the high Baroque. The ensuing appointment to Bückeburg of the poet and theologian Johann Gottfried Herder in 1771 represented for Friedrich a further artistic stimulus which particularly enriched his church music. Towards the end of 1772 Herder wrote the poem
Die Kindheit Jesu
, to which he gave the subtitle "a Biblical picture". He sent the poem as a Christmas gift to his bride Caroline Flachsland in Darmstadt: at the same time he entrusted the text to Johann Christoph Friedrich Bach to set to music. The completed work was performed for the first time on 11 February 1773 at the Bückeburg court.
Weitere Bilder