cd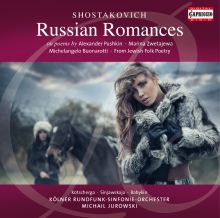 RUSSIAN ROMANCES
for solo voices and orchestra
DMITRI SHOSTAKOVICH
2CD-Set · C5095 PC: 21 UPC: 845221050959
FOMINA · SINJAWSKAJA · KASATSCHUK · KOTSCHERGA
KÖLNER RUNDFUNK-SINFONIE-ORCHESTER
MICHAIL JUROWSKI, conductor

3 Romances on poems by Alexander Pushkin op.46a
for bass and small orchestra
From Jewish folk poetry op.79
Song cycle for soprano, alto, tenor and orchestra
Six Romances on Verses by English Poets opus 62 / 140
for bass and small orchestra
Suite on verses by Michelangelo Buonarroti op.145
for bass and orchestra
6 Romances on words by Japanese poets op.21
for tenor and orchestra
6 Poems by Marina Tsvetayeva op.143a
for alto and small orchestra
For a composer of vocal music in a totalitarian state such as the former
Soviet Union, the very choice of poet was itself a declaration of commitment which – quite apart from the content – was linked to the life of the writer and above all his ideological evaluation by the Party. In his song-cycles, Shostakovich, a virtuoso in eloquent rhetoric behind the facade of beating the drum for Communism, made masterly use of the symbolic resonances of names such as Pushkin who hated the Tsars, or the Futurist Alexander Blok, or Shakespeare's timeless critique of power, or the Jewish culture that was so brutally suppressed after the War.
Weitere Bilder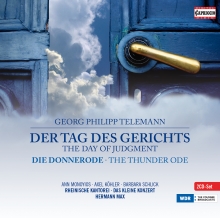 DER TAG DES GERICHTS DIE DONNERODE
THE DAY OF JUDGMENT
GEORG PHILIPP TELEMANN
2CD-Set · C5098 PC: 21 UPC: 845221050980
MONOYIOS · SCHLICK · KÖHLER · JOCHENS · SCHRECKENBERGER
RHEINISCHE KANTOREI · DAS KLEINE KONZERT
HERMANN MAX, conductor

DER TAG DES GERICHTS · THE DAY OF JUDGMENT
Ein Singgedicht in vier Betrachtungen · A poem for singing in four reflections
DIE DONNERODE · THE THUNDER ODE
Kantate in 2 Teilen für 5 Solostimmen, Chor und Orchester
Cantata in 2 Parts for 5 solo voices, choir and orchestra

"For the Lord himself shall descend from heaven with a shout, with the voice of the archangel and with the trump of God, and the dead in Christ shall rise first". In addition Telemann lets the thunder, the wrath of God, rumble darkly and menacingly. The Lord, the Judge, approaches. The Day of Judgment begins. With these signals a gripping musical event starts that opens a rich, symbol-laden world of the most beautiful, inspiring, often individual artistic accomplishments of word and music to anyone who is prepared to come to terms with it. The group begun in 1755 of Telemann works of his old age includes, several sacred oratorios in an absolutely logical sequence – Der Tod Jesu, Die Auferstehung, Die Auferstehung und Himmelfahrt Jesu, Der Tag des Gerichts - as well as the two-part Donner-Ode, a cantata on Psalm models on the occasion of the Lisbon earthquake. . In all these late works, always wrestling with a compositional design suitable to the subject and the text, Telemann in each case strikes a specific note inherent in the work; he employs his compositional means in a way that develops an unmistakably individual character for the work. In The Day of Judgment Telemann is also the master of colour, of superior use of instruments.
Thus it becomes clear that The Day of Judgment is not, for instance, only a monument in the history of the German oratorio, but introduces the theological discussions and eschatological thought of that time.

Weitere Bilder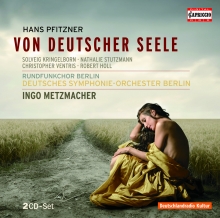 VON DEUTSCHER SEELE
HANS PFITZNER
Romantic Cantata in 2 parts · Text: Joseph von Eichendorff
C5092 · 2CD PC: 21 UPC: 845221050928
Solveig Kringelborn · Nathalie Stutzmann
Christopher Ventris · Robert Holl · Rundfunkchor Berlin
Deutsches Symphonie-Orchester · INGO METZMACHER

The composer's image – in his time, he was an avowed anti-Semite – repeatedly sparked fierce discussions in the feature pages of national and international newspapers. Art, music, and especially the musicians in National Socialist Germany became the direct focus of new analyses and current evaluations.
Although we may not forget and certainly should not suppress the political context, if we approach the actual work, a prosaic analysis reveals that the word "German" does not appear once in the entire opus, and that Pfitzner took the emotionally charged title of a folk song collection "Aus deutscher Seele" from the German-Jewish author Ludwig Jacobowski.
The Eichendorff cantata "Von deutscher Seele" was composed in 1921 and – this is also one of the contradictions – is not ideology set to music, but abstains from any kind of resentment. The work is subtitled " a romantic cantata". Pfitzner's tonal language was certainly rooted in the 19th century, but it by all means branches out onto "new pathways", to paraphrase Robert Schumann, whom Pfitzner greatly admired.

INGO METZMACHER had the support of a first-class ensemble of soloists for his Berlin performances. Despite all polemic and widely varying discourses: the aim of this CD release is to document the opus itself in its entirety, regardless of how discussions of it may continue.

Weitere Bilder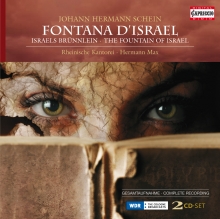 FONTANA D'ISRAEL THE FOUNTAIN OF ISRAEL
JOHANN HERMANN SCHEIN
RHEINISCHE KANTOREI HERMANN MAX
2CD-Set · C5069 PC: 21 UPC: 845221050690
COMPLETE RECORDING
By the time Johann Hermann Schein, cantor at St. Thomas, Leipzig, put his signature to the preface to his new collection of religious vocal compositions entitled FONTANA D'ISRAEL, (The Fountain of Israel, Selected Edifying Quotations from the Old and New Testaments) dedicated to the Council of Leipzig, he was already able to look back on a considerable and varied compositional œuvre. But it was the only one of Schein's religious works to be reissued as long as twenty-two years after his death, and it is still regarded as an "exceptional" artistic achievement, placing Schein among the leading early-Baroque German composers, alongside Michael Praetorius and Heinrich Schütz.
The Israelsbrünnlein contains twenty-six vocal compositions, which, as Schein writes, "can be comfortably played on their own with lively voice and instruments, and also on the organ/harpsichord" and to which he had added a figured bass, admittedly dispensible in most cases.
Weitere Bilder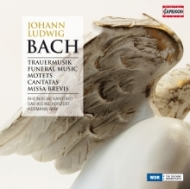 JOHANN LUDWIG BACH
RHEINISCHE KANTOREI · DAS KLEINE KONZERT HERMANN MAX

3CD-Set · C5080 PC: 22 UPC: 845221050805
CD 1: Trauermusik · Funeral Music
CD 2: Motetten · Motets
CD 3: Missa sopra · Cantatas
The Meiningen Hofkapellmeister Johann Ludwig Bach is one of the members of the widely ramified family of musicians who did not pay much attention to secular fame and contented themselves with leading a secluded and industrious life, so that they quickly tended to sink into obscurity. That was perhaps why, as early as 1754, Carl Philipp Emanuel Bach pleaded that those relatives not be forgotten: "It would be impossible to understand why such good men are so little known beyond their fatherland unless one remembers that those honest Thuringians were so satisfied with their fatherland and their situation that they did not even want to venture far beyond the same to seek their fortune elsewhere. Very little of Johann Ludwig Bach's presumably quite extensive musical oeuvre has survived – just under two dozen sacred cantatas, about a dozen motets, a mass, a large funeral composition, a secular homage and an instrumental work of doubtful authenticity. The cantatas in particular have drawn the attention of scholars, since no fewer than eighteen of them have come down to us via Johann Sebastian Bach, who performed them in 1726, his third year of office as Thomaskantor in Leipzig.
Weitere Bilder