cd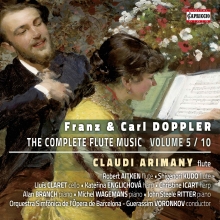 FRANZ & CARL DOPPLER EDITION 5/10
The Complete Flute Music Vol. 5/10
Claudi Arimany · Robert Aitken · Shigenori Kudo · Lluís Claret · Kateřina Englichová · Christine Icart · Alan Branch · Michel Wagemans · John Steele Ritter · Orquestra Simfònica de l´Òpera de Barcelona · Guerassim Voronkov
C5299 PC: 21 UPC: 845221052991
"Souvenir de Prague", Op.24 Duo Concertante sur des Motifs Bohémiens for two flutes and piano (F&C) · Fantasie über das Lied "Mutterseelenallein" von Alb.Braun Op.41 (F) for flute and piano · "Mazurka de Salon", Op.16 (F) for flute and piano · Morceaux favoris sur "Die Zauberflöte" opéra de W.A.Mozart (F)(WPR) for solo flute with piano ad libitum · Harfentrio". Nocturno (F)(WPR) for flute, cello and harp · Potpourri sur "Hunyadi László" opéra hongroise de F.Erkel ©(WPR) for piano and flute · Duo sur "Norma" opéra de V.Bellini (F)(WPR) for two solo flutes · Andante (F)(WPR) for flute and piano · Variations sur un Air Hongrois (F or C)(WPR) for flute and piano · Fantasie über Motive aus der Oper "Casilda" von Ernst II (Doppler & Zamara) (F)(WPR) for flute, harp and orchestra (original cc.1855 Doppler orchestral version)
C = Carl Doppler / F=Franz Doppler / WPR=World premiere recording
The Doppler brothers played a dominant role in the Imperial-Royal Monarchy's musical life as composers, conductors, musicians and orchestral soloists. They were on good terms with acknowledged artists of the era, such as Ferenc Liszt and Ferenc Erkel, as well as Jozsef Bajza, director of the Budapest National Theatre.
This is the fifth release in a set of 10 CDs comprising the Dopplers' complete music for flute(s), including various arrangements. Flautist Claudi Arimany spent decades researching this project, inspiring many famous musicians to become involved in its realisation.


Weitere Bilder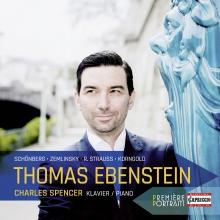 Premiere Portraits: Thomas Ebenstein
SCHÖNBERG · ZEMLINSKY · STRAUS · KORNGOLD
Charles Spencer, piano
C3007 PC: 01 UPC: 845221030074
Capriccio's "Première Portraits" CD-Edition supports young, talented artists by making their debut CDs available to a worldwide audience. This new release presents Thomas Ebenstein, who was born in Carinthia in Austria in 1979 and has been a member of the Vienna State Opera since the 2012/13 season. He has played a number of roles at the Salzburg Festival, including that of Pedrillo (The Abduction from the Seraglio). He has also appeared on a number of DVD performances for Arthaus Musik. These include David (The Mastersingers from Nuremberg), Steersman (The Flying Dutchman), Dancing Master (Ariadne on Naxos), Truffaldino (The Love for Three Oranges) and Alfred (The Bat).
Weitere Bilder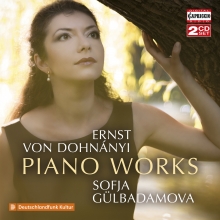 ERNST VON DOHNÁNIY (1877 - 1960)
SOLO PIANO WORKS
SOFJA GÜLBADAMOVA, piano
2CD-Set · C5332 PC: 21 UPC: 845221053325
COMPACT DISC 1
Winterreigen – Zehn Bagatellen / Ten Bagatelles op. 13 (1905)
Klavierstücke / Piano Pieces op. 2 (1896/1897)
Klavierstücke / Piano Pieces op. 41
COMPACT DISC 2
Albumblatt F-Dur / in F major (1900)
Gavotte & Musette H-Dur / in B major (1898)
Fünf Humoresken in Form einer Suite op. 17 (1907)
Five Humoresques in the form of a suite op. 17 (1907)
Vier Rhapsodien op. 11 / Four Rhapsodies op. 11 (1904)
Dohnányi's piano works are representative of the late romantic era, with sets of character pieces reminiscent of Brahms' late piano works. Sofja Gülbadamova, a prize winner of many international competitions, has been hailed by the press for her poetic interpretations, profound musicality, and an astonishingly varied sound palette. For many years now, she has been a champion of the music of this unjustly neglected composer.



Weitere Bilder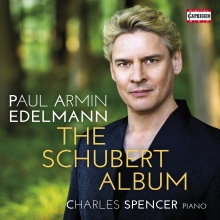 PAUL ARMIN EDELMANN
The Schubert Album
Paul Armin Edelmann, baritone · Charles Spencer, piano
C5331 PC: 21 UPC: 845221053318
Bei dir allein, op. 95 Nr. 2, D 866 · Halt!, op. 25 Nr. 3, D 795 · Der Neugierige, op. 25 Nr. 6, D 795 · An mein Herz, D 860 · Im Frühling, op. 101 Nr. 1, D 882 · Auf der Bruck, op. 93 Nr. 2, D 853 · Die Sterne, op. 96 Nr. 1, D 939 · Der Strom, D 565 · Tiefes Leid, D 876 · Auflösung, D 807 · Am Fenster, op. 105 Nr. 3, D 878 · Über Wildemann, op. 108 Nr. 1, D 884 · Prometheus, D. 674 · Atys, D 585 · Rastlose Liebe, op. 5 Nr. 1, D 138 · Greisengesang, op. 60 Nr. 1, D 778
Der Leiermann, op. 89 Nr. 24, D 911

Baritone Paul Armin Edelmann, son of the celebrated bass-baritone Otto Edelmann, presents his personal selection of Schubert songs on this, his fourth album for Capriccio: "The title we had in mind was On Fierce Roads. Many things can be fierce, from storms to life battering you. It's a broad field. But they are all agitated pieces, and not very melancholic." The international success he enjoys as a Lied interpreter can be appreciated once more with this new CD.
Weitere Bilder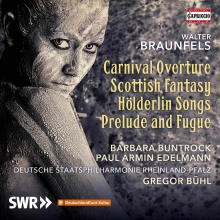 WALTER BRAUNFELS
Carnival Overture op. 22 · Two Hölderlin Songs op. 27 · Scottish Fantasy op. 47 · Prelude and Fugue op. 36
BARBARA BUNTROCK · PAUL ARMIN EDELMANN · DEUTSCHE STAATSPHILHARMONIE RHEINLAND-PFALZ · GREGOR BÜHL
C5308 PC: 21 845221053080
Walter Braunfels is a composer whose music died twice: Once when the Nazis declared his music "degenerate art". Then again when post-war Germany had little use for the various schools of tonal music; when the arbiters of taste considered any form of romantic music – almost the whole pre-war aesthetic – to be tainted. This 5th release of Capriccio's Braunfels Edition shows again his large range of colorful music. From his first success in 1908 (Carnival Overture), a still unknown virtuoso Viola Concerto (Scottish Fantasy) to a strictly structured Prelude and Fugue – Braunfels Music is worth be discovered in our days.

Weitere Bilder