cd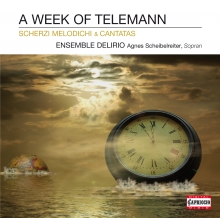 A WEEK OF TELEMANN
SCHERZI MELODICHI & CANTATAS
Ensemble Delirio Agnes Scheibelreiter, soprano
1CD · C5057 PC: 21 UPC: 845221050577
The Scherzi melodichi of 1734 contain seven suites named after the days of the week. The programmatic idea, which is stated on the cover sheet and in the foreword, is to provide music for every-day to entertain the visitors of Bad Pyrmont (in today's Lower Saxony), back then one of Europe's most popular spas. The structure of the Fortsetzung des Harmonischen Gottesdienstes (1731/32) also follows a calendrical principle. The young Ensemble DELIRIO put a programme together, which features each day of the week in at least one of the compositions. The selection of the pieces is based on two cycles by Georg Philipp Telemann.
Weitere Bilder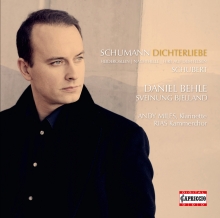 DANIEL BEHLE
SCHUMANN: Dichterliebe
SCHUBERT: Lieder
1CD · C5086 PC: 21 UPC: 845221050867
DANIEL BEHLE, Tenor · SVEINUNG BJELLAND, Klavier · ANDY MILES, Klarinette · RIAS-KAMMERCHOR
Nach der viel gelobten Einspielung der "Schönen Müllerin" präsentiert Daniel Behle mit der "Dichterliebe" einen weiteren großen Liedzyklus der Romantik. Dass er sich den Vergleichen vieler Einspielungen nicht scheuen braucht beweißen die Kritiken seiner vorangegangenen CD-Produktionen. Neben Schumanns Liedzyklus sind auch Perlen an Schubert-Liedern zu hören, so "Der Hirt auf dem Felsen" mit dem gefeierten Klarinettisten ANDY MILES und die "Nachthelle" mit dem RIAS-KAMMERCHOR.
Weitere Bilder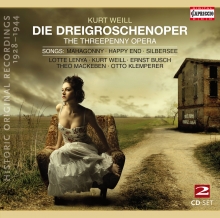 KURT WEILL
DIE DREIGROSCHENOPER · O MOON OF ALABAMA
Historic Original Recordings (1928-1931)
2CD-Set · C5061 PC: 21 UPC: 845221050614
LOTTE LENYA & KURT WEILL · KAPELLE DER STAATSOPER BERLIN · OTTO KLEMPERER · LEWIS RUTH BAND & THEO MACKEBEN ….
Something valuable is presented here. Between 1928 and 1932 there appeared, on 20 different labels, altogether more than 40 black discs with Dreigroschenoper songs, vocal recordings as well as instrumental versions and dance arrangements. The present CD offers a representative selection from these. Recordings that appeared between December 1928 and December 1930, with various members of the original cast at the Schiffbauerdamm. Most of them are here reissued complete for the first time.The 2nd CD now gathers together shellac recordings from other Weill works of the years 1927-33. They are joined, as further rarities, by two American record productions by the Weill-Lenya pair of artists from the years 1943/44.
Weitere Bilder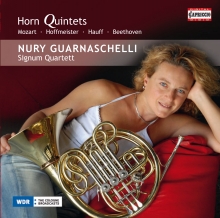 HORN QUINTETS
NURY GUARNASCHELLI, horn · SIGNUM QUARTETT
MOZART · HAUFF · HOFFMEISTER · BEETHOVEN
C5059 · 1CD PC: 21 UPC: 845221050591
Born in Santa Fee (Argentinia) the young NURY GUARNASCHELLY is one of the most beloved french horn player of our times. She was 1st solo horn player at the Gustav Mahler Chamber Orchstra under the direction of Claudio Abbado and was asked afterwards to play in many different well known orchestras like the Berlin Philharmonic Orchestra, the Orchestra of the Deutsche Oper Berlin and many more. For more than 16 years she was engaged as 1st solo horn player at the Radio Symphony Orchestra in Vienna. With this CD she presents not only the famous chamber music for horn of the Mozart-Time but she also shows us her sensitive and virtuoso playing beside the big Horn Concertos of the 20th century, she once recorded at Phoenix Edition Label (PE131). For this recording she is accompagnied by the successful young talented SIGNUM QUARTET, one of the most interesting new String Quartets of the last years. Their Debut-Album with string quartets from Joseph Thuille (Capriccio CD C5049) was very enthusiastic critizised and was awarded with the "Pizziccato" Music Prize for best recordings.
Weitere Bilder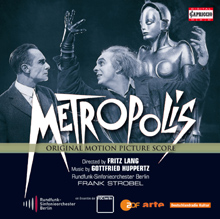 METROPOLIS
FRITZ LANG / GOTTFRIED HUPPERTZ
ORIGINAL MOTION PICTURE SCORE
C5066 · 1CD · PC: 21 UPC: 845221050669
(World Premiere Recording)
In Zusammenarbeit mit

ZDF

und

ARTE

wurde das wohl berühmteste Meisterwerk der Stummfilm-Era komplett renoviert und rekonstruiert. So sind nicht nur 22 Minuten verschollen geglaubtes Filmmaterial wieder entdeckt worden, auch die Originalpartitur der Filmmusik von Gottfried Huppertz (1887-1937) konnte ergänzt und rekonstruiert werden. Der Filmmusikexperte und Dirigent Frank Strobel liefert hiermit einen neuen, beeindruckenden Soundtrack, eingespielt mit dem Radio-Sinfonieorchester Berlin.
In Co-Operation with the German Television

ZDF

and

ARTE

this well known Masterpiece of the "Stummfilm" Era is now completely renewed as movie and as well with a completely new recorded soundtrack after the original score by the composer Gottfried Huppertz (1887-1937). Film Music Expert and conductor Frank Strobel delivers a full range and deep impressive soundtrack with the Radio-Sinfonieorchester Berlin for the new TV-, Cinema-, and CD-Version.
Weitere Bilder