cd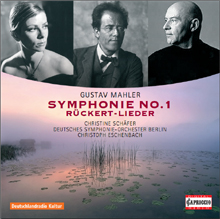 GUSTAV MAHLER (1860-1911)
Symphonie No. 1 Rückert Lieder

1 CD PC: 21 C5026 – UPC 84522105026 3
CHRISTINE SCHÄFER, Sopran / soprano
DEUTSCHES SYMPHONIE-ORCHESTER BERLIN
CHRISTOPH ESCHENBACH, Dirigent conductor


Ein Gipfeltreffen zweier Klassikstars: Für Christine Schäfer und Christoph Eschenbach ist es das zweite Wiedersehen auf dem Label Capriccio. Nach der
vielfach ausgezeichneten Einspielung der "Lyrischen Symphonie" von Alexander Zemlinsky (Capriccio SACD 71081) widmen sich beide Künstler, zusammen mit dem Deutschen Symphonie-Orchester Berlin, einem spannenden und stimmungsvollen
Mahler-Programm.
"Sie brauchen gar nicht mehr hinzusehen – das habe ich alles schon wegkomponiert", bedeutete Gustav Mahler seinem Besucher Bruno Walter, als dieser 1896 die Landschaft von Mahlers Sommerresidenz Steinbach am Attersee bewunderte.
Die Anekdote bezieht sich freilich auf die dritte Symphonie, doch mag ihre Botschaft ebenso gut für die erste – 1884 in Kassel begonnen und 1889 in Budapest uraufgeführt – gelten. Hatte der Komponist letzterer doch ein mit Naturempfindung gesättigtes Programm gegeben, betitelt in Anlehnung an Jean Paul Richter als "Titan, eine Tondichtung in Symphonieform".
Prägnant, wenn auch überschaubar, ist das Liedwerk Gustav Mahlers. Den Hauptteil nehmen darin Orchesterlieder ein. Doch auch Orchesterlieder existieren in Fassungen für Singstimme und Klavier. Dabei schlagen die "Fünf Lieder nach Gedichten von Friedrich Rückert" einen neuen, gereiften Ton an. Wobei "Liebst du um Schönheit" von Mahler zunächst nicht im Zusammenhang mit den vier übrigen Liedern gedacht war – es war vielmehr ein frühes Liebesgeschenk an seine Frau Alma.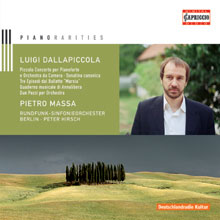 EDITION: piano rarities
LUIGI DALLAPICCOLA (1904-1975)

1 CD PC: 21 C5045 – UPC 84522105045 4
Piccolo concerto per pianoforte e orchestra da camera
Due pezzi per orchestra – Sonatina canonica
Tre episodi dal balletto "Marsia" – Quaderno musicale di Annalibera

PIETRO MASSA, Klavier / piano
RUNDFUNK-SINFONIEORCHESTER BERLIN
PETER HIRSCH, Dirigent / conductor
Die vorliegenden fünf Klavierwerke von Luigi Dallapiccola fallen alle in die Schaffensperiode von 1935 bis 1952, in der die musikalische Sprache des Komponisten ihre entscheidende Ausprägung erfuhr. Die Komposition neuen Stils, in der sich schon erste chromatische Passagen finden, wird durch überschichtete Akkorde angereichert bis sie sich zur gesamten Chromatik entfaltet. In ihrem sehr differenzierten Charakter und Stil markieren die Kompositionen für Klavier wichtige Phasen auf dem Weg der fortschreitenden Annäherung an die Zwölftontechnik bis zu ihrer völligen Übernahme.
Pietro Massa ist zwar in Mailand geboren, aber seit 1999 stellt Berlin das Zentrum seines Lebens sowie den Mittelpunkt einer internationalen Karriere als Solist dar. Sein Repertoire für Klavier und Orchester umfasst zwischenzeitlich an die 20 Klavierkonzerte, die bereits aufgeführt worden sind oder im Programm mit vielen Orchestern weltweit stehen.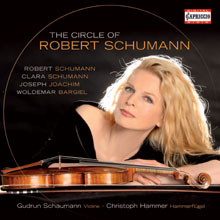 THE CIRCLE OF ROBERT SCHUMANN
2 SACD PC: 21 C5040 – UPC 84522105040 9
Robert Schumann: Sonata d-moll, Op. 121
Sonata a-moll, Op. 105
Clara Schumann: Drei Romanzen, Op. 22
Joseph Joachim: Romanze
Woldemar Bargiel: Sonata f-moll, Op. 10


GUDRUN SCHAUMANN, Violine / violin
CHRISTOPH HAMMER, Hammerflügel / harpsichord
Die vorliegende CD "The Circle of Robert Schumann" eröffnet einen repräsentativen Querschnitt mit Werken von Robert Schumann, seiner Frau Clara, deren Halbbruder Woldemar Bargiel und Joseph Joachim. Gerade rechtzeitig zum Schumannjahr und seinem 200. Geburtstag lässt diese Einspielung seltene und auserlesene Kompositionen der Familie Schumann und deren Freunde erklingen.
Eine hervorragende Interpretin dieser Werkschöpfungen ist die Violinistin Gudrun Schaumann, deren besonderes Interesse der historisch informierten Aufführungspraxis des 17.-19.Jahrhunderts gilt. In Konzerten mit historischen Instrumenten spielt sie, wie auch in der vorliegenden Aufnahme, auf einer italienischen Violine aus Cremona von Antonio Stradivari aus dem Jahre 1731.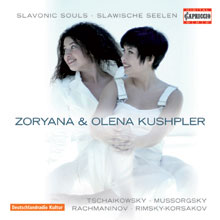 SLAWISCHE SEELEN / SLAVONIC SOULS
Lieder Russischer Komponisten / Songs by Russian composers

1 CD PC: 21 C5039 – UPC 84522105039 3
TCHAIKOVSKY: Nur wer die Sehnsucht kennt, etc.
RACHMANINOV: Im Schweigen der Nacht, etc.
RIMSKY-KORSAKOV: Leise der Abend erlischt, etc.
MUSSORGSKY: Die Kinderstube (Liedzyklus / Song cycle)
ZORYANA KUSHPLER, Mezzosopran / Mezzosprano
OLENA KUSHPLER, Klavier / Piano
Schier unendliche ist die Vielfalt der russischen Liedkunst und aus den Tiefen der Volksseele und deren gesanglicher Interpretation haben große Komponisten wie Tchaikovsky, Rachmaninov, Rimsky-Korsakov, Mussorgsky und viele mehr geschöpft .Mit ihren Kompositionen haben sie dazu beigetragen, der Mannigfaltigkeit russischer Liedkunst Unverzichtbares hinzuzufügen.
Die aus der Ukraine stammenden Zwillingsschwestern Zoryana und Olena Kushpler, die eine Mezzosopran, die andere Pianistin, verstehen es mit ihrer Darbietung die "Slawische Seele" in all ihrer Heiterkeit und Melancholie erklingen zu lassen.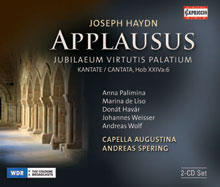 JOSEPH HAYDN (1732-1809)
Applausus - Kanatate / Cantata HobXXIVa:6

2 CD PC: 22 C5036 – UPC 84522105036 2
ANNA PALIMINA, Sopran / soprano
MARINA DE LISO, Mezzosopran / mezzo soprano
DONÁT HAVÁR, Tenor / tenor
JOHANNES WEISSER, Bass-Bariton / bass baritone
ANDREAS WOLF, Bass / bass
CAPELLA AUGUSTINA
ANDREAS SPERING, Dirigent / conductor