cd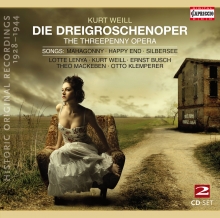 KURT WEILL
DIE DREIGROSCHENOPER · O MOON OF ALABAMA
Historic Original Recordings (1928-1931)
2CD-Set · C5061 PC: 21 UPC: 845221050614
LOTTE LENYA & KURT WEILL · KAPELLE DER STAATSOPER BERLIN · OTTO KLEMPERER · LEWIS RUTH BAND & THEO MACKEBEN ….
Something valuable is presented here. Between 1928 and 1932 there appeared, on 20 different labels, altogether more than 40 black discs with Dreigroschenoper songs, vocal recordings as well as instrumental versions and dance arrangements. The present CD offers a representative selection from these. Recordings that appeared between December 1928 and December 1930, with various members of the original cast at the Schiffbauerdamm. Most of them are here reissued complete for the first time.The 2nd CD now gathers together shellac recordings from other Weill works of the years 1927-33. They are joined, as further rarities, by two American record productions by the Weill-Lenya pair of artists from the years 1943/44.
Weitere Bilder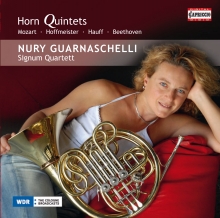 HORN QUINTETS
NURY GUARNASCHELLI, horn · SIGNUM QUARTETT
MOZART · HAUFF · HOFFMEISTER · BEETHOVEN
C5059 · 1CD PC: 21 UPC: 845221050591
Born in Santa Fee (Argentinia) the young NURY GUARNASCHELLY is one of the most beloved french horn player of our times. She was 1st solo horn player at the Gustav Mahler Chamber Orchstra under the direction of Claudio Abbado and was asked afterwards to play in many different well known orchestras like the Berlin Philharmonic Orchestra, the Orchestra of the Deutsche Oper Berlin and many more. For more than 16 years she was engaged as 1st solo horn player at the Radio Symphony Orchestra in Vienna. With this CD she presents not only the famous chamber music for horn of the Mozart-Time but she also shows us her sensitive and virtuoso playing beside the big Horn Concertos of the 20th century, she once recorded at Phoenix Edition Label (PE131). For this recording she is accompagnied by the successful young talented SIGNUM QUARTET, one of the most interesting new String Quartets of the last years. Their Debut-Album with string quartets from Joseph Thuille (Capriccio CD C5049) was very enthusiastic critizised and was awarded with the "Pizziccato" Music Prize for best recordings.
Weitere Bilder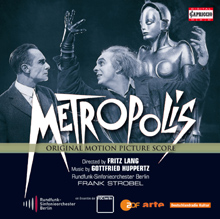 METROPOLIS
FRITZ LANG / GOTTFRIED HUPPERTZ
ORIGINAL MOTION PICTURE SCORE
C5066 · 1CD · PC: 21 UPC: 845221050669
(World Premiere Recording)
In Zusammenarbeit mit

ZDF

und

ARTE

wurde das wohl berühmteste Meisterwerk der Stummfilm-Era komplett renoviert und rekonstruiert. So sind nicht nur 22 Minuten verschollen geglaubtes Filmmaterial wieder entdeckt worden, auch die Originalpartitur der Filmmusik von Gottfried Huppertz (1887-1937) konnte ergänzt und rekonstruiert werden. Der Filmmusikexperte und Dirigent Frank Strobel liefert hiermit einen neuen, beeindruckenden Soundtrack, eingespielt mit dem Radio-Sinfonieorchester Berlin.
In Co-Operation with the German Television

ZDF

and

ARTE

this well known Masterpiece of the "Stummfilm" Era is now completely renewed as movie and as well with a completely new recorded soundtrack after the original score by the composer Gottfried Huppertz (1887-1937). Film Music Expert and conductor Frank Strobel delivers a full range and deep impressive soundtrack with the Radio-Sinfonieorchester Berlin for the new TV-, Cinema-, and CD-Version.
Weitere Bilder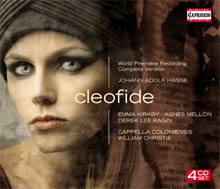 JOHANN ADOLF HASSE CLEOFIDE
Opera Complete Recording

4CD-Set · C7080 PC: 23 UPC: 845221070803
After many years of absence this famous World Premiere Recording of Hasses 1731 in Dresden performed opera is now back and available for international sale. With a well known cast like EMMA KIRKBY, AGNÈS MELLON, DEREK LEE RAGIN and the conductor WILLIAM CHRISTIE this recording is a "must" for all Baroque Opera Lovers.
Weitere Bilder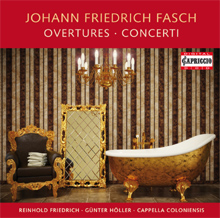 JOHANN FRIEDRICH FASCH (1688-1758)

OUVERTÜREN & KONZERTE · OVERTURES & CONCERTI
C5073 · 1CD PC: 01 · UPC: 84522105073X
Schon an der Wende vom 19. zum 20. Jahrhundert erkannte die Musikwissenschaft die besondere Bedeutung derWerke von Johann Friedrich Fasch. Er ist ein "Neuerer, welcher die Instrumentalmusik ganz auf eigene Füße stellte", eine zentrale Figur in der Übergangsphase zwischen Spätbarock und Klassik. Tatsächlich greift Fasch in seinen Kompositionen auf die Formensprache des Hochbarock zurück, füllt in jene "alten Schläuche" jedoch "neuen Wein" und entwickelt im Umgangmit melodischen Figuren und harmonischen Strukturen sowie in der Behandlung von Blas- und Streichinstrumentenein hohes Maß an Freiheit und Individualität.
At the turn of the 19th to the 20th century, musicology already recognised the special importance of works by Johann Friedrich Fasch. Fasch is an "innovator who set instrumental music on its ownfeet entirely", a central character during the transition period between the late Baroque and Classicist eras. Indeed, Fasch falls back on the formal language of the high Baroque period but frequently fills "new wine" into those "old skins" and develops a high measure of freedom and individuality in dealing with melodic figures and harmonic structures as well as in the treatment of wind and stringinstruments.
mit / with
REINHOLD FRIEDRICH, ALAIN DE RUDDER, Trompete / trumpet
GÜNTER HÖLLER, Traversflöte / transverse flute · HELMUT HUCKE, Oboe / oboe
CAPPELLA COLONIENSIS · HANS-MARTIN LINDE, Dirigent / conductor
Weitere Bilder