cd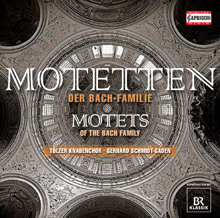 MOTETTEN der BACH-FAMILIE · MOTETS of the BACH FAMILY

Johann Christoph Bach · Johann Michael Bach · Johann Bach · Johann Christoph Friedrich Bach
1CD · C5060 PC: 21 UPC: 845221050607
TÖLZER KNABENCHOR (Mark Nordstrand, organ · Niklas Trüstedt, violone)
GERHARD SCHMIDT-GADEN, Dirigent / conductor
Es ist bekannt, dass die Bachs eine recht umfangreiche Musikerfamilie waren, aus der nicht nur der Übervater Johann Sebastian hervorging und seine hochbegabten Söhne Carl Philipp Emanuel und Wilhelm Friedemann, sondern eine Reihe weiterer, heute – sehr zu Unrecht – vergessener Musiker. Auf dieser CD kann man hören, wie virtuos und ausdrucksstark schon vor Bach komponiert wurde. Die Bandbreite der Werke von Johann Sebastians Verwandten reicht vom schlichten Kirchenchoral bis zur kunstvollen Motette.
It is widely known that the Bachs were a quite large family of musicians, from which not only the patriarch Johann Sebastian and his highly gifted sons Carl Philipp Emanuel and Wilhelm Friedmann did emerge, but also a number of other musicians –wrongly forgotten today. This CD makes it possible to discover how virtuous and expressive works were composed even before Bach. The spectrum of the oeuvre of Johann Sebastian's relatives ranges from plain religious hymns to elaborate motets.
OSKAR FRIED (1871-1941)
"Die Auswanderer"/ "The Emigrants"- Melodrama for speaking voice and orchestra

C5043 PC: 1CD · PC 21 UPC: 84522105043 0
Verklärte Nacht / Transfigured Night
(Text: Richard Dehmel)

for mezzo-soprano, tenor and orchestra
Fantasy about "Hänsel und Gretel" (Engelbert Humperdinck)
Prelude and Fugue for string orchestra op.10
SALOME KAMMER, Sprecherin · KATHARINA KAMMERLOHER, mezzo-soprano STEPHAN RÜGAMER, tenor · RUNDFUNK-SINFONIEORCHESTER BERLIN MATTHIAS FOREMNY
"Ein sehr origineller und eigenartiger Patron" (Gustav Mahler)
Heute wissen selbst viele Musikfreunde nicht mehr wer dieser Oskar Fried war. Ein Jahrhundert zuvor stellte sich die Situation ganz anders dar: 1904 über Nacht berühmt geworden durch die Uraufführung seines "Trunkenen Liedes" (nach Nietzsches "Zarathustra") mit den Berliner Philharmonikern unter Karl Muck, stand darauf vor allem seine Dirigentenkarriere im Mittelpunkt des Interesses. Gustav Mahler übertrug Ihm 1905 eine Aufführung seiner 2. Symphonie in Berlin, die den Komponisten sehr beeindruckte. Beide waren seitdem befreundet und Fried
gehörte zu den frühen Vorkämpfern Mahlers, leitete 1924 sogar die erste Gesamtaufnahme einer Mahler Symphonie (erneut die Zweite, mit dem Orchester der Berliner Staatsoper). In Bezug auf den Komponisten sprach man gar von einem ganz eigenen, auf suggestive Massenwirkungen zielenden "Fried Stil".
"A very unique and peculiar patron" (Gustav Mahler)
Who was Oskar Fried? Even lovers of music might have troubles to answer that question nowadays. One century ago the situation was quite different. In 1904 Fried became famous almost overnight: with the premiere of his "Trunkenes Lied", a monumental work for chorus and symphonic orchestra based on words taken from Nietsche's "Zarathustra". It was first performed by several choirs and the Berlin Philharmonic Orchestra conducted by Karl Muck in Berlin on the 15th of April. As a conductor Fried soon performed with the leading orchestras, especially as interpreter of the then modern music. In 1905 Gustav Mahler assigned to him the performance of his 2 Symphony in Berlin, which deeply impressed the composer and the two
men became friends. Fried was among the first to support Mahler's music and in 1924 he was even in charge of the first complete recording of a Mahler Symphony (number two again, with the orchestra of the Berliner Staatsoper). In matters of his own compositions – his "Verklärte Nacht" and "Erntelied" premiered in 1905 and 1909 respectively -one even started talking of a distinctive "Fried-Style", focused on suggestive mass effect.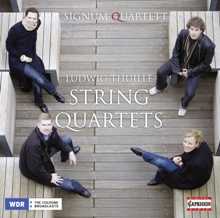 LUDWIG THUILLE (1861 – 1907)
String Quartet No.2 in G major(1881,unfinished)
String Quartet No.1 in A major (1878)
C5049 PC: 1CD · PC 21 UPC: 8452210504 9
SIGNUM QUARTETT KERSTIN DILL, violin · ANNETTE WALTHER, violin XANDI VAN DIJK, viola · THOMAS SCHMITZ, cello
Der 1861 in Bozen geborene Ludwig Thuille wirkte als Komponist und Pädagoge der Münchner Schule. Als Waisenkind adoptiert von der Witwe des seinerzeit berühmten Komponisten Matthäus Nagiller, lernte er 1877 den nur drei Jahre jüngeren Richard Strauss kennen, dessen Eltern mit der Familie Nagiller gut bekannt waren. Dies war der Beginn einer innigen Freundschaft, die bis zum frühen Tod Ludwig Thuilles nach einer Herzattacke im Jahr 1907 Bestand haben sollte und die durch die Briefe Strauss' dokumentiert ist. Die beiden Streichquartette dieser CD komponierte Thuille während seiner Studienzeit. Das A-Dur-Quartett (1878) sandte er mit einer Widmung an Richard Strauss, der mit aufrichtiger Rührung reagierte: "Ich entrolle das Papier und – ich glaubte meinen Augen nicht trauen zu dürfen -Quartett für 2 Violinen, Viola und Cello, mir gewidmet! Die Freude, die ich darüber empfand, kannst Du Dir nicht vorstellen […]. Ich fand das Werk exquisit, Melodienreich, sehr schön gesetzt, brillant gemacht, voll Steigerung, herrliche Form." Die Einspielung seiner Streichquartette wirft nun ein neues Licht auf diesen vielseitigen, originellen und zu Unrecht vergessenen Komponisten. Born in Bolzano in 1861, Ludwig Thuille worked as composer and teacher of the Münchner Schule, one of the leading musical centres of Europe at the turn of the 20th century. In 1876, Pauline Nagiller, the widow of the then quite popular composer Matthäus Nagiller, invited the now orphaned Ludwig to stay with her in Innsbruck. It was there the following year that he met Richard Strauss, who was three years younger than him and whose parents were acquainted with the Nagiller family. This was the start of a close friendship, which lasted with some interruptions after a quarrel until the early death of Ludwig Thuille, caused by a heart attack in 1907. The friendship is well documented in the letters of Strauss. The two string quartets on this CD were written by Thuille during his days as a student. The cover sheet of the A-major quartet informs us that it was composed during the first ten days of February 1878. Together with a dedication Thuille sent the piece to Richard Strauss, who was sincerely touched: "I opened the package and could hardly believe my eyes – the quartet for two violins and cello dedicated to me! You cannot imagine my joy (…). I considered the piece to be exquisite, rich in melody, very well set and brilliantly composed in beautiful form." This recording of his string quartets casts new light on this many-sided, original and wrongly forgotten composer.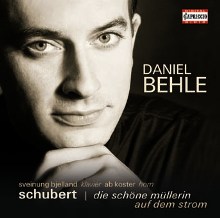 FRANZ SCHUBERT (1797 – 1828)
Die schöne Müllerin · Auf dem Strom

C5044 PC: 1CD · PC 21 UPC: 84522105044 7
DANIEL BEHLE, Tenor · SVEINUNG BJELLAND, Klavier · AB KOSTER, Horn
Nach dem erfolgreichen Debüt Album "Lieder" (PE154) wagt sich der junge, aufstrebende Tenor an das Spitzenrepertoire des Liedgesangs!
PRESSE:
Hört man Daniel Behle Schuberts Schilderung der Leiden des jungen Müllers singen, so hört man eine Stimme, in deren Helle Heldenhaftigkeit wie auch seelische Reinheit widerklingt: weich, klar, sanft und doch strahlkräftig, maßhaltend und doch intensiv. Wunderschön.
"Die schöne Müllerin CD" der standard 14.12.2010
-­‐-­‐-­‐
Beste Newcomer CD des Jahres! Ein großes Wort, aber wahr: Seit Fritz Wunderlich keine so frische, kluge, penibel textverständliche, musikantische und aufregende "Müllerin" mehr gehört! Der junge deutsche Tenor Daniel Behle wird den Liedgesang revolutionieren.
"Die schöne Müllerin CD" tagesspiegel 5.12.2010
-­‐-­‐-­‐
Recording of the month! -­‐ There is no shortage of good recordings of Die schöne Müllerin but this new recording has to be included among the top contenders.
"Die schöne Müllerin CD" – musicweb Nov 2010
-­‐-­‐-­‐
Eine künstlerische Leistung, die von ihrem Gegenstand absolut durchdrungen ist.
"Die schöne Müllerin CD" – Die Zeit 25.11.2010
-­‐-­‐-­‐
The sheer freshness and unmannered beauty of Behle's voice are immediately apparent, as are the ease and spontaneity of his vocal production. 5 of 5 stars .
"Die schöne Müllerin CD" -­ allmusic 25.11.2010
-­‐-­‐-­‐
Wie Behle bei aller nie nachlassenden Detailintensität stets den übergreifenden Spannungsbogen dieser großen Lieder-­‐Erzählung in 20 Kapiteln mitdachte und –gestaltete, zeugte von seltener Meisterschaft.
"Die schöne Müllerin LIVE" Heppenheim 19.11.2010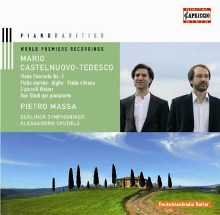 MARIO CASTELNUOVO-TEDESCO (1895-1968)
Piano Concerto No. 2 in F major
Vitalba e Biancospino Alghe · Passatempi: 5 piccoli Walzer
C5046 PC: 1CD · PC 21 UPC: 8452210504 6


Onde · Vitalba e Biancospino
PIETRO MASSA, piano · BERLINER SYMPHONIKER · ALESSANDRO CRUDELE
Mario Castelnuovo-Tedesco (Florenz 1895 -Beverly Hills 1968) war Komponist und Humanist. Sein Leben zeichnete sich durch eine anhaltende Tendenz aus, sich selbst als Bestandteil antiker Kulturtraditionen – zuerst der toskanischen und dann der jüdischen – zu entdecken. Die Karriere als Komponist begann schon während seiner Ausbildung durch das großherzige Engagement von Alfredo Casella. Er erhielt einhellige breite Zustimmung in den Kritiken und wurde als viel versprechender Komponist der Avantgarde begrüßt.
Castelnuovo-Tedescos musikalische Imagination entfaltete sich in einem engen Verhältnis zur Toskana und deren Kultur. 1939 verabschiedete er sich von seinem Land und emigrierte in die Vereinigten Staaten von Amerika, um die Zukunft der eigenen Familie zu sichern und vor allem das Leben seiner beiden Kinder zu schützen. Arturo Toscanini und Jascha Heifetz, die bereits mehrmals seine Musik aufgeführt hatten, unterstützten ihn in dieser schwierigen Phase und leisteten einen wesentlichen Beitrag, damit er eine Stelle als Komponist für Filmmusik bei Metro Goldwyn Mayer erhielt. Als der Zweite Weltkrieg zu Ende war, ließ Castelnuovo-Tedesco sich in Beverly Hills nieder, wo er sich der privaten Lehrtätigkeit widmete und weiter bis ins späte Alter hinein komponierte.
Mario Castelnuovo-Tedesco (Florence 1895 -Beverly Hills 1968) was a composer and humanist. His life was characterised by his persistent tendency to view himself as being part of ancient cultures – at first the Tuscan, later the Jewish one.
He started his compositional career while still being educated, thanks to the wholehearted support of Alfredo Casella. Critiques welcomed him unanimously as a promising avant-garde composer.
The musical imagination of Castelnuovo-Tedesco unfolded in close contact with the
Tuscany and its culture. In 1939 he said good-bye to his homeland and immigrated to the United States, to safeguard the future of his family and especially to protect the lives of his two children. Arturo Toscanini and Jascha Heifetz, who had both repeatedly performed his music before, supported him n this difficult situation and, after his first concerts as interpreter of his own works, secured him a position as composer for film music at Metro Goldwyn Mayer. After World War II Castelnuovo-
Tedesco settled down in Beverly-Hills, where he worked as a private tutor and composed until a ripe old age.
BACKKATALOG: PIANO RARITIES
LUIGI DALLAPICCOLA (1904 – 1975)
Piccolo Concerto per Pianoforte e Orchestra Piano Sonatas Nos. 1 & 3
Pietro Massa · RSO-Berlin
C5045 · 1CD · PC 21
ERWIN SCHULHOFF (1894 – 1942)
Sonatina canonica · Tre Episodi etc. Jazz-Variations · Burlesken
Peter Hirsch · Margarete Babinsky
PE181 · 2CD · PC 02
NIKOLAI MEDTNER (1880 – 1951)
Forgotten Melodies op.38 & op.39 Fantasy-Sonatas Nos.1 – 3
Ekaterina Derzhavina
PE156 · 2CD · PC 02
HENNING MANKELL (1868 – 1930)
Stimmungsbilder op.1 · Sonata Triad op.11 Barcarole op.60 · Three Preludes
Anna Christensson
PE184 · 2CD · PC 02