cd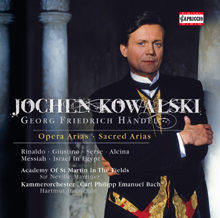 JOCHEN KOWALSKI – GEORG FRIEDRICH HÄNDEL
2CD-Set C7061 PC: 21 UPC:845221070612
CD 1: Opera Arias · Sacred Arias (RINALDO ·SERSE · MESSIAH · ISRAEL IN EGYPT)
CD 2: Italian Solo Cantatas (SPLENDE L'ALBA IN ORIENTE · MI PALPITA IL COR etc.)

Akademie für Alte Musik Berlin · Kammerorchester "Carl Philipp Emanuel Bach"
Dein Wagner heißt Händel
Eigentlich wollte Jochen Kowalski Heldentenor werden. Aber seine Mentorin Marianne Kupfer, die Ehefrau des Regisseurs Harry Kupfer, hat ihm beim Vorsingen an der Komischen Oper Berlin – seinem Stammhaus bis heute – klar gemacht: "Dein Wagner heißt Händel". Damit begann Anfang der achtziger Jahre die einzigartige Karriere des Künstlers, dessen Lebensweg schon seit der frühen Kindheit von der Macht der Töne bestimmt war. Unbeirrt hat er sich, obwohl zunächst als Countertenor apostrophiert, sehr schnell als Altus emanzipiert. der unterscheidet sich vom Countertenor durch den größeren Vibratoreichtum. So mag uns Jochen Kowalski mit seiner Gesangskunst ein wohl realitätsnahes Bild von dem zu vermitteln, was einmal halb Europa in Atem hielt: Kastratengesang.
In der Musikgeschichte präsentiert Kowalski damit als einer der ersten normalen Männer – wie er selbst sagt – eine Stimmgattung, die rund 300 Jahre lang bis zu Beginn unseres Jahrhunderts den Kastraten vorbehalten war.
Actually, Jochen Kowalski wanted to become a heroic tenor. However, his mentor Marianne Kupfer, wife of stage director Harry Kupfer, made it clear to him during his audition at the Komische Oper Berlin – his principal stage until today – that: "Handel is your Wagner". This was the beginning of the artist's one-of- a-kind career, whose entire life had always been defined by the power of music, even in early childhood. Although he was initially apostrophised as Countertenor, he unperturbed emancipated himself as Altus, characterised by a higher level of vibrato. Therefore, Jochen Kowalski's singing technique provides us with a realistic picture of what once enthused half of Europe: castrato chant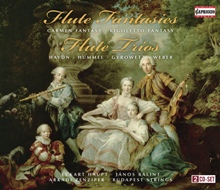 FLUTE FANTASIES / FLUTE TRIOS
2CD-Box · C7052 PC: 21 UPC: 845221070520
CD 1: FLUTE FANTASIES
FERNAND DE BORNE: "Carmen-Fantasy" · ALBERT FRANZ DOPPLER: Hungarian Fantasy · Duettino sur des motifs hongrois · Fantaisie Pastorale Hongroise · ALBERT FRANZ DOPPLER / KARL DOPPLER: Fantaisie et variations sur des motifs de l'opera Rigoletto · GIULIO BRICCIALDI: Il Carnevale di Venezia
CD 2: FLUTE TRIOS
JOHANN NEPOMUK HUMMEL: Adagio, Variations and Rondo op.78
JOSEPH HAYDN: Trio No.31 in G major HXV:15 · ALBERT GYROWETZ: Divertissement in A major op.50 · CARL MARIA VON WEBER: Trio in G minor op.63
Eckart Haupt · János Bálint · Götz Teutsch · Budapest Strings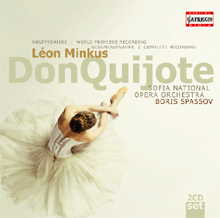 LEON MINKUS - DON QUIJOTE (Complete Recording)
Sofia National Opera Orchestra · Boris Spassov

2CD-Set C5054 PC: 21 UPC:845221050546
Léon Minkus – Auf der Suche nach einem Unbekannten


LÉON MINKUS (ca. 1826 – 1917) war einer der meist gespielten Ballettkomponisten des 19. Jahrhunderts. Und dennoch wissen wir heute weder exakt seine Lebensdaten noch genaue Details über sein Leben selbst und sein Schaffen. Nur in sehr wenigen Lexika taucht der Name überhaupt auf und auch hier nur in Randnotizen mit sehr widersprüchlichen Angaben. Zumindest wissen wir, dass sein Ballett "Don Quijote"
1869 am Moskauer Bolschoi-Theater einen fulminanten Erfolg feierte, der Minkus zu einem sehr gefragten und beliebten Ballettkomponisten seiner Zeit machte.
LÉON MINKUS (ca. 1826 – 1917) was a russian musician who nevertheless was among the most performed bal­let composers of the 19th century. But the details of the year of his birth vary between 1826, 1827 and 1840, while 1890, 1907 or 1911 are offered as those of his death. Scanty and vague as these details are, those found (if at all) in later sources are also contradictory: even in that monumental Standard Dictionarys, Minkus is accorded no entry of his own but exists merely as a reference in four or five other articles. We know that "Don Quijote" had a fulminant first performance at Moscow Bolshoi-Theatre in 1869 and is still today one of the most beloved ballet compositions all over the world.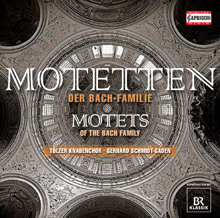 MOTETTEN der BACH-FAMILIE · MOTETS of the BACH FAMILY

Johann Christoph Bach · Johann Michael Bach · Johann Bach · Johann Christoph Friedrich Bach
1CD · C5060 PC: 21 UPC: 845221050607
TÖLZER KNABENCHOR (Mark Nordstrand, organ · Niklas Trüstedt, violone)
GERHARD SCHMIDT-GADEN, Dirigent / conductor
Es ist bekannt, dass die Bachs eine recht umfangreiche Musikerfamilie waren, aus der nicht nur der Übervater Johann Sebastian hervorging und seine hochbegabten Söhne Carl Philipp Emanuel und Wilhelm Friedemann, sondern eine Reihe weiterer, heute – sehr zu Unrecht – vergessener Musiker. Auf dieser CD kann man hören, wie virtuos und ausdrucksstark schon vor Bach komponiert wurde. Die Bandbreite der Werke von Johann Sebastians Verwandten reicht vom schlichten Kirchenchoral bis zur kunstvollen Motette.
It is widely known that the Bachs were a quite large family of musicians, from which not only the patriarch Johann Sebastian and his highly gifted sons Carl Philipp Emanuel and Wilhelm Friedmann did emerge, but also a number of other musicians –wrongly forgotten today. This CD makes it possible to discover how virtuous and expressive works were composed even before Bach. The spectrum of the oeuvre of Johann Sebastian's relatives ranges from plain religious hymns to elaborate motets.
OSKAR FRIED (1871-1941)
"Die Auswanderer"/ "The Emigrants"- Melodrama for speaking voice and orchestra

C5043 PC: 1CD · PC 21 UPC: 84522105043 0
Verklärte Nacht / Transfigured Night
(Text: Richard Dehmel)

for mezzo-soprano, tenor and orchestra
Fantasy about "Hänsel und Gretel" (Engelbert Humperdinck)
Prelude and Fugue for string orchestra op.10
SALOME KAMMER, Sprecherin · KATHARINA KAMMERLOHER, mezzo-soprano STEPHAN RÜGAMER, tenor · RUNDFUNK-SINFONIEORCHESTER BERLIN MATTHIAS FOREMNY
"Ein sehr origineller und eigenartiger Patron" (Gustav Mahler)
Heute wissen selbst viele Musikfreunde nicht mehr wer dieser Oskar Fried war. Ein Jahrhundert zuvor stellte sich die Situation ganz anders dar: 1904 über Nacht berühmt geworden durch die Uraufführung seines "Trunkenen Liedes" (nach Nietzsches "Zarathustra") mit den Berliner Philharmonikern unter Karl Muck, stand darauf vor allem seine Dirigentenkarriere im Mittelpunkt des Interesses. Gustav Mahler übertrug Ihm 1905 eine Aufführung seiner 2. Symphonie in Berlin, die den Komponisten sehr beeindruckte. Beide waren seitdem befreundet und Fried
gehörte zu den frühen Vorkämpfern Mahlers, leitete 1924 sogar die erste Gesamtaufnahme einer Mahler Symphonie (erneut die Zweite, mit dem Orchester der Berliner Staatsoper). In Bezug auf den Komponisten sprach man gar von einem ganz eigenen, auf suggestive Massenwirkungen zielenden "Fried Stil".
"A very unique and peculiar patron" (Gustav Mahler)
Who was Oskar Fried? Even lovers of music might have troubles to answer that question nowadays. One century ago the situation was quite different. In 1904 Fried became famous almost overnight: with the premiere of his "Trunkenes Lied", a monumental work for chorus and symphonic orchestra based on words taken from Nietsche's "Zarathustra". It was first performed by several choirs and the Berlin Philharmonic Orchestra conducted by Karl Muck in Berlin on the 15th of April. As a conductor Fried soon performed with the leading orchestras, especially as interpreter of the then modern music. In 1905 Gustav Mahler assigned to him the performance of his 2 Symphony in Berlin, which deeply impressed the composer and the two
men became friends. Fried was among the first to support Mahler's music and in 1924 he was even in charge of the first complete recording of a Mahler Symphony (number two again, with the orchestra of the Berliner Staatsoper). In matters of his own compositions – his "Verklärte Nacht" and "Erntelied" premiered in 1905 and 1909 respectively -one even started talking of a distinctive "Fried-Style", focused on suggestive mass effect.