cd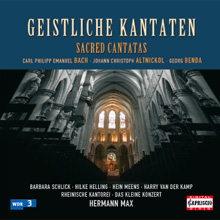 Geistliche Kantaten · Sacred Cantatas
J.CH. ALTNICKOL
C.PH.E.BACH · GEORG BENDA
1CD 67 192 PC: 21 4006408671923
Schlick · Helling · Van der Kamp
Rheinische Kantorei · Das Kleine Konzert
Hermann Max
Sacred cantatas written by composers from the generation that followed Bach – music from the time between the Baroque and the classical era: Three typical representatives of this style are presented as an example by Hermann Max, the Rheinische Kantorei and the orchestra "Das Kleine Konzert"
Geistliche Kantaten von Komponisten aus der Generation nach Bach – Musik aus der Zeit zwischen Barock und Klassik, wird hier an drei typischen Vertretern dieser Stilrichtung von Hermann Max, der Rheinischen Kantorei und dem Orchester "Das Kleine Konzert" exemplarisch vorgeführt.
Franz von Suppé · Die schöne Galathée
Jörg Dürmüller · Marianne Beate Kielland · Klaus Häger · Eleonore Marguerre

60 134 PC: 21 4006408601340
Einrichtung der Dialoge: Hans-Joachim Wagner
ChorWerkRuhr ·
CAPPELLA

COLONIENSIS

·

BRUNO

WEIL

Franz von Suppés komisch-mythologische Oper "Die schöne Galathee" stammt aus dem Jahre 1865 und ist ein typisches Produkt ihrer Zeit. Die modische Schwärmerei für die griechische Antike wird in einem anzüglichen Couplet aufs Korn genommen: "Wir Griechen, wir sind sicherlich bei Weibern etwas liederlich". Erzählt wird die Geschichte einer zum Leben erweckten Statue – die schöne Galathee, Traum aller Männer, entpuppt sich wegen ihrer Kratzbürstigkeit schnell zum Albtraum und wird folgerichtig wieder zur Statue zurückverwandelt. Bruno Weil leitet die Cappella Coloniensis; der Erzähler ist Christian Brückner, der für seine schauspielerischen und sprecherischen Leistungen schon zahlreiche Preise erhalten hat.

Franz von Suppé's comical-mythological opera "Beautiful Galathea" was written in 1865, and is a typical product of the times. Fashionable enthusiasm for Ancient Greece is attacked in the form of a risqué couplet: "We Greeks, we surely are somewhat dissolute when women are concerned". The story is about a statue coming to life – beautiful Galathea. This woman from men's dreams quickly shows herself to be a nightmare because of her viciousness, and is consequently turned back into stone. Bruno Weil conducts the Cappella Coloniensis, the role of the narrator is played by Christian Brückner who already received numerous prizes for his acting and speaking skills.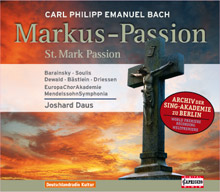 C.P.E. Bach · Markus-Passion
CARL PHILIPP EMANUEL BACH

60 132 PC: 21 4006408601326
Claudia Barainsky · Thomas Dewald
Bart Driessen · Maria Soulis · Ulf Bästlein
EuropaChorAkademie
Mendelssohn Symphonia
Joshard Daus
Release Date: 15.02.2007
Eine weitere Neuentdeckung aus dem Archiv der Singakademie zu Berlin: Carl Philipp Emanuel Bachs Markus-Passion von 1786 wird von Capriccio als Weltpremiere präsentiert. Unter der bewährten Leitung von Joshard Daus singt die von ihm begründete EuropaChorAkademie, und es spielt die MendelssohnSymphonia. Thomas Dewald singt auch hier wieder den Evangelisten wie schon in den vorangegangenen Weltpremieren von Carl Philipp Emanuel Bachs Johannes-Passion (Capriccio 2-CD-Set 60 103) und der Matthäus-Passion von 1785 (Capriccio 1-CD-Set 60 113). Das Werk des 72jährigen Komponisten zeigt ihn ganz auf der Höhe seiner Zeit. Statt gefühlvoller Arien sind die Solostücke kurz und liedhaft gehalten, ganz im Kontrast zu den berühmten Passionsmusiken seines Vaters.
Another re-discovery from the archives of the Academy of Song in Berlin: Capriccio presents Carl Philipp Emanuel Bach's St. Mark's Passion written in 1786 as a world premiere. Conducted by the very capable Joshard Daus, the EuropaChorAkademie he founded sings, accompanied by the MendelssohnSymphonia. Thomas Dewald once more sings the part of the evangelist as in Carl Philipp Emanuel Bach's St. John's Passion (Capriccio set of 2 CDs 60 103) and in the St. Matthew's Passion written in 1785 (Capriccio set of 1 CD 60 113). This work by the composer written when he was 72 years old shows his skills to be quite at the height of contemporary fashion. Instead of emotional arias, the solo pieces are kept short and song-like, in a stark contrast to the famous Passion music works written by the father.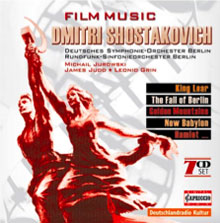 Shostakovich Filmmusik

Shostakovich
7 CD-Set 49 533 PC: 07
Capriccio is marking the 100th birthday of Dmitry Shostakovich (1906-1975) with a whole string of new releases. This 7-CD set unites the film scores of Shostakovich previously released on separate CDs. Film music formed a lifelong accompaniment to Shostakovich's career, from the silent films of the 1920s to "King Lear" in 1970. This is a fascinating excursion through half a century of Russian film music and an important contribution to history's verdict on the ever-enigmatic Dmitry Shostakovich.
Zum 100. Geburtstag von Dmitri Shostakovich (1906-1975) wartet Capriccio mit einer ganzen Reihe von Neuveröffentlichungen auf. Dieses 7-CD-Set fasst die bisher in Einzelausgaben erschienenen Ausgaben mit Filmmusiken von Shostakovich zusammen. Filmmusik hat Shostakovich ein ganzes Leben lang begleitet: von den frühen Stummfilmen der 20er Jahre bis zu "König Lear" aus dem Jahr 1970. Ein faszinierender Streifzug durch ein halbes Jahrhundert russischer Filmmusik und ein wichtiger Beitrag zum Gesamtbild des noch immer rätselhaften Dmitri Shostakovich.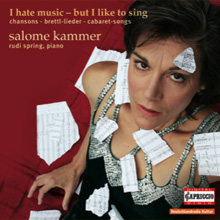 SALOME KAMMER: I Hate Music
But I Like To Sing
Cabaret-Songs · Chansons · Brettl-Lieder
1 CD · 67 195 PC: 21
von Friedrich Hollaender · Kurt Weill · Leonard Bernstein u.a.
Salome Kammer, Gesang · Rudi Spring, piano
I HATE MUSIC! Nein, das ist nicht die erste CD für Leute, die Musik hassen, sondern der Titel eines Songs von Leonard Bernstein. Salome Kammer hat unter diesem Titel ein Programm aufgenommen, das von Kabarett-Songs über Chansons bis hin zu vertonten Kochrezepten reicht… Salome Kammer ist ein Multitalent: Als ausgebildete Sängerin ist es ihr viel zu langweilig, immer nur im klassischen Konzert aufzutreten. Zusammen mit dem Pianisten Rudi Spring singt sie Songs und Chansons von Hollaender, Weill, Bernstein u. v. a.
I HATE MUSIC! No, this is not the first CD for people that hate music, rather, it is the title of a song from Leonard Bernstein. Under this title Salome Kammer has recorded a programme that ranges from Cabaret-Songs to Chansons and on to cooking recipes set to music… Salome Kammer is a multi-talent: As a trained singer it much too boring for her to only perform in classical concerts. Together with the pianist Rudi Spring she sings Songs and Chansons from Hollaender, Weill, Bernstein and many others.