cd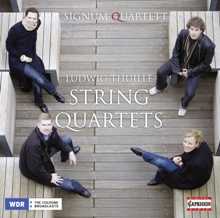 LUDWIG THUILLE (1861 – 1907)
String Quartet No.2 in G major(1881,unfinished)
String Quartet No.1 in A major (1878)
C5049 PC: 1CD · PC 21 UPC: 8452210504 9
SIGNUM QUARTETT KERSTIN DILL, violin · ANNETTE WALTHER, violin XANDI VAN DIJK, viola · THOMAS SCHMITZ, cello
Der 1861 in Bozen geborene Ludwig Thuille wirkte als Komponist und Pädagoge der Münchner Schule. Als Waisenkind adoptiert von der Witwe des seinerzeit berühmten Komponisten Matthäus Nagiller, lernte er 1877 den nur drei Jahre jüngeren Richard Strauss kennen, dessen Eltern mit der Familie Nagiller gut bekannt waren. Dies war der Beginn einer innigen Freundschaft, die bis zum frühen Tod Ludwig Thuilles nach einer Herzattacke im Jahr 1907 Bestand haben sollte und die durch die Briefe Strauss' dokumentiert ist. Die beiden Streichquartette dieser CD komponierte Thuille während seiner Studienzeit. Das A-Dur-Quartett (1878) sandte er mit einer Widmung an Richard Strauss, der mit aufrichtiger Rührung reagierte: "Ich entrolle das Papier und – ich glaubte meinen Augen nicht trauen zu dürfen -Quartett für 2 Violinen, Viola und Cello, mir gewidmet! Die Freude, die ich darüber empfand, kannst Du Dir nicht vorstellen […]. Ich fand das Werk exquisit, Melodienreich, sehr schön gesetzt, brillant gemacht, voll Steigerung, herrliche Form." Die Einspielung seiner Streichquartette wirft nun ein neues Licht auf diesen vielseitigen, originellen und zu Unrecht vergessenen Komponisten. Born in Bolzano in 1861, Ludwig Thuille worked as composer and teacher of the Münchner Schule, one of the leading musical centres of Europe at the turn of the 20th century. In 1876, Pauline Nagiller, the widow of the then quite popular composer Matthäus Nagiller, invited the now orphaned Ludwig to stay with her in Innsbruck. It was there the following year that he met Richard Strauss, who was three years younger than him and whose parents were acquainted with the Nagiller family. This was the start of a close friendship, which lasted with some interruptions after a quarrel until the early death of Ludwig Thuille, caused by a heart attack in 1907. The friendship is well documented in the letters of Strauss. The two string quartets on this CD were written by Thuille during his days as a student. The cover sheet of the A-major quartet informs us that it was composed during the first ten days of February 1878. Together with a dedication Thuille sent the piece to Richard Strauss, who was sincerely touched: "I opened the package and could hardly believe my eyes – the quartet for two violins and cello dedicated to me! You cannot imagine my joy (…). I considered the piece to be exquisite, rich in melody, very well set and brilliantly composed in beautiful form." This recording of his string quartets casts new light on this many-sided, original and wrongly forgotten composer.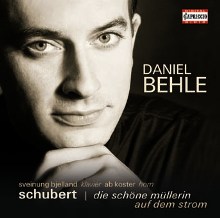 FRANZ SCHUBERT (1797 – 1828)
Die schöne Müllerin · Auf dem Strom

C5044 PC: 1CD · PC 21 UPC: 84522105044 7
DANIEL BEHLE, Tenor · SVEINUNG BJELLAND, Klavier · AB KOSTER, Horn
Nach dem erfolgreichen Debüt Album "Lieder" (PE154) wagt sich der junge, aufstrebende Tenor an das Spitzenrepertoire des Liedgesangs!
PRESSE:
Hört man Daniel Behle Schuberts Schilderung der Leiden des jungen Müllers singen, so hört man eine Stimme, in deren Helle Heldenhaftigkeit wie auch seelische Reinheit widerklingt: weich, klar, sanft und doch strahlkräftig, maßhaltend und doch intensiv. Wunderschön.
"Die schöne Müllerin CD" der standard 14.12.2010
-­‐-­‐-­‐
Beste Newcomer CD des Jahres! Ein großes Wort, aber wahr: Seit Fritz Wunderlich keine so frische, kluge, penibel textverständliche, musikantische und aufregende "Müllerin" mehr gehört! Der junge deutsche Tenor Daniel Behle wird den Liedgesang revolutionieren.
"Die schöne Müllerin CD" tagesspiegel 5.12.2010
-­‐-­‐-­‐
Recording of the month! -­‐ There is no shortage of good recordings of Die schöne Müllerin but this new recording has to be included among the top contenders.
"Die schöne Müllerin CD" – musicweb Nov 2010
-­‐-­‐-­‐
Eine künstlerische Leistung, die von ihrem Gegenstand absolut durchdrungen ist.
"Die schöne Müllerin CD" – Die Zeit 25.11.2010
-­‐-­‐-­‐
The sheer freshness and unmannered beauty of Behle's voice are immediately apparent, as are the ease and spontaneity of his vocal production. 5 of 5 stars .
"Die schöne Müllerin CD" -­ allmusic 25.11.2010
-­‐-­‐-­‐
Wie Behle bei aller nie nachlassenden Detailintensität stets den übergreifenden Spannungsbogen dieser großen Lieder-­‐Erzählung in 20 Kapiteln mitdachte und –gestaltete, zeugte von seltener Meisterschaft.
"Die schöne Müllerin LIVE" Heppenheim 19.11.2010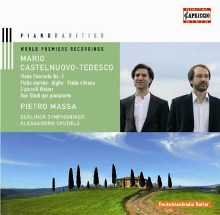 MARIO CASTELNUOVO-TEDESCO (1895-1968)
Piano Concerto No. 2 in F major
Vitalba e Biancospino Alghe · Passatempi: 5 piccoli Walzer
C5046 PC: 1CD · PC 21 UPC: 8452210504 6


Onde · Vitalba e Biancospino
PIETRO MASSA, piano · BERLINER SYMPHONIKER · ALESSANDRO CRUDELE
Mario Castelnuovo-Tedesco (Florenz 1895 -Beverly Hills 1968) war Komponist und Humanist. Sein Leben zeichnete sich durch eine anhaltende Tendenz aus, sich selbst als Bestandteil antiker Kulturtraditionen – zuerst der toskanischen und dann der jüdischen – zu entdecken. Die Karriere als Komponist begann schon während seiner Ausbildung durch das großherzige Engagement von Alfredo Casella. Er erhielt einhellige breite Zustimmung in den Kritiken und wurde als viel versprechender Komponist der Avantgarde begrüßt.
Castelnuovo-Tedescos musikalische Imagination entfaltete sich in einem engen Verhältnis zur Toskana und deren Kultur. 1939 verabschiedete er sich von seinem Land und emigrierte in die Vereinigten Staaten von Amerika, um die Zukunft der eigenen Familie zu sichern und vor allem das Leben seiner beiden Kinder zu schützen. Arturo Toscanini und Jascha Heifetz, die bereits mehrmals seine Musik aufgeführt hatten, unterstützten ihn in dieser schwierigen Phase und leisteten einen wesentlichen Beitrag, damit er eine Stelle als Komponist für Filmmusik bei Metro Goldwyn Mayer erhielt. Als der Zweite Weltkrieg zu Ende war, ließ Castelnuovo-Tedesco sich in Beverly Hills nieder, wo er sich der privaten Lehrtätigkeit widmete und weiter bis ins späte Alter hinein komponierte.
Mario Castelnuovo-Tedesco (Florence 1895 -Beverly Hills 1968) was a composer and humanist. His life was characterised by his persistent tendency to view himself as being part of ancient cultures – at first the Tuscan, later the Jewish one.
He started his compositional career while still being educated, thanks to the wholehearted support of Alfredo Casella. Critiques welcomed him unanimously as a promising avant-garde composer.
The musical imagination of Castelnuovo-Tedesco unfolded in close contact with the
Tuscany and its culture. In 1939 he said good-bye to his homeland and immigrated to the United States, to safeguard the future of his family and especially to protect the lives of his two children. Arturo Toscanini and Jascha Heifetz, who had both repeatedly performed his music before, supported him n this difficult situation and, after his first concerts as interpreter of his own works, secured him a position as composer for film music at Metro Goldwyn Mayer. After World War II Castelnuovo-
Tedesco settled down in Beverly-Hills, where he worked as a private tutor and composed until a ripe old age.
BACKKATALOG: PIANO RARITIES
LUIGI DALLAPICCOLA (1904 – 1975)
Piccolo Concerto per Pianoforte e Orchestra Piano Sonatas Nos. 1 & 3
Pietro Massa · RSO-Berlin
C5045 · 1CD · PC 21
ERWIN SCHULHOFF (1894 – 1942)
Sonatina canonica · Tre Episodi etc. Jazz-Variations · Burlesken
Peter Hirsch · Margarete Babinsky
PE181 · 2CD · PC 02
NIKOLAI MEDTNER (1880 – 1951)
Forgotten Melodies op.38 & op.39 Fantasy-Sonatas Nos.1 – 3
Ekaterina Derzhavina
PE156 · 2CD · PC 02
HENNING MANKELL (1868 – 1930)
Stimmungsbilder op.1 · Sonata Triad op.11 Barcarole op.60 · Three Preludes
Anna Christensson
PE184 · 2CD · PC 02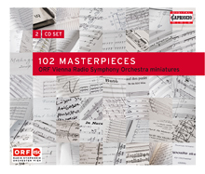 SPECIAL BIRTHDAY RELEASE
<a href="http://rso.orf.at">rso.orf.at</a>

C5051 · 2CD PC: 22 UPC: 845221050515
... to put it in a nutshell
Miniaturen sind keine der Musik für Orchester eingeschriebene Kunstform: Zu viele Musikerinnen und Musiker, Dirigent, Dirigentin, Solist, Solistin, der organisatorische Apparat, vielleicht auch zu viel Erwartung des Konzertpublikums für bloß 40 oder 60 oder 80 Sekunden Musik. Miniaturen für Orchester von jenen Künstlerinnen und Künstlern sich auch nur vorzustellen, die mit diesem Apparat, die mit diesem kollektiven Instrument umgehen, das ist wie Aphorismen von Romanschriftstellern zu erwarten. Doch die jeweils eine Minute von Friedrich Cerha, Olga Neuwirth, Hermann Nitsch oder vielen anderen ist eben nicht bloß eine kurze Minute Musik dieser Persönlichkeiten, sondern ist erfahrbar wie ein Konzentrat aus dem Kunstwollen dieser Komponierenden, kondensiert fast ein Lebenswerk in eine akustische Visitenkarte, schafft, was in der angloamerikanischen Welt so schön kurz heißt: to put in a nutshell.
Das RSO Wien hatte aus Anlass eines Jubiläums Komponistinnen und Komponisten in und aus Österreich um jeweils eine Miniatur gebeten. Genau gesagt war es anders: Wir hatten um (circa) 40 Sekunden zum 40. Geburtstag zu fragen gewagt, als ein Geschenk, und waren glücklich und überrascht, wie viele der Komponierenden dieses Landes sich daran beteiligten. Über die Jubiläumssaison 09/10 hinweg produzierte das RSO 102 Orchesterminiaturen, von A bis Z, wie Ablinger bis Zabelka, durchwegs für diesen Anlass geschriebene, ausgewählte, re- oder dekonstruierte Orchesterminiaturen, zeitlich Kleines für instrumental Großes, Aphorismen für Orchester eben, ein Mosaik aus österreichischen Stimmen und Klängen und Klangstrukturen, ein Panoptikum – übrigens monatelang so etwas wie der geheime Kommandoname dieses Unterfangens – von glitzernden und schillernden Klangbausteinen, ein Panoptikum im alten Sinn des Wortes, also eine Sammlung von seltsamen aber bemerkenswerten Petitessen, ein abgeschlossenes Mini-Universum jedes für sich, ein Kosmos von umeinander kreisenden Planeten als Ganzes gesehen.
Christian Scheib
... to put it in a nutshell
Miniatures are no art form predestined for orchestral music: Too many musicians, conductors, soloists, arrangements, perhaps also too much anticipation by the audience for just 40 or 60 or 80 seconds. Only to imagine miniatures for orchestra by artists who work with this apparatus, this collective instrument, is like expecting novelists to come up with aphorisms. However, this one minute of music by Friedich Cerha, Olga Neuwirth, Hermann Nitsch and by many others is not only a brief minute of music written by these personalities, but is tangible like the concentrate of the artistic work of these composers, almost a condensed life's work on an acoustic business card, it creates, what the Anglo-American world concisely calls: to put in a nutshell.
On the occasion of a jubilee the RSO Wien asked composers from Austria and in Austria for a miniature each. Strictly speaking it was different: We did dare to ask for (approximately) 40 seconds of music for our 40th birthday and were surprised how many composers of this country joined in. During the jubilee-season 09/10 the RSO produced 102 miniatures for orchestra, from A to Z, from Ablinger to Zabelka, throughout written for the occasion, selected re- or deconstructed miniatures for orchestra, temporally short pieces for a large orchestra, simply aphorisms for orchestra, a mosaic of Austrian voices and sounds and tonal structures, a Panopticum – by the way, for several months this was the unofficial name of this endeavour – from twinkling and shimmering sound modules, a Panopticum in the old sense of the word, thus, a collection of curious but remarkable trifles, a secluded mini-universe each for itself, a cosmos of circling planets when viewed as a whole.
Christian Scheib
PETER

ABLINGER: Suprematistische Geschichte 1

KLAUS

AGER: "Geo Mah Ramson" für großes Orchester

OSKAR

AICHINGER: Finalfragment aus der Kammeroper "Der entwendete Taler"

LUNA

ALCALAY: Ausschnitt aus "sphygmogram" für großes Orchester

ALIEN

PRODUCTIONS: Das

RSO

spielt den Tarzanschrei

MICHAEL

AMANN: "Many Happy Returns!" für großes Orchester

THOMAS

AMANN: "composite sketch"

PETER

ANDROSCH: 40 Sekunden für das RSO

RAINER

BISCHOF: "Invention über den Mutterakkord" für großes Orchester

FRANCIS

BURT: Ausschnitt aus "Morgana" für Orchester

CHRISTOPH

CECH: IO – Klimaxfragment

FRIEDRICH

CERHA: Ausschnitt (Nr. 1) aus "Momente" für Orchester

CHAYA

CZERNOWIN: Ausschnitt aus "Maim"

DIRK

D'ASE: "Gegenwartssplitter" für Orchester

RENALD

DEPPE: Con Vuzius

CHRISTIAN

DIENDORFER: "Double Lights" für großes Orchester

CHRISTOPH

DIENZ: "more fire" – miniatur für orchester

JOHANNA

DODERER: 40 Sekunden Orchesterfragment aus dem "Wutmarsch"

RICHARD

DÜNSER: Ausschnitt aus "Der Wanderer. Hymne für Orchester"

PAUL

ENGEL: Ausschnitt aus "Sirius" für großes Orchester

IVAN

ERÖD: Zwischenspiel aus der Oper "Orpheus ex Machina"

KARLHEINZ

ESSL: "Detune" für Oboe und großes Orchester

CHRISTIAN

FENNESZ: Ausschnitt aus "Glide" (Orchestrierung: Gottfried Rabl)

ROLAND

FREISITZER: "Crazy Chicken Run" für Viola und Orchester

REINHARD

FUCHS: Ausschnitt aus "streut licht | an den bebenden rändern"

BEAT

FURRER: Ausschnitt aus "Apon"

PAUL

WALTER

FÜRST: Farbspiele-Fragment

CLEMENS

GADENSTÄTTER: "Jingle 3"

BERNHARD

GANDER: Ausschnitt aus "lovely monster" für Orchester

HEINRICH

GATTERMEYER: Scherzo aus der AMADEUS-Symphonie

ERIN

GEE: Mouthpiece IX (parallel version)

HEINZ

KARL

GRUBER: Ausschnitt aus "Herr Supermann" aus "Frankenstein!!"

GEORG

FRIEDRICH

HAAS: 40 Sekunden für das

RSO

Wien

ELISABETH

HARNIK: superschwärmen

HANNES

HEHER: Radio-Sinfonie-Orchester-Stück (

R-S-O-S

)

THOMAS

HEINISCH: "Glühender Stern". 12 Takte für Orchester

PAUL

HERTEL: Ausschnitt aus "Hotel Metropol – Moskau", Nr. 3 aus: "Drei Orchesterstücke aus der Emigration"

PETER

JAKOBER: pulsen – eine miniatur

ROBERT

JELINEK

/ Thilges: Sabotage Burning Bright

RUDOLF

JUNGWIRTH: bruchstück aus "UNDINEN" – dritter satz aus der sinfonie für orchester "VIER"

ALEXANDRA

KARASTOYANOVA-HERMENTIN: Ausschnitt aus "Mahagoni. Concerto for Violin and String Chamber Orchestra"

DIETER

KAUFMANN: "Göre" aus der Oper "Freier Fall" ("40 Sekunden fürs RSO")

MANUELA

KERER: Nastro ballante – Tanzend rollendes Geschenksband

KATHARINA

KLEMENT: "cows caused chaos" für Kammerorchester

FRANZ

KOGLMANN: "The Model"

MATTHIAS

KRANEBITTER: "Symphonie 3000 in C-Dur" für Orchester

JOHANNES

KRETZ: RSO40 for orchestra

GERD

KÜHR: Klangsplitter für großes Orchester

BERNHARD

LANG: Ausschnitt aus "/Monadology II/" (Introduktion: "...eine traurige Gestalt")

KLAUS

LANG: "fette und schnelle kühe" für großes orchester

THOMAS

LARCHER: Ausschnitt aus: "Böse Zellen" für Klavier und Orchester

HERBERT

LAUERMANN: Ausschnitt aus "PhantasY on mE" für Orchester

MARTIN

LICHTFUSS: "In Nuce" für kleines Orchester

WOLFGANG

LIEBHART: Pre©lude for full orchestra

RADU

MALFATTI: Orchesterklang

WOLFGANG

MITTERER: Ausschnitt aus "fisis"

CHRISTIAN

MÜHLBACHER: Drumming Orchestra X (...aus dem Konzert für Schlagwerk und Orchester)

CHRISTIAN

MUTHSPIEL: Fundstück Nr. 2 aus "Pas de deux concertant"

BERTL

MÜTTER: minütenminiatüre – Fürs

RSO

, den Mercedes unter den Orchestern Neuer Musik
GÖ

STA

NEUWIRTH: "Planctus V" für Orchester

OLGA

NEUWIRTH: "only an end"

HERMANN

NITSCH: Ausschnitt aus "Symphonie Nr. 9 (Die Ägyptische)"

GEORG

NUSSBAUMER: RING!

CHRISTIAN

OFENBAUER: 1. Frankfurter Prélude / Zwei Kraniche und Wolken

MAJA

OSOJNIK: "little dream machine"

THOMAS

PERNES: Ausschnitt aus "Gleichsam eine Symphonie"

ALFRED

PESCHEK: "Vivivision" aus "Visionen für großes Orchester"

GABRIELE

PROY: "Ereso" für großes Orchester

JULIA

PURGINA: ...croaky cherrytree…

MICHAEL

RADANOVICS: "the best days of my live…" 40 seconds for 40 years

RSO

Vienna

WERNER

RADITSCHNIG: Die Zukunft des Orchesters. Ein Werbespot

KONRAD

RENNERT: "Excerpt Fraktur V – 9. November"

GERALD

RESCH: "ein Stück LAND" für Orchester

HANS-JOACHIM

ROEDELIUS: DANN für fünf Instrumente

GERHARD

RÜHM: "Mein Steckenpferd" für Gesang und Orchester (Orchestrierung: Gottfried Rabl)

JORGE

SÁNCHEZ-CHIONG: Verdammt sei, wer dieses Orchester auflöst! (kein Abschieds-Mambo)

ELISABETH

SCHIMANA: Taktfrequenz

THOMAS

DANIEL

SCHLEE: Ausschnitt aus "Spes unica" für großes Orchester

WOLFGANG

SCHLÖGL: "Do you want my M E L stock now?" (excerpt) aus dem orchestralen Themenzyklus "Broker's Paradise"

GUNTER

SCHNEIDER: "auf den punkt" für Orchester ("für das

RSO

Wien")

KURT

SCHWERTSIK: Ausschnitt aus "Instant Music" für Flöte und Blasorchester

AXEL

SEIDELMANN: Moloch – Epigramm für großes Orchester

WOLFGANG

SEIERL: "3g_1a" für Orchester
SHIH: Ausschnitt aus "Requiem" für Klavier, Streicher und Membranophon

ANDREA

SODOMKA: FOREVER für Orchester, live-electronic und das www
RENÉ STAAR: Balkan Mosaik (Orchesterfassung): II. "Würfelspiel in Skopje"

BURKHARD

STANGL: concept piece no. 40

ALEXANDER

STANKOVSKI: "Klippen" für Orchester

JOHANNES

MARIA

STAUD: Eine Ecke aus dem Polygon

BRUNO

STROBL: Ausschnitt aus "Ülapp" für großes Orchester

BALDUIN

SULZER: "Obderennsisches Epigramm" für Streichorchester, Fagott und Glockenspiel

WOLFGANG

SUPPAN: Butô. Miniatur für Orchester

GERMAN

TORO-PERÉZ: "veRSO" für großes Orchester

ERICH

URBANNER: Ausschnitt aus "Multiphonie" für großes Orchester

NANCY

VAN

DE VATE: Abschied von Tschernobyl

ALEXANDER

WAGENDRISTEL: "fortune cookie" für großes Orchester

WOLFRAM

WAGNER: Ausschnitt aus "Symphonia" für großes Orchester

HERBERT

WILLI: Ausschnitt aus dem Trompetenkonzert "Eirene" (aus dem Zyklus "Montafon")

GERHARD

E. Winkler: Splitter aus "Kataklast"

MANON-LIU

WINTER: "2. Wiener Blut, 09"

JOANA

WOZNY: "break off" für großes Orchester

MIA

ZABELKA: Organische Trennung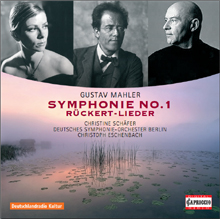 GUSTAV MAHLER (1860-1911)
Symphonie No. 1 Rückert Lieder

1 CD PC: 21 C5026 – UPC 84522105026 3
CHRISTINE SCHÄFER, Sopran / soprano
DEUTSCHES SYMPHONIE-ORCHESTER BERLIN
CHRISTOPH ESCHENBACH, Dirigent conductor


Ein Gipfeltreffen zweier Klassikstars: Für Christine Schäfer und Christoph Eschenbach ist es das zweite Wiedersehen auf dem Label Capriccio. Nach der
vielfach ausgezeichneten Einspielung der "Lyrischen Symphonie" von Alexander Zemlinsky (Capriccio SACD 71081) widmen sich beide Künstler, zusammen mit dem Deutschen Symphonie-Orchester Berlin, einem spannenden und stimmungsvollen
Mahler-Programm.
"Sie brauchen gar nicht mehr hinzusehen – das habe ich alles schon wegkomponiert", bedeutete Gustav Mahler seinem Besucher Bruno Walter, als dieser 1896 die Landschaft von Mahlers Sommerresidenz Steinbach am Attersee bewunderte.
Die Anekdote bezieht sich freilich auf die dritte Symphonie, doch mag ihre Botschaft ebenso gut für die erste – 1884 in Kassel begonnen und 1889 in Budapest uraufgeführt – gelten. Hatte der Komponist letzterer doch ein mit Naturempfindung gesättigtes Programm gegeben, betitelt in Anlehnung an Jean Paul Richter als "Titan, eine Tondichtung in Symphonieform".
Prägnant, wenn auch überschaubar, ist das Liedwerk Gustav Mahlers. Den Hauptteil nehmen darin Orchesterlieder ein. Doch auch Orchesterlieder existieren in Fassungen für Singstimme und Klavier. Dabei schlagen die "Fünf Lieder nach Gedichten von Friedrich Rückert" einen neuen, gereiften Ton an. Wobei "Liebst du um Schönheit" von Mahler zunächst nicht im Zusammenhang mit den vier übrigen Liedern gedacht war – es war vielmehr ein frühes Liebesgeschenk an seine Frau Alma.