cd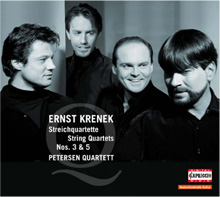 EDITION ERNST KRENEK (1900--1991)
Streichquartette · String Quartets Vol.2 Streichquartette Nos.3 & 5
Petersen Quartett
1 CD · 67 197 PC: 21
Nach den Streichquartetten Nr. 1 und Nr. 7 (CD 67 015) legt das Petersen Quartett nun die Quartette Nr. 3 und Nr. 5 von Ernst Krenek vor, beides Werke des jungen Komponisten aus der Zeit vor dem Zweiten Weltkrieg. Während Krenek sein drittes Streichquartett dem Komponistenkollegen Paul Hindemith widmete, versuchte er in seinem fünften Quartett eine Auseinandersetzung mit dem Erbe der österreichischen Musik im allgemeinen und Franz Schubert im besonderen.
Following on from string quartets no. 1 and no. 7 (CD 67 015), the Petersen Quartett now presents Ernst Krenek's quartets no. 3 and no. 5, both written by the young composer during the period preceding World War II. While Krenek dedicated his third string quartet to composer colleague Paul Hindemith, his fifth quartet attempted to grapple with the heritage of Austrian music in general and Franz Schubert in particular.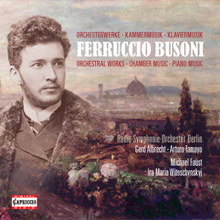 FERRUCCIO BUSONI
Orchesterwerke · Kammermusik · Klaviermusik
Orchestral Works · Chamber Music · Piano Music
Radio-Symphonie-Orchester Berlin · Gerd Albrecht · Arturo Tamayo u.a.
4-CD-Set · PC: 04 · 49 576
EAN: 4006408495765
Ferruccio Busoni (1866—1924) ist einer der interessantesten Komponisten seiner Generation. Als Sohn einer Deutschen und eines Italieners fühlte er sich in beiden Kulturkreisen zu Hause und versuchte, italienische Melodie und deutsche Formenstrenge zu verbinden. Dieses 4-CD-Set bietet einen Querschnitt durch seine Instrumentalmusik. Von den frühesten Anfängen des Wunderkindes, das am Klavier kleine Stücke "komponiert", bis zu den reifen Orchesterwerken, die im Zusammenhang mit seinen Opern "Arlecchino", "Turandot" und "Doktor Faust" stehen, spannt sich der Bogen.
Ferruccio Busoni (1866-1924) is one of the most interesting composers of his generation. As the son of an Italian who married a German woman, he felt at home in both cultural environments and aimed to combine Italian melody with German stringency of form. This 4 CD set offers a representative selection of his instrumental music, ranging from the earliest essays of a child prodigy who "composed" little pieces at the piano to the mature orchestral works that we associate with his operas "Arlecchino", "Turandot" and "Doktor Faust".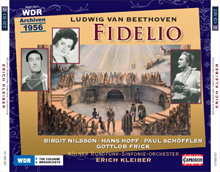 LUDWIG VAN BEETHOVEN · Fidelio
Edition
Historische Opernaufnahmen
2 CD · 67 186/87 PC: 02 4006408671862
Birgit Nilsson · Hans Hopf
Kölner Rundfunk-Sinfonie-Orchester
Erich Kleiber
The celebrated series of WDR opera productions from the 1950s now features Beethoven's "Fidelio" in a true to scale recording made in 1956. Only a few weeks before he died, Erich Kleiber conducted an exciting performance with the best singers of the time: great Birgit Nilsson as Leonora, Hans Hopf as Florestan, Paul Schöffler as Pizarro and Gottlob Frick in his most successful role, Rocco, all contribute to make opera fans rave about those "good old times".
In der gefeierten Reihe mit WDR-Opernproduktionen aus den 50er Jahren erscheint jetzt Beethovens "Fidelio" in einer maßstäblichen Aufnahme aus dem Jahr 1956. Wenige Wochen vor seinem Tod leitet Erich Kleiber eine spannungsgeladene Aufführung mit den besten Sängern der Epoche: die große Birgit Nilsson als Leonore, Hans Hopf als Florestan, Paul Schöffler als Pizarro und Gottlob Frick in seiner Paraderolle als Rocco lassen Opernfreunde ins Schwärmen über die "gute alte Zeit" kommen.
Further Releases:
Editionen – Historische Opern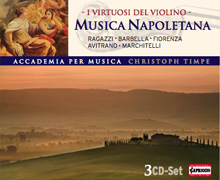 MUSICA NAPOLETANA – I Virtuosi del Violino
Accademia per Musica Roma
Christoph Timpe
3CD-Set / Multipack · 49 546 PC: 03
Musikstadt Neapel · The Musical City Neapel
Weltpremieren · World Premiere Recordings
Angelo Ragazzi · Giuseppe Avitrano · Fiorenza Barbella
Während die norditalienischen Städte wie Venedig und Florenz durch Komponisten wie Vivaldi und Albinoni die italienische Barockmusik schlechthin verkörpern, gilt Neapel allenfalls als Ort für Opernaufführungen. Dass Neapel im Barock ein Zentrum des virtuosen Violinspiels war, ist heute kaum noch bekannt. Als der berühmte Komponist und Violinvirtuose Arcangelo Corelli aus Rom einmal in Neapel gastierte, musste er sich beschämt geschlagen geben: Gegen die Künste der Musiker aus Neapel konnte er nicht reüssieren. Christoph Timpe hat vergessene Violinmusik aus Neapel wieder ausgegraben und mit seinem Orchester "Accademia per Musica" mustergültig eingespielt. Die bisher einzeln veröffentlichten drei CDs sind nun in einer Box zum Sonderpreis zusammengefasst.
Whilst the north Italian cities such as Venice and Florence simply embodied Baroque music per se through composers like Vivaldi and Albinoni, Naples rated at most as a place for opera presentations. That Naples was a centre of virtuoso violin playing in Baroque times is hardly known today. As the famous composer and violin virtuoso Arcangelo Corelli from Rome once gave a guest performance in Naples, he had to abashedly admit he was beaten. He could not succeed against the expertise of the musicians from Naples. Christoph Timpe has again dug out forgotten violin music from Naples and created praiseworthy recording with his orchestra "Accademia per Musica". The formerly individually published three CDs are now collected together in a box at a special price.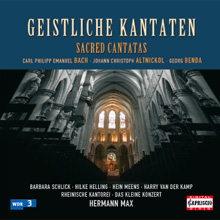 Geistliche Kantaten · Sacred Cantatas
J.CH. ALTNICKOL
C.PH.E.BACH · GEORG BENDA
1CD 67 192 PC: 21 4006408671923
Schlick · Helling · Van der Kamp
Rheinische Kantorei · Das Kleine Konzert
Hermann Max
Sacred cantatas written by composers from the generation that followed Bach – music from the time between the Baroque and the classical era: Three typical representatives of this style are presented as an example by Hermann Max, the Rheinische Kantorei and the orchestra "Das Kleine Konzert"
Geistliche Kantaten von Komponisten aus der Generation nach Bach – Musik aus der Zeit zwischen Barock und Klassik, wird hier an drei typischen Vertretern dieser Stilrichtung von Hermann Max, der Rheinischen Kantorei und dem Orchester "Das Kleine Konzert" exemplarisch vorgeführt.