cd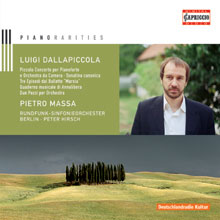 EDITION: piano rarities
LUIGI DALLAPICCOLA (1904-1975)

1 CD PC: 21 C5045 – UPC 84522105045 4
Piccolo concerto per pianoforte e orchestra da camera
Due pezzi per orchestra – Sonatina canonica
Tre episodi dal balletto "Marsia" – Quaderno musicale di Annalibera

PIETRO MASSA, Klavier / piano
RUNDFUNK-SINFONIEORCHESTER BERLIN
PETER HIRSCH, Dirigent / conductor
Die vorliegenden fünf Klavierwerke von Luigi Dallapiccola fallen alle in die Schaffensperiode von 1935 bis 1952, in der die musikalische Sprache des Komponisten ihre entscheidende Ausprägung erfuhr. Die Komposition neuen Stils, in der sich schon erste chromatische Passagen finden, wird durch überschichtete Akkorde angereichert bis sie sich zur gesamten Chromatik entfaltet. In ihrem sehr differenzierten Charakter und Stil markieren die Kompositionen für Klavier wichtige Phasen auf dem Weg der fortschreitenden Annäherung an die Zwölftontechnik bis zu ihrer völligen Übernahme.
Pietro Massa ist zwar in Mailand geboren, aber seit 1999 stellt Berlin das Zentrum seines Lebens sowie den Mittelpunkt einer internationalen Karriere als Solist dar. Sein Repertoire für Klavier und Orchester umfasst zwischenzeitlich an die 20 Klavierkonzerte, die bereits aufgeführt worden sind oder im Programm mit vielen Orchestern weltweit stehen.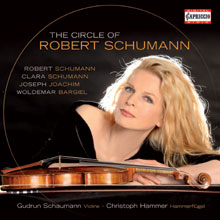 THE CIRCLE OF ROBERT SCHUMANN
2 SACD PC: 21 C5040 – UPC 84522105040 9
Robert Schumann: Sonata d-moll, Op. 121
Sonata a-moll, Op. 105
Clara Schumann: Drei Romanzen, Op. 22
Joseph Joachim: Romanze
Woldemar Bargiel: Sonata f-moll, Op. 10


GUDRUN SCHAUMANN, Violine / violin
CHRISTOPH HAMMER, Hammerflügel / harpsichord
Die vorliegende CD "The Circle of Robert Schumann" eröffnet einen repräsentativen Querschnitt mit Werken von Robert Schumann, seiner Frau Clara, deren Halbbruder Woldemar Bargiel und Joseph Joachim. Gerade rechtzeitig zum Schumannjahr und seinem 200. Geburtstag lässt diese Einspielung seltene und auserlesene Kompositionen der Familie Schumann und deren Freunde erklingen.
Eine hervorragende Interpretin dieser Werkschöpfungen ist die Violinistin Gudrun Schaumann, deren besonderes Interesse der historisch informierten Aufführungspraxis des 17.-19.Jahrhunderts gilt. In Konzerten mit historischen Instrumenten spielt sie, wie auch in der vorliegenden Aufnahme, auf einer italienischen Violine aus Cremona von Antonio Stradivari aus dem Jahre 1731.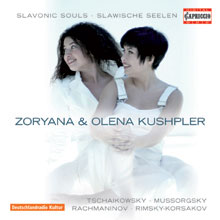 SLAWISCHE SEELEN / SLAVONIC SOULS
Lieder Russischer Komponisten / Songs by Russian composers

1 CD PC: 21 C5039 – UPC 84522105039 3
TCHAIKOVSKY: Nur wer die Sehnsucht kennt, etc.
RACHMANINOV: Im Schweigen der Nacht, etc.
RIMSKY-KORSAKOV: Leise der Abend erlischt, etc.
MUSSORGSKY: Die Kinderstube (Liedzyklus / Song cycle)
ZORYANA KUSHPLER, Mezzosopran / Mezzosprano
OLENA KUSHPLER, Klavier / Piano
Schier unendliche ist die Vielfalt der russischen Liedkunst und aus den Tiefen der Volksseele und deren gesanglicher Interpretation haben große Komponisten wie Tchaikovsky, Rachmaninov, Rimsky-Korsakov, Mussorgsky und viele mehr geschöpft .Mit ihren Kompositionen haben sie dazu beigetragen, der Mannigfaltigkeit russischer Liedkunst Unverzichtbares hinzuzufügen.
Die aus der Ukraine stammenden Zwillingsschwestern Zoryana und Olena Kushpler, die eine Mezzosopran, die andere Pianistin, verstehen es mit ihrer Darbietung die "Slawische Seele" in all ihrer Heiterkeit und Melancholie erklingen zu lassen.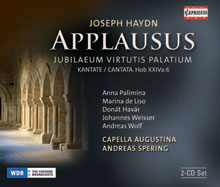 JOSEPH HAYDN (1732-1809)
Applausus - Kanatate / Cantata HobXXIVa:6

2 CD PC: 22 C5036 – UPC 84522105036 2
ANNA PALIMINA, Sopran / soprano
MARINA DE LISO, Mezzosopran / mezzo soprano
DONÁT HAVÁR, Tenor / tenor
JOHANNES WEISSER, Bass-Bariton / bass baritone
ANDREAS WOLF, Bass / bass
CAPELLA AUGUSTINA
ANDREAS SPERING, Dirigent / conductor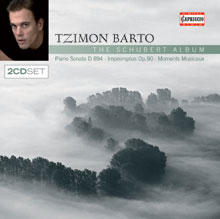 Tzimon Barto
THE SCHUBERT ALBUM

2 CD PC: 21 C5028 – UPC 84522105028 7
Piano Sonata D 894 / Impromptus D 899
Moments Musicaux D 780
TZIMON BARTO, Klavier / piano



Als einer der führenden amerikanischen Pianisten seiner Generation begeistert Tzimon Barto seine Fangemeinde auf beiden Seiten des Atlantiks mit außergewöhnlichen und mitreißenden Konzerten. Durchaus außergewöhnlich auch seine neueste Einspielung mit Werken von Franz Schubert. Eine durchwegs sehr eigene, ja eigenwillige Interpretation die gerade in den langsamen Sätzen einen nahezu nie enden wollenden
Spannungsbogen aufzeigt, meditativ versinkend in der tiefen, lyrischen Musiksprache Franz Schuberts. Barto zeigt uns hier ganz deutlich, wie sehr der Lied-Komponist auch in seinen Klavierstücken wieder zu finden ist.
Mitte der 1820er Jahre hatte sich Schubert endlich einen Platz im öffentlichen Konzertleben erobert. Darüber hinaus gab es seitens der Verlage großen Bedarf an Klavierstücken, die sich für den Hausgebrauch oder den Salon eigneten.
Eben solche Salonpiècen lieferte Schubert mit seinen Impromptus und Moments musicaux.
Die G-Dur-Sonate D 894 stammt vom Oktober 1826 und ist dem langjährigen Freund und Förderer Josef von Spaun gewidmet. Während das verträumt schweifende Andante trotz seiner dramatischen Ausbrüche dem herkömmlichen Muster der Sonate ebenso entspricht wie das rabiate Menuett – mit einem verklärten Trio als Kontrast – und das klar gegliederte Final-Rondo, scheint der groß dimensionierte Anfangssatz ihren Rahmen sprengen zu wollen.