cd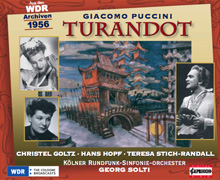 GIACOMO PUCCINI: Turandot
2 CD · 67 193/94 PC: 02
Christel Goltz · Hans Hopf · Teresa Stich-Randall
Kölner Rundfunk-Sinfonie-Orchester · Georg Solti
Edition Historische Opernaufnahmen
In der Reihe der historischen Opernaufnahmen aus den Archiven des Westdeutschen Rundfunks Köln erscheint jetzt eine deutsch gesungene Aufnahme von Puccinis "Turandot" unter der Leitung des jungen Georg Solti. 1956, am Beginn seiner Weltkarriere, leitete dieser im Kölner Funkhaus das Kölner Rundfunk-Sinfonie-Orchester und ein hochkarätiges Solisten-Ensemble mit Christel Goltz als Turandot, Teresa Stich-Randall als Liu und Hans Hopf als Prinz Kalaf.
In the series of historical opera recordings from the archives of Westdeutscher Rundfunk Köln (West German Radio, Cologne) there now appears a sung in German recording of Puccini's "Turandot", under the direction of a young Georg Solti. In 1956, at the start of his world career, at the Kölner Funkhaus (Cologne Radio House) he led the Kölner Rundfunk-Sinfonie-Orchester (Cologne Radio Symphony Orchestra) and a top-class soloist-ensemble with Christel Goltz as Turandot, Teresa Stich-Randall as Liu and Hans Hopf as Prinz Kalaf.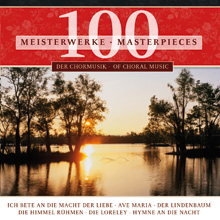 100 Meisterwerke der Chormusik
100 Masterpieces of Choral Music
5CD-Box
5 CDs · 49 565 PC: 04 4006408495659
ICH BETE AN DIE MACHT DER LIEBE – GEISTLICHE CHORMUSIK
AM BRUNNEN VOR DEM TORE – DIE SCHÖNSTEN MÄNNERCHÖRE
STILL WIE DIE NACHT – WELTLICHE CHORMUSIK
IN EINEM KÜHLEN GRUNDE – DIE SCHÖNSTEN DEUTSCHEN VOLKSLIEDER
HALLELUJAH – ORATORIEN, PASSIONEN und MESSEN
WIENER SÄNGERKNABEN · REGENSBURGER DOMSPATZEN
DRESDNER KREUZCHOR · MÄNNERCHOR DES RUNDFUNKCHORES LEIPZIG
RUNDFUNKCHOR BERLIN · THOMANERCHOR LEIPZIG · RHEINISCHE KANTOREI
RIAS-KAMMERCHOR · BERLINER MÄNNERCHOR "CARL MARIA VON WEBER"
u.v.a.
Capriccio presents a box of 5 CDs with the ultimate collection of choir music. The most famous choirs like the Vienna Boys' Choir, the Regensburg Domspatzen and the St. Thomas Choir Leipzig sing popular works for choir: sacred music, folk music, male choirs and many more. A box intended for all friends of choir music, available at a very attractive price.
In einer 5-CD-Box legt Capriccio die definitive Chormusik-Kollektion vor. Die berühmtesten Chöre wie Wiener Sängerknaben, Regensburger Domspatzen, Thomanerchor Leipzig singen die beliebtesten Chorwerke: geistliche Musik, Volkslieder, Männerchöre u.v.a. Eine Box für alle Freunde des Chorgesangs, zum besonders attraktiven Preis.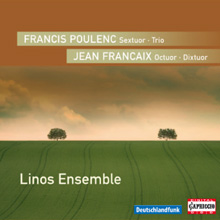 Linos-Ensemble
FRANCIS POULENC: Sextuor · Trio
JEAN FRANÇAIX: Octuor · Dixtuor
1 CD · 67 191 PC: 21 4006408671916
French composers Poulenc and Françaix both preferred writing "Musique pour faire plaisir" – "Music for Pleasure". The Linos Ensemble arranged four of the most beautiful works of chamber music by these composers and spreads a catching good mood in its versatile cast of winds, strings and piano.
Die französischen Komponisten Poulenc und Françaix komponierten beide am liebesten "Musique pour fair plaisir" – "Musik zum Vergnügen". Das Linos Ensemble hat vier der schönsten Kammermusikwerke der beiden zusammengestellt und verbreitet in abwechslungsreicher Besetzung mit Bläsern, Streichern und Klavier ansteckend gute Laune.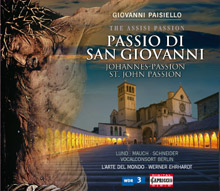 Giovanni Paisiello · Johannes-Passion · St. John Passion
Passionsmusik aus Assisi · Sacred Music from Assisi

60 133 PC: 21 4006408601333
Trine Lund · Monika Mauch Jörg Schneider · Vocalconsort Berlin L'
ARTE
DEL
MONDO
WERNER
EHRHARDT
Aus Assisi in Italien kommt eine weitere Passionsvertonung, diesmal nach dem Evangelisten Johannes und in lateinischer Sprache. Komponiert wurde sie mit an Sicherheit grenzender Wahrscheinlichkeit von dem hauptsächlich als Opernkomponist hervorgetretenen Giovanni Paisiello. Die Partie des Evangelisten ist hier einer Sopranstimme anvertraut und wird von Trine Wilsberg Lund gesungen. Werner Ehrhardt leitet zum zweiten Mal auf Capriccio (nach Méhuls "L'Irato", 1-CD-Set 60 128) das Ensemble "l'arte del mondo" in einem Konzertmitschnitt aus der Kölner Trinitatis-Kirche.
Another musical rendering of the Passion stems from Assisi in Italy, this time one according to St. John the Evangelist, and in Latin. It is almost certain that is was written by Giovanni Paisiello, who mainly distinguished himself as a composer of operas. The part of the evangelist in this version is entrusted to a soprano voice and sung by Trine Wilberg Lund. For the second time, Werner Ehrhardt conducts the "l'arte del mondo" ensemble on a Capriccio recording (the first time being Méhul's "L'Irato", set of 1 CD 60 128), in a concert recording from Trinitatis Church in Cologne.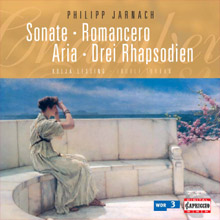 PHILIPP JARNACH
67 188 PC: 21
Aria op.10a · Romancero I – Sonatina op.18 · Drei Rhapsodien – Kammerduette op.20 · Sonate II für Klavier
KOLJA LESSING, Klavier
INGOLF TURBAN, Violine
Philipp Jarnach – ein großer vergessener Komponist des 20. Jahrhunderts. Nachdem sein Name in den zwanziger Jahren in einem Atemzug mit denen von Hindemith, Krenek, Weill genannt wurde, hat er später hauptsächlich als Kompositionslehrer gewirkt. Aus seinem schmalen Schaffen hat Kolja Lessing (Klavier) Werke für Klavier solo sowie für Violine und Klavier ausgewählt und mit virtuosem Zugriff zusammen mit Ingolf Turban (Violine) der Vergessenheit entrissen.