cd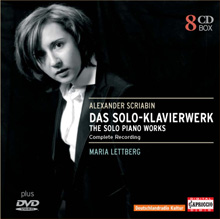 ALEXANDER SCRIABIN
Das Solo-Klavierwerk
The Solo Piano Works
8CD-Box 49 586 PC: 07
Klaviersonaten · Préludes etc.
Maria Lettberg, Klavier
Gesamtaufnahme · Complete Recording
plus Bonus-DVD ALEXANDER SCRIABIN: "MYSTERIUM" – The Multimedia Project
ALEXANDER SCRIABIN (1872—1915)
Diese Box stellt eine absolute Katalogneuheit dar: auf acht CDs spielt die junge schwedische Pianistin Maria Lettberg das gesamte Klavierwerk des jung verstorbenen, genial-exzentrischen russischen Komponisten Alexander Scriabin. Seine Musik fußt in der romantischen Tradition von Chopin, Scriabin entwickelt aber immer stärker eine eigene Tonsprache und bezieht philosophische Theorien in sein grenzüberschreitendes Universum mit ein. Auf der Bonus-DVD sind faszinierende Visualisierungen von Scriabins Musik zu erleben – der Komponist verband seine Musik mit Farbverläufen, die hier von der Designerin Andrea Schmidt umgesetzt wurden.
This box is a brand new item in our catalogue: the young Swedish pianist Maria Lettberg plays the complete piano works of the brilliant, eccentric and short-lived Russian composer Alexander Scriabin on eight CDs. His music is rooted in the romantic tradition of Chopin, but Scriabin developed his own increasingly independent tonal language and incorporated philosophical theories into his boundless universe. On the bonus DVD, you can experience fascinating visualisations of Scriabin's music – the composer associated his music with colour progressions, here realised by the designer Andrea Schmidt.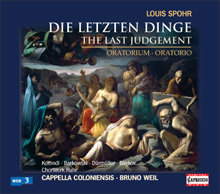 LOUIS SPOHR
Die letzten Dinge · The last Judgement
Geistliches Oratorium · Sacred Oratorio
1CD · 60 135 PC: 21
Cappella Coloniensis · Bruno Weil
Louis Spohrs Oratorium "Die letzten Dinge" war im 19. Jahrhundert eines der meistgespielten Werke; später geriet es in Vergessenheit. Der Komponist hat die Vision vom Ende der Zeiten und dem großen Weltgericht in einem packenden Chorwerk gestaltet, in dem die Solisten keine Arien singen, sondern direkt am dramatischen Geschehen beteiligt sind. In einem Mitschnitt von den "Tagen Alter Musik Herne" stellt Capriccio "Die letzten Dinge" erstmals in historischer Aufführungspraxis vor. Bruno Weil leitet die Cappella Coloniensis und ChorWerk Ruhr – eine Formation, die sich in kurzer Zeit an die Spitze der deutschen Chorszene gesetzt hat.
Louis Spohr's oratorio "Die letzte Dinge" ("The Last Things") was one of the 19th century's most-played works; later it was forgotten. The composer portrayed a vision of Judgment Day and the end of time in a gripping choral work in which the soloists do not sing arias, but are directly involved in the dramatic events. Capriccio now presents the first-ever recording of an authentic historical performance of "Die letzten Dinge", made at the "Herne Early Music Days". Bruno Weil conducts the Cappella Coloniensis and ChorWerk Ruhr – an ensemble which has quickly established itself at the very top of the German choral scene.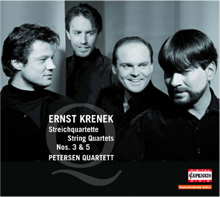 EDITION ERNST KRENEK (1900--1991)
Streichquartette · String Quartets Vol.2 Streichquartette Nos.3 & 5
Petersen Quartett
1 CD · 67 197 PC: 21
Nach den Streichquartetten Nr. 1 und Nr. 7 (CD 67 015) legt das Petersen Quartett nun die Quartette Nr. 3 und Nr. 5 von Ernst Krenek vor, beides Werke des jungen Komponisten aus der Zeit vor dem Zweiten Weltkrieg. Während Krenek sein drittes Streichquartett dem Komponistenkollegen Paul Hindemith widmete, versuchte er in seinem fünften Quartett eine Auseinandersetzung mit dem Erbe der österreichischen Musik im allgemeinen und Franz Schubert im besonderen.
Following on from string quartets no. 1 and no. 7 (CD 67 015), the Petersen Quartett now presents Ernst Krenek's quartets no. 3 and no. 5, both written by the young composer during the period preceding World War II. While Krenek dedicated his third string quartet to composer colleague Paul Hindemith, his fifth quartet attempted to grapple with the heritage of Austrian music in general and Franz Schubert in particular.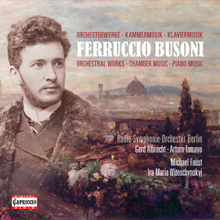 FERRUCCIO BUSONI
Orchesterwerke · Kammermusik · Klaviermusik
Orchestral Works · Chamber Music · Piano Music
Radio-Symphonie-Orchester Berlin · Gerd Albrecht · Arturo Tamayo u.a.
4-CD-Set · PC: 04 · 49 576
EAN: 4006408495765
Ferruccio Busoni (1866—1924) ist einer der interessantesten Komponisten seiner Generation. Als Sohn einer Deutschen und eines Italieners fühlte er sich in beiden Kulturkreisen zu Hause und versuchte, italienische Melodie und deutsche Formenstrenge zu verbinden. Dieses 4-CD-Set bietet einen Querschnitt durch seine Instrumentalmusik. Von den frühesten Anfängen des Wunderkindes, das am Klavier kleine Stücke "komponiert", bis zu den reifen Orchesterwerken, die im Zusammenhang mit seinen Opern "Arlecchino", "Turandot" und "Doktor Faust" stehen, spannt sich der Bogen.
Ferruccio Busoni (1866-1924) is one of the most interesting composers of his generation. As the son of an Italian who married a German woman, he felt at home in both cultural environments and aimed to combine Italian melody with German stringency of form. This 4 CD set offers a representative selection of his instrumental music, ranging from the earliest essays of a child prodigy who "composed" little pieces at the piano to the mature orchestral works that we associate with his operas "Arlecchino", "Turandot" and "Doktor Faust".
LUDWIG VAN BEETHOVEN · Fidelio
Edition
Historische Opernaufnahmen
2 CD · 67 186/87 PC: 02 4006408671862
Birgit Nilsson · Hans Hopf
Kölner Rundfunk-Sinfonie-Orchester
Erich Kleiber
The celebrated series of WDR opera productions from the 1950s now features Beethoven's "Fidelio" in a true to scale recording made in 1956. Only a few weeks before he died, Erich Kleiber conducted an exciting performance with the best singers of the time: great Birgit Nilsson as Leonora, Hans Hopf as Florestan, Paul Schöffler as Pizarro and Gottlob Frick in his most successful role, Rocco, all contribute to make opera fans rave about those "good old times".
In der gefeierten Reihe mit WDR-Opernproduktionen aus den 50er Jahren erscheint jetzt Beethovens "Fidelio" in einer maßstäblichen Aufnahme aus dem Jahr 1956. Wenige Wochen vor seinem Tod leitet Erich Kleiber eine spannungsgeladene Aufführung mit den besten Sängern der Epoche: die große Birgit Nilsson als Leonore, Hans Hopf als Florestan, Paul Schöffler als Pizarro und Gottlob Frick in seiner Paraderolle als Rocco lassen Opernfreunde ins Schwärmen über die "gute alte Zeit" kommen.
Further Releases:
Editionen – Historische Opern