cd
ANTONÍN DVOŘÁK THE SPECTRE'S BRIDE
SVATEBNÍ KOŠILE · DIE GEISTERBRAUT
ŠATUROVÁ · BRESLIK · PLACHETKA · WIENER SINGAKADEMIE · ORF VIENNA RADIO SYMPHONY ORCHESTRA · CORNELIUS MEISTER
C5315 PC: 21 845221053158
CANTATA FOR SOLI, CHOIR AND ORCHESTRA OP. 69
after a poem by Karel Jaromir Erben (1811-1870)

'I just cannot tell you how much these British honour and like me! Everywhere, they are writing and talking about me, saying I am the lion of this year's musical season in London. (…)' Antonin Dvorak (1884)
Concerts in different British cities performed a large number of other works by Dvořák, so that it was inevitable that there was a call for works especially written for Great Britain. From May to November 1884 he wrote the cantata The Spectre's Bride. 1885 the projected concert finally took place in Birmingham. Tradition has it that Dvořák himself conducted an about 400-voice choir and an orchestra consisting of 150 musicians. Many more performances within just one year in Great Britain and the USA contributed towards consolidating Dvořák's prominence and popularity in the English-speaking world, which have never really waned since then.

Hörprobe
Weitere Bilder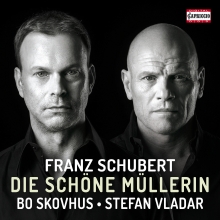 SCHUBERT: DIE SCHÖNE MÜLLERIN
BO SKOVHUS
STEFAN VLADAR
C5290 PC: 21 845221052908
20 years ago, at the beginning of his career, the young baritone Bo Skovhus made his first recording of Schubert's "Schöne Müllerin". Now, as a famous opera and Lied interpreter he presents a new production of all 3 Schubert Cycles: "I'm very thankful to do this again. As a young men you do not reflect so much what happen. Now, when I'm older, I understand much more about. Especially for this cycle it's important to have another point of view." (Bo Skovhus)
Stefan Vladar, the famous Viennese pianist and his partner on the piano, shows us the virtuosity of the piano part in a new different light.

Youtube
Weitere Bilder
Hörprobe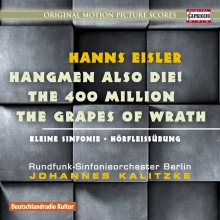 HANNS EISLER: Film Music
Hangmen Also Die · The 400 Million · The Grapes of Wrath (+ Kleine Symphonie / Hörfleißübung)
RUNDFUNK-SINFONIEORCHESTER BERLIN · JOHANNES KALLITZKE
1CD · C5289 PC: 21 845221052892
Hangmen Also Die – Filmmusik / Film Music (1942/43)
The 400 Million - Filmmusik / Film Music (1938/39)
Präludium: Andante con moto / Main Title
Thema mit Variationen / Theme with variations
Scherzo für Solovioline und Orchester / Scherzo for solo violin and orchestra
Fünf Orchesterstücke / Five pieces for orchestra
The Grapes of Wrath Alternative Film Music (1941/1942)
Kleine Symphonie (1932)
Hörfleißübung (1930)

RUNDFUNK-SINFONIEORCHESTER BERLIN
JOHANNES KALLITZKE, Dirigent / conductor

Besides the Oscar-nominated score for Fritz Lang's film 'Hangmen Also Die' (1943), this CD contains other rarely heard works by Hanns Eisler (1898-1962), in which the special interpretation Schönberg's pupil had developed of the twelve-tone technique plays an astonishingly important role for the field of film and orchestral music.

Hörprobe
Weitere Bilder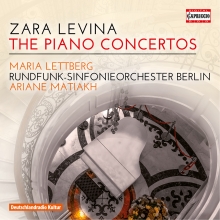 ZARA LEVINA (1906-1976)
THE PIANO CONCERTOS
MARIA LETTBERG · RUNDFUNK-SINFONIEORCHESTER BERLIN · ARIANE MATIAKH
1CD · C5269 PC: 21 845221052694
Zara Alexandrovna Levina, born 1906 in Alexandrovsk (Ukraine), witnessed two world wars, the Revolution as well as the collapse and totalitarian reconstruction of her homeland. She was under the constant ideological pressure of the existentially threatening state censorship, which was particularly exerted by the notorious RAPM (Russian Association of Proletarian Musicians) in the 1920s and 1930s, driving her to the brink of a creative and health disaster. However, Zara Levina was able to retain her own and unmistakable voice in her music. She died in Moscow on 1976 as a respected and much-performed composer beloved of musicians such as David Oistrakh, Maria Grinberg, Victor Knuschewitzki and the public alike. Vocal works like her romances meanwhile belong to the salient repertoire of Russian music.



Youtube
Weitere Bilder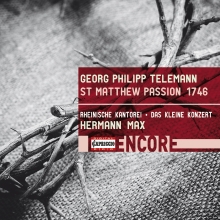 GEORG PHILIPP TELEMANN: ST MATTHEW PASSION 1746
Wilfried Jochens · Klaus Mertens ·Sebastian Hübner· Christoph Burmester-Streffer
RHEINISCHE KANTOREI · DAS KLEINE KONZERT · HERMANN MAX
Capriccio encore C8012 PC: 01 (Special Price) 845221080123
Weitere Bilder