cd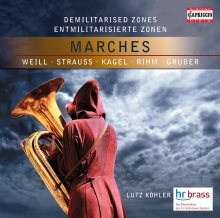 DEMILITARISED ZONES: Marches
KAGEL: 10 Marches to miss the victory · H.K.GRUBER: Demilitarised Zone · WEILL: Kanonensong ...
hr brass
C5121 PC: 01 845221051215
hr-brass
is not a marching band but the brass section of one of the great German symphony orchestras. But even an ensemble like this stands in the
centuries-old tradition of music, with "trumpets and drums" which, at least quantitatively, has its centre of gravity in the military and ceremonial sphere. Therefore it attracted the Frankfurt musicians to take a stand with their
own production on the subject of marches.
The music on the present CD reflects the diverse feelings which appear thereby. Some of the 20th-century compositions assembled here are to be understood against this background: in one way or another they react musically to the political misuse of music. Central to these are the 10 Marches to miss the victory by Mauricio Kagel. The unmilitarised zones by HK Gruber are islands of peace in a
chaotic sequence of the most varied march fragments that go from the Badenweiler March via Sousa's Washington Post march to the Hungarian march of Berlioz.



Weitere Bilder