cd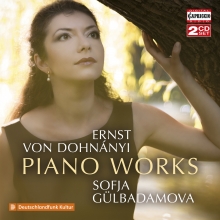 ERNST VON DOHNÁNIY (1877 - 1960)
SOLO PIANO WORKS
SOFJA GÜLBADAMOVA, piano
2CD-Set · C5332 PC: 21 UPC: 845221053325
COMPACT DISC 1
Winterreigen – Zehn Bagatellen / Ten Bagatelles op. 13 (1905)
Klavierstücke / Piano Pieces op. 2 (1896/1897)
Klavierstücke / Piano Pieces op. 41
COMPACT DISC 2
Albumblatt F-Dur / in F major (1900)
Gavotte & Musette H-Dur / in B major (1898)
Fünf Humoresken in Form einer Suite op. 17 (1907)
Five Humoresques in the form of a suite op. 17 (1907)
Vier Rhapsodien op. 11 / Four Rhapsodies op. 11 (1904)
Dohnányi's piano works are representative of the late romantic era, with sets of character pieces reminiscent of Brahms' late piano works. Sofja Gülbadamova, a prize winner of many international competitions, has been hailed by the press for her poetic interpretations, profound musicality, and an astonishingly varied sound palette. For many years now, she has been a champion of the music of this unjustly neglected composer.



Weitere Bilder