cd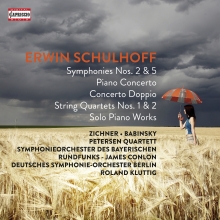 ERWIN SCHULHOFF (1894-1942)
Symphonies 2 + 5 · Piano Concerto · Concerto Doppio · String Quartets Solo Piano Music
JAQUES ZOON · FRANK-IMMO ZICHNER · MARGARETE BABINSKY · PETERSEN QUARTETT · LEIPZIGER STREICHQUARTETT · SYMPHONIEORCHESTER DES BAYERISCHEN RUNDFUNKS - JAMES CONLON · DEUTSCHES SYMPHONIE-ORCHESTER BERLIN - ROLAND KLUTTIG
6CD-Set · C7297 PC: 06 UPC: 845221072975
CD 1
Symphony No. 2(1932) · Suite for chamber orchestra (1921)
Symphony No. 5 (1938/39)
CD 2
Concerto Doppio for flute and piano (1927)
Concerto for piano and small orchestra, Op. 43 (1923)
Concerto for string quartet and wind ensemble
Ludwig van Beethoven / arr. Erwin Schulhoff: Rondo a capriccio op. 129
CD 3
String Quartet No. 1 (1924)
Five pieces for string quartet (1923)
String Quartet No. 2 (1925)
CD 4
String Quartet in G major, Op. 25 (1918)
Duo for violin and cello (1925)
Sonata for violin solo
String Sextet (1924)
CD 5
Piano Sonata No. 1 (1924) · Five Burlesques, Op. 23
Piano Sonata No. 3 (1927) · Five Grotesques Op. 21
CD 6
Six Ironies, Op. 34 · Five Picturesque's Op. 31 · Jazz Improvisations
As an internationally successful pianist and composer, Erwin Schulhoff was one of the most important Czech artists in the first half of the 20thcentury. For the last twentyfive years, his works are being rediscovered, and it goes to show that without him, a facet of the music of the 20th century would be missing. Not only did he abhor mainstream, but, like a sponge, he absorbed all musical currents of his time, and thus becoming a polystylist. For the first time now available in a 6 CD-Box you'll find this enormous diversity of his musically work.
The early piano pieces and string quartets, the symphonies and finally his Jazz Improvisations shows how tricky he played with the different genres and trends of his time.


Weitere Bilder